Ways to Say I Wish You the Best
No matter what language you speak, there's nothing quite like saying "all the best"  to someone.  It can mean so many things.  So whether you are wishing your friend good luck on their test, or congratulating them on their accomplishments, saying the words 'best wishes' can mean a lot. There are many ways to say I wish you the best, we're going to share some of our favorites below.
What Can I Say Instead of Wish You the Best
There are lots of different ways to to say I wish you the best, keep scrolling to read some alternative ways to say best wishes to a person.  
Take care and best of luck to you.
You are brilliant at public speaking engagements, I believe in you!
You have GOT THIS and then some!
My fingers are crossed for a positive outcome.  We wish you the best, I know everything will be just fine.
I hope things work out just the way you want them to, good luck with everything.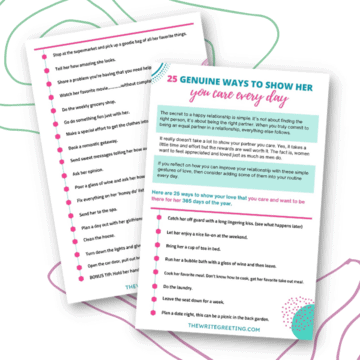 FREE Download! 25 GenuineWays To Show Her You Care Every Day
I pray that your efforts yield the positive outcome you are looking for.  You sincerely deserve everything you have coming to you.
I am so sorry you didn't receive that promotion, better luck next time, may the good lord bless you.
You're gonna rock this formal interview!
Go nail your finals and then we can go celebrate!
I believe that you've got this!  
I sincerely hope things turn around for you guys, sending you all the luck in the world.  You need a break from all this!
May the good lord bless you and help you to successfully pull off this deal.  You need this deal to move up in your new job, good speed to you.
There are many alternative ways to saying "wish you the best".  We put together some of our favorite best wishes that you can use when wishing someone "all the best.  You can check them out below.
It looks like bad luck is following you around, I have my fingers crossed that your bad luck will turn around soon.  May the good lord bless you, and bring some good luck our way.
May your good fortune come out to play today, good luck with your presentation, you will do great!
I hope you break a leg today, we can't wait to see your performance, we will be in the front row!
May your hard work come to light today and you get the well deserved promotion.  You deserve this win, good luck!
Wishing you god speed on your trip back home for the holidays, best of luck with your journey.  Please remember to take breaks when you get tired.
I'm going to send this one to the higher power, here's hoping and praying that everything goes well.  We'll come by when you bring home the baby from the hospital, in the meantime, you are in our prayers dear friends.
Good Luck and All the Best
"All the best" is a common phrase in the english language.  This phrase can be used for any situation when someone needs a confidence boost before tackling something difficult or intimidating.  It expresses both optimism and encouragement, reminding us that "we've got this".  
There plenty of creative ways to express your wishes for success without having to resort back to the same old 'best wishes.  Check out our examples below.
I always keep a four leaf clover in my car for long trips like this one.  Here's hoping the roads are quiet and you make good time, good luck with it all and let me know when you arrive..
Let's go out and blow off some steam and have some fun.  We have to have faith that you did all you can do today.
Today, let faith guide you and let's see what the future holds for us.
May you live long enough to where today won't even be a blip on your radar.
 I don't want you to worry about anything, let's go out and have a good day today and NOT think about work!
Have fun storming the castle.  I pray your efforts yield a positive outcome.
Wishing you good luck today as you take your driving test.  give the person a good smile and go do your thing!
Wishing You the Best of Luck
If you are looking for some alternative ways to say "All the best", we have a collection of our favorite alternatives, you can use these to send a text message wishing someone "good luck" or to send a message to encourage someone before a job interview!
This is a win big time for us.
Go knock em dead
You've got this, good luck.
YOU are the best person for the job!
The odds are in your favor.  You've got this big time!
I am so confident you can do this, I've already made a reservation to go celebrate.
May the force be with you today as you stand in front of everyone and share your speaking assignment.  You've got this buddy.
You have so many blessings bestowed on you by everyone, you can't lose this game.  Go have fun.
Here are some other ways to wish a loved one all the best.  You can be as formal as you want, or keep it casual, we have included both.
I hope success follows you throughout your life.
Go forth and conquer.
Do what you do best!
I am confident everything will work out the way you want it to today.
I am speaking from experience, I am confident you will do fine today.
Wishing you the best of luck today as you go before the board to ask for more grant money.
I'm going to knock on wood just in case, but good fortune follows you around.  I know you've got this!
Sending someone all the best is a great way to wish someone good luck in whatever life has in store for them.  It gives your friend some hope for the future.  No matter what message or phrase you choose to send, the person you are sending it to will appreciate the sentiment.
I will have my fingers crossed for you all day long.  I hope your efforts yield a positive outcome.  always remember you are amazing and they are lucky to have you, good luck.
Wishing you good luck today in all that you do.  Here's hoping our prayers have been answered.
The force is with you today.
I hope they vote in your favor, good luck, and let me know what happens. 
It they know what's good for them, they will choose you!
Here's to your success.
I wish you good fortune.
May your future be full of joy.
Let's celebrate your success and our many blessings.  May god bless you and provide good luck to you tomorrow.
Need an example of what message to say to someone to with them good luck without actually saying good luck or all the best?  We have put together some cute samples of what to say to someone who is anxious or nervous to make them feel better.