Happy Thanksgiving to the Love of My Life
It can be tough to find the perfect words to say to the love of your life on Thanksgiving.  After all, this holiday is all about expressing gratitude for what we have in our lives.  And what could be more important than expressing your gratitude for the love of your life during thanksgiving season.
Whether you're looking for joyous thanksgiving messages, or memorable thanksgiving wishes, we've got something for everyone.
Check out our favorite wonderful thanksgiving messages below.
Say Thanks To The Love Of Your Life
Is there a better time than during this holiday season to let your better  half know how much you care for them.  Send them some warm wishes during thanksgiving day, or better yet make a toast about them during thanksgiving dinner!
You can keep it short and simple, "happy thanksgiving wishes to my one and only", or "I'm looking forward to our romantic thanksgiving dinner".
Whatever you say, he will appreciate the romantic gesture.  Check out these cute and heartfelt thanksgiving wishes to send to a loved one.
💕 Right now, my soul is overflown with my love for you. As I reflect on my blessings this year, I realize that you are the greatest one of all, wishing you a very happy thanksgiving my love. 
💕 Here's to an enjoyable thanksgiving my dear friend.  Wishing you all the blessings for this upcoming year.
💕 On this delightful Thanksgiving, my heart could not be more grateful for you.  I know this is going to be a memorable thanksgiving for us.
💕 Thank you for believing in me through all these hard years.  I will always love you, happy thanksgiving, sweetheart.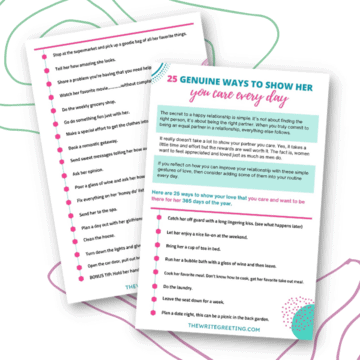 FREE Download! 25 GenuineWays To Show Her You Care Every Day
💕 Happy thanksgiving, you gorgeous one. Thank you for constantly showering me with beautiful love, for that, I will share my pumpkin pie with you, because that's how much I love you.
💕 You are like sunshine illuminating my spirit on a charming fall morning. Today, I would like to thank you for all your warmth and comfort. Here's to us spending another wonderful thanksgiving day together.  
💕 For the last few Thanksgivings, I've been thanking God for blessing me with this precious relationship of ours… and I'm not about to stop, because I can feel our love growing bigger every year.   I thank the dear lord every day for bringing you into my life.
💕 You have turned Thanksgiving into Thanks-living for me. Thank you for bringing so much joy into my life!  
Happy Thanksgiving to the Love of My Life
💕 Since I first met you, the spirit of Thanksgiving fills my heart with gratitude and bliss all year long.
💕 I have fallen for you in more ways than you could ever imagine, and to love you is to be thankful. Happy Thanksgiving baby.
💕 My gratitude for you gets deeper and deeper each year, this is our 5th thanksgiving celebration together.  I am so grateful that I get to enjoy a great thanksgiving with you by my side.  Here's to a wonderful Thanksgiving, the best one yet! 
💕 My dearest _______, as we celebrate thanksgiving together, i want you to know how deeply grateful I am for your presence in my life.  Thank you for all the thanksgiving wishes, you bring such joy into my life.
💕 You are all my imaginative mind and desperate heart ever desired. Thank you for being my faithful and loving companion. Cheers to another great thanksgiving meal that you have cooked for me, thank you baby.  
💕 My heart and my home are both full with glee this Thanksgiving. I love you, and thank you for creating a lovely family with me, wishing all of us a very happy thanksgiving. 
💕 You have no idea how much of a blessing you are to me and our children! Thanksgivings are just another reason to fully appreciate you and all that you've done.
💕 Happy Thanksgiving, my dear. All that I have, that I worked for, that I harvested… I promise to share them with you.
💕 Your unconditional love has healed my wounds and brought me to the place I thought I could never be again. I can only hope that someday, I will be able to make you as happy as you make me. Happy Thanksgiving, my love.
💕 Sending warm wishes to my baby, I wish you were here with me today.
Wishing A Blessed Thanksgiving
Thanksgiving is a time to be grateful for the people in your life, so it's important to send happy thanksgiving messages to your boyfriend, mom, dad, sister, brother, close friends etc. 
Sending heartfelt wishes lets them know how much they mean to you and how you consider them the many blessings in your life.  It's important to express gratitude to those you are close with.
💕 Honey, you are the main source of my happiness, and your love is my most treasured possession. I'm glad to be able to spend my favorite holiday with you. 
💕 This Thanksgiving, l want you to know that you have filled every part of me with love, I am deeply thankful to have you spend thanksgiving with my family and friends.  
💕 My angel, remember that you are heavenly on so many levels. This Thanksgiving, you are easily who I'm most thankful for.  I'm so glad we get to spend this holiday season with each other. 
💕 You are like a symphony that I can't get out of my head… and feet! I am grateful for your presence everyday , but especially on Thanksgiving.  Sending happy thanksgiving greetings to you, hopefully next year we can enjoy the holiday season together.  I miss you boo.
💕 Thanks for showing me what true love really looks like. Wishing you heartfelt thanksgiving messages, I love you to the moon and back.
Happy Thanksgiving to My Love
Here are some amazing thanksgiving wishes you can use to send to the love of your life.  These thanksgiving quotes can be used for your partner, but they also work for your wonderful family too.  They should feel appreciated during this happy thanksgiving day too.
💕 Cutie, let's make this Thanksgiving our most memorable one yet. Thank you for another splendid year.   I hope you know that I am deeply thankful for you, I can't wait to share my thanksgiving day with you.
💕 I never would have guessed that I could love a person this much… on this beautiful Thanksgiving, as I count all my blessings, thank you for being such an inspiration in my life. 
💕 You fill me with so much joy, it's unbelievable. This Thanksgiving, I would like to thank God for every living moment I've spent with you… I certainly look forward to more. 
💕 I am constantly inspired by you, honey. You have blessed me in more ways than one.  You are my best friend, happy thanksgiving day to the love of my life. 
💕 After all these years together, nothing gives me more joy than to make you blush. Happy Thanksgiving to the love of my life, thank you for our wonderful family.
💕 This Thanksgiving, I am grateful for your thankful heart, your sweet smile and those captivating eyes of yours.  I  am looking forward to enjoying a blissful thanksgiving, and enjoying the memorable moments with all our family members.
💕 Thank you for letting me into your heart. Let's have a romantic Thanksgiving dinner. 
💕 Let's feast on love this Thanksgiving, babe!
💕 This year, I want to thank God for letting me meet my soulmate at such an early age.  We have had a wonderful life together, and enjoyed a thousand blessings.  Sending heartfelt thanksgiving messages to those who could not be here today!
💕 As I open my eyes every morning, I am grateful that my life with you isn't just a dream. I can still hardly believe that I get to wake up next to the queen of my heart. Care to stay in bed longer today?  Wishing us a blessed and happy thanksgiving, I love you baby.
Happy Thanksgiving My Darling
💕 Halloween may be over, but Thanksgiving is just around the corner! My dear, you have put me under your love spell since the first day we set eyes on each other, and I wouldn't have it any other way. You are the gravy to my mashed potatoes, the vegetables to my turkey, and the whipped cream to my pumpkin pie. You and I were made for each other. 
💕 What's cooking? Our admiration for each other! Looks like its time to turn up the heat this Thanksgiving!
💕 Sending heartfelt wishes to you this Thanksgiving! May your hard work be awarded with good heath and good times with those close to your heart. You deserve all the best things in life.   
💕 Happy Thanksgiving, my darling! Wanna save some of that whipped cream for some after dinner fun? 
💕 Oh, thanks for being brave enough to be with my family this Thanksgiving!
💕 My Thanksgiving prayer is for you to know just how much you mean to me. It is truly a great joy to share my life with you.
💕 As I whisper a prayer of gratitude to our Lord Almighty for you earlier, I realize that everyday spent with you is Thanksgiving.
💕 I would never stop thanking God for bringing us together. Here's to a beautiful and unforgettable Thanksgiving with you! 
💕 This Thanksgiving is the perfect opportunity to remind you that you are my most cherished blessing. How could God have created such a beautiful human being?
💕 This Thanksgiving, may God shower you and your loved ones with peace, love, warmth, and joy. Have a joyous one!
💕 On a day with plenty of gratitude in the air, I would like to jump in and thank you for all the love, kindness, and support you have given me throughout the years.
💕 This Thanksgiving, let us give thanks for the delicious food and the wonderful company that we share. May God always protect us and our loved ones. Happy Thanksgiving, everyone!
💕 Happy Thanksgiving, Mom and Dad! I know no one more supportive, inspirational and understanding than you both. Thank God you are my parents! 
💕 Roses are red, violets are blue, Wishing you a Happy Thanksgiving from the bottom of my heart!  Let's have a wonderful day together
💕 Happy Thanksgiving, my friend! As I take time to appreciate the many gifts and blessings in my life, I want you to know how much I appreciate you for all that you've done for me. 
Happy Thanksgiving Letter To My Love
💕 May all the spiced apple and pumpkin pies make you even sweeter to be with! Happy Thanksgiving, my dear one. 
💕 Happy Thanksgiving, sweetie pie. All the joy, love, and kindness you have given me over the past year have completely brightened up my life… tell me what I can do to repay you.  
💕 Thank you for always having my back, wiping my tears when I cry, and being more than just a good friend… but a life-long partner. I don't know what I would do without you. Happy Thanksgiving! 
💕 May the Lord bestow you with immense health, true happiness, and all the best things life has to offer. Enjoy your Thanksgiving with your loved ones! 
💕 This is going to be an unforgettable Thanksgiving, you know why? Because we are going to devour the most delicious turkey and you are going to wear some beautiful dresses I got for you (hope you'll like them!) 
💕 I know that there have been times when I haven't thanked you for being there for me… So, on this special day, I only wish to shower you with love and affection. 
💕 My parents should have named me Lucky, for I am blessed to call you, the most beautiful person on Earth, my partner. Have a great Thanksgiving!  
Happy Thanksgiving to the Man I Love
If you're unsure as to what happy thanksgiving messages you should send to the love of your life, check out some of our favorite thanksgiving greetings, and thanksgiving quotes you can use to let him know how you really feel.
💕 Happy Thanksgiving! May God bless you and may this Thanksgiving bring you personal success and prosperity.
💕 On this day of thanksgiving, we shall express our gratitude to our belts, which are going to work extra hard for us to keep our stomachs in. Before that, let's have a moment of silence for their forgotten brother: our suspenders. Have great feast, everyone! 
💕 When you entered my life, I had no idea that you would be bringing bags of blessings with you. I must be the luckiest human in the universe. Wishing you a blessed thanksgiving! 
💕 Even though I'm not there with you, I hope the presence of your family and friends will make up for it. Sending you happy thanksgiving wishes to you and your friends and family.  
💕 Happy Thanksgiving to those who celebrate, I hope that you're all having a magnificent time. Get ready for another year of blessings upon blessings!
💕 I might be far away , but I'm sending you warm wishes, from home to home and heart to heart. Happy Thanksgiving! May this day be a beautiful reminder of how blessed you are.
💕 Today is the day to be thankful, live in splendid times, and appreciate those who make our lives better. There are so many things to be thankful for, but at the top of my list is you! Happy Thanksgiving, honey! 
💕 Happy Thanksgiving, babe. Today we count our blessings for being together. Now, let's not let the turkey and mashed potatoes go to waste. 
Saying Happy Thanksgiving To You My Love
💕 Happy Thanksgiving day! From our table to yours, we wish you buckets of blessings for this holiday season and the years to come.
💕 Hope that you're having a joyful holiday surrounded by the best people in your life (pity that I'm not there…). Happy Thanksgiving! 
💕 Happiest Thanksgiving to you, love! Wishing you and your parents a day worthy of the history books. May a day filled with laughter, joy, good conversations and thankful hearts renew your appreciation for all this world has to offer. 
💕 Sending you a note your way to say that I hope you're enjoying this delightful day and all its traditions, especially the desserts! I love you, sweetheart. 
💕 People say that nothing feels better than a grateful heart. I think that's true… but I have to say, great company and amazing food is a close second. Happy Thanksgiving and may we spend more time together!  
💕 I would like to wholeheartedly thank you for inserting so many beautiful rays of colors into my previously grey life. Have an exceptional day! 
💕 Happy Thanksgiving! Thank you for loving me when I am at my lowest, honey. 
💕 You have a special golden throne in my heart. Thank you for stepping foot into my life and making it super special. 
💕 Wishing you all the greatest things this galaxy has to offer this Thanksgiving. Have a lovely time as you celebrate Thanksgiving together.
💕 The gift of wonderful friends and family are the most extraordinary ones of all. You are in my heart and prayers every single day, especially during this special day. Happy Thanksgiving! 
💕 On this special day, I would like to thank God for one simple thing: he made you my life-long partner. Life has been incredible with you, and I know he has more in store for us. 
💕 You are all I ever need, there's no one I would rather be with. This Thanksgiving, I want to show you how grateful I am to have you as mine. 
You Make My Beautiful Life Worth Living
💕 I could never thank you enough for always helping me get back up when I fall to the ground. Happy Thanksgiving, my love.
💕 How do you always find ways to make me feel so special and loved…? Hope you're having a wonderful day in good health!
💕 You are undoubtedly the most precious treasure I have in my treasure chest. You complete me in ways no one could ever imaging. Happy Thanksgiving, my darling. 
💕 Thank you for making me see my own worth and capabilities. Your unconditional love is what I'm most grateful for this holiday.
💕 You have that special ability to turn my gloomy days to cheery ones. Hope you can feel all my love for you this Thanksgiving.
💕 Happy Thanksgiving to my special person! You are the most thoughtful and supportive lover I could ever ask for.    
💕 Thanks for taking the word 'worry' out of my dictionary and replacing it with 'joy'. Cheers to a cheerful Thanksgiving!
💕 I don't know if you know this, but you're everything to me. Thank you for being such a wonderful human being to be with, and for teaching me how to open my mind to the complexities of this world. I love you so.  
💕 Here's what I have to say this Thanksgiving: I never thought that I'd meet someone that could love my body the way it is, for never making me feel inadequate, but rather perfect for who I am.
💕 Experiencing your love makes me want nothing else in the world. Thank you for being the way you are, and this Thanksgiving, I wish that I can return the favor. 
💕 Thank you for being someone I can count on and loving me the way I am. I love you more than you'd ever know.
💕 I don't need a bouquet of roses, a box of chocolates, or a fancy dinner. You alone make everyday feel like Valentine's Day… coupled with Thanksgiving, I am the happiest person in the world.
💕 Thank you for making all of my best dreams come true, because all of them involve you. Hope you're having a nice Thanksgiving over there. 
💕 Thank you for loving me more than anyone else could have.  I wish you good health this thanksgiving, because I want you around for many years too come.
💕 If I were an arrow, you would be my target. My life has no purpose without you. May God bless you tremendously this Thanksgiving. 
💕 I grow more and more thankful of you every year, sweetie, which makes every Thanksgiving better than the last one. Sending you loving Thanksgiving messages today. 
💕 The love and happiness you have been showering me with are just irreplaceable. This Thanksgiving, let me try to shower you with my appreciation.
💕 Having you in my life has been a great adventure. Happy Thanksgiving! Love you.
💕 I want to be the person that holds your hand, that makes you feel good about yourself, that walks by your side, and that you seek to cuddle with at the end of the day. I hope that I can make that come true this season. 
💕 Your love is the cure to my wounds, laughter to my sorrows, mentor to my problems, teacher to my thoughts, and companion to my joys. Happy Thanksgiving, my baby. 
💕 Do you know why I love you so much? You inspire me in my daily life. You have fulfilled me and helped me grow as a better human being. Most importantly, you have made me realize who I truly am. 
💕 Thank you for being my best friend and personal life guru. You never cease to fascinate me with your ability to turn bad situations into better ones. Happy Thanksgiving, beautiful one.
Quotes For Family And Friends For A Joyous Thanksgiving
Over 100 Ways To Say Happy Thanksgiving To The Love Of My Life