Beautiful Wedding Quotes For My Niece
Do you have a niece that is about to get married?  If so, pick from our best wedding quotes for my niece to send to her to let her know how much you love and care for her. There are many ways to convey your heartfelt congratulations and good wishes, but finding the right wedding wish can be a challenge.  
You may want to share a memory or two of her childhood , or give her a piece of advice for married life.  Whatever you say, make sure it comes from the heart and conveys your love for her on this special occasion.
If you are not sure what to say check out these cute wedding wishes for niece.    
Wedding Day Quotes For Niece
The man you chose is like a dream come true.  He's kind, handsome and he truly loves you! Here's to a beautiful life and love story for the both of you.  
My beautiful niece got married today.  I am so excited for your new life.  Sending big congratulations to you and your new husband.  Thank you for sharing your beautiful love story with us.  I wish you both a happy married life 
The most rewarding experiences in life are rarely easy to come by, but if you put a lot of  work into your marriage, you'll be rewarded with all the love, joy and happiness you need. Congratulations to my wonderful niece, let's toast to  your very happy married life.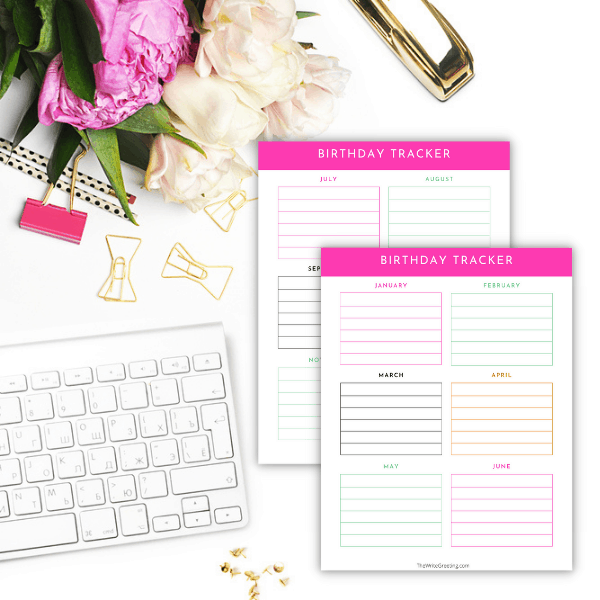 FREE Birthday Tracker Printable
-Don't forget another birthday with our handy tracker.
-Give yourself time to get a card or gift before the big day. 
-Easy to print PDF download. 
Wedding Wishes to My Niece & Her Husband
Sending the best wedding wishes to my niece and her betrothed.  I couldn't be more proud of you and how you've grown. To see you've found true love is surely a gift from God above!  I am so happy for you both and remember ___________, happy wife = happy life lol, I love you both.
I want to wish you well on the start of your beautiful marriage and wonderful life, may god bless you both as you start this adventure together. 
On this very special day, I want to wish my wonderful niece congratulations on her wedding.  You deserve nothing but the best!  I am so excited for this new journey and new phase of your life.  Congratulations to the wonderful couple.  
Wedding Wishes for Niece And Husband
I wanted to send my warmest congratulations to my favorite niece on this special occasion.  May you always know the joy of being loved by a good man!  You will go through tough times and good times, once you stick with each other be an understanding and loving partner,  you will have a great married life, all my best wishes.  
My favorite niece is getting married!  I am so excited for her, she has found the love of her life, and they're going to have an amazing life together, because she is going to be the most amazing wife.  Sending happy wedding wishes from your aunt and uncle.  May god bless you both. 
To my niece,  I want to wish you the best! Thank you for inviting us to your beautiful wedding ceremony, where we could see you in your beautiful wedding dress, the wedding bells were so cute.  It was a spectacular wedding day.  We wish you both a very long and happy life together. 
Congratulations on your wedding niece, it was a beautiful wedding ceremony. I know you are going to enjoy a great married life together, let's cheers to your new exciting and happy life.
What To Write In Niece's Wedding Card
If you are looking for what to say to send your niece congratulations on her wedding day, look no further, we've got you covered!  If course you want to write the perfect wedding wishes, but what exactly does that entail?
You can say something like :We wish you a blessed and joyous marriage from Aunt ______", or try this "To my lovely niece, happy wedding ceremony", or "We wish you nothing but happiness on this amazing journey of yours".
Read on for some more inspiration for happy wedding wishes for your niece.
This is a new and exciting chapter that you are entering baby girl.  Treasure all the happy moments you will go through as a married couple.  Cheers to your new healthy and happy life, god bless you both.
It's hard to imagine that two words could bring so much love and happiness to your whole family, but hearing you say, "I do" brought tears of elation to everyone's eyes! Congratulations to my favorite niece, and may you have a life full of happy memories.  It was the best wedding imaginable.
Here's to a beautiful future ahead.  We wish all the best to you both.  I hope marriage lives up to your dreams and that your vows stay true forever.
You may fight with each other sometimes, but the important thing is that you fight for each other when it's necessary! Big congratulations to a wonderful couple from our side of the family.  
Wedding Wishes For My Niece
When your niece is getting married, it's a really special day for the whole family.  You're so happy for her, all you want is for her to enjoy a happy married life with her handsome soon to be husband.  
It's hard to know what to write as wedding wishes for niece, but check out some of the below, we think they will help you find something you like.
May you have a blessed marriage, sending our best wedding congratulations to a wonderful couple.  
As your wedding bells ring out, may your unforgettable wedding love continue to grow stronger with each passing year, wishing you a happy married life niece.
The best part of your husband is his wife.  Congratulations my sweet little niece.  To a niece who's kind and sweet, may your beau sweep you off your feet and may you enjoy a healthy and happy life.    That is my wedding wish for you.
You've always done your best at anything you try, so give your marriage your best shot! Wishing love, joy and happiness, to my niece on her marriage.
Arguments come and go, but true love lasts a lifetime. May your fights be few and your makeups be tender! Congrats on your big day dearest niece.
Funny Wedding Quotes To My Niece
Depending on the type of relationship you have with your niece, you might want to send some funny wedding wishes to her instead.  Not sure what to write as funny wedding wishes, we've got you covered with our best funny wedding wishes below.
It's hard to see my niece promise her life away to a man, but if you're sure this is true love you have my best wishes. If you change your mind, my couch is ready for you!  
 Your husband knows that my niece is everything to me, so he better work hard to make your life a fairy tale for you. If not, I'll turn into the wicked witch, and he'll be happily-ever-out-the-door!
Your big day is around the corner, my dear niece! You'll be a blushing bride, and not just because your aunt is bringing all of your naked baby pictures to the wedding reception. Best wishes, and I'll make extra prints for you!
Wedding Wishes for a Niece and Her Husband
When it comes to sending wedding wishes for niece, you can use words like "only the best wedding wishes for my niece", or "may your wedding be a happy wedding day, full of love and happiness".  
Remember this is a day filled with happiness and joy, so keep all your niece wedding wishes full of positive energy, so use wedding wishes like "I know you will have a happy married life niece", or "Sending wedding congratulations to my favorite niece", or "enjoy a happy wedding".
Just make sure she has a special day that will stay with her forever.
Marriage is like a deck of cards.  In the beginning all you need is two hearts and a diamond.  By the end, you wish you had a club and a spade lol.  Just kidding my dearest niece.  Enjoy this beautiful moment for you and your fiancé.  
I hope you get a warm welcome from your in-laws, and that they treat you with love, respect and dignity. You don't get any of that from your blood-relatives, but we all know you too well. Cheers to a very happy beautiful future ahead.  
Dearest niece, never take each other for granted and always listen to each other.  Never go to bed angry!  I hope your new life together is as beautiful as you both deserve.  Sending warm wishes to both of you on your happy wedding day, I wish you all the happiness in the world.
Best wishes for a beautiful future together.  So happy for you both on this wonderful day.  May god protect you and your husband, and ensure you enjoy a happy married life niece, that's all I want for you.
Cheers to a happy future together.  Best wishes for a happy and healthy marriage, wishing you all the joy and happiness that comes with being married.
What to Write in Niece's Wedding Card?
Being your mother's sister means that I've been there for you since day one- and now that you're about to begin your married life, that's not going to change! Congratulations and best wedding wishes from your favorite aunt. 
May the love between you double with every year that you're together, and maybe when you're in your 90's, the love between you will be as strong as mine is for you! Congratulations on your wedding, from an aunt that you mean everything to. 
Your aunt can tell you that most things don't last forever- but even if your marriage doesn't my love for you will.  As long as you feel loved, joy and happiness will follow. Congrats and best wedding wishes, all I want is that you enjoy a happy married life niece.
Happy Wedding Day To My Niece
I couldn't be more thrilled to see you tying the knot.  Your wedding day is a special one, and I'm honored to be able to share it with you, wishing you both a very happy married life.
I wish you all the best on your journey in married life. I know you must be getting lots of wedding messages, I hope mine arrives on time.  We love you both so much.  
With a strong, handsome and educated man like your husband, you're certain to have healthy and beautiful babies! Congratulations on your wedding, from an aunt that will spoil your kids like they're my grandchildren. 
My sweet little niece becomes a bride. It's the biggest day of my life! May true love give you all that you want, niece congratulations, from your loving aunt!
Sweet Messages for Niece On Her Wedding Day
My dear niece, your big day is soon- you'll be swept away by your true love, the groom! Your aunt will always be by the phone and ready to welcome you home. I hope your married life is full of thrills- congratulations on your wedding with all the frills.
Finally, my niece will celebrate a tradition that is  centuries old; the romance and true love for which stories are told. On your wedding day your aunt wants you to have the best! You're a beautiful bride, on a pedestal over the rest. So, say your vows and get carried away- I wish you joy and happiness every day! 
My dear niece and the man of her dreams- a three tier cake and sparkling rings! The guests are arriving in teams with a preacher in tow and a pianist that sings. Your wedding day will be one to recall, and I hope it's all you want. May married life be the best of all, and congrats from your favorite aunt!
Get the flowers and bake the cake, my niece's wedding day is at stake! As her aunt there's lots to do- pick up the dress and shine the shoes. Find a flower girl last minute, if your dress rips your aunt will pin it! I've been there your whole life through, so I'll be there on your big day, too.
I can tell he makes you happy by the look that's in your eyes, so I wish you joy and happiness and never cheating or lies. Married life takes hard work but if you see it through, there'll be nothing but true love for both of you. As your aunt I'd like to say, "Congratulations to you on your wedding day."
Wedding Congratulation Messages For Your Niece
To be a part of your wedding crew is like a dream come true! I made sure you had something old and new, borrowed and blue. Your aunt is so proud of you, and your love that's proven true. I hope married life is good to you, my dear niece and your groom, too!
Your birth was a blessing to the whole family, and as your aunt you mean everything to me. Now your wedding day is here, it's hard for my eyes not to tear. Not because I'm sad to see you go, but because I'm glad I got to see you grow. May your married life be a whimsical whirl, like the times you had growing up as a girl.
My dear niece, you're such a pretty lady- combined with your husband you should make a pretty baby. If it's a little girl you can name her after me, your favorite aunt who looks like you, see?  
Happy Wedding Messages For Niece
Congratulations my dear niece, I feel like I'm in a fairy tale on your special day. May your happily ever after be a dream come true for a princess bride and a prince charming groom! 
Congratulations on your wedding dear niece, from your aunt who can't wait to hear you say "I do" to something besides second helpings. May your married life be like a buffet of love that never runs out! 
To be a wife is not an easy task, but it can be amazing when you find the right one……and you did.  Sending lots of love to you both on your beautiful day, as you start your lives together as husband and wife.  
You are a blessing to me and now a blessing to your groom, you'll have a new home together soon. Your uncle wishes the both of you the best with married life, true love's test!
Thank you for including us on your beautiful day! Seeing our niece get married was a once in a lifetime experience… Unless things don't work out, and then we might get an encore performance from you! 
I think of you and the woman you've become, and I can't help but feel proud. You're the best niece an uncle could have, and you deserve the best wedding.  May your married life be everything you deserve. Cheers to a very happy married life.
When you become married, everything is shared, so you never have to face your troubles alone. Congratulations on your wedding, dear niece, and a life without loneliness, and with lots of love.
So happy to be celebrating your wedding with you both.  Wishing you loads of love and happiness for ever and ever.
Quotes For Your Niece On Her Wedding Day
I've always thought of my niece as being Snow White, the fairest in all the land. Now you've found a prince charming to take your hand. With all my love.
I tell everyone what a smart, resourceful and classy niece I have- now I can brag about how she brought an excellent man into our family! Congratulations on your wedding, from your proud aunt.
Wishing the both of you the best with married life, but also reminding you that there's always room for my niece at my house! Congratulations on your wedding! 
I wish I could be there today, I'm so sorry to be missing your beautiful day.  I will see you when I get back, in the meantime, I send you my warmest wishes for you to enjoy your big day. 
Wishing my dear niece well on her special day- good luck with your wedding and enjoy married life!
You and your husband go together like peanut butter and jelly, so I'm not surprised by your wedding announcement- or as I think of it, sandwich day! May the true love between you be the bread that holds you together always. Sending wedding wishes your way.  
My beautiful niece, you could have had any man that you wanted.  Make sure your husband knows that lol! Have a fantastic day, don't stress too much and have fun!  
Congratulations to my dear niece, on finding true love. May God bless your union and keep you committed to each other.
Celebrating the love between my niece and her husband fills my heart with joy and happiness.  I am so happy that you found each other.  
Sweet Message To My Niece On Her Wedding Day
Married life will have its hurdles, but you don't have to jump them by yourself. Good times and bad, you're in it together!  I wish you both a happy married life.  After all, that's what most of us want out of life!  
Just a small note to tell you how happy we are for you! We wish for our niece to live in a world of love, your sweet new husband seems like the right guy to bring you just that! 
I feel like I'm losing my niece as you move out with your newlywed beau, but I'm also gaining a nephew. Congrats, and enjoy your home and married life together- and if you don't, I'll keep your room in my house ready! 
Congratulations on finding that one special person you want to annoy for the rest of your life- your family has had enough for all of our lifetimes! Best wishes and lots of love from your aunt. 
We couldn't be happier to welcome your new husband to the family- we've been saying we could use fresh meat. Congratulations to my niece, and her free range man!
People are weird. When we find someone with weirdness that is compatible with ours, we team up and call it love."- Dr. Seuss… With this in mind, you and your husband definitely have true love! May god bless both of you.  
Dear niece, best wishes on your beautiful day today.  I'm so happy for you and your new husband.  I know you two will be very happy together.  I'm sorry I can't be there with you today, but I'll be thinking of you and sending all my love.  Wishing you a lifetime of love.
Two people join as one, and one cake is divided into many. The cake will be gone fast, but the salad will still be plenty! Congrats to my niece and her fiancé.  
Everything happens for a reason, even the time you split your pants at school. Hopefully there's no reason for a wardrobe malfunction at your wedding! Best wishes and good luck on your big day.
Religious Wedding Wishes For Niece
On your wedding day, may your faith be the foundation upon which you build your life together.  May God bless you with love and patience, and may he guide you through all of life's challenges.   As you celebrate this beautiful day, know you are surrounded by the prayers of those who wish you a lifetime of peace and love.
Today, you embark on a sacred journey.  As you commit yourselves to each other, you also commit yourselves to a higher power.  From this day forward, you will share everything, your hopes and dreams, your sorrows and fears.  You will be each other's strength when times are tough and your best friend when times are good.  As you begin this holy journey, may the love of God always light your way.  Amen
On your wedding day, may the divine spirit of love fill your hearts and bless your union.  May the strength of your faith sustain you through all the trials and tribulations of life.  On this most special of days, may you feel the presence of Almighty God as you begin your journey together.  Amen 
Best Wedding Quotes for My Niece
Wedding Quotes For My Niece