Flirty Good Morning Quotes For Him
So it is morning and you have woken up with more than coffee on your mind. Whether you desire some manly company, or plan to "go it alone," let your man know you are thinking of him in a less than angelic way with one of our flirty good morning quotes for him. 
What man doesn't want to some good morning text messages that are flirty and get him the mood, they also let him know that he's still the hottest guy around for you!  So if you're not sure what to say in in some flirty good morning texts, keep reading and we'll help with that.
No matter how his day  is starting , it will be sure to change for the better knowing you are thinking of him  "getting up." 
How Do You Wake A Guy Up Over Text?
Doctor, I'm not feeling so well this morning, can I have a check up, please? 
Oh baby, I'm so glad you're up. I've been craving some sausage! 
Good morning hot stuff!  No talking, now go bring some bacon so I can serve up the eggs.
For your special breakfast this wonderful morning, we have buttered toast or buttered muffin. The choice is yours. 
I think I'm in the mood for some light breakfast today… how about  you turn me over-easy?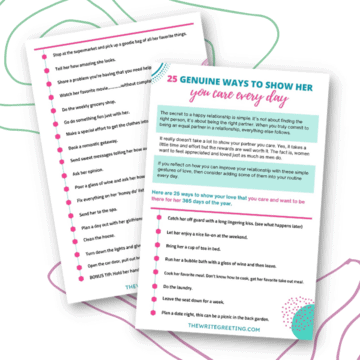 FREE Download! 25 GenuineWays To Show Her You Care Every Day
Last night was mind-blowing. Care to relive it again this morning? 
Morning, baby. I really wish I was there to give you a proper wake-up call, if you know what I mean.
Good morning, handsome. I had such a naughty dream last night, can't wait to relive it with you later tonight.  Have a wonderful morning honey.
Where are you, I need my good morning kiss????
Other related articles you may like:
There is nothing better than waking up beside you, you truly are the sweetest guy I know.  Have a fantastic afternoon, and I will see you later tonight.  
Hey it's monday morning, and my shift doesn't start until later,  Hope you had a good night's rest. as you know I'm not a morning person, but just the thought of you sets me off, any chance you can come play???
Just thought you would want to know… I was freezing this morning, then I thought about you and instantly got hot.   Want to come over for some 'morning coffee?".
What To Text A Guy In The Morning To Make Him Smile?
What does any guy want to hear from his girlfriend any time of the day?  They want to know that you are still hot for them, so sending them some flirty text messages is a great way to let them know you are still into them!
Don't put a lot of thought into it, sending a text that starts with "hey sexy, or "hey handsome man", lets your man know exactly what you're thinking about.
So take a minute and send a little good morning note to start his day off the right way!
Good morning, my love. I'm gonna hop in the shower, would you care to join me? 🙂 
Hey there. I really wish you were laying tight next to me… with nothing on, any way you can make that happen, pretty please? 
You're my favorite (dirty) thought to have in the morning., good morning hot stuff! 
Morning! If I could wish for one thing in the world right now, it would be morning sex with you, just the thought of you turns me on, hey sexy, do you have a few minutes???
I was just wondering, how do you want me to make you moan tonight?  Oh and good morning honey, I miss you.
Flirty Good Morning Texts For Him
Good morning, sexy. My bed feels so, unbearably empty without you in it… and so do I 😉 
Morning, honey. I'm just laying here imagining what I would do if you were here right now. Spoiler alert: I would not let you go out of bed, good morning handsome.
Hey, gorgeous, I wish you were here so we could have some good morning sex… followed by long cuddles… then, more sex… 
To the hottest guy I know, let's take today off and go back to bed, good morning babe!
You are my whole world, I'm so lucky to have met such a special guy like you.  Have you in my life makes everything better.  I can't stop smiling because of you!
If we were in bed together right now, you wouldn't be beside me… you'd be deep inside me. Just saying hot stuff. 
Hey! I literally just woke up and thought about that one time in the hot tub… it was so damn HOT! xoxoxoxox good morning.
How Do You say Good Morning in a Flirty Way?
If you're looking for a way to start your day with a little bit of flirtation, why not send your boyfriend some flirty good morning texts.  A well-worded text message can make him feel special and let him know how much you care.
Don't be afraid to be playful and coy with your words.  A little bit of innuendo goes a long way!  Start your good morning texts with some affectionate words or phrases, then add in some suggestive comments.  By the time he's finished reading your cute good morning text, he'll be ready for anything!  Check out our favorite good morning messages to send him to get him  going in the morning!
Wake up, sleepyhead! I'm texting you with one hand, the other one's a bit busy… wish you were here hot stuff! Go have a fantastic day and hurry back home.
Get up, you beautiful being. I'm so horny for some reason… wanna help your girl out?  
I can't get all that we did last night out of my mind. Anyways, hope you'll enjoy a great morning. 
Hey, there… I'm on the subway right now and I can't stop blushing over the dream I had about us last night, wanna come over tonight and have a repeat?  Btw, good morning babe.
Good morning, darling! So… I'm too sleepy to touch myself now, do you want to come over and do that for me? 
Hey, it's [the current time]. Small question: do you think it's too early to masturbate, or should you come over and we can do better things together? I hope you're reading this in private, you know how my morning text messages ae like
Good morning, love! Remember, when you wake up, you have two choices now: you can continue to sleep and dream about me, or you can wake up and actually have me 😉   
Morning, boo. I have to go to yoga later today, so I need to practice putting my legs over my head. Wanna help me out? 
It's a beautiful morning, but it would be so much better if I had you next to me.  
How Do You Say Good Morning In A Flirty Way?
Morning, babe. I had a thought: a bad attitude is like a flat tire!  You cannot go anywhere until you change it… and I happen to be in such a bad mood this morning, hey handsome, you wanna change my mood? 
Before you say good morning and make me a cup of coffee, would you come closer to me? Who knows what might happen… 
Good morning to the most handsome guy I know.  I can't wait for our date tonight,  I hope that you got a good night's sleep last night, because tonight you are going to be up all night long, good morning cutie.
I love that the beginning of the day always starts amazingly with you… when I reach that high, nothing in the day can beat that feeling.  I can't wait for your good morning kisses….all over my body!
A good morning starts with you.  Have an amazing day, good morning sweetheart.
Hi and good morning cutie pie.  Who needs coffee to wake up, when you're around.  wishing you a very good morning and an even better good night tonight.  I can't wait for our date tonight, I love you xoxo
How do You Text a Flirty Good Morning to a Guy?
If you don't like seeing me naked in the morning, then why couldn't you adjust the timer on your lawn sprinkler system?
Morning, sexy.  I miss you so much that I want to cry. But it's not my eyes that are wet right now.  
Good morning sexy thing.  Here's a special coffee for you, brewed with love and affection.  I wish I could far forward the day to tonight.  I miss your cute face, you sexy thing.  
Good morning to the man of my dreams!! May you start your lovely day with a huge smile on your face and plenty of happiness for you to embrace… let me be a source of that. 
I want to reach my ideal body weight, which is your weight on my body!
Have I told you lately that all good morning start with you, good morning handsome.
I wanted to send you some sweet good morning messages to let you know I was thinking of you, good morning sunshine, are you ready for me yet??? 
Your smile is the only inspiration I need, your voice the only motivation I need, and your good loving the only source of energy I need,  good morning my love.
I just wanted to say good morning my love, I hope you have a great day and come home to me excited for our date tonight!
Good morning, my sunshine! There is nothing more valuable in this world than you are to me.
Love is blind. Especially in the morning, because I can't see a damn thing before sipping coffee… but at least I can feel you.   
What To Text Your Boyfriend When You Miss Him
When you are separated from your boyfriend because of a long distance relationship, or because of work, the best thing you can do to keep the fire burning is to send him a good morning message, but not any good morning text message, you want to send him some romantic text messages so he remembers what he is missing!
Start writing your own good morning message, tart it off with something like "Good morning sunshine", or "good mornings start off with you and me…..in bed together"  
whatever you say in your good morning text message, he's going to appreciate the gesture, who knows, maybe he'll come visit sooner than you thought!
You are the source of my happiness, the center of my universe, and half of my heart. I felt incomplete waking up today, because you weren't by my side.  I love waking up beside you, it makes all the difference to my day.
You are the sole reason why I wake up each day with flares of love in my heart and butterflies in my stomach, and my hand between my legs.  
Good morning to the most wonderful man in my life. You're kind, smart, handsome, charming, and humble… what a complete package! Oh, and I almost forgot the smile…
I love you as much as I love my first cup of coffee in the morning. I wish I could have you with me all the time. 
Flirty Good Morning Quotes For a Boyfriend
Who doesn't want to receive a flirty good morning text from their favorite person?  Here are some of our favorite romantic messages you can use to send your main man!
Good morning! I hope that a this little text from me would perk up your morning… I wish you were here…perked up…if you know what I mean… 
If you were only HERE..I'd let you put it THERE! 
I don't like morning people, or mornings, but I like waking up to you….on top of me, now that's a good morning!
Wish I was waking up with you touching my bare skin. 
Good morning, it's kisses time, where are you?
If you're a good boy today, then maybe I'll give you a sexy surprise before the clock strikes midnight.
I'm sitting here with the biggest smile on my face.  Thank you for last night, and good morning my handsome man!
I woke up craving you this morning, fancy starting the day off the right way?
If only I was there to help you wake up…and help you to get the day started the right way!
Somehow, I know I'm gonna to be daydreaming about your hot and sweaty body all day at work.  
Great Sexting Phrases To Send Him
I'm extra horny this morning… want to come by?
I woke up before my alarm went off, this gave me enough time to fantasize about you. Now I've been thinking about you all day long, I need to see you tonight!
I had a wild dream about you last night, I'd tell you more about it if you were here… and maybe show you too. 
My first thought was of you this morning, I am the luckiest girl in the world to have you!
About to get in the shower, want to get extra wet with me?
I love sleeping naked… if only someone was here to enjoy the view.
It's so early, and yet I already wish that I was in your arms.  
Imagining that I was waking you up with an amazing blow job?  How soon can you get here??
I can't control myself when I think about you in the morning, I just want to jump on you as soon as possible. 
What's something Flirty to Say to a Guy Over Text?
Nothing could contain my excitement. I even woke up early because I just can't wait to be with you tonight.
The way you come is the single hottest sound to my ears.  
Here's a picture of how I woke up. Don't be shy, tell me all the bad things you'd do to me. 
Waking up next to you is my greatest blessing in life. Have a wonderful day. 
Thinking about you makes me unbelievably wet. I hope you are well rested for tonight!
I woke up today and thought of you…and touched myself…come over! 
Good Morning Love Messages and Sexy Quotes
Get his day going the right way these flirty texts to send him first thing in the morning.  Just make sure you leave the door unlocked!
They may have come in pairs, but my boobs  were lonely this morning without you.
I woke up with a bunch of dirty ideas about what we should do this afternoon. 
Good morning, baby, I hope you had a good night's rest!
Morning Stallion. How would you like to be ridden hard and put away wet? 
I always miss you as soon as the door closes every morning. Can't wait for you to come home later! 
Good morning, my sweet cheeks.   Speaking of sweet cheeks, I know the best way to get this day started!  Good morning my handsome man, now get over here!
I woke up this morning hungry for you, how soon can you get here?
Good Morning Flirty Quotes For Him
I just wanted you to know I've been thinking about you all morning. Looking forward to our date later! 
I hate that I can't see you… sending you virtual hug and kisses! 
I am thinking about you right now, bad thoughts, I need a spanking!
Good morning my handsome man 🙂.  I can't wait to see what we can get up to this evening.  Let's get this day started so we can fast forward to tonight!
The art of seduction is knowing what she really wants and slowly giving it to her in a way that takes her breath away.
Fun fact: You're the first thing I think about when I wake up in the morning, every single day. 
Morning, honey! I hope I am on your mind as much as you are on mine!  
I spent my entire day thinking about you, I can't wait to see you later…….for some fun!  
BREAKING NEWS! The hottest man on earth just woke up!
I think my pillow is starting to be jealous… it's sensing that I'd rather be sleeping on you!
How Do I Make Him Smile in the Morning Text?
Hi, hello, good morning. I woke up so happy today, hope you are too!  It's going to be a beautiful day.
Good morning, sweetie! Friendly reminder that you are the bacon to my eggs, the PB to my J, and the butter to my toast. Okay, I'm getting kinda hungry now…for you.
You are the reason I get out of bed every day… so by the time I finish work, I could possibly end up at yours. I hope your day is more than kind to you, my lovely.  I have big plans for us tonight!
Do you have any idea how insanely happy you make me? If not, then I'm glad I told you, so you can start your day knowing that you have a woman who would do almost anything to make you happy… even the naughty things 😉  
I couldn't get you out of my head all morning… kinda like I couldn't get you off of me last night 🔥  
Hope you're having a nice morning, love.  Get ready for a special date night!  
What are you, some kind of Olympic athlete?  I can't stop thinking about last night, wanna go again?
Get your lazy butt out of bed now and get over and here and service me you sexy thing!
I need you so badly this morning………………my coffee machine's not working and I need to wake up….the right way!
I'm truly looking forward to the times when I get to wake up next to you every morning . 
Flirty Good Morning Text for Him
Flirty Good Morning Quotes to Make For Him