Find The Right Sayings To Wish A Happy Easter Holiday
When Easter time comes around in the spring, we often want to send out cards to family and friends, but it may be difficult finding out how to wish someone a happy Easter holiday. 
That's where we come in. Below you will find over 150 sayings, wishes and quotes to help you wish your family and friends a Happy Easter. 
What Is A Good Easter Blessing?
For this joyful Easter holiday, I wish you hopeful new beginnings, heaps of love and unlimited happiness!

I hope that this Easter fills your heart with peace, your head with joy, and your home with buckets of Easter eggs.

Easter is the day that symbolizes life's renewal.  For that reason, I wish you and your's the birth of wonderful opportunities.

Happy Easter! May you feel the bright, cheerful blessings God has endowed upon you.

May God's love and spirit fill your home this Easter and every other day of your life. 
Wishing you a very gleeful Easter, filled to the brim with good vibes and love! 
To you and your wonderful family, Happy Easter! May the Lord be with you all now and forever.
Cheers to a Easter holiday full of happiness! May your family be blessed with health and success in the future. 
Even though I'm not there today, I'm sending you plenty of warm hugs and kisses. May all your dreams and wishes come true! 
On this special Easter, I wish you nothing but happiness and for your house to be filled with unswerving faith in Christ. 
Easter is more than just bright eggs and candy. At its core, its about peace, love, and family, so I would love to spend it with you.
I wish you a blissful Easter holiday! May you be surrounded by delicious treats, the best company, and God's love! 
Easter teaches us the true meaning of faith and what it feels like to have the Lord in our daily lives. 
Wishing you an Easter holiday just as bright and lovely as you are! 
Happy Easter to you and your wonderful family! May you experience the renewal of hope, health, and love in the spirit of Jesus. 
Wish You A Happy Easter Holiday
Hope you're enjoying an Easter as unique and gorgeous as you! 

Here's to a super fun, sunny and unforgettable Easter! 

Thinking you on this lovely day! Hope you're having a great Easter over there, followed by an even greater year. 
Warmest thoughts to you and your family on this holiday. Have a lovely Easter!
Happy Easter! If I could, I would give you eternal sunshine and baskets full of the best chocolate.
Happy Easter, love! Hope that you're surrounded by sunshine, flowers, not to mention dear friends and family! 

Sending sweet thoughts and best wishes for a happy, hoppy Easter!

I try to always show my appreciation for good friends like you, especially on this special day. Happiest of Easters to you! 

What more do you need on this wonderful occasion then love, chocolate, and sunshine? Happy Easter, everyone! 
I know in my heart that all your work will be paid of with joy and laughter. Enjoy your Easter holidays! 
Happy Easter, sweetheart! May you be blessed with a season of peace, happiness, and magnificent weather. 

Today, I'm wishing you all the fun and joy this holiday could possibly offer. Have a wonderful time with your beloved family! 

Hoping that you Easter celebrations are full of the sweetest things in life!

During this hopeful time of the year, I pray that you'll have the most amazing Easter holiday ever, surrounded by your loved ones! 

On this joyous and sunny Easter day, I hope that you're walking around with huge smiles on your face and delightful treats in your hands.
Get Some Help Wishing Everyone Happy Easter
Have a blessed day accompanied by your closest friends, family, and mountains fine chocolate
You make my little heart hop like a little bunny! Happy Easter, my darling.

Happy Easter to you, my special one! Enjoy this delightful day and all the sweetness that comes with it. 

Have a hoppy, superb Easter filled with family and lots of love!
May your basket be filled to the brim with sugary goodness this holidays.
What did I do to have such a good egg… Happy Easter to the loveliest son/daughter!
Happy Easter, my favorite cute bunny!
Have a bunny-tastic Easter holiday!
Happy Easter, kids! I hope that you're all ready to be bombarded with piles of chocolate and pretty painted eggs.

Easter morning has arrived! Let's give thanks to God for giving us this wonderful world… and the possibility for a sweets fest, of course! 
Get ready for some eggs-tra special, sugar-filled surprises in your basket!

It's that time of the year again – Happy Easter! Now, let's go paint some eggs, devour numerous chocolate bunnies, and have the bet time. 
Happy Easter! May the Easter bunnies bring you something extra mouth-watering this year. 
Hop, hop, hop! Hear that? The Easter holidays are coming!
There's nothing in the world I would do than spend my Easter with you you, my sweet bunny.
We wish you a delightful Easter filled with chocolate, candies, and more candies! 

I hope that the Easter Bunny brings lots of the sweet treats you have  dreamt of.

Happy Easter to not just some-bunny, but the most special bunny in my heart! 

Don't mind me… Just hopping by to wish you a very Happy Easter! 
He is risen! Wishing you a Happy Easter and an upcoming year full of new opportunities. 
Religious Easter Messages
Today, we shall remember Jesus' sacrifice and give Him thanks for the redemption He brought to out world. 

Have a holy and blessed Easter! 

Happy Easter! May this charming day be a testimony of God's love and glory. 

May you be showered with blessings, love, and fulfilment this Easter!
Have a heavenly holiday filled with glee, warmth and comfort! 
Happy Easter! It's time to celebrate His most fascinating miracle of all. May his divine presence fill your heart with love. 
I'm sending you wishes for a relaxing and reflective Easter holiday. God bless! 

I am beyond grateful for our everlasting friendship and all the memories that come with it. Have a nice Easter holiday!

May the grace of our savior follow you everywhere you go. Have a wonderful Easter! 
May you feel the power of God on this blessed day.
Easter Holiday Wishes To Friends
Let us count our blessings and rejoice on this truly special holiday!
Here's to an Easter spent remembering the holiday's real meaning: renewal, forgiveness, and peace in the name of the Lord.  
May God bless you abundantly during this time of hope, happiness, and hop-piness! May you all enjoy a bunny, funny Easter!

I pray that you feel Christ's love for you this Easter and in many more days to come. 

May the miracle of Easter bring you joy and the strength to pursue your dreams! 
Easter is a time to remember the sacrifice that He made for us. Celebrate this holy day with love, smiles, and bliss. Have a blessed one! 

Hoping for the most joyous and blessed Easter for you and your wife/husband!

Have an egg-cellent and bunny-tastic Easter! May your soul be re-filled with happiness and vitality.
Happy Easter, my friend! I hope that your Easter is full of celebrations and life., love and peace!
May your Easter holiday be fun, memorable, and most importantly, joyful. Good luck in the Easter egg hunt!
May God fill your home with all the love you deserve this Easter. Have an unforgettable holiday!  
Happy Easter, my little bunny! Hoping that your day is filled with lots of fun, happiness, and last but not least, chocolate-goodness!

Since Easter is here, let us spread love and cheer in our community!

May God color your life with bringt and hopeful colors this Easter! Apart from that, enjoy your chocolate!

This Easter, I wish that there are wonderful things waiting for you in the near future. For now, enjoy your time!
Best Wishes For Easter Holidays To Family And Friends
Wishing you a warm and peaceful Easter! May God bless you and your family. 
I hope that you're having a marvellous and gleeful Easter with those dearest to your heart! 
Stay positive, be happy and have a glorious Easter! 

I hope that this special day in April brings you smiles, gratitude, and bliss. Looking forward to seeing you soon! 

Happy Easter and may God endow you with another season full of love and joy! 
May you be showered with all the blessings, love and happiness under the sun. Happy Easter, love! 

Happiest of Easter to you! May all your heart's biggest desires come to life.

Let's celebrate this momentous day with nothing but love, laughter, and companionship of the people we care about.

Happy Easter to you all! Let's not lose sight of the true meaning of this holiday: hope and forgiveness. 
I hope that you'll have a meaningful, memorable and fascinating Easter!
Happy Easter, sweetheart! From today on, may your heart be overflowed with peace and joy.

May you be blessed with health, tranquility, and happiness for eternity. Have a pleasant Easter! 

What I admire most about you is how you're able to light up the room so effortlessly, and I hope you'll continue spreading joy. Happy Easter! 

Happy Easter! Enjoy your family reunion and may it be nothing short of fun and memorable. 

May the Spirit of the Lord shine on you and your loved ones this Easter, comforting you with hope and happiness. 
Easter Holiday Wishes, Quotes and Sayings
I hope that your Easter is filled with blissful souls, thankful hearts, and happy faces. Have a nice day! 

Have a lovely Easter! May you celebrate life and the true essence of this holiday with those more important to you. 

I wish you all the love and felicity this holiday can possibly bring. Enjoy your Easter!
Along with the glory of God, the Son and the Holy Spirit, may this special day gift your family happiness, fulfilment, and love.
Best wishes and warm greetings to you and may God shower you with all the great things that you deserve, for He is risen!
Happy Easter! You are deserving of so much, so may God shower you with life's greatest treasures, for He is risen! 
You are the best man I have ever known, and the best man deserves all the love and respect. Happy Easter and God bless! 

Rejoice in the Christ, for He has sacrificed Himself to give each of us blessed and wonderful lives. Happy Easter! 

Have a blessed, peaceful, and joyous Easter! May God be with you for now and forever. 

On this beautiful and sunny Easter day, let us dance and sing in the name of Christ! Because of Him, we could stand tall today. 

A warm greeting to you and your family. Let His power of love enter your home this Easter, and let it stay there through the years. Have an amazing holiday! 
I thank God that I have you by my side on this very sacred day. May we live by His name and continue to share his love.
It's Easter, so rejoice in the gift of Jesus! Sending you warm hugs, kisses and wishes.
The gift of love and joy is a noble gift, and the gift His death and resurrection is the noblest one of all. May your home welcome the Holy Spirit this Easter!
Easter is the perfect reason to celebrate and be grateful for the resurrection of Jesus Christ, our Lord and savior. Happy Easter!

I wish you a wonderful holiday! May the miracle of Easter brighten your life with immense love and merriment. 
Sending Easter Holiday Well Wishes To Loved Ones
May you and your family have a blessed, joyful and heartwarming Easter holiday! 

Sending well-wishes your way this Easter! May you have the happiest Easter holiday filled with countless Easter bunnies and their eggs! 

May the meaning of Easter reflect in lives of you and your family. By that, I hope that you will all experience the renewal of love and happiness!
I hope your heart is  content with the love, basket of chocolate candies and Easter eggs. After all, that's what Easters are about. God bless you and your family.

I wish you an Easter holiday to remember, my friend! May God eternally bless you with wealth for the soul! 
The subtle hints of springtime also signals the coming of Easter, the time of cheerfulness and hope. Have a great one! 

Happy Easter, my little peach! May the light of God shine on your path and His hand guide your way. 

Happy Easter Sunday to you, Mom and Dad! Your love and support are the best gifts anyone can have, I can't think of anything else to ask for this holiday. 

Easter is the time to be grateful for the sacrifice our Lord made for us- there is truly no love as unconditional as His. May we live by His word. Happy Easter, honey! 

I hope that you and your family are enjoying a wonderful Easter! It is one of holidays closest to my heart, as we can spend more time with the people we love most and be thankful for all God's blessings. 
May the spirit of Easter bloom in your heart, making every aspect of your life so much better. Once again, Happy Easter and I wish you an enchanting holiday with your loved ones. 

Wishing you a truly happy Easter holiday! May God give you and your beautiful family all the happiness this world could possible offer. 

Sending you my heartiest wishes on this holy Easter morning. May this holiday bring your dreams to life, as well as plenty of love your way. Also, wishing your family well! 
Happy Easter holiday! May this season put sparkles in your heart and even more blessings in your life. 
Happy Easter weekend, my friend! You are one of a kind. May God bless you, your family, and your career. 
The Appropriate Easter Greeting For Every Occasion
Hope you will spread joy and warmth to the hearts of those around you this Easter. But, more importantly, I hope that this Easter will bring you your awaited promotion and success. 

May this Easter holiday bring you new and blooming love, happiness, and strength to fulfil your dreams. Enjoy your holidays! 

May this Easter flood you with cash, beautiful trips… just a long list of blessings! Who knows, something great may hatch from the eggs this Easter.

Happy Easter, my darling! May true happiness be painted in your heart, and may it stay there for the entirety of your lifetime. I know that prosperity awaits you. 

Don't let the Easter bunnies fool you, they know how to hide their eggs. So, I'm wishing you the best of luck in finding them. Happy Easter! 
Happy Easter, my friend! May you find all of Gods blessings on this special day! Gotta love Easter!
Happy Easter, my dear friend! With a wonderful friend like you, every day serves as a beautiful and exciting prospect.
Easter Sunday is here, my dear! I hope that the grey clouds will float away, and I wish you overwhelming delight beyond your wildest imaginations.  

What a beautiful day to be thankful for the precious gift of life God has given us? Thank you for making mine so beautiful, Mom and Dad. Happy Easter and I love you! 

Happy Easter to the best parents on the surface of the Earth! Having you as my mother and father is the best thing God has granted to me. Hope I can make you proud!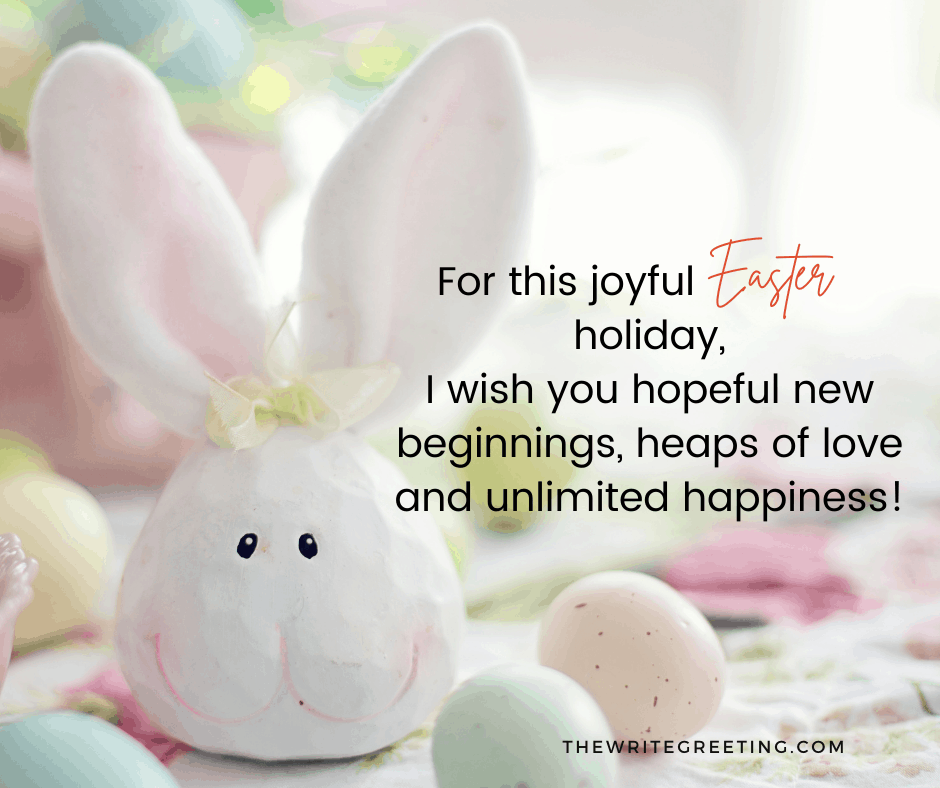 I'm sorry I couldn't be there, but rest assured that you are both in my thoughts! Sending you the best wishes, as nothing in my life is as precious as you are. 

Wishing the happiest of Easter celebrations to the loveliest mom ever. Thank you for all your sacrifices and for all that you made possible for me. Let's go on adventures!

May this Easter bring beams of comfort and peace into your mind, Mom. You will always be in my heart, and me in yours. Happy Resurrection Sunday!

On this holy Sunday, I wish that God will always bless you with happiness. May you celebrate the holidays as a king that you are! 

Happy holidays, my love! Hoping that the Easter bunnies don't only bring you chocolate eggs, but also the true spirit of the holidays filled with peace, joy, and satisfaction. 
How To Send Easter Holiday Best Wishes
Happy Easter to my special Son! May God bless you with happiness and wisdom as you grow older. I'll always be there for you, kid. 

Thank you for being the best son we could have ever wished for. You are like a little angel sent straight from Heaven. Happy Easter and have a blast with your friends! 

Happy Easter to the sweetest daughter in history! May you reach the stars and find true happiness.
When I asked God for joy, I didn't expect him to send it packaged as you. Happy Easter, my amazing kiddo, and may all the bliss of this momentous day be yours!
Happy Easter, dear! May this wonderful holiday leave a mark in your heart and bring you all the bliss and good fortune that you can handle. 
Happy Easter, little fella! Hope that this Easter is full of love, Easter eggs, jelly beans, chocolate… anything you would want! 
On this special occasion, I hope that the vivid light of our Lord will shine on you. May it inspire you to go through your tough days and finally achieve your ambitions. I love you, daughter dearest.

Have a happy, safe, and glorious Easter Sunday! May this holiday remind us of what really matters in this world: friends, family, and God's love. 

Happy Easter, dear! Your smile is the best thing about you… when you smile, I'm the happiest man in the world. May life give you the best it has to offer.

Praise Christ for He has resurrected and saved us all! Happy Easter, all!
Jesus Christ has always lived in our hearts, now let us invite Him to reign on our lives. Have a blissful Easter, everyone! 

May God bless you with everything you could ever need, even when you don't even know you need it yet. Have a joyful and meaningful celebration with your beloved family! 

Happy Easter! I hope that the rekindling of faith will bring out the best in everyone who believes. Get ready for more warm Easter wishes coming your way!  

May the light of our risen Lord touch your heart and shine on you every single day of you life, bringing you happiness and golden opportunities. Happy Easter! 

You have certainly made everyone around you proud. May you have a bountiful Easter celebration! 
How To Wish Easter Holiday