Happy 1 year anniversary! You did it! You and your girlfriend have been in a committed relationship for 12 months – that's 365 days of loyalty,  8,760 hours of devotion, and  525,600 minutes of together that have made this past year unique, amazing and unforgettable.
Your first anniversary is a very important day for your girlfriend.  It is the setup for all your future anniversaries to come and trust us…she is paying attention. 
But, being the AMAZING boyfriend you are, you are here and you obviously want to make sure your first anniversary together is a memorable occasion. 
We can't think of a better way to show her you care than by writing her a heartfelt letter that she is sure to cherish for years to come. 
Sometimes it's hard to come up with the perfect words/paragraphs on your own and we get that!  Luckily for you, words flow easily here at The Write Greeting.
And, we want to help you create the most perfect Happy 1st year anniversary letter for her EVER!
Whether you are a hopeless romantic, or just hopeless (just kidding), this collection of  1 year anniversary long messages and paragraphs for your girlfriend will help you to find the perfect way to let her know how much you care. 
They are not just snippets, but nice long phrases that you can combine to create your one of a kind anniversary letter.
Tell Me You Did NOT Forget Your Anniversary!
STOP forgetting important dates. 
FREE Download to keep you out of the dog house!
 Simply print and record your dates. 
All of the paragraphs below are messages that are sure to convey your feelings for her and will make your first anniversary a day to remember, not only for her but for you as well. 
Feel free to use them as written, to compose your letter, or use them or as the basis for your own words.  Happy Anniversary!
What Do You Write In A First Anniversary Card For Your Girlfriend?
Happy anniversary, sweetheart! I know that things haven't always been easy… we had to go through some really hard times, but I'm so happy to be where we are today. I know now that we could get through anything. I love you. 
After every passing day for the past year, my love for you grows bigger and stronger. Happy anniversary, baby girl! 
Happy Anniversary to the most amazing girlfriend! I am extremely grateful to be able to share my life with you… looking forward to more amazing years together! 
We have both changed tremendously in the last few months… in the meantime, we have also grown closer together. I love you in ways you could never imagine. Happy Anniversary sweetheart! 
Happy anniversary to my one and only. There are simply no words to describe how much I love you… but here's a sweet gift for an even sweeter girl.
The Earth may stop spinning and the sun may stop rising- as long as you are my lady, my life will always be the best. Happy anniversary, beautiful! 
Just when I thought that I was never going to find love, you came into my life and rocked my world. Around this time last year, I wouldn't have pictured myself celebrating a year of stable and healthy relationship with a woman like you. I adore you so much. 
Happy anniversary, my lady! On this special day, I can't help but get stuck in the memories of our best moments together. I certainly hope for more unforgettable moments to come! 
Today, I am thankful for your presence in my life. You have taught me how to sincerely love another person. I hope that I can keep holding your hand forever. 
The past the past. We have learned so much in the course of last year, I know that we can handle whatever is ahead of us. Here's to another year together! 
Unique Gifts For Your Girlfriend
While she is sure to cherish her 1st anniversary letter a gift never hurts.  Our advice is don't go too crazy.  You want to show your girlfriend you care about her and are in the relationship for the foreseeable future, but if you too big too soon you may be setting yourself up for trouble down the road. 
Being thoughtful on your anniversary is important, but you also don't want to set yourself up to have to top yourself year after year.  Keep it simple, sweet and thoughtful. 
Try and think of something small to go with your letter.  What she she pointed out at the store recently that she said she wanted, a candy, a shirt, or maybe even nail polish.
She will be touched that you remembered and were paying attention regardless of the price tag.  It's the little things that count the most and that is true even on your anniversary.
You always bring a smile to my face. You're truly the best woman a man could ever ask for… I don't know what I did to be this lucky. Happy anniversary!  
There simply isn't any word that could appropriately express my feelings for you… so I will just settle with 'I love you'. Happy anniversary, sweetie! 
No matter where this life brings me, having a wonderful woman like you by my side gives me the courage to face anything. The feeling you give me is just so special. Happy anniversary, darling. 
On this special day, let me shower you with words of love and appreciation. You are the most beautiful woman I know and thank you for being so amazing to me. All I want right now is to caress your little body in my arms. 
Happy anniversary! I want you to know that your beauty, grace, and intelligence constantly inspire me. Please never change who you are… you are completely perfect.
How Do You Say Happy 1 Year Anniversary?
My true love, I might not be able to see into the future, but if our past is anything to go by, I'm sure that it will be filled with more romance and spectacular journeys. Happy anniversary! 
Happy anniversary, cutie pie! You are unquestionably the most wonderful woman I have ever met. Your love, passion and cuteness are enough to melt anyone's heart. I am so proud to be your man. 
There's this special place in my heart can only be filled by you. Please remain there until the end of time. Happy anniversary, babe!
I can't believe that after 365 days, we're still together and stronger than ever. I must be so blessed to be with such a fantastic girl who I love so much. Happy 1st anniversary! 
I had a dream a few years ago… we were celebrating our 1st romantic anniversary as a couple. Every time I remember that dream, my heart gets filled with so much joy. Now, I thank God every night for making that dream a reality. Let's celebrate this special occasion! 
Exactly a year ago, we embarked on this special love journey. I enjoyed every single moment of it and I wouldn't have shared it with anyone else, baby. Happy anniversary sweetheart!
Honey, I love you so much… The fact that God decided to put you in my life could never be replaced with any other joy in the world. Happy 1st anniversary!  
In this past year alone, we have lived through countless precious moments together. I love you every day… here's to our first anniversary and many more! 
Apparently, people have been noticing my extra joyful attitude these days… When people ask me what's up, I tell them its all because of you. Happy anniversary, sweetie! 
Happy anniversary, babe! What a perfect time to recall our best moments. Let's continue living the dream.  I am the luckiest person alive. 
My girl… happy anniversary! Thank you for being so affectionate, loving, and understanding, even in my worst moments. I will eternally be grateful of that. Now, come enjoy this day with me.
I will never get tired of kissing you, not to mention loving you…not in a million years. I am more than happy to call you mine. Happy anniversary! 
Happy anniversary to the most spectacular lady! I know that I should probably write something romantic and sweet in this card, but if I were to express all my feelings towards you, it would take me a whole day. All I can say is I love you, darling.  
You came into my life like a calming breeze but instantly filled my heart with happiness and love. Why would I ever let you go? Happy anniversary, dear. 
Ever since our first date, you have been constantly taking my breathe away in the most perfect way possible. Happy anniversary, love. I wish you love and happiness always. 
How Can I Wish My Girlfriend a Happy Anniversary?
Happy anniversary to the woman of my life! Having a girlfriend who is just stunning on every level like you is more than I could ever ask for.
This exact time a year ago, God granted me a new ray of sunshine. What I'd give to have go back to that special day. Happy anniversary, babe! 
I love you for who you are, without any pride, complexities or hope of anything in return. I just want you to be happy. Happy anniversary!
Happy anniversary, beautiful. If I magically had the power to freeze time, I would freeze this exact moment. This way, I'd have eternal bliss from being stuck in the timelessness of having you in my arms.
I can never comprehend why you chose me, out of many more accomplished and attractive men that were chasing you… Nevertheless, thank you for giving me a chance and putting up with my antics. You have made me the luckiest guy in the world. Happy anniversary! 
Happy 1 Year Anniversary Paragraphs For Her
I love you not only for who you are, but also for who I am whenever you're around. Thank you for seeing in me what I couldn't see in myself… you inspire me to be the best man I could be. Happy anniversary! 
I want to hug and protect you for days, years, even eternities if I could. Happy anniversary, my love.
Happy anniversary! You are my everything. You made my heart whole again… and I can't imagine life without you.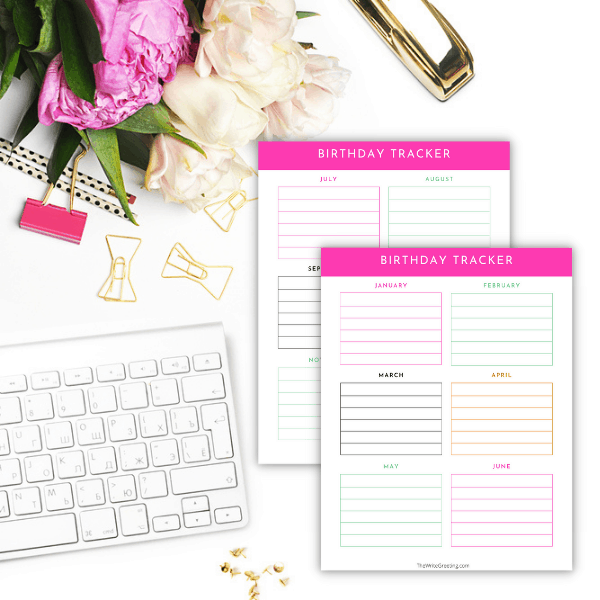 FREE Birthday Tracker Printable
-Don't forget another birthday with our handy tracker.
-Give yourself time to get a card or gift before the big day. 
-Easy to print PDF download. 
In this entire world, there is no heart more compatible to mine than yours… and for that, I vow to give you love like no other. Here's to another year together! 
The best thing I know now is holding you tight in my arms. Happy anniversary sweetheart!  You are the love of my life. 
Happy anniversary, my beautiful one. I want to spend the rest of my life with you and I would never leave you alone. If you live to be 100 years old, I would live for just one more day to make sure you pass away in peace. 
As we grow old together, one thing will never ever change… I will continue to fall in love with you each day. Meeting you was destiny, becoming your best friend was a choice, but I had no control falling in love with you. Happy anniversary, sweetheart! 
I will never stop loving you, respecting you, appreciating you, and showing the world how proud I am to be yours. I am beyond honored to be your gentleman. Thanks for being with me through my hardest times. Happy anniversary! 
I have been to many beautiful places filled with many beautiful women, but you are still the apple of my eyes. You are my princess and you deserve to be treated like royalty. Happy anniversary, my dear. Cheers to another year full of bliss! 
Happy anniversary, my sweet lady. I am really glad to have you in my life. You are an undeniable blessing to me and everyone else around me. 
What To Say in a 1 Year Relationship Anniversary Letter To Your Girlfriend
Who would've thought that we started off as mere acquaintances? The years have made our bond stronger and more special than any other I know. I delighted to call you mine. Happy anniversary to us both! 
I know in my heart that our love is too big for this world to handle. Life without you would be so bleak and dull. Happy anniversary, baby! 
Happy anniversary, my beauty. No one thought we could have made it this far, but we did, save for the power of love. Together, I 'm sure that we can rule the world.
There are no words to describe your out-of-this-world qualities. I still don't know why God put you in my life… but it has certainly become more beautiful with you in it. Most importantly, you ignite the fire in my soul. Happy anniversary! 
Within the time-span of 12 months, I was fortunate enough to enjoy peace and love I thought I could never even encounter. This is all your doing, my darling… I don't know how you did it, but you have become an essential part of my life. Happy anniversary, gorgeous! 
With you by my side, I have never been so ready to face life's challenges. Not only do I enjoy your lovely company, but you are my main source of motivation. I am indeed blessed in so many ways than one. Happy anniversary, angel! 
As we celebrate our 1-year anniversary today, I want to let you know that your undying love has gotten me through my roughest days, lovely one. I can't wait to fill the next chapter of our book with more wonderful fairytales.  
Despite it being a rainy or a shiny day, nothing can ever take my eyes off you. Know that I will always remain faithful to you, my darling, and you deserve nothing less than the best I can offer. Happy anniversary my love! 
You complete me in every single way possible. Emotionally, you are my confidant. Physically, you give me immense pleasure. Spiritually, our connection is as unbreakable. Happy anniversary ! Love you. 
Even if the rivers run dry, or if the rising sea levels consume the highest mountains, I will never walk away from your life. You are the sole owner of my heart now, always, and forever. Happy anniversary, my little munchkin! 
Happy anniversary to the reigning queen of my heart. May this day be fun-filled and bring us happiness for the years to come! 
Don't you worry your sweet mind… we have each other to hold on to when times get difficult. We are both blessed to have each other to count on. Happy anniversary, pretty one! 
Happy anniversary to us! The day I first met you was the best day of my life. You are my soulmate, the reason my soul can rest peacefully after going through rough tides. 
In the years I have been with you, I have learned the meaning of true love, kindness, and compassion. We may have little fights sometimes, but I don't regret making you mine a single bit. Happy anniversary, lovely lady.
What Should I Do For My Girlfriend For Our One Year Anniversary?
You are definitely on the right track to making your girlfriend's day by writing your anniversary letter, but you need a little more — trust us.  We talked about getting her a little gift earlier on and now you need to start thinking about what to plan in your special day.
This doesn't have to be elaborate either.  Sometimes a home date night with a unique dessert, think tiramisu (Publix bakery has the best), can make your 1st anniversary over the top special.  do something within your means and make it about you two. 
Create a slideshow, order a pizza and bring out the tiramisu.  After you finish dessert, present her with your letter and gift and your night is sure to end with a "Happy ending".
Our times together may not be all rosy… but honestly, it has made our relationship as strong as it is today and I wouldn't have it any other way. I am thankful that we have made each other better people. Happy anniversary, my heartbeat! 
You are truly an exceptional woman, the kind that gets me going when life gets just a little bit too hard. Thanks for believing in me even when I was so close to giving up. May God bless you, sunshine. Happy anniversary!
From days to weeks, and from weeks to months… we are now standing strong and steady. You are a magical wonder and I pray that I can be with you forever. Happy anniversary, baby love. 
Great distance may separate us physically, but emotionally, our bond is indestructible. I always look forward to calling you at the end of each day. Happy anniversary and let's celebrate our anniversary in style!
Happy anniversary to us! Today marks another year of our life-long journey. What a beautiful day to celebrate us, not to mention to celebrate you… you are both my flower and my anchor. 
Picture a world with just you and me in it, baby… it will be beautiful, divine, and nothing short of heaven on earth. We may never be alone, but we are definitely heading towards that life. Happy anniversary, my darling.
It has been a pleasure to share my life's journey with you. Now, I can't imagine falling asleep at night without having you laying next to me. Happy anniversary, my beautiful goddess. Here's to forever together!
Baby girl, you are a true youthful beauty. Even after all these years, your effervescence is still the most striking thing about you. I love you from the deepest part of my heart.
I am thankful every day since I met you.  You really are the best thing that's ever happened to me. Happy anniversary, love! 
I don't believe in the saying 'love is blind'… even if it is, it nonetheless receives its sight once touched by a passionate woman. Thank you for coming into my life and opening my eyes to the beauty of love. Happy anniversary! 
Happy anniversary! Aside from your remarkable beauty, there's so much more to you than meets the eyes… You are my greatest treasure that brightens my life like nothing else. Let's stay young together… forever. 
Happy anniversary, baby! You are as precious as the crown jewel, so expect the best from me on this special day.   My favorite person in the world!
All I want to do today is shout in front of the entire world that we've made it! Against all the odds, we have magically made it work. Happy anniversary to us and here's to new beginnings!
Nobody told me that loving a beautiful, strong-willed, and independent woman would be this hard. Yet, you never cease to enchant me. My love for you can never die. Happy anniversary, dear! 
Happy anniversary, babe. Not only that you give me great advice, but you have also taught me how to be humble and showed me what hard work really is. I hope that the coming years will help us grow closer towards each other and our dreams. 
What Can I Write To My Girlfriend in a Letter?
I might be difficult to handle sometimes, but you are the only who can tame me and get to my head. I'll love you until the end of time, babe. Happy anniversary! 
I'm sorry to have caused you headaches sometimes… I promise that they were unintentional. Thanks for not leaving me for that and always seeing the best in me. Now, I believe that  falling in love with you is my life's calling. Happy anniversary, foxy! 
All men envy me… but what can I say? You are the most beautiful woman in the world and I will forever be weak to your touch. Happy anniversary, my  love. 
Good morning and happy anniversary. The best part of my day is seeing you. You light up my day, and fire up my nights. I love you, love of my life!
Loving Quotes For Girlfriends