Celebrate The Weekend With Good Morning Friday Messages
We all look forward all week to those couple of days that we get to let our hair down and do our own thing. So why not share your excitement with some good morning Friday messages for friends? 
Your friends will appreciate starting their day with a text from you or a good morning quote letting them know that you are thinking about them and the fun times to be had in the next couple of days. 
Below you will find over 160 sample messages to get you started- your welcome- and have a great weekend!
How Do I Say Good Morning to My Best Friend?
Hey there, girly. I miss spending my Friday afternoons with you so much. Happy Friday! 
The Friday drink fairy is here. I keep telling her it's too early, but she just laughs and says, 'Go on, I dare you.' Well, hun, you know me… I love a little challenge!
Good morning, friends! Looking forward to another memorable night together! People like you make Fridays extra special.
I love my Fridays. Why, you ask? Because I can have the whole day to myself and spend it however I want… but if I were to spend it with someone, I'd spend it with you. See you real soon, bestie!
Fridays are so awesome that every day in the week should be Fridays. Wishing you a day full of joy and laughter with your fam!
Good morning, sweetie. You know we can't be friends if Friday is not your favorite day of the week, so may these amazing 24 hours be filled with joy and excitement. Remember: today is all about fun.
The long-awaited Friday has finally arrived. Get ready to paint the town red tonight! 
On Fridays, we can take off our work clothes and put on glamorous clothes… that's why it's my favorite day of the week! Up for a little fun tonight? 
The first thing I do at the start of every week is dropping to my knees and pray for Friday to come as fast as humanly possible. Now that another Friday has arrived, happy Friday, sis!
It's the best day of the week already, yeay! I wish the rest of the week could speed up for Fridays, but when it finally arrives, I love to indulge in the feeling of bliss. I wish you were here today, but I surely hope that you're having an fantastic day over there, dear.
It feels good to be alive, especially on a beautiful Friday like this. Please know that I love you more each and every day. Have a great day!
It's Friday, people! No sadness is allowed! This is the day where we forget our problems for a while and have a little fun. Now, put a smile on your faces and show the world how you party! 
It has been a lovely week, but prepare yourself for an amazing and unforgettable weekend. You have my blessing to enjoy life once in a while. 
Fridays mean that a busy week is over and you can finally have the opportunity to relax and rewind before the next week comes. Have a wonderful weekend!
Friday is a great opportunity to get out of our daily responsibilities and do anything that we wish. I mean, it's the beginning of the weekend… so brace yourself!
What Do You Say to a Friend in the Morning?
Happy Friday, babe! Wishing you a weekend filled with fun and cheerfulness. 
Mondays are for the money and hard work. But Friday is the real deal. Nothing beats the expectations that Fridays with you give. See you later tonight!

Are you ready to have the best time of your life this weekend? Another Friday has arrived and given the fact that we haven't spent time with each other lately, we need to make it a big one! 

Fridays are so special. Positive vibes only. Forget about all of your problems and let your brain take a break. We all deserve it. I hope you had a nice week and will have an even better Friday.
Fridays are the closest thing we have to freedom. Cheers to a lovely weekend! 
Good morning, dear. I hope that your Friday will be as swell and as free as it possibly could be! 
Special days should be spent with special people in our lives, which is why I'd love to spend my Fridays with you! Have a beautiful day and see you soon! 
I wish every day was a Friday. You get off work early and can chill the rest of the weekend away. Have a perfect day and a restful weekend! You more than deserve it. 
A good Friday can make you forget the long, cold week you had to endure for the last seven days. I hope this Friday will open the doors to your dream weekend!

It's finally Friday! Once we clock off work, we can do whatever we want to do. We can dance all night long, or go on a Harry Potter marathon at my place… either way, let's welcome the weekend with open arms! 
As the week comes to an end, may all of your hard work begin to bear fruit. Enjoy your day! 

Happy Friday, girl! Whatever you do today, don't forget to do it in style. 

Good morning, you! I love days like this. I patiently stare at the clock till it hits 5'oclock, then I get to meet up with my favorite people and just relax. Being one of my favorite people, do you wanna hang out soon?
No work, no struggle, but a lot of fun, drinks, and parties. This is precisely what weekends are for. Are ready to live it once again? Well, I'm picking you up at 8, so you better be!
Funny Good Morning Messages for Friends
Happy Friday, darling! What lovely day to be young and alive. Whatever you have planned for tonight, though, I hope that you'll be responsible and safe. Have a great day!

I'm sorry I haven't been in contact much… but I hope you had a nice week, and may you have an even more wonderful weekend!

Can you imagine a week without Fridays? I surely can't. So let's make this Friday a blast. Let's go and have a well-deserved girls night!
Good morning, darling. Remember: make-up, high-heels, and a red dress – that's all that you need to shine tonight. See you!
Good morning, my dear friends, and happy Friday! May you all go about your days with voices of cheer and peace in your hearts. Also, may God bless you and your family!
If you want my opinion, Fridays are the best days to hang out with our closest friends and catch up. Care to meet up for dinner later?

Happy Friday! It's time to chill and forget about our work for a few days. Let's go out and celebrate life! Here's to a perfect day, beautiful morning, and tipsy evening!

Here's what I would like to say to you this morning: every day in a week is an absolute nightmare… except for Friday, of course! Let's create a memorable one for the books!

It's Friday, I'm in love! I used to think that I love Fridays because of this song, but now I think that its the other way around. Hope you are having a splendid day over there.
Here's a day of the week when you can look forward to a sweet weekend. Happy Friday, my friend!
Friday: World Happiness Day Which Needs No Reason. Happy Friday!

Wishing you a lovely Friday, dear! I just want you to fully enjoy this day.

Good morning, it's Friday! You are my special friend, so I want you to spend the most amazing time today. 
Glory has its own designated day on the calendar, and it is today. Good morning, Friday!
Today begins the long-awaited moment of every week. Happy Friday, bestie! 
Best Good Morning Messages for Friday
Just a thought to start your day: Another week full of challenges done and dusted… hello, Friday!
Friday is that day when we have the patience for everything just because we know the weekend is right around the corner. Good morning and happy Friday!
'Happiness' and 'Friday' should be synonymous. Happy Friday, peeps!
Hey, people! I waited all week for this special day, and this morning, I woke up with the biggest smile on my face because the time has finally come. Really can't wait for our little reunion! 
Day to get excited, to forget our problems, to meet the friends, to re-energize ourselves. Day to do whatever comes to mind… Good morning Friday!
Friday equals spending quality time with you all. Happy Friday, my lovelies!
May your morning coffee be oh-so deliciously strong, and your Friday be oh-so enjoyable! 

Morning, sweetie! Monday is slowly approaching, so today, I want you to do the things you never get to do in the weekdays!

Happy Friday, honey! Create many unforgettable moments tonight… work hard, play hard, right? 
Want some great news? Today is Friday and a wonderful weekend is upon us! We're almost there! 
Good morning, lovely lady! Let this adventure called "Friday" be both gleeful and invigorating.
Happy Friday! Good luck for today, hun, I know you can do it! 
Good morning and happy Friday! Today is the beginning of an exciting trip, called the weekend.
Do you know that Friday is the International Day of Happiness? Well, at least it is that way in my head… 
Friday Good Morning Text Messages
Today is Friday, where worries and stress are replaced by hope and delight!
When nothing seems to be right, remember that it's Friday and next week can be significantly better! 
Waking up and remembering that today is Friday gives me the best feeling in the world!
Friday, when someone says good morning to you and you respond: obvious.
Come on, it's Friday! When someone says "good morning" to you, you say: "obviously".
Don't you just love Fridays? We can all finally breathe out and shake off our office-related problems because the next couple of days will be all about peace and harmony. With this, I wish you a happy Friday! 
Don't worry, it's Friday already! Forget about the fact that you actually have things to do next week and spend this time living your best life. May this day be the beginning of the best weekend of your life! 
Wishing you the happiest Friday, bud! Drinks are ready, music is playing, and we're having the time of our lives! I'm sorry you can't be here, but I hope that you're still having a hell of a time. Stay safe and have fun… forget the fact that Mondays exist for a bit, will ya?
God bless Fridays. Can something possibly be better than amazing days like these? I hope you will savor your Friday and do whatever you want to do because it's' your life… only you decide what to do with it. Enjoy! 
Friday doesn't have to be perfect to bring you immense joy. Just do something you love, see someone you love, and feel the love. In the end, love and happiness are really all that matters. May your heart be full today! 
Friday has finally come! I'm thinking of a nice after-hour drink and maybe a small movie night… what do you say? Let's have a chill night to prepare ourselves for a crazy weekend!

Happy Friday, fellas! This is such a beautiful day to be living and breathing. I hope you have some big plans for today, and if not, you are welcome to join me and my family for a fun night-in! 

Friday, Fun-day! We can do whatever we want to do… as long as it's responsible, of course… we're grown ups! Anyways, I hope you will have a nice weekend away with your husband! 
No sadness is allowed to enter this weekend! This day is a day that has to be filled with nothing but joy and laughter. Put on your best outfit and show this town how awesome you truly are!
What a week! It's almost over, though, and finally we can have a bit of rest. May your weekend be filled with sugar, spice, and everything nice! Power through today, girl.
Today, you can neglect all of your problems because it's finally Friday! The day when you can be free for 24 hours. Chill, relax, and let the power of the weekend fill you with merriment and re-energize you. 
You've been working hard for a whole week, so now it's time to let yourself rest. Fridays are supposed to make people cheery, so I don't want to see you on your laptop!
I look forward to Fridays each and every week almost as much as I wait for my birthday. Leave your workplaces and let the fun begin, people! God created Fridays for a reason, and I'm pretty sure that the reason is fun!
Can you think of something more exciting than a Friday night? No, you can't. Because Fridays have that special vibe that makes you feel like everything will be fine. After that, you have a whole weekend to rest and spend time with your loved ones, enjoy!
Good morning dear! Friday has come and we are getting closer to the end of the week. I wish you an amazing day and an even more amazing weekend with your family! 
Happy Friday! It feels so good to be alive on a Friday like this. I know you love today just as much as I do, so let's go and celebrate! 
No one knows how much I look forward to a Friday. When Fridays come around, I know I have to endure just a few more hours at the office and then leave my work behind for a couple of days. 
The day we both have all been waiting for the entire week has finally come once again. Happy Friday, bestie! Let's have an awesome Friday night after work.
Are you ready to have the most fun you've had this week? Another Friday has knocked on our door and we really need to make it a big one. Happy Friday!
A good Friday can make you forget the long, harsh week you had to survive for the last five days. I hope this Friday will be a spectacular one for you!

Happy Friday! No work, no struggle, but tons of fun, good wine, and warm company. This is what Fridays should offer us every weekend. Are you ready to live it once again? 
Don't fret about what tomorrow may present to you. Its Friday, so live in the moment! Come with me and let's have ourselves a bit of fun. 
I hope this Friday becomes the best Friday ever. God knows how challenging this week has been for the both of us. Happy Friday, sister!
Every day in the week feels like hell except for Friday, in which our wildest dreams have the opportunity to come alive. So, welcome to yet another Friday! Please be good to us. 
Good Morning Wishes SMS for Friends
Fridays are mind-blowing only when we have good friends to have fun with. Without you, I think that this Friday is gonna be a bit dull… but we'll have to make the best of it. Happy Friday, my friend!

Happy Friday! The horrors of the entire week can easily be beaten by a Friday evening spent with a good friend. Can't wait to see you again. 
All the good things in the world start with 'F', like 'Friday' and 'Friend'. Let's have another fantastic Friday this week. I'll text you when you I have ideas for what we should do, and I am of course open to suggestions! 
Good morning to you. May every step you make today be filled with strength, happiness, and love.
How's your Friday morning, going? Mine's a bust but I hope that you're having a great one! May this morning nothing less than pure joy.
Top of the morning to you! I pray that your day is filled with positivity and blessings. God bless you! 
Every morning is a new beginning, a second chance that life gives you because you're so worth it. Here's to a fantastic and productive Friday! 
Morning, sunshine! I know it's your lazy day, but when you finally get out of bed, don't forget to thank God for giving you another day! 
Good morning, my friend! With every new day, comes a new set opportunities… so let's grab 'em and give them our all! 

Hey, dear. I hope you're having a nice morning, and I hope that you'll get closer to your goals today! Much love.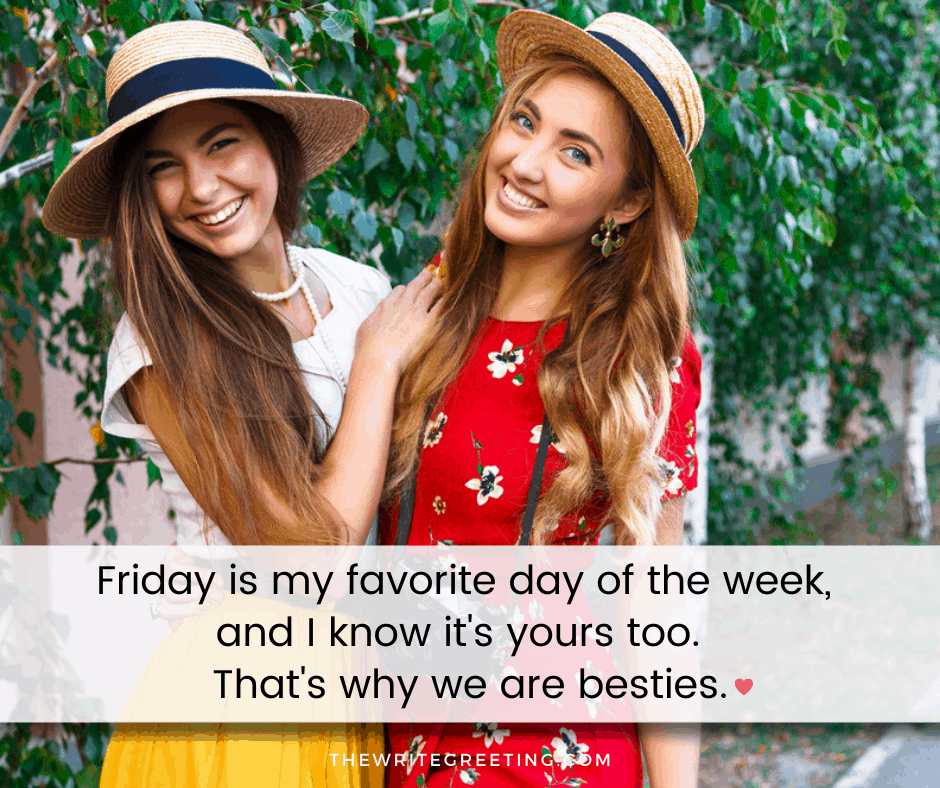 Good morning, princess! Hope you'll have a blissful Friday. 

An inspirational good morning to you: Life rarely gives you a second chance, so try to make the most of it! Also, a wild idea… why don't you start doing so this beautiful morning? 

Good morning, babe! Just thought I'd let you know how having you by my side makes me very happy.
For this Friday's quote: life is full of uncertainties… but after every rainstorm, there will always be rainbow.

Happy Friday, girl! Each day is an opportunity to grow, and I hope we don't mess it up. 
Good Morning Lovely Friends Quotes
If you want to be healthy and beautiful, you should wake up early… including on Fridays! 

Happy Friday, sweetie! Every morning brings you new hopes and opportunities. Don't waste them all on sleep and being lazy! 

Every sunrise marks the rise of life over death, hope over despair, and happiness over suffering. Wishing you an enjoyable Friday morning!
Get up and make yourself a part of this beautiful world. A beautiful day is waiting outside your door. So go on and make the most of today!
Friday morning is here, and your extra cheerfulness should be too! I wish you a very good start to what is hopefully an extra wonderful day.
Rise and shine! The best way to start a Friday is waking up early in the morning and enjoying nature with a good cup of tea. I hope you're doing this right now.

Good morning dear! Wake up, dearie. It's so beautiful out, you should not be spending it cooped up in bed. Wanna take a little walk with me before you head off to work? 
Morning! Its time to wake up, take a deep breath, and take in the sweetness of the fresh morning air. Wishing you a splendid Friday! 
Mornings define the rest of our days. It's all about how we start every morning and our outlook to life. So, get up and make a good start of yet another gorgeous Friday!
Believe me, breathing in the crisp morning air makes you healthier and wiser. Waking up early allows us to properly prepare ourselves for what may come. May your day be all you want it to be! 
Morning, cutie! I hope you had a good night's rest. Now, it's time to wake up and conquer the day! The sun is on our side. 

Good morning, beautiful best friend! We have been blessed with yet another day! Let's welcome it with glee in our hearts and peace in our minds. 

Good morning, young lady! May your Friday ahead be as sweet as you are!
Hello there, love! Sending you a bunch of good vibes to start your morning with positive energy! 
Isn't it a beautiful, sunny day today? May your day go as bright and smiley as the sun is!  
Friday Good Morning Friendship Messages
Good morning, dear! Waking up in such a beautiful morning like this one is almost a guarantee for a day that's beyond amazing. I hope you'll make the best of it. 
If you ask me, nothing is more invigorating than a beautiful morning that calms your mind and gives you reasons to smile. How are you this fine Friday morning? 
Another day has begun! Rise and shine, and welcome the bountiful blessings I'm sure you and your family will receive. I wish you a wonderful morning and an exciting day! 
Wake up like the sun every morning and light up the world your rays of queenliness. A person have so many great things to achieve everyday, including Fridays!
Good morning! No matter how hard yesterday was, today is a new beginning, so buckle up and prepare for a new adventure!
Happy Friday, my friend! I hope that this morning will brighten your mood up and make you energized for a productive day. 

Hope you had sweet dreams last night! May the freshness of this morning keep your mind calm and serene the whole day. 
Rise and shine! Wake up like the rockstar that you are and let the world know you're not going to stop until you get what you want. 
Good morning! A new Friday has arrived bearing so many new opportunities for you. Grab them all and make the best out of your day, and henceforth the best out of your life! Wishing you all the happiness.

Good morning, my love! The darkness of the night has ended, and a new sun is rising to transport you towards a joyful weekend.
Wake up, have your glass of fresh orange juice, and let the morning fog energize you for the day. May you have a a good morning and a good day ahead!

Good morning! I wish you a successful day ahead, my dear. You've been preparing and working so hard for this, destiny has to be on your side today. 
Happy Friday! No matter how rough yesterday was, just know that today is your day. Stay positive and keep being the brave woman you are. 
Get out of bed and get ready for another exciting Friday! Remember: life is what you make of it.

Mornings shape your entire mood for the rest of the day, so I hope that you're having an extremely pleasant morning! 
Good morning to you. May this day go beautifully, and the rest of your weekend even more so! 

Happy Friday, pretty one. My heart is so full of love for you. You are the sunshine of my life. Because of you, my life is never dull. 
Good Morning Lovely Friends Quotes
Good Morning Friday Messages For Friends