Send A Message To Express Your Deep Love For Her
We should never forget to let the woman in our life know how special she is to us. Whether it be Valentines Day, her birthday, or just any old Tuesday.  Sending deep love messages for her will let her know you care. 
If your relationship is new, these all original sweet messages will help you bring it to a new level. If the relationship is longer term, you know that she loves to know that you are thinking of her. Sending a few sweet words in a card or text will never go wrong. 
Please enjoy our list of over 180 deep love messages for her, these will help to get you moving in the right direction.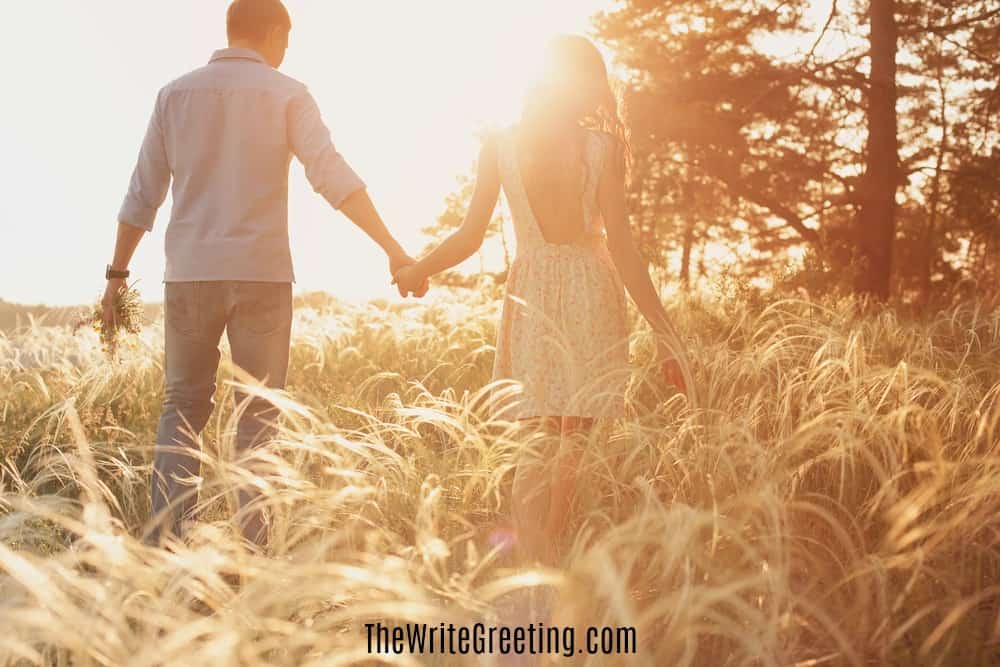 How Can I Melt My Girlfriends Heart With Words?
Everytime I breathe, I feel you deep in my heart. Please never leave me… you are irreplaceable. 
If you give me all your love today, I will give you anything my soul could offer. I love you, baby. I know our future will be brighter than the sun and more beautiful than a rose. 
Your love means the world to me… I can never get over it, nor get enough of it. The feeling you give me everything a man could ever wish for in a relationship, I can only pray that I get to experience this love forever. 
The more time I spend with you, the more I want to hold you tighter in my arms. No diamond in this world compares to your worth, and I wish to treasure you until the end of time. I love you, sweetheart.
Very few people believe in true love these days. When I chose to believe in it, I did not expect such a blessing like you. You are the most precious thing in my life and I will never let you go. 
I love you, my sweet angel. Whenever I look at your face, my heart is instantly filled with joy. Only God knows how much you mean in my life… you are my day, my night, my world 
I can't picture anyone else as my lover. You make every single moment of my life beautiful and I couldn't be more grateful to have a girl like you in my life. Love you, honey. 
You are in my prayers every night… I always ask God to keep showering us with uncompromising love and express my hope for a wonderful future for us. I also promise him that I'll cherish you until the end of time. 
Seeing the smile on your face makes me so happy to be alive. When you smile, you are more beautiful than the sunset. From the bottom of my heart, I love you sweetheart. 
You are my princess and my little heartbeat. I will never play with your heart as I only want to see you glow with happiness. If I could, I would give you the universe and a a constant state of pure bliss. Love you to the moon and back. 
Show Her You Love Her Every Single Day- STARTING TODAY!
Get 25 Simple Ways To Show Her You Care Delivered FREE To Your Inbox
You gracefully govern my thoughts. You wisely rule my actions. You complete me, making my life worth-living. I love you today and forever.
You have undoubtedly earned a special place in my life. To be sharing my life with the sweetest, prettiest girl alive… how lucky am I. You are my heartbeat and therefore my soul, so I won't love you any less than you deserve. 
I love you darling. I will go as far as fetching you life's greatest gifts to see the most beautiful thing that is your smile. I want to reach out to your heart to make you happy- only then I'll be happier. The only intention I have is giving you heavenly love as long as I live on this Earth.
Your love is more dazzling than the stars, more alluring than the full moon, and brighter than the sun. Nothing compares to your beauty and worth to me. Your love is truly the best thing that I have ever experienced. 
Like a leaf that got blown off its tree, you sweep me off my feet with your charming and gorgeous smile. I want nothing but to be your man. My princess, would you welcome me inside your hear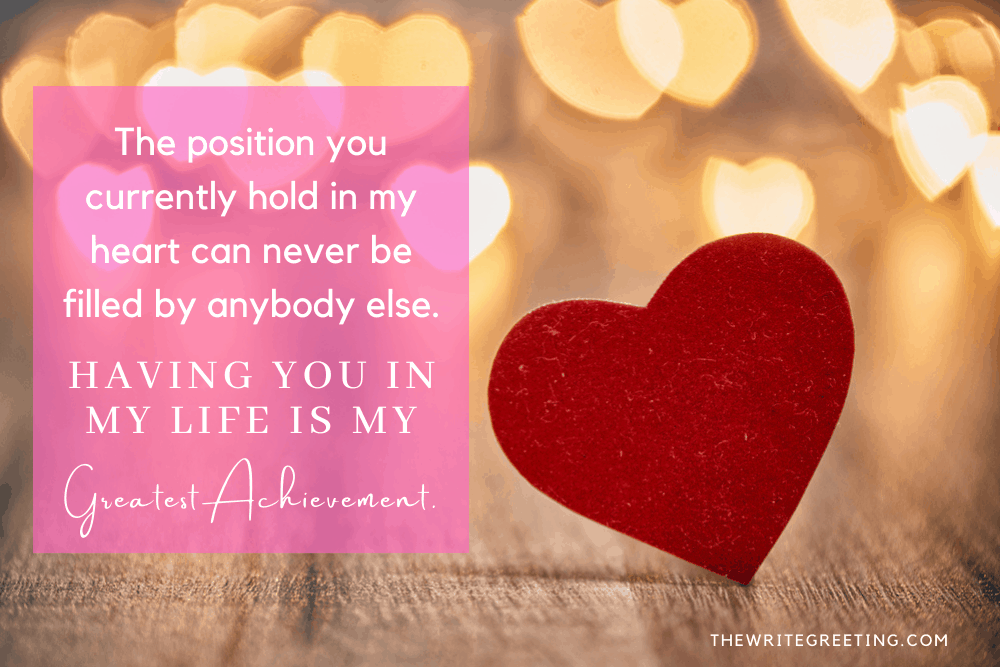 Baby girl, a love like yours comes once in a blue moon. I would be a stupid man to not treasure it. Thank you for coming into my life, opening my eyes and filling the void in my heart. 
No words in any languages can ever express my love for you. It flows like a calm stream down a riverbank and somehow reaches every part of your mind, body and soul. Please know that it will never stop flowing. Love you, honey.
I will never get tired of loving you. This is the only thing I know how to do properly. You are a true wonder and blessing, my life would be so bleak without you. What did I do to deserve you?
I want to go back to the times we would talk and talk deep into the night. Believe me when I say that you are my everything and I would give up a lot just to have another minute with you. You are my dream come true. I miss you so much.
No matter what happens in life, you will always remain dear to my heart. My heart is where you belong. I love you, my little munchkin. 
What Is The Best Love Message?
The position you currently hold in my heart can never be filled by anybody else. Having you in my life is my greatest achievement. 
Let me be your gentleman, the one you call in happy or sad times. I love you, cutie pie. 
"I love you" just cannot cut it anymore. My world could be burning, but your smile and presence reassures me that everything will be just fine. I am lucky to be able to call myself your lover. 
Congratulations for single-handedly flipping my world upside down! Your smile puts me on my knees and your hug warms my heart. I long for another one of your touch… 
You are remarkably priceless, princess. There is literally nothing that compares to you and the love you give me on a daily basis.
The laughter and tears I have shared with you are amongst my most valuable memories. I will forever cherish them. I love you, boo. 
You don't always have to text me back immediately…..I just want you to know that I am always thinking of you, my lovely lady.

. 

'I love you' isn't even appropriate to describe how much I care for you, baby… you're my entire world.
You are my entire existence, sweetheart. How I wish to have you close right now and be the best thing that has ever happened to you.
Your eyes reflect my intense desires for you.  I want to hold you in my arms, lock your hands in mind and kiss you until you fall asleep peacefully.  We don't have to exchange words….my heart is all yours.
How Do You Express Deep Love In Words?
You have totally bewitched me… I can't get you out of my mind. I am completely sure that you are the one for me. My love for you keeps on growing bigger by the second.
Sometimes I wonder why such a beautiful girl like you chose me… I feel extremely lucky to have your love. I love you, my angel. I promise to love you until the end of my days on this Earth. 
I would like to take a moment to show you how much I appreciate all that you've done for me. You have loved me like no one ever has, and I only wish to love you back until you feel overwhelmed. Have a great day ahead, baby! 
You are my warmth in my coldest hours, always there to keep my heart and soul company.  I can't fight these feelings anymore.   I love you sweetheart.
My love, with each passing day, I adore and love you even more. Your charm and effervescence have brightened up my life… no one else can make me feel the way you do. I hope I can all you mine forever. 
The feeling of loving and being loved back by the right person is out of this world, and I am glad you are the person I get to share my feelings with. You make me feel like a king. Love you. 
When I gaze into the windows of your soul, I see a vast ocean so beautiful and blue, I want to swim in it forever. Know that my love is deeper than any ocean on this planet. .
It is a true blessing to have you in my life. To have a girlfriend as sweet as a rosebud, as bright as the sun, and as cute as a puppy… I must be the luckiest man in the world.
I love you, hun. Has anyone ever told you that you have the most beautiful smile in the world? It makes me feel alive, I can't trade it with anything else. 
I am forever addicted to your love and I have no plans to ever let go of you. You have the most unique and beautiful personality worthy of the grandest throne in the world.
Love Message To Melt Her Heart
Slowly but surely, you have seeped into my heart and mind. It is a blessing to live another day with you in my life. I am beginning to see our future more clearly…  A lot of things may change in this world, but my love you will never fade, darling. 
I can never get tired of saying this… I love you, beautiful. You are the best thing that has ever happened to me and no one can change my mind on that. 
Even with my naked flaws, you clothe me with your undying love. I love you with every ounce of me… how can I not?
No matter what season it is, I will always be a winner because I have you. Your love is worth more than all the money in this world could ever buy. I want to spend my life with you
Like the flash of thunder, you surprised me when you first came into my life and instantly set my heart ablaze. I don't know how you keep my mind, body and soul longing for more of your love. I love you, dear one.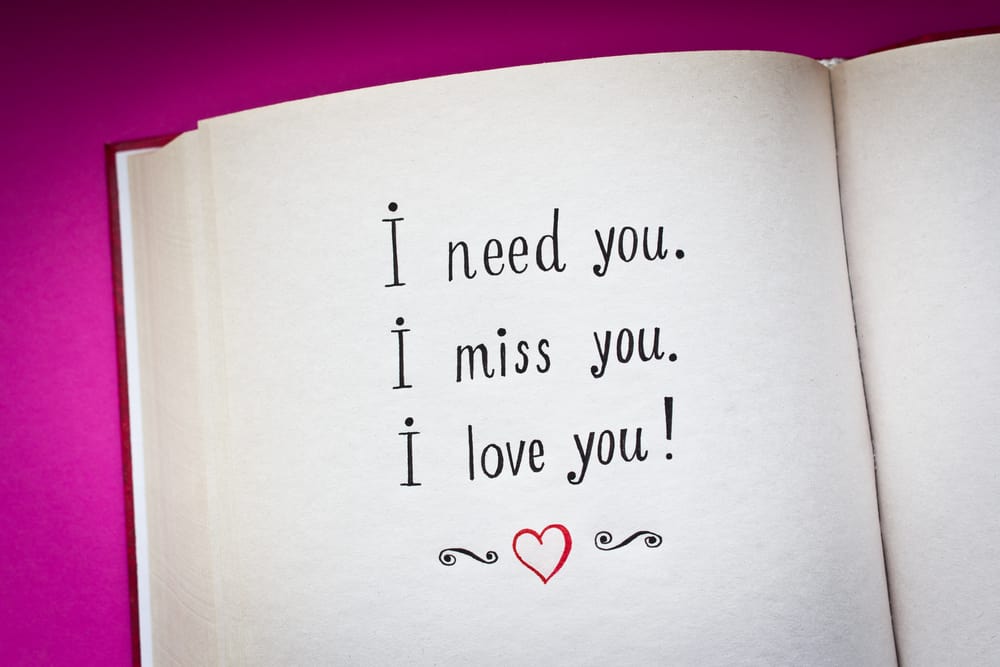 I would walk through storms and temptations just to be be your side, my love. You are the sunshine at the end of it all.
I may not have a perfect life, but your love has completed me. All the material things could never compare. I love you to death, gorgeous. 
Even with all my imperfections, I will try my hardest to give you as much love as you deserve. My feelings for you will grow as long as I breathe.
Your face, your body, your smile… everything about you is just flawless. You're the bomb who will always be my number one, baby. 
Thank you for accepting me for who I really am, honey. You are the one for me and my love for you will always be more than you could ever imagine.
Heartfelt Love Messages For Her
I love the fact that I sleep and wake up with you on my chest. You give me energy in the morning, and each day, I can't wait to go back home to you. Little moments with you are will always stay in my mind. I love you.
When I'm feeling down, I always think of you, and I feel better again. Your lovely face is my favorite painting and your laughter is my most beloved melody. The joy you bring to my heart is like no other. 
I miss you so much, my only wish right now is to kiss your tender lips. You are always in my thoughts, baby. I can't wait to caress you in my arms again. 
If you could only understand the intensity of my love for you, your heart would be amazed. Mark my words… my soul will wholeheartedly love you until the end of my time on this planet.
My girl… I want you to know that you have deeply touched my heart and eternally changed my life for the better. I love you, baby. 
No matter what happens in this messed up world, my love for you will always stand steady and tall. It will never disappear to ashes. This I can promise you.
True love is pure, compassionate, understanding, and everlasting… this is what I can offer you. 
Please know that your heavenly love for me is reciprocated in every single way. I love you 'till the end of time, my angel. Our hearts are united as one, and it will forever be.
My love for you radiates from the deepest, darkest parts of my heart. I don't know how I can contain it anymore.
Rest your beautiful head on my chest so you can listen to how my heart beats for you. I love you with all my existence, baby girl. 
What Do You Say To A Girl To Make Her Love You More?
In this lifetime and the next, you are my one and only. I can't picture my life without you in it. 
Nothing in this universe can ever stop me from loving you, not even the stars. 
I live for your body, your touch, and your love. I still get butterflies in my stomach every time you look at me. You ignite a spark in me like no one else has ever done before. I love you, gorgeous. 
Hey babe, just a friendly reminder that I love you… You may be tired of hearing this, but I really do. If you give me the chance, I will love you until my dying breathe. 
The very first time I laid my eyes on you, I was amazed by your princess-like beauty and aura. Now, I'm happy to be able to call you my girl. My life is filled with feelings of love. 
To my love, the first time I met you all those years ago, you immediately stole my heart. It was love at first sight and I knew you'd end up as my wife. You have left me without a heart for all these years, but believe me, I would not have it any other way. I love you! 
Here is to my gorgeous wife, the mother of my beautiful children, and the queen of my heart! I love you with all of me and I would give up anything right now to pull your body close to mine. In a world filled with uncertainties and danger, you make me feel so safe. 
I was once a lonely man full of worries and doubt… but then I saw you, and you instantly caught my eyes and my heart. When you first said 'hello' to me, my legs turned to mush. From that moment on, I was sure that you are my soulmate Thank you for giving me world-class love, babe! 
My dear princess, I want you to know that no matter how you look, my feelings for you won't ever change and can't ever be measured. Anyone who has seen me look at you would know that.
Hey! If you're reading this, I want you to know that I love you so much. I think of you all the time and every second with you is memorable for me. You're my dream girl and I hope I can make you my special lady soon.
Things To Say To Your Girlfriend To Make Her Heart Melt
I just want to say that you are the most enchanting woman of my life. Even though you are not mine now, you are the woman of my dreams, beautiful. I love you.
People say that we can only fall in love once… but how come that every time I lay my eyes on you, I fall in love all over again, each time harder than the last?
You deserve all of my love, devotion and attention, baby. I know that our love will overcome any hurdles and our passion will keep us from falling out of love. I vow to make you the happiest girl in the world.  All you have to do is surrender your heart to me….
I am one lucky guy to have a wonderful lady like you as my girlfriend. Sometimes it feels surreal, but I am actually living the dream. Thank you for making my life as sweet as it is! 
I love you so much, but I'm sorry if it does not show sometimes. You and I both know that I've been having a difficult time lately trying to figure my life out, but please also know that you are the one and only girl. My feelings have not changed… in fact, it has only grown stronger. I will now make you feel like a queen because that's what you are to me. 
Any guy would be stupid to leave you… for me, it would not even be possible. You are worth more than all the diamonds in this world. Love you tons. 
If you were Facebook, I would check your updates 24/7. If you were Twitter, I would constantly tweet my love for you. If you were Instagram, I would keep uploading pictures of us.  Have a lovely day, my dear.
Right now, I wish I could be the last person you kiss goodnight, the person you can cuddle to when its cold, and the person to welcome the new day with. I want to exist for your love and make you happy… you have given my life a new purpose. I just cannot wait until we are together so I can make you my wife. .
Thank you for making today such a memorable day. You have given me a new mission in life… it is to make our special relationship last through the sands of time.
I love you, babe. You're my soulmate, my best friend, my partner in crime, and my confidante… no words can describe how important you are to me. 
How Do I Make My Girlfriend Feel Special Over Text?
Through all these years, your smile has never stopped taking my breath away. You are my heart and soul, sweetheart. 
How lucky was I to have met someone as beautiful and kind as you are, let alone being able to call you my future wife? I thank God every night for letting our paths cross. 
It feels like a dream sometimes to be your husband. Thank you for saying 'yes' all those years ago! 
You gave me a reason to live, to dream, and to fight. You make my days worth living. Thank you for being the only person who understands me! I love you, and I hope this love lasts for eternity.
FREE: 25 Simple Daily Acts To Show Her You Give A Damn!
Sign in below for your FREE DOWNLOAD!!
My dear, ever since you came into my life, you have given me a reason to live, dream, and fight for my desires. Thank you for being my main source of motivation and inspiration, as well as for being the only person who fully understands me. My love for you will last until the end of time.
I really love you, darling. I will never let anything hurt you. 
I like that you have been thinking about me, but I would rather be in your heart, for the heart will always remember the magical feelings we have shared so far. I love you dearly, gorgeous. 
Today, I promise to always make you feel wanted, loved, and needed for the rest of your life on this planet. 
Loving you makes life seem so much more beautiful and inviting. The thought of letting you go kills me inside, for life without you would make me a miserable man. 
I don't need fancy cars or clothes to feel special… you and your love are more than enough for me. You are the center of my world.
I am beyond honored to share my life with you forever, my sunshine. I believe that what we have is special since no other love story competes to ours…. I did not realize that a love like ours could even exist. 
Love Messages For Her From The Heart
Every time I hold you in my arms, it feels like all my problems just go away. You make my life so much brighter. Thanks for being my answered prayer and dream come true. Love you! 
I love that our relationship is like Tom and Jerry's- we tease each and irritate each other… but at the end of the day, we would always make each other feel wanted, Thank you for teaching me the value of life, babe. 
When I first saw you, it was love at first sight. Until now, it has not faded, and I'm sure that it will stay that way. You are perfect to me. 
I would not in a million years exchange the magical, exciting, and beautiful life we have for any luxury items in the world. I am so grateful to have you as my soulmate… I love you! 
If I had to serve a few years in prison just so I could have you as mine, I would do so in a heartbeat. That's how much you and your happiness mean to me. A life without you would be dull and pointless. 
From today onwards, you are going to get 100% of my love and attention. We will vanquish any challenge this life could ever present to us, and we will keep holding each other's hands through it all. Nothing in this world can stop us. 
This might sound cheesy… but in the alphabets, 'U' and 'I' were placed close to each other because Without U (You), I (am) nothing. Even the alphabets know how much you mean to me every single day. 
I just can't help it… your smile is like the sunrise that brightens our world. With that, you rule my world, baby. Thank you for being my girl and making my life feel like heaven on earth with your endearing love.
When I'm beside you, I feel safe and sound. When I hold you in my arms, I feel like I'm the king of the world. Thank you for indirectly motivating me to get up every day to work. 
You are my everything, love. Nothing beats the feeling of being in bed with my head on your lap while you gently stroke my hair. I love you forever and ever. 
Love Messages To Her From The Heart
I am so lucky to be the man that lays beside you every night, and to be the man that comforts you if you have nightmares. I would do anything to make you happy and to help you achieve your life goals. 
No words can properly express how much I love you. It might be invisible, but it is definitely strong. I will wait until you realize that we have wasted so many precious times apart and that we need to find a way to be together again.
This journey has not been easy, but thank you for being by my side since day one. You are easily the best thing in my life, so needless to say that my selfishness is gone and I live for both of us. I really, really, really love you, honey. 
Every time my phone screen lights up, I hope that it is a message notification from you. No matter what time of the day. You are a true blessing, sweetheart. 
Your brains and beauty will never stop to fascinate me. You are my inspiration. A whole lifetime is not even enough for me to prove how much I love and treasure you, dear. 
The impact of your love on me is so enormous and undeniable. It might sound selfish, but I want you to myself because I feel like I can't breathe without you. I want to make you feel like royalty for the rest of your life, my darling. 
To my one and only sweetheart, even if the sky is falling down on me, my existence would be to love you until you learn how to love yourself. Believe me when I say that you are the most amazing human being. Also, remember that you have my entire heart and soul.
A lot of things are temporary. The earth may stop revolving around the sun one day, but I would have no problem with that because YOU are my sunshine. I will never be able to go a day without kissing you and whispering 'I love you' to your ears. Keep on being your lovely self, baby. 
I wrote this message with all my heart… you are incredibly special to me and your smile is something I'd die for any day. I miss you and I can't wait to see each other soon. Sending you much love! 
Even with all these time apart, I have never stopped loving you for one second. I told you once that I'll always be there if you need help with anything, or just as someone to talk to, and I will keep that promise until the day I die.
What Can I Say Instead Of I Love You?
My feelings for you is strong and everlasting. You're amazing for having made every moment of my life so precious. I can't wait to spend every day of my life with you, my princess.
I thank the Lord every day for giving me such a lovely girlfriend like you.  With you by my side, I feel like nothing can go wrong, which explains why every second together means so much.
Every time I think of you, I smile as I have found my future, my soulmate, my life. I love you and can never stop loving you. You are the reason my heart beats.
You often ask me why I'm so silent… that's because I keep wondering if there are other guys as lucky as I am to have an angel like you. In my heart, you shine brighter than all the stars combined. 
Your pretty eyes captured my heart and your lovely smile secured your place in it. Don't you worry, you will always be my girl. 
I love you not only because of your outer beauty, but also because of your astounding inner, true beauty. I love you for all of you, boo. 
Meeting each other was always our destiny because I know that we were both made for each other. I will forever keep that special moment in my heart. 
You are more than just my girl… you are my precious stone. I love you and who I am whenever I am with you and will for the rest of my life. 
I may have several friends with me, some I knew since I was a child, but none of them are as special as you are. You hold a special place in my heart and mind, my Queen.
My feelings for you is growing so fast, I'm afraid my heart will burst… but even more scared if you don't feel the same way.
How Do You Express Deep Love?
I don't care what anyone says, but you are an essential part of my heart. Letting you out of my life is therefore impossible for me. 
4 people can sit in a car, 3 in a tricycle, 2 on a bike, but only you can sit on the throne of my heart as it was made just for you. I love you more than you'll ever know. 
Hey, baby. I need to let you know how glad I am to have you in my life. I can't wait to show you off to the world because no one has ever made me this happy before. I can't wait to shout 'I love you' from the top of the mountains! 
I have been praying for years, wishing that you'd become mine. Now that my prayers have been answered, I feel like I am the luckiest guy in the wold universe. Nothing can ever separate us. I love you, sweetie.
Fighting for your love was the hardest yet most worth-it fight I have ever done. Winning you over was a sweet victory. Now, I promise to always love and cherish you until the end of my time on this Earth, my dear.
Why can't you realize that you are my everything? I am a helpless puppy without you to guide me through life. You are the one for me, and I don't need any other girl. You talk, I smile. You are happy, mission accomplished. 
Your love heals my wounds, your words soothe my soul, and your touch gives me all the feels. Whenever I am with you, I just want the world to stop so I can fully enjoy staring into your beautiful eyes. I love you more than anything else.
If I only had one more wish on this planet, I would do anything and everything to spice up our world. Every ounce of my energy would be dedicated to giving you the most beautiful life you could ever wish for. I love you so much, babe, it's crazy. 
Nobody has ever been so special to me. You are the manifestation of my dreams. I would like to eternally thank you for bringing so much bliss into my life and for showing me the beauty of love. 
You make my life so colorful and my heart so, extremely joyful. I don't think you know how special you are to me and everybody else. Love you, little lady. 
How Do I Make My Girlfriend Feel Special?
Love is not about winning someone to be a part of you, but losing yourself to someone. It's a pledge, and I pledge to wholeheartedly love you no matter what happens in my life.
I was always afraid to fall in love, but you changed that. Your sweetness has weakened my body… you now have my entire heart. I sincerely can't get your beautiful face off my mind.
When I look at you, I just can't comprehend how God could make someone so beautiful. Knowing that you are completely mine gives me enough motivation to get through the day. Anyone would be lucky to be your man, and I'm glad that you chose me. I love you! 
I absolutely adore our playful relationship… but most of all, I LOVE that we love each other like Romeo and Juliet. You will always be my baby and every day will be a special occasion. 
For you and with you, I am capable of anything. You don't believe that I can love you until the end of my life? I'll prove it to you… I know that the future has a lot in store for us. 
If I'm a question, will you be the answer? If I'm a song, will you be the singer? If I'm a story, will you read me? If I'm your man, will you love me forever? Because if you're my lady, I will love you until I drop dead.
Even if everything is falling apart, I'll be there by your side. You are my one and only inspiration, sweetheart. Mark my words on that.
Our love is more precious than any diamonds in the world. If life treats us funny, just remember what amazing bond we have… it certainly brings a smile on my face.
It is so hard to find the words to express my feelings for you. Seasons may change, but my love for you will always remain. No one can love you better than I do.
My biggest wish is to give you a world of paradise where you have to worry about nothing. I want be with you in it forever. I love you so much, my beautiful baby girl.
Love SMS To Melt Her Heart
I really, truly love you. I can never ask you for much… but maybe just one thing: please keep on loving me like you do, expressing your love on that special way. 
When I needed hope, motivation, and love, God gave me more than that… He gave me a beautiful girl. I never saw you coming, but you were all I needed to get out of my difficult situation. Thank you. 
If love's a game, I'll be glad to play it with you. If you're a puzzle, I'll be happy to solve you. If you're my love, there's no doubt that I'll be happy to keep you forever.
When I'm with you, nothing else in this world matters. As I am far from you right now, I picture us sitting next to each other, holding hands and exchanging meaningful conversations. Sweetie, you make me feel alive. 
I want to be the guy to write poetry for you everyday. I'm happy to call you mine and I promise to work all day and night to make sure we will have a comfortable future together. My heart and soul are prepared for this journey.
The only thing that makes my days worth living is seeing you beautiful smile on your even more beautiful face. You spread cheer and beauty to every single corner of my world… thank you for that, dear.  
I can't wait to make you my wife. Then, I'll be able to see you everyday and there'll be no moment when I feel incomplete. I need you, babe…  I'll give you all the love I could possibly offer in return. 
No matter how much I try to suppress my feelings for you, my heart will always find a way to remind me that you are the missing piece in my life. To me, you are as essential as the air. How in the world am I supposed to exist without you?
Every time time I look deep into my hear, all I could see is you heavenly face staring back at me. That's just a testament on how much I love you, hun.
Dear, know that my love for you is deeper than the Mariana Trench… it amounts to infinity. Even if my heart is broken, I will always love you to the best of my ability.