Send Success Wishes For A Company
Whether it is a new company, or existing, it is nice to send a card or note wishing the owners much success. Entrepreneurs take a great deal of risk in stepping out and opening a business. The personal and professional strain to themselves and their families cannot be underestimated. 
Taking the time to send a well crafted card or message will let an entrepreneur know that you are aware of, and appreciate the effort and devotion that it has taken to get to this point. That support will mean the world to them.
To help you out, we have created the list below, of over 45 messages, phrases and quotes that you can use as an example for your own. 
How Do You Wish Someone A Future Success?
The best way to wish someone success is to send a personal message expressing your pride and admiration at their brave endeavor, and let them know that you support them and will continue to do so. 
I've always known that you're both a dreamer and a doer… Wishing you all the best for your new business! 
When I heard that you're officially running your own business, I couldn't be happier for you. Congratulations and good luck! 
I would like to congratulate you on finally becoming your own boss. There's absolutely nothing more rewarding as starting a new business… I know it's not easy and I am so proud of you. May your business flourish! 
Best wishes to you, my friend, on starting your new business venture. I know that you've worked incredibly hard on it. I wish you only extraordinary success to come! 
Major congratulations on finally being able to call the shots and fulfilling your life-long dream, dear. I'm super excited for what's to come! 
How Do You Wish Someone Professionally?
Going ahead with a startup in today's economy requires tremendous courage, and I'm glad that yours brought you where you are now! I know that with your determination, hard work, and creativity, you are destined for greatness. Congratulations and best of luck for your startup! 

Ever since we were young, I always knew that you were destined to achieve remarkable things. This is just the beginning… can't wait to see what you bring next! Wishing you more success and fulfilment! 

May good luck always accompany you as you run your new business. I know you are going to succeed big time because you have all the right experience and abilities. Congratulations!
As you venture on your new business, I pray that happiness keeps finding its way to your doorstep. I strongly believe that this is the start of something HUGE. You made it, buddy!
Your new business venture is so unique! I'm sure that it will have exponential growth. 
Best Wishes For Business Success
I was beyond ecstatic when I heard you were starting your own business. Now that all wheels are rolling, let me just say that I couldn't be more proud of you! If you ever need anything, I'll just be a phone call away. Hearties congratulations! 

Starting a new business venture is a long and winding path, which is why I'm so impressed by your tenacity and creativity! I know in my heart that you are on your way to achieve bigger and greater things. I wish you nothing but good luck and success, my dear. 

Congratulations on your startup and being a CEO! It must be daunting having a fancy title like that, but a determined and hardworking person like you will achieve major success. With you on the helm, this small company will undoubtedly take the world by storm! 

Nothing can express how much I admire you for taking this bold step in the first place. I strongly believe that this company is so lucky to have you as its leader, I simply just can't picture a anyone more suited to the job. Best wishes and may nothing on this Earth stop your progress! 

I was wondering how I could wish you good luck in your new business venture, then I realised that you don't need any. It takes a great deal of courage and intellect to go on the path you did, and made it out alive! That shows a lot already. So, I pray that your new business brings you buckets of happiness and tons of prosperity!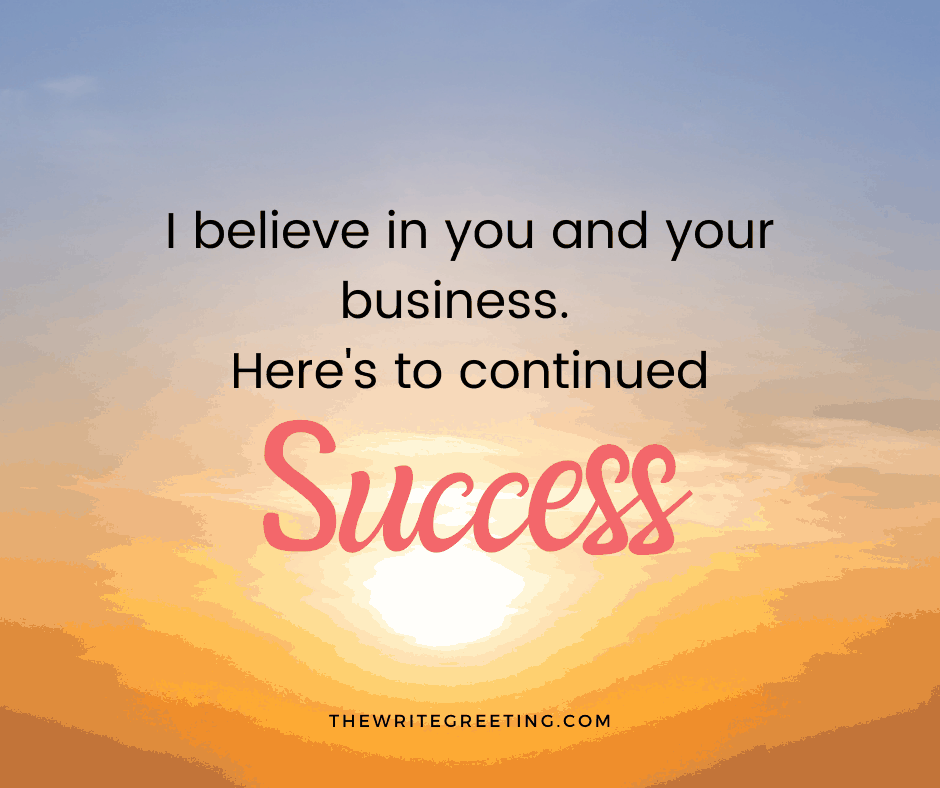 By opening your own business, you've achieved something only a handful of people in this world are able to do. Major congratulations are in order! I wish you nothing but the best for your new business. 

Congratulations, love! Everyone knows that starting and running your own business is everything but easy. It requires heaps of hard work, sacrifice, and determination. Although it's not an easy ride, I'm 100% sure that you can make it… and not only that, you'll make it big! Don't let anything else get in your way.

Not long ago, you decided to venture into something many people in this world only dream of doing… and against all odds, you did it! What a spectacular achievement, I wish you good luck and success with your new business. I am completely sure that the fruits of your labor will come in no time! 

Not everyone is fearless enough to quit their day job and start a new business. My compliments on that, my friend! I've always known that you were an entrepreneur… I believe that with your experience, discipline, and courage, the sky is your limit. There's no other way I can put it: you're a rockstar and a winner, never forget that. May God be with you throughout this whole journey! 

Congrats on your startup! The first few months may be stressful, but may this new business bring you plenty of joy as well! God bless you and I hope to see you soon.
Congratulations Message For Success In Business
Year after year, I've always known that you'd make it big. Congratulations on this success! (Please don't forget about me)

Welcome to the club of entrepreneurs, buddy! We are so impressed with what you accomplished. May life as a businessman treat you well and give you prosperity beyond your wildest imaginations. Best wishes! 

I'm so happy to hear that you've started a new business! This adventure you embarked on is not a walk in the park, but it sure is full of rewarding moments! I wish you strength and the best of luck in overcoming your obstacles. So proud of you, my son!
Who knew that my daughter would grow to become this young, wonderful businesswoman. I hope for nothing but the growth of your company. 
With this card, I would like to congratulate you on your new business venture. All your hard work has finally paid off. 
I Wish Your Company Every Success In The Future
How does it feel to become your own boss now? I bet it feels great! There's nothing more enriching and fulfilling than working for yourself. I'm so happy for you and I wish you the most magnificent journey to the top! In the meantime, grab yourself a bottle of champagne.
Congratulations to the man of the hour! I have no doubt in my mind that your business will live to see the light of day, especially with you in charge. 

I can't believe that you've finally reached your dream and become your own boss. Major success to you and your little baby-company, my friend. Again, couldn't be prouder. 

Your drive and creativity have brought you here, to the heart of the business district! I'm so proud and happy for you, I know without reasonable doubt that your startup will be so successful and influential. Good luck, but don't forget to have fun and enjoy the ride! 

I always knew that you were destined for great things in life. You're amazing on every single level, and I'm sure your business will be too. You're in for an adventure of a lifetime, my friend!
How To Wish A Company Continued Success
May good luck always be by your side as you run your new business. I know you are going to succeed big time because I have personally witnessed your incredible abilities. Congratulations again! 

Here's to you, my friend! As you venture on your new business, I pray that success keeps finding its way to your doorstep. I'm so excited to see what the future holds for you. Cheers!

Congratulations on your achievement! May the business world treat you well. 
I was so excited when I heard that you were setting up your own company. Now that it's finally up and running , I'm expecting an invitation for a private tour of the office soon! Anyways, I have confidence in your vision and mission. Congrats! 
Starting a business from scratch is not an easy feat, which is why I'm so proud of what you've accomplished here. Seeing your office and employees gives me so much joy. You are definitely on track to achieving some very remarkable things, things you've always dreamt of achieving! Congratulations and may God light your path to success.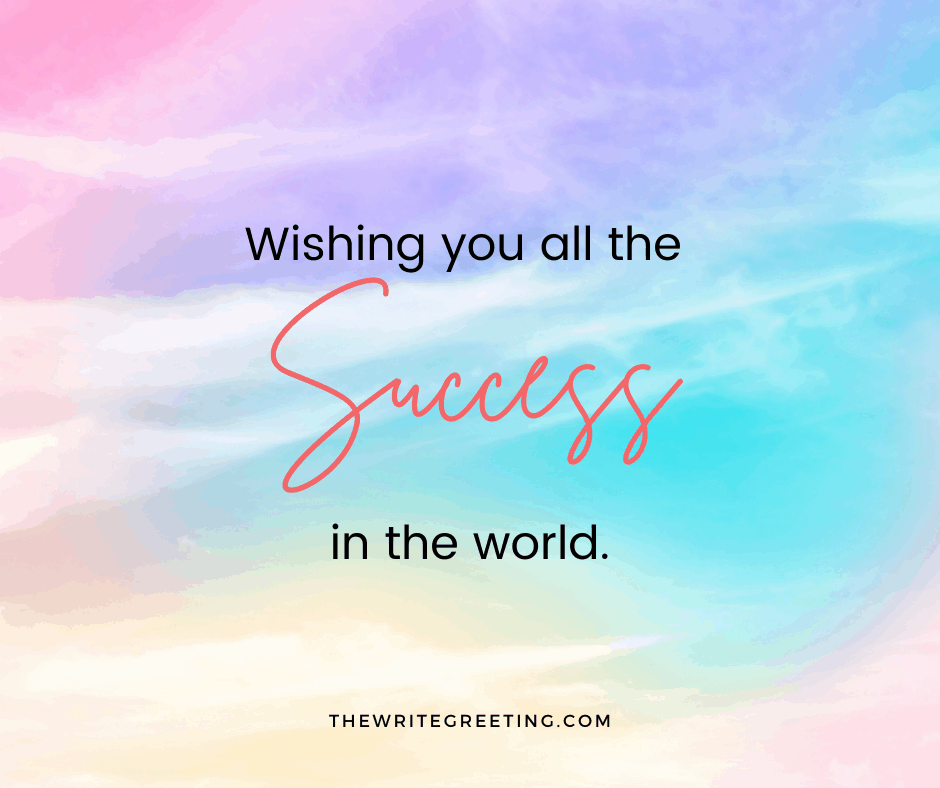 Best Wishes And Continued Success
Congratulations on your marvellous startup company! You are the most intelligent and hardworking person I've ever had the joy of meeting, which is why I know in my heart that your business will not only survive, but also prosper. 

You've started small, but I strongly believe that under your stewardship, this business will eventually transform into a giant and important corporation. You're on a roll, buddy, and nothing can stop you now. Also, I should let you know that you are a major inspiration for me. Best wishes to you and your team! 

Sending you the heartiest congratulations for this new business you created! A great deal of valour is needed for starting this kind of venture, which makes your achievement even more impressive. More importantly, may this business not only bring you lots of cash, but also happiness.  

Your motivation to build your own company is fascinating to see. I mean, you've successfully achieved something only a few people could! I know you put a lot of time and effort into this, so let me at least treat you to dinner? 

Starting a company is never an easy task, especially when you did it alone. You are officially the strongest, smartest, and most hardworking woman I've ever known in my life. You weren't fazed by people discouraging you, the potential sleepless nights, or other possible obstacles… you just went for it and made it! You deserve all the success and happiness in the world. 
Wish The Company Every Success
I can't believe this… I knew you were meant for something huge, but not this huge! This is a remarkable achievement and I do hope that you proud of yourself, because we are incredibly proud of you. Enjoy the fruits of your labour! I wish you good luck and success with your new business. If you ever need anything, I am more than happy to help.

Congratulations on this wonderful new business! 

When you told me you were quitting your well-paying job, I thought you were crazy… Now, I still think you're crazy, but for all the right reasons! I wish you and your company the best. 

This startup is fantastic. Congratulations and have a nice celebration! 

Nothing saying could properly express my happiness for you, kid. I pray that your business will succeed in ways you haven't even dreamt of. 
Quotes To Wish Someone Success
How To Wish Success For A Company