Sending a good birthday message to your boss can be hard. On one hand, you don't want to go overboard and make them feel uncomfortable in front of their colleagues or in the office where people are watching. On the other hand, you also don't want to send an impersonal email that doesn't even sound like it was written by someone who knows him/her well enough.
The Write Greeting is here for you! We've created over 100 different birthday messages for all sorts of bosses – from funny ones aimed at making your superior laugh out loud, through polite greetings which will show how much respect and appreciation you have for them, up to touching ones with heartfelt words inside. All our greetings are unique but equally genuine so there's no need to worry about sending something too bland or too personal either way! Just find the greeting that fits your relationship with your manager best and write it down on paper or type it into a text message.
How Do You Wish Your Boss a Happy Birthday?
Dear Boss,  may your vision, command, and respect continue to inspire us to always give you our best. We appreciate having such a strong leader at the helm.  Do have a happy birthday.

You are an inspiration. 

I wish you many happy years. In addition I wish you much success and a fulfilling career in your life. Happy Birthday boss!
Most people hate Monday mornings. But not me. Because of the environment you create it is a joy to come in to work.  This is because your charismatic personality and high standards make us all work harder to be successful.  I wish you a happy birthday and thank you for every day.
It is a privilege to work next to you. Sincerely hope you have a great birthday and that the coming year is full of success and good fortune for you!
You are an amazing boss, I am so glad we work under the same roof. You make hard things look easy. I feel privileged each day to be able to learn from you. May you have a wonderful birthday and an amazing year ahead!
I am grateful to be working under your leadership. May you have a wonderful Birthday and I hope everything turns out great for you in this year!
Happy birthday, dear boss. Your special day is special to us as well. We want you to know that we consider you a fine commander and respect you deeply. You lead us well while also making us feel like friends.  You deserve the best.
I know that words cannot convey how awesome we think you are. You are a boss and a great person. I am lucky to have the opportunity to work with you. Happy birthday. 
We are so lucky to have a boss like you. Happy Birthday. It is seldom that you can have such a good relationship with your boss. You are one of a kind!
Indeed, a promotion brings new obligations and missions, and I am confident that you will efficiently carry out all the responsibilities that it brings. Best of luck!
Our marriage has been filled with lots of sacrifices, and no feeling comes close to seeing that they are yielding results. It is your promotion today, and my love, you deserve to be celebrated. Toast to more good news! I love you wholly.
I am sure you missed out on telling me that your bosses got new glasses because there is no other explanation for this promotion coming at this time; we have been expecting the good news for some time now. Cheers!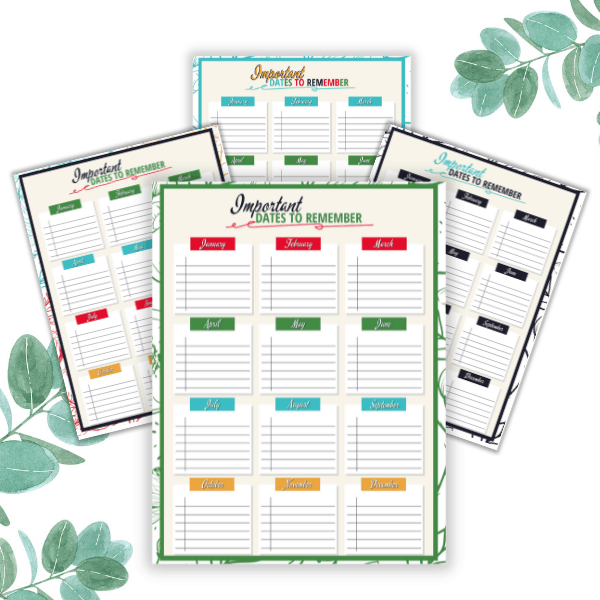 Need To Stop Missing Important Dates? FREE Dates Tracker
What Is a Good Birthday Greeting For Your Boss?
Some people complain about their bosses. I, on the other hand, only have good things to say. You are a true professional and a credit to our team. Happy birthday. I wish you the best.
We, as your employees consider ourselves very lucky to be on your team. Your energy and enthusiasm bring a sense of excitement to each project.  Happy birthday to a great woman.
As our boss, you have motivated and guided us through every step.  We wish the best for your life ahead . Happy birthday. You deserve wonderful things. 
You mean so much to us all. You are an inspiration, brilliant, and irreplaceable. We wish you the most amazing Birthday ever. We appreciate all that you do for us and we are so lucky to have you as our boss.
Happy Birthday, Boss! You are the Best! Thank you for your trust and support. We all wish you success and good health!
You inspire us with your hard work. May you have a wonderful Birthday this year. It is an honor to work for someone as dedicated as you are.
There is nothing better than going to sleep Sunday excited about the morning and what new adventure it will bring. You inspire that feeling, Sir. Happy birthday, boss.
Dear boss, we wish you the best in your professional and personal life. We work hard for you to help be a part of your success. Happy birthday. You deserve the best.
Dear Boss, I wish the best for your birthday and beyond! 
I have a lot to be thankful; for on this day as this was the day that you were born, leading eventually to you becoming my boss. Happy birthday, boss.
You have been a truly inspirational figure for me and the team.  As you celebrate your birthday, please know that we all celebrate with you. We are all proud to be part of your team.  Wishing you the most wonderful birthday.
Happy Birthday boss. I wish you every happiness and blessing for the day and the year! 
A Birthday Wish For the Boss Who Made Me The Person I Am Today
Dear boss, thank you for always caring about me and making sure that all my needs are met while working under your supervision and guidance. Thank you very much for everything and happy birthday!
I hope you get everything you wish for today and that all your Birthday dreams come true. On this special Birthday, I just want to say that you are simply amazing and a wonderful person!
I am so glad to work under you and for you. We hope you have a fabulous Birthday because we know how hard you've been working these last few months. I wish you much happiness and success in this Birthday year!
We are so grateful to have you in our lives. Happy Birthday! Wishing you all the best throughout the next year. You deserve it.
You have a special place in my heart. I love working with you on a daily basis and I am proud to call you Boss, Boss! Your Birthday is our Birthday, too. That's why we are sending you lots of love today.
Happy Birthday to the one who gave me the opportunity to become an expert in my field and who opened up new horizons for me. I wish you much health, success, and good luck this year! Make sure to celebrate every single Birthday since you deserve the best!
I wish that this Birthday brings new opportunities and joy into your life. I hope that it will be full of love, fun, and many special moments to treasure for all year long. Happy Birthday!
We are sending our warmest Birthday wishes to our amazing boss, who manages his employees with the right mix of humor and seriousness! You deserve to be surrounded by people who love you and we hope you enjoy your Birthday!
Happy Birthday boss, thanks for everything!  I know that if it wasn't for you, I would not be in my position today. I am grateful for everything and I hope this Birthday
What Do You Write on a Birthday Card For Your Boss?
Every day I come to work humbled by the knowledge that I will be working with such an inspired leader. Happy birthday, boss.
You are much more than a boss to us. The team truly respects and loves you. Thank you for your guidance from all of us!   Happy birthday. 
Happy birthday sir! May your celebration be as wonderful as your impact has been for our team. May you have a blessed life ahead! 
Wishing a memorable celebration to a man who has inspired me to great heights. It is my wish today that all of your dreams and plans come true for both you and our team. 
You sir are simply the best of us! Best wishes boss, Happy Birthday. 
I consider this a special day. I'm very grateful to you for all of your guidance. Wishing you a long and fulfilling year ahead.  You are a great boss , Happy Birthday!
How Do You Wish Someone a Happy Birthday
As you mark the day of your birth, I just want to take the opportunity to thank you for the guidance, patience and leadership that you have shown me throughout your time here. Thank you.
Happy birthday, boss! The wisdom and guidance with which you have run our department has been first rate, and is appreciated by all.  We are indeed a very lucky group to have you. Thank you for everything.
Have a beautiful birthday, ma'am! My prayer for you is that you continue to be just the same as you are today- an inspirational leader.
Wishing an awesome boss, an awesome birthday! Under your guidance, I have attained success that I would never have believed possible.  It has been and continues to be my distinct privileged to have worked under you.
On your Special Day, I want to thank you for being such a positive role model for me.  Happy birthday.
You deserve a great day today! Happy Birthday Boss! 
Heart Touching Birthday Wishes For Boss
You are without a  doubt the best  boss I've ever had. May you live a thousand years to see the benefit of the success you have created. Have a wonderful birthday celebration.
It is a pleasure to come to work every day with you at the helm.  I wish your dreams come true as you celebrate your special day.  Happy birthday, and stay blessed.
Hurray! It's a special day for a special boss. Your birthday is celebrated by the company as a while, as you are our inspiring leader.  We are proud to be your team. Happy birthday.
Thank you for always motivating me to aim for the stars. I thank God for the day you became my boss. You are a great source of inspiration! Happy birthday.
Wishing a long and happy life to the worlds greatest boss.  To me, you are top of the heap, and will always be. Thank you for your immense contribution to my success.  Happy Birthday
I have had many bosses over the years, but none can hold a candle to you. Thank you for being such a wonderful leader. I hope your day is as special as your heart. Happy birthday.
Lets go to lunch to celebrate you on your special day. We would like to convey our thanks and respect.  Happy birthday to a fantastic boss!
Happy Birthday Funny Messages For an Amazing Boss
We have shared many amazing moments. But I think this birthday should be at the top as the best. Lets make your day memorable.  Happy birthday to the best boss in the world.
Most days it is you who teaches me the meaning of hard work and dedication to our cause. But today it is my turn to teach you the value of hard partying and dedication to tequila.  Happy birthday.
We took an office vote to decide that what you needed most for your birthday was a day off from the rigors of being boss. So we've all gone to the movies. Enjoy!
Working with an awesome boss like you is just as important to me as Twitter is to Trump. Happy birthday, boss!
Some leaders are fortunate enough to work with people who truly respect and admire them. Unfortunately you got us. Better luck in the coming year! Happy Birthday though. 
If all bosses acted like you. Mondays would be looked forward to. Happy birthday, boss!
Wow, with a face like yours, you can keep the closed door policy. Thanks anyway! Happy Birthday. 
Funny Birthday Wishes For Your Boss
There is only one boss I'd follow into hell- that's YOU! Happy birthday!
You deserve a warm greeting on your birthday, so I put oatmeal in your chair! Happy Birthday to you boss!
I know that I have gotten on your nerves from time to time, so in honor of your birthday I have taken all of my time off. See you in 2 weeks. All the best. 
You are a true leader. You create an environment of comfort and responsible work. Thank you for your influence. Happy Birthday and many happy returns!.
To the worlds most charming, dedicated and wonderful boss, from the office kiss-ass. Happy Birthday. 
It has been a pleasure working for you and being impacted by your presence. Cheers to you today!
Happy Birthday Boss Wishes And Greetings
You put your best foot forward every day and make sure we do as well.  Thanks for your leadership.  Today we honor you and your brilliance.  Enjoy your birthday, sir.
All the best to you today.  May the best of success, fortune and blessings be yours today and every day. WIshing you much happiness on your birthday!
Working with you has allowed me to see a side of you others don't get to see. You are truly the best kind of boss- supportive and inspirational. May your birthday be as wonderful as you are. 
I have learned so much from following your example.  You are an inspiration to me every day. Happy Birthday wishes to you!
Your example has made quite an impression on my life and it will not be forgotten. Have a delightful birthday. May today be one of those wonderful moments in life. God bless!
Happy birthday, boss. From the bottom of our hearts, we wish you happiness and prosperity in the years ahead. Best returns of the day!
Dear boss, you have transformed our workplace into one of calm, respect, and success.  This is because of your devotion and dedication to our team.  I wish you a very happy birthday and years of success. 
Here's to a Great Birthday!
Dear boss, you are a rich man. You are rich because of the admiration that follows you from everyone in this company. You are rich because everyone here is made better by your respect and kindness.  Happy birthday. Continue being you.
Here's to hoping that you have a happy and fulfilling birthday to match your happy and fulfilling career. Happy birthday boss.
Wishing you a joyous, wonderful and happy birthday. You deserve a break boss, so please enjoy it. You are simply the best. May you have a life filled with joy!
On this special day, I wish joy and happiness for all the coming days. Happy birthday boss. May God bless you this day!
We were a group of people working together, but didn't become a team until your leadership showed us how.  Happy birthday sir. We look forward to the year ahead. 
Happy birthday boss. We wish you good things in the year ahead- both professional and personal. 
Warm wishes for you on your special day. I wish you more success and happiness in your career. Happy birthday.
Dear Boss, Happy Birthday
Wishing a wonderful birthday to a wonderful boss. I'm grateful to work with a boss like you, who treats me with professionalism and respect. May you be as successful in the future as you have been to now.
I feel privileged to have worked under such an  amazing leader like you. As we celebrate your birthday I hope for the best in your future endeavors. Happy birthday.
No matter what they say, I still think you are a great boss. Wishing you the happiest Happy birthday.
Happy birthday to a truly great boss! I wish for much more success and happiness in the future. 
On this special day, I hope for a fruitful year for you. I wish you a long and happy day! Happy birthday.
Working with you will go down as the best time in my professional career. Have a super happy birthday today, boss.
I dub thee "Boss for Life." You always raise my game and give me reason to try harder. .As you celebrate this birthday, I wish nothing but the best for you.
Thank you for your guidance and steady hand in my pursuit of my career. You are an exceptional leader and my success is due to you. Happy birthday.
How Should I Wish a Happy Birthday To My Boss?
Thanks to your mentoring, I have grown in my job. I shall forever be in your debt. Happy birthday.
Thank you for your support and guidance this year. We would not be the same team without your leadership. Continue to push us to greatness. Happy birthday!
All these years, you have been more than a boss to me. You have been a mentor, motivator, and friend.  I consider it an honor to work with you every day. 
You deserve blessings a-plenty on your birthday, as your presence in our lives has been a blessing to us. Have a great birthday!
Working with a great leader like you is  a privilege. Thank you for always inspiring us to do our best. Have a wonderful birthday.
Dear boss, today is the perfect opportunity to let you know how lucky I am to have a  wonderful person like you as a boss and friend. As you celebrate your Big Day, I wish for your happiness and joy.
You are the reason it is so easy to wake up and go to work every day. Thank you for making the job so enjoyable for everyone here. Happy birthday.
God doesn't help us directly, he sends his angels to do it. Thanks for being an angel.  Happy anniversary, boss.
Unique Birthday Wishes For a Boss
Thanks a ton for always making me feel like the lucky one. I hope that someday I will repay the favor. Happy birthday.
In my eyes, the reasons you are great are countless as the stars. Ma'am, may your life be as fulfilled as your mentorship has made mine. Happy birthday.
Having a great boss like you makes me thankful I got fired from my last job. How funny life is. Happy birthday.
Hallelujah! Another year of wisdom for an already brilliant boss! Happy birthday.
Happy birthday, boss! Thank you for never pissing on my corn flakes!
Sir, in the event you are not accepted into heaven, just know that I will follow you into Hell. Now, can I get the day off tomorrow, please?
Madam, because you are such a great boss, I have prayed that God focus all blessings on only you today. Enjoy your day!
You are the greatest boss ever. If we could only bottle your energy we'd all be rich. Happy birthday!
Best Birthday Wishes For Your Boss on Their Special Day
Happy birthday, boss! May your career live longer than the Queen!
Under your mentorship, my future is brighter than the Las Vegas Strip Happy birthday!
Today, I wish you good health and happiness. Tomorrow- it's back to the grind. Happy  Birthday, Boss!
A life well-tasked deserves a wish well asked. I pray that you receive all of the goodness that you have handed out over the last year.
You are not just a boss to me, but a super hero in a suit. Wish you all happiness and an enjoyable life.
Best Quotes For Birthday Wishes To Boss