Birthday Wishes for Your Dog
You want to send birthday wishes for your dog, but you're not sure what to say!  He/she wants your love, so give it to him. Whatever it is he or she loves to do, spend time doing it with her. Everyone's dog is a bit different. Some love to swim, some love to play fetch, some love to sniff butts. Every dog just wants to be loved, and to show their love to their owners.
Your dog loves you and wants nothing more than your attention, so spend the day playing, napping, eating fun treats – with your dog. Whatever it is that Fifi loves, do it with her, even if it means letting her lick your whole face.  
Letting your furry friend love on you, makes it a wonderful birthday for them!
Of course every dog lovers happy birthday starts with a card. So just browse through the list below of 125 of the perfect birthday wishes and quotes for your furry friends. 
What Do You Write On A Dog's Birthday Card?
Finding just the right words to put in your Happy Barkday card can be difficult, so we did the work and found a TON of cute happy birthday wishes for your dear dog.  
Happy birthday to my best pooch puppy who loves and cares for me better than anyone else. Thank you for your companionship and friendship, you are a loyal friend and a dear puppy.
You have never been just an animal to me, happy birthday sweet dog.
I assume by tongue and tail that you are enjoying your birthday. Have a howling happy birthday!
You have always be the most loyal friend, happy birthday to the most loveable dog I know
My home, became your home, and we became a family,  happy birthday dog.  May all your doggy dreams come true today, I love you, my adorable dog.  Enjoy your wonderful birthday.
Some silly people say you are only a pet, but we know better.  Happy birthday cute doggie.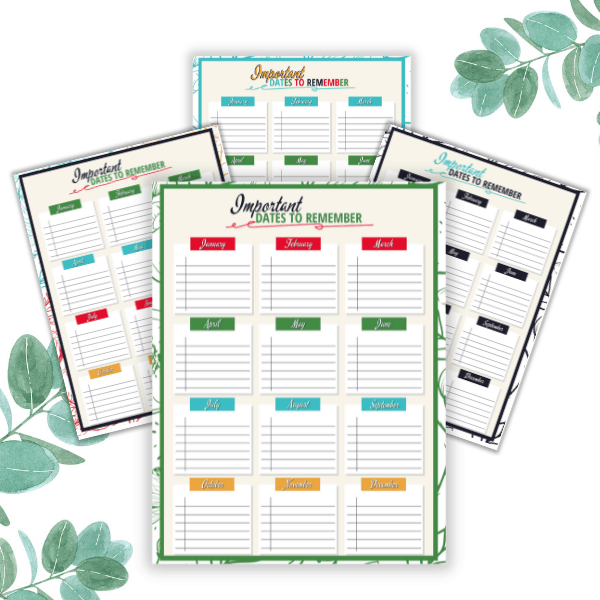 Keep Track Of Your Important Dates With Our FREE Tracker
Wishing the best birthday ever for my lovely dog. . You will remain in my heart always. Today you get treats and love, and a big long walk, just the two of us!
Sometimes, I just wish you were a human being, I  bet we could have some fun chats.  
You are the best pup ever. You are the best gift I have ever received, even though you chew my best shoes sometimes. Happy birthday, enjoy your special day.
I am so glad we have gotten to enjoy all these dog years together.  I'm of the firm opinion that everyone should own a dog, they just make the world a better place!
After dinner, lets sing :Happy Birthday." Well, I'll be singing, you can bark along. 
Bark, wag, lick your butt, roll over…it's your birthday, knock yourself out. I'll even give you an extra scoop of your favorite food, because you are such a good boy.
What Should I Post On My Dog's Birthday?
Without fail, you are always there with love and affection when I am feeling down. Happy birthday to my one and only dog, you are such a good boy.
According to science the average dog is way cooler that the average person. I believe it. I'd rather hang out with you, my puppy than any humans I know.  
Happy birthday from one best friend to another best friend.  Now let's go take that long walk you love so much.
It's your birthday! Today you get delicious treats and a new ball to chase. Plus you can lick my face-  as long as you don't lick your butt first! Happy Birthday, Doggie, here's to the best birthday yet!  
There is nobody else that could take the cares of the day away the way you do. I just have to walk in the door from work and see you wagging your tail and my cares melt away.  I love you buddy. Happy birthday!
Another birthday has come. Today you get to sit at the table, eat all you want, and lie in the sun. Not a bad day I think. Happy birthday, enjoy your delicious treats.
Although there is a language barrier between us, the universal language of love and trust is enough, my best friend. Thanks for being so faithful. 
Today is my beloved dog's birthday.  This beautiful pup is constantly showering unconditional love on me over this past year,  Happy birthday buddy, I love you so much.
Today is my lovable dogs birthday.  She brings me so much joy, it's only right that I throw a party on my best bud's birthday.  
To my favorite beautiful dog.  You bring such an extraordinary amount of joy into my life.  Thank you for all that you do for me!
It's my favorite dog's birthday! Let's go out to the parks today. We shall scare some bunnies with your ferocious barks and have a good stretch in the sun.  
Dogs are the best companions, because they bring so much love into our lives.  When you're having a bad day, all you need to do is look into your dog's eyes and he or she makes everything better.
Dogs are the biggest stress buster!  No matter what type of bad day you have, all that disappears when you walk in the door and that wagging tail runs to greet you.  Wishing you the happiest birthday today Gypsy.
Your silly antics and joyful plays keep our home alive and happy.  Wishing you the happiest birthday today Susie.
I remember seeing you at the dog rescue, sitting in your cage. You looked at me with a look that said "Take me home." and I did. Happy birthday to my favorite buddy. 
Happy birthday to my best friend and companion. You have been a great pet for all these years.  We love you so much, happy birthday dog.
Happy Birthday to a dog who's bite is definitely worse than his bark. Thanks for being so protective and watchful for our family. We are happier and safer with you here. Wishing a very happy birthday to the greatest dog ever. 
Even though you are a dog, I love you more than most people. Happy birthday to the cutest dog in the world!
Thank you for being a constant companion since the day I brought you home.  This dog has showered unconditional love on me for the past 365 days.  You have become my whole world.
Playing with you guys is one of my most favorite things to do. You are what makes home feel like home. Happy birthday to the best dogs.
Every single day, in a hundred different ways, you put a smile on my face and make me happy. Words can't express how much I love you.  Enjoy your birthday celebration.
You have kept your owner safe from every danger possible. You are a true watchdog and for that, I want to honor you on your birthday with some special treat. It's a surprise. Just wait. 
Happy birthday! For always being your happy, playful, loving self,  I promise to spoil you with treats today!  I promise you, it's going to be a great birthday.
Express your love for your best friend with these Happy birthday quotes for dogs.
My constant companion, I am never lonely with you around. You get the biggest treat of all today. Happy Birthday
It's your birthday so lets head to the doggy park for some extra sniffing and fetching. Then back home for treats and presents.  Have a good doggy birthday.
Today is your dog's birthday and you want to make it a fun birthday, after all, this is your best friend.  Here's to another year of paw-licking, tail-wagging experiences and many happy memories.
Thank you for all the happiness you brought into my life since bringing you home.  You are the most amazing dog and I love you so much.
You make me smile anytime I think of you.  Thanks for being you.
Looking at my furry best friend on their birthday brings tears to my eyes.  Words cannot describe how much joy they bring into our lives.  Enjoy your sweet birthday, baby girl.
Our of all the dogs at the pound, I picked you…..thankfully.  You are the most lovable dog, and such a cool buddy.  I am so glad we found each other, happy birthday dog.
Since the first time you barked at me and almost bit me, we have shared a great friendship. I can only hope this bond continues forever because it has been the best of times for me. Happy birthday sweet dog.
Birthday Wishes for My Dog
Wishing a fabulous woofing birthday to the world's most fabulous dog. Thank you for constantly giving us a reason to smile and be happy.
Today it's my best bud's birthday today.  We are having a birthday party with lots of his doggy pals. I'm not sure he will know what's going on, but we'll celebrate him anyway!
You touch my heart like no other dog in this world. Happy birthday sweet dog.
Happy birthday! May your day shine like the light you bring into this world.
Dogs are my most special type of companion because they don't talk back!  All they do is provide love and lots of dog kisses.
Who needs a morning alarm when I have you.  Happy birthday dog.
All of my best moments have been with you.  Thank you for taking the best care of me, happy birthday dog.
Happy Birthday, old friend. May your dreams be filled with slow, fat squirrels. 
It's your birthday! Today you get lots of treats and you get to lick me as much as you like- just stay out of your butt if you wouldn't mind. 
Wishing my best friend's dog a very happy birthday today.  Happy birthday, I may even allow you to lick my face, that's how much I love you. 
There is no-one else in the world who loves me like you. When I get home every day, you make the worlds problems away. Happy birthday buddy! I love you. 
Today is the one day of the year that you get to leave me all drooly. I know how to make my pup happy. Happy licking buddy! 
As you turn the page on another year, may your bark be fearsome, may your bite be infrequent, and may your backyard be filled with critters to chase.  Happy birthday! 
You are such an important being in my life, You wake me up, ease my fears, dry my tears, and cuddle me to sleep. You are forever my beautiful pup. 
Growing up with a best friend like you has been a privilege. Our countless adventures are the stuff of legends. Thank you for being my steadfast partner in crime all these years, happy birthday dear puppy.  
This card for a dog may seem over the top, but there is no way to celebrate this great pup that is too much.  Thank you for being the best pet, and happy birthday.
A dogs birthday is Mother Natures way of reminding us to pamper the one who takes care of us every other day. Happy birthday dear puppy! Enjoy your special day.
Good weather or bad, sunny disposition or not, you always find the right way to get me back on happy street. Please live longer than me. I'd be lost without you. 
Your ever insistence on getting between us in bed will pay off today. You get to snuggle in right where you want to be. Kisses and snuggles accepted. Happy B'day.  
As a puppy, your energy and playfulness knew no bounds. We just never imagined that it would never change. You are a bright spark in the dullest day and you are loved by this family more than we can ever make you know. Happy birthday.
I know that I don't have a tail to wag, but I sincerely hope that you know how much you make me happy each and every day. Thank you and have a good birthday.
To my faithful four legged friend. You have brought smiles to days where they were missing, and happiness where there were tears. You have proven your devotion more time than can be counted. You are a true dear friend. Happy Birthday and keep spreading your cheer.
Bark if you love me, bark more if you REALLY love me.  Happy birthday to the best dog.
Awesome Dog Birthday Gift Ideas
Happy Birthday Dog Quotes
Lets head to the park today, stretch those legs, and play frisbee. Its all your favorites today, pal!
When people ask why I have so many pics of my pup. I ask them how many pics they have of THEIR best friend. Thanks for being my bestie, buddy. 
You and I are two peas in a pod. I see you wagging your tail at every pretty girl. Worlds best wing-man and babe-magnet. Happy Birthday to you. 
Today is your birthday- your choice of activity. You can chase a ball, chase your tail, or chase a pretty girl dog. You can even just sitting there, licking the body part of your choosing. It's your day, do what you love to do the most!
You are the best kind of friend, you love me just the way I am. Unconditional love is what we have, pup. . 
Thanks for always being my co-pilot, life is so much better with you in it.
Happy Birthday Wishes For Dog
Of all my friends and family, you are the only one who loves without condition. That's why you are my true friend. Best birthday to you. 
Best dog in the universe. Best friend in history. Best wing man for picking up men. You my pooch are the bomb! Happy Birthday
I am not quite sure how you do it. You calmly bring so much happiness into our lives. The world is a better place with you in it, pup. 
Since it's your birthday, lets play the day away.  Fetch, swimming, and rolling around. It's no effort to have fun with you. Enjoy your birthday.
We have so many great memories of spending time with your sweet dog. On his birthday we hope that he has a great day, and dreams of many more happy memories. 
I was never a pet guy, but then I met you. Your insistent tail wagging and fun spirit got under my skin and has remained there all these years. Happy birthday, old pal! 
Happy Birthday to My Dog Quotes