Unique and Memorable 31st Birthday Wishes
Are you looking for the perfect words to make your friend or family member's 31st birthday extra special? Whether it's a heartfelt message, an inspiring quote, or a lighthearted joke – there are plenty of ways to show them how much they mean to you and wish them a truly happy and amazing day.
Here are some ideas and examples of what to say when it comes time to wish someone a very happy 31st birthday, we think you'll like them!
When it comes to celebrating the milestone of turning 31, there are so many different ways you can make your loved one feel special.  Check out some of our favorite 31st birthday wishes, your friend or family member will appreciate them.
It isn't easy getting older, but someone has to do it! Happy 31st birthday to an amazing person who knows how to laugh at themselves and enjoy life. Here's hoping this year brings more laughter and fun than ever before!  Happy birthday.
I am so excited for your birthday party tonight, I hope all your wishes come true!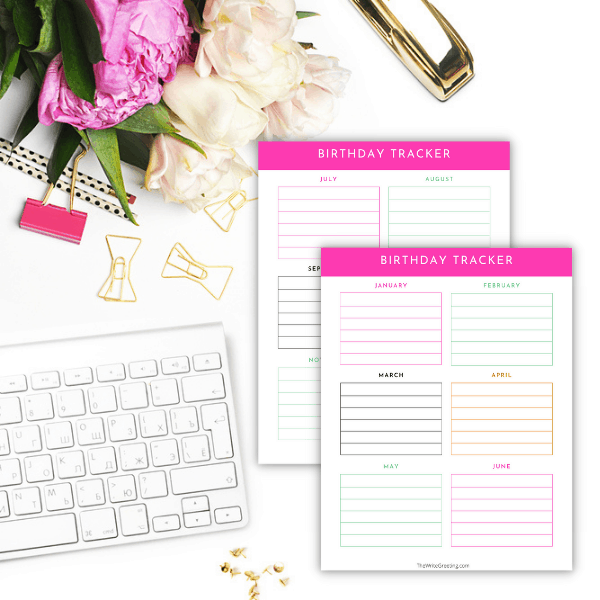 FREE Birthday Tracker Printable
-Don't forget another birthday with our handy tracker.
-Give yourself time to get a card or gift before the big day. 
-Easy to print PDF download. 
I can't believe we are about to celebrate your 41st birthday!  Are you sure you are 31 and not 21??
Happy 31st birthday to the most amazing person I know, may all your dreams come true this net year.
Wishing you the happiest of birthdays on this special day, enjoy every minute of it
Wishing a happy 31st to a beautiful and incredible woman, enjoy your birthday celebration tonight.
You look amazing for someone who is about to celebrate their 31st birthday!
Hope your day is as amazing as you are—happy 31st birthday!
As you turn another year older, may all of your dreams come true. I can't believe it's been so many years since we first became friends.  Here's wishing you a wonderful birthday celebration full of love and joy.  I hope we enjoy as many happy memories this year, as we did last year!
Happy b day to my best friend, I can't wait to celebrate with you tonight.
Cheers to another year full of countless happy memories, I know all my dreams came true the day I met you, love you baby XO.
Happy b day sweet friend, I'm so lucky to celebrate another birthday with you.
Wishing you a sparkly-filled celebration on your 31st birthday, you deserve nothing but the best!
Happy Birthday 31 Years Old
Turning thirty-one is a special occasion that deserves to be celebrated with friends, family, and loved ones in style. Whether you're sending 31st birthday wishes in person or through a card or text message, it's important to make your happy 31st birthday wishes meaningful and memorable. With the right words, you can make their special day even more special. 
Wishing you all the world's happiness on your special day.  I even baked your birthday cake, and this is not just a cake, wait till you see this thing – you're welcome!
Calling all party lovers, this birthday bash is about to begin, let's go have some fun.
Enjoy all and any life's celebration, that's what life is all about!  Happy birthday, mate.
Hap[y birthday to one of the best people I know, now let's go celebrate you turning 31 years of age!
On this very special day I wish you the best, happiest of birthdays from me to you!
It's an incredible milestone when your son turns 31. You have seen them grow from a little rascal of a boy into their own person, and now you get to see them as the adult they have become.
Celebrate this special time in their life with some heartfelt words that show how proud you are of all the accomplishments he has achieved over the years. We have put together some cute 31st birthday quotes to help you wish him a happy 31st birthday.  
Dear son,  I just wanted to wish you a happy birthday, I hope you have a fun celebration tonight with all your buddies.  I hope you know how proud dad and I are, we love you so much.
To the most incredible son, happy 31st birthday.  May God bless you and continue to keep you safe.
Happy birthday handsome boy, I hope you have a wonderful day, I love you.
Happy birthday son.  You are such a special person with a beautiful soul.  We feel blessed to have such an incredible son.
Dear son, may you always have the courage to take risks and go after what you want. 
To our amazing son, we remember when you were a cute little baby and now you have your own son.  We hope you have a wonderful 31st birthday, enjoy the birthday gift we sent along.  We love you.
 I can't believe we have a son who is about to turn 31 years young!  Happy 31st birthday to our awesome son.  If there is one thing we know, it is that you are an amazing person who deserves the very best in life.
Congratulations son, you made it to 31!!!!  There were a few teenage years where I wasn't sure if that was going to happen lol, happy birthday!
It feels like yesterday you were a little boy and we blinked, and now you're a man, a married man!  We know you are having a fabulous time with your littles at Disney World, enjoy it all, these trips make life special.  
Happy 31st Birthday Daughter
It's a big day when your dear daughter turns 31 years of age, here are some 31st birthday quotes to make her day even more special.  Even though she's not your little girl anymore, she always wants to hear from you on her special day
"There is a Happy 31st birthday to my amazing daughter.  It has been a joy watching you grow these past 30+ years.  You have become a fine young woman, and we are so proud to call you our daughter.  Enjoy your birthday wish your amazing friends, we love you so much.
To my sweet daughter, may you continue to find joy in the little things in life, we can't wait to see you tonight for your birthday dinner.
To our most amazing daughter, we are bursting with pride at all that you have accomplished over the past few years since graduating from college!  It sounds like you are  having the most amazing birthday trip, we will celebrate when you get home.  Enjoy all these real life experiences, we're excited to hear all about your South African trip!
Dearest daughter, we can't wait for your birthday party today, I even bought a new dress.  It's hard to believe our little girl is turning 31 years young!  Happy birthday sweetheart.
Dear daughter, 31 years of life and love, adventure, and growth—it's time to celebrate! You've accomplished so much in the past year, and now it's time to look forward to what the next one has in store for you, love mom and dad.
Celebrating a birthday is always special, but celebrating a milestone birthday like a 31st birthday can be extra meaningful. Whether you're looking for something funny, thoughtful, or sentimental, finding the right words to express your best wishes on somebody's 31st birthday can be challenging. Here are some ideas to get you started.
May your life be as full of adventures as your Netflix queue.  Happy birthday.
Happy Birthday! You may be getting older, but at least you can still pull off that young adult look 
Happy birthday!  I can't believe we've been friends for so many years, now I'm starting to feel old!
Wishing you all the best on this exciting new decade of life!  Happy birthday.
May god bless you and keep you looking so young, happy birthday friend.
Happy 31st birthday to all the party lovers, let's do this thing!
Wishing the heartiest wishes to my bestie who is entering her early thirties and is slightly nervous about doing so.  You've got this (ish!)
A very happy birthday to someone who always strives for greatness, and has achieved so much already.  Be open to all the wonderful things that are coming your way, happy 31st birthday.
Hey buddy, look  at all you have accomplished at the mere age of 31, happy birthday.  I can't imagine what you are going to achieve in the next 20 years!
Happy 31st Birthday Funny
It's someone's 31st birthday, and they deserve a good laugh! What better way to celebrate than to send them some funny 31st birthday wishes? Whether you are looking for something clever, or funny, we have got you covered. Here are some funny 31st birthday wishes you may like.
Happy Birthday! Here's to another year of sleep deprivation and embarrassing photos!  Happy birthday! 
I hope this year brings you more energy than you know what to do with!  Happy birthday, please try and make it past midnight this year!
Welcome to the 30s club! You'll never get out alive! (jk!)  Happy birthday friend.
Happy 3rd decade to ya! I hope it's just as fun as being in your twenties…minus the hangovers of course!
31st birthday wishes coming at you from near and far—here's hoping that you experience only joy (and no barf) in year number thirty-one!
Turning 31 is a special milestone. It's an age where you're no longer in your twenties, but you still have plenty of youthful energy to enjoy life to the fullest! Celebrate this momentous occasion with some cute, fun, and happy 31st birthday wishes for someone who is turning 31 years old. 
Whether you want to keep it lighthearted or provide words of wisdom or encouragement, these 31st birthday wishes are sure to make your loved one smile.
As you celebrate your 31st birthday today, know that I am wishing you all the best in life. Hoping that this year brings only joyous moments and lots of laughter. Have an amazing birthday celebration today
Happy 31st birthday to one of my favorite people.  Here's to many more birthdays ahead.  
It has been a long week of work, I am ready for your birthday celebration tonight, happy 31st birthday my love.
May all your dreams come true as you turn 31!  Happy 31st birthday to a dear friend.
On this special day, I raise a glass to your good health, happiness, and continued success in everything you do! Cheers to an amazing year ahead!