Dads are so important in our lives. From our fathers we learn so much about ourselves and dealing with the world around us. When we think about all of the wonderful things dads do for us when we are growing up, from throwing a ball to dancing while we stand on his feet, he sometimes seems superhuman. 
Many times though we also learn about not showing our emotions. Dads are the tough ones- more resolved and less emotional than our moms. Sometimes the relationships can be strained because we do not always say what is on our minds or spend time together while we can.  
When it comes time to send Dad a card, or let him know how we feel, finding the right words can be difficult. So we are here to help with our list of 100 nice things to say to your dad. 
If you have some things unresolved with your dad, or just want the opportunity to let him know how much he means to you on Fathers Day, check out our list to help get you started.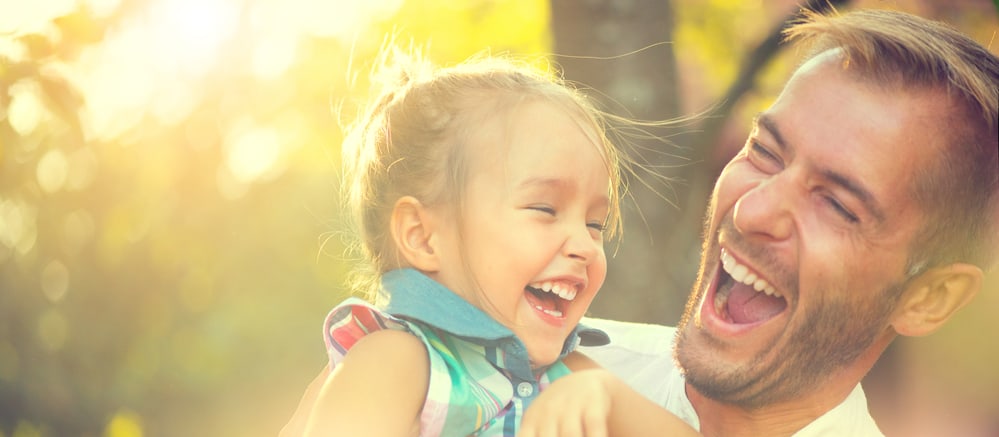 How Do You Compliment Your Dad?
During the most wavering times, I'm always thankful to have your words of wisdom, as a beacon, that guides me out of the darkness in life. The strength of your shoulders have supported me when I was most weary, your courageous heart taught me love and discipline, so that I was prepared to step out into the world, so that I may earn it as my own. 
Dad, you are the embodiment of a lion leading it's pack. Your strength has been the backbone of our family. You lead us through the trenches and protect us from potential threat. My goal is to become the next King, so I may continue the lineage of our pride through future generations.
There's nothing more frightening than finding yourself within the compounds of your own mind. Dad, because of you, I was never stuck long enough for the walls to completely close in on me. Your voice summoned me from the tunnels, and your words cast the demons away. Your love will forever save me, and for that, I always have a reason to fight.
You are a man's man, the icon of masculinity. Any man would aspire to be you because of your skill to always to be productive, whether it's fixing our home so we are always sheltered and comfortable, to the hours you put in at work so we may have food in our bellies and clothes on our backs. We dedicate our lives to you, Knight of the castle and King of our hearts.
Dad you taught us matters of the heart first and foremost. Gratitude and hospitality are the key elements to a rewarding life. You've shown us so much love and care it extends out into the community. No matter how far we get in life it's important to stay humble so that when we get where we're going, I make sure to stop and help the next one in line.
Dad, as my best friend, you've always been in the crowd cheering me on through life. I credit everything I know to you, my mentor, through life advice and matters of the heart, you've always been the one to pull through. My appreciation for you will never cease and knows no bounds.

When I was a child, I played with childish things, when I became a man, I realized there wasa time to put those childish toys away. As a father your persistence and patience molded me into the man I am. I would be lost without your guidance and and for that I am thankful.

You showed me how to conquer and overcome every obstacle in life. Motivation, perseverance and resilience are the keys you handed me to become a man in this life, so I wouldn't have to suffer so much. Those keys have unlocked parts of myself I never knew, and it's all thanks to you Dad.

Dad, your sharp words carved out my earth shattering flaws, so that you could instill more beautiful values into my heart. Your silent demeanor showed me that the world doesn't owe you anything, and you taught me how to survive on my own. Your strength continues to carry me, I love you Dad.

I am grateful to have such an inspiring, influential man in my life. The heart of my motivation stems from you, and I am always in awe of your accomplishments. It would be an honor to be half the man you are today. I love you.
What Should I Text My Dad?
Dad, you taught me how to get back on my bike after I fell, and I learned to ride a bike.  My vocabulary did not consist of the word "can't" because it simply didn't exist in our household. Because of you I've learned to get through the hardships in life. Trudge through the marshes to get to the ocean. There is always a bigger picture, and your unconditional love has been a consistent example of that. Thank you, Dad.
When I was six years old you taught me how to drive. I controlled the steering the wheel and you operated the pedals because my little legs couldn't reach, no matter how far I stretched. You showed me that there wasn't an age limit to experience life. Responsibility and moderation would go far in life so the fun can be that much more enjoyable. You're the best man in the world, Dad.
 I remember dancing with you in the living room. I was so small, I had to stand on your feet so you could lead properly. Dad, you always made me feel like royalty. In the King's castle, you are favored by all as the backbone of our family. You are truly remarkable. Such small acts of endearment, have created the most memorable moments of my life, and it's all thanks to you.
You instilled in me the Power of Positive Thinking. It wasn't only a book you wanted me to read my whole adult life, it in itself, is a way of life that paves the road to success. True success comes from matters of the heart, not paper. Your famous words were, "You work to live, you don't live to work". I love you, Dad.
Your gentility always broke down my walls. When I was stubborn, your soft gaze melted the frustration right out of me. Then I listened to your words of wisdom, explaining that in life, sometimes there are things you don't want to do. Ignoring responsibilities does not make them go away. You taught me to face life head on, accept the consequences of my actions, and use it as a tool that would build me to be a better person. You are the best.
I was such an expressive child and it never seemed to change. I never quite realized just how supportive you were until I became an adult. Dad, you encouraged me to get my hands dirty, write horrible stories that didn't make sense, and even jump on the couch when Mom wasn't home. You bestowed upon me, endless possibilities within our own four walls. I am forever grateful for you guiding the light in my creative life every single day. I love you forever, Dad.
It's a hard fact to realize the world continues on without you. There was a time when I could not even fathom a life without you, Dad. Becoming an adult makes you face even the darkest of challenges, and you do not have the option to give up. I now see the reasons behind your tough love, it was to prepare me for a world without you. Survival is an essential skill for any occasion and if it weren't for you showing me that, I don't know where I would be. Thank you, Dad.
Dad, we always groaned at your jokes whenever we went to restaurants, but the truth is, you broke the awkwardness that comes with dining out. You had the courage and the wits to pull those cards out of your sleeve. Your outgoing personality made it so you never met a stranger anywhere. You are loved beyond belief and you always will be.
Dad, you are wise beyond your years and even further, a generation of people could learn from your ways. Your kindness reaches the goodness in anyone who takes a minute with you. Every step you take creates a ripple effect, and everyone around you can feel the love radiating off of you. I love you so much, Dad. You are an inspiration.
As a father, your love is unconditional, it comes with fatherhood of course, but everyday you choose to show up. I am the luckiest person alive to have you for a Dad. I strive to learn as much as I can from you so that I may pass it down to my children as well. 
How Do You Thank Your Dad For Everything?
It's an unwritten tradition for men to avoid expressing emotion, yet you taught me the ways in which a man can speak his mind. Respect and honesty, where respect is earned through honesty, You are the concrete in my foundation, and I am beyond thankful to have such strong, loving Dad like you.
Everyday, no matter what, we have our quality time. Most people would think it's unconventional but that's how we roll. Distance is the only thing between us, so we cherish the moments when we see each other's favorite movies on television, or hear a song we listened to on our drives. The love and memories keep us grounded so we always know we are right there.
The open arms of the sky cradle the clouds, the day I was born you were so proud. It knows no bounds, the deep blue sea, and neither does your love for me. I love you with all of my heart.
A child's innocence is blinding. I never judged the kids I went to school with but I remember how some of them dressed or looked in general. As an adult, I remember food in our bellies, and warm clothes on our backs. I was never blind to the love you've shown me my whole life, but I have a greater appreciation for all that you have done. Thank you.
The hours you spent at work didn't subtract from your time at home. Your presence is the most precious stone on this earth. I don't know where I would be if I didn't have you as my Dad. Your earth shattering love has saved me from a lifetime of suffering and I couldn't possibly thank you more, than right now in this moment.
I can remember the day you bought me my first PlayStation console. You always watched the news in the evening and then Star Trek, you saw my growing interest in the electronic and gaming world, so you took it upon yourself to teach me the meaning of moderation and self control.
Dad, you're my universe. From the sun to Pluto, space isn't expansive enough to embody your love. I've watched you carry the weight of the world on your shoulders so you could wrap it up and gift it to me in a Tiffany's box wrapped with a silk bow. You will always have my undying appreciation Dad.
You've accepted me as I am. Every flaw, you counted, but never held against me. Instead you used it as clay to mold me, so I would be prepared for the world and earning my place in it. Nothing is handed to you in this world, but that doesn't mean you have to necessarily change completely. There is a time and a place for everything. You mean the world to me.
Dad, you have demonstrated perseverance, motivation and resilience, the essential keys of conquering life. You won't have fun everyday, you would tell me, so it was important to find a passion, a career and a way to volunteer in the community. Stand for something or you fall for anything. Your strong will, and determination have set the foundation of my character and I will pass down our keys to my children. Thank you Dad.
You put me on your shoulders so I could see the world from your view. Standing tall, I felt like a giant among the world. In that moment my perspective changed. I went from feeling like I wanted to see things in your eyes, but I found a perspective of my own. You've always encouraged me to be myself. Your support carried me in your comforting arms, down the path of self-love and self-acceptance. Dad, you have always been number one.
Emotional Message For Father
Dad, one look into my eyes and you wondered what was wrong and how you could comfort me. Your tender words and gentle gaze broke the dams within my eyes, and the pain within my life came flooding out. With outstretched hands, you were there to catch every tear and help me put myself together. Thank you for being my rock, Dad.
I sat cross legged everyday, anxiously waiting for you to come through the door. The scent of dad and a light smell of cologne would cross my nose, and the memory alone brings me back home. My home is wherever you are Dad. You are my everything.
The bond between a father and daughter is a link forever connecting our hearts. You've shown me how a king needs to treat his queen, like a precious gem, rare and fragile. You're love has surrounded me with wonder, my love for you will never falter. You will always be my daddy and I am forever your daughter.
Daddy, as I have been the apple to your eye, you have been the Atlas to my world. You build me up so I can be better, you support me if I begin to falter, and you bear the sorrow that life throws upon me. You have been my saving grace. I love you so much.
You've always believed in my dreams. If I told you I wanted to fly, you stood outside waiting to see what I had in mind. You never stomped on my ideas, you nurtured and watered them. Your acceptance lead me down many paths of trial and error, although its the experiences that have branded themselves into memory. 
Giving up was never an option. When life becomes difficult, it's time to face the challenges in order to grow. Growth is what defines what you become as an adult. You reap every seed that you sow, therefore it is important to take responsibility, where need be because that's where you truly begin the journey. I love you Dad.
All of my ambition and success is dedicated to you Dad. Your will power was the fuel behind your achievements. I want to do all I can to make you proud because you've done everything under the sun to give me a life, and a comfortable one at that. You are inspirational Dad.
Dad, not all superheros wear capes. Some wear a hard hat or even a suit and tie, but you're extra special because you have been there at every turn, almost waiting to pick up the pieces, and yet allowing me to find a way to fix myself. You showed me true strength and dependability. Because of you I've made it to the top of every ladder in this life. I love you.
In the summer time you came home heaving, dripping with sweat. In the winter time there were moments you were on the side of the road, helping a stranger change a tire in the freezing weather. The life you provided us was build on those droplets of sweat. You spread hope around you by leading a helping hand. You make the earth quake in the midst of your shadow and the gentle feel of your fatherly touch, mends broken hearts.
Compassion is the key to humanity. You taught me that in order to truly care about someone you have to understand them. Taking the time to listen and comprehend what someone has to say, is acknowledging them as an equal, while validating their thoughts and feelings. There's no better way to connect with those around you, and that is truly the gift that keeps on giving.
What Can I Say About My Dad?
Your love and devotion was one I never second guessed. Your constant outpouring of love never allowed room for the demons to eat their holes through your words. Kind, smart, intelligent, gentle; These were some of the words you've always used to describe me, it's come to the point in my adulthood that the characteristics of my being, completely center around those thoughts you instilled in my heart. Dad you are truly one of a kind. I love you.
Dad, I remember one specific morning, mom wasn't home. I came bounding down the steps at about 7 a.m. and you asked me what I wanted for breakfast. What does any kid want for breakfast? ICE CREAM! You gave me a wide eyed guilty look, slowly glanced around as if you were waiting for mom to pounce on you when the final verdict was decided, "Don't tell your mother." Thanks for showing me that sometimes, in given circumstances, it's okay to bend the rules. I love you Dad.
Remember when we flew to the moon? We had a picnic among the stars in the deep velvet night sky. For our next adventure, I was a scientist trying to find a cure for illness, when you made a small prick in your finger so I could experiment with my new microscope. No what adventure I wanted to go, or what I wanted to be, you were always there to support me. Thanks Dad. 
Dad, you never once complained. You never furrowed an eyebrow at mom, or hollered at us when you came home from work. You made yourself present and went into Dad mode. We've always loved you for and we will always be thankful more than you know. We love you.
A son is created with experiences in life that have been passed down from his father. When a child feels like they're wandering in a never ending abyss, it is the light from their father that guides them through it. A daughter is a combination of all of the fears a father will have to face with his new title, but there will be nobody better because he will forever be her father. You are the foundation of our home, we love you Dad.
Your love overflowed our home and seeped out into the rest of the neighborhood. You hosted BBQ's, 4th of July parties, even the weekly cookout, as a means to introduce the community to your family. You were always so proud of me, you couldn't hope but parade me around and introduce me to a whole social circle outside of family. You showed me how to put myself out there and take chances. There is nothing to lose when you have already opened your eyes. I love you Dad.
A king is nothing without his queen. My mother is the love of your life and I have been blessed to have been raised in a home where I watched you dote on Mom at every chance possible. Everyday you celebrated her and, at the same time, showed me exactly how a man shows respect towards a woman. Your gallant gentility set astronomical boundaries for me. I love you to the moon and back daddy.
On my birthday you tried to roller skate when I was a child. As I grew you made it a point to always show up. I don't remember a birthday without you. I wouldn't have the gift of life if not for you. I wouldn't have learned the importance of dependability. Your family came first, through the best and worst times, no matter what. I strive to dedicate myself to my family as you have done with your's. I love you father.
Dad, you were my father when I needed to be disciplined, but that never meant you loved me less. Your tough love planted the seed for the person I am today, so I would not expect hand outs from the world, but drive myself to get my own, no matter how hard the struggle was, hard honest work pays off. You taught me that valuable lesson Dad. Thank you.
We hula danced while cooking, you mocked my love interests when they were cruel to me, you even broke my tears by cracking me up. Dad your humor alone has mended so many of my broken hearts, I love you and I want you to know I would do whatever I needed to for your comfort and well being, just like you always did for me.
How Can I Express My Love To My Dad?
 The mountains move at the sound of your voice. The ground trembles with your every move. Though you are the embodiment of strength, you guided me through life by the hand. Like the otters, holding hands so they don't lose each other along the river, you made sure I never lost my sight even during the darkest of nights when the moon was hidden. My saving grace, my father, I love you.
A deep rumbling engine of a Harley Davidson takes me back to the time where your pain had subsided just for the day. That bike was the key that unlocked the tool box to find your joy in life again. I wanted to keep that bike forever, because I remember your smiling face, free as a bird. It was the first and only time I was granted the opportunity to watch you fly. My love for you is as endless as the sky, I love you.
My head was always in the clouds, your feet were always planted firmly on the ground. You held my strands so I wouldn't disappear behind the vast clouds. As I grew up, I began to notice the balance between our differences. Where I wanted limitless fun, you showed me how to focus. No doubt I could always get you to soften every once in while because my free spirit spilled into your heart every now and again. I love you Dad, for showing me the multiple ways in which to love someone.
A cup of coffee in the morning reads 'World's Greatest Dad', the leather briefcase propped by the door, prepared to do its duty for the day. Every morning I watched you get ready as I ate my cereal. I hated breakfast, but I loved watching you Dad. Our morning routine of bagels and coffee has become the breakfast staple in my adult life. Thank you for bringing something special into those routine, everyday tasks.
I often think about you Dad. The family trips we had, the different jokes that were just ours, and of course the kitchen adventures. There's nothing like a late night steak dinner craving to wake the memory senses back up. I think of you fondly and often, nobody in this entire universe could compare to you. Your face, even as a memory, wraps me in a comforting warmth that only Dad could provide.
You aspired to make a life full of comfort, joy and peace. You taught to seek strength within myself, because if you don't build a foundation of your own, life blows through like a tornado in a barn. It's tough to build from scratch, but as long as you have a solid foundation, rebuilding isn't such a tedious job, it becomes more like a project. As you build the skills needed in life, you watch a character begin to form. Thanks for showing me the importance of self reliability Dad.
Growing up I didn't see the appearance of our clothes, but I knew we were warm. I didn't pay attention to how well our cupboards were stocked, but I knew breakfast was at 7 a.m. hot, ready to eat and dinner was at 6 p.m. the table was always ready. Our family gatherings set our roots deep inside of our hearts. So we may always have love at the ready.
The streetlights told us it was time for bed, a setting sun blanketed the sky in good night endeavors. We went wherever our imaginations took us, around the world and home again, where you were always waiting with delight. The power and influence of imagination is one that will carry you on wings through the trials of life. Most children have imagination stomped out of their minds at such a young, I am more than thankful to have a father that kept it alive.
A gentleman is both gentle in his appearance as well as with the engagement of a lady. Respect of all, particularly with elders as with the fairer folk, is of upmost importance. Especially in the presence of those with gentile descent. You are the creator of my moral awareness as a man. It is my duty to protect, provide and love. Thank you father for instilling these core values in me.
When I have a grown up melt down in my kitchen, I can immediately imagine you running beside me in a race. Except you're not running against, you're cheering me on. I've climbed out of many emotionally dark holes just at the thought of you rooting me on and knowing I have your support every step of the way.
What Is Your Message To Your Father?
You fed the neighborhood, you were the hero among the men. The beer is always ice cold, a football was always on the TV, and your BBQ recipe is of legend thought to be passed down from the gods. You Dad, were the Lord of Family Men, your castle is where everyone gathered for fun and feast. You are a legendary Dad, I love you.
You must have had better results banging your head against a wall than raising me. If you said up, I went down; if you said no, I did it anyway. There weren't any great battles between us like you hear of kings and sons, but your eyes held the coldest sadness, as if your pupils showed me ripples of your disappointment. It was never bitter, but indifference leaves a frostbite on the heart. Still, you never gave up on me and here we are. I will continue to show the love that you have raised me with, I wouldn't be who I am if it weren't for you dad.
You've heard tales about the strong, silent type well obviously a half truth was written. My father is one of these brawny fellows, and I've witnessed his massive hands nurse a baby bird fallen out of a tree. When we were shivering cold, you simply got up, walked out to the shed, and began chopping trees down in the yard for firewood. You nurtured and protected us with those unbelievably strong hands. You have shown me true love and care always.
If I were to search the world for every grain of rice, I would. I would so I could love you the way you have loved me. Everyday, out and about taking odd jobs and the like, you worked to provide so never went hungry. It would a journey to demonstrate that your hard work never went unnoticed, and I will, one day, take care of you the same way you have taken care of me. I love you father.
When I was a kid, I didn't envy the other children like most of my peers. I couldn't help but constantly say to myself, "Well if I was someone else, I wouldn't have my Dad." and that thought made me realize what it was to be humble. The grass may always look greener, it takes work, dedication, and love to create a beautiful lawn. You've always said like is what you make it, and I carry those words everyday in my heart.
My dearest Dad, I want to pour my heart out to you in complete gratitude for every sacrifice you have made for me. I have fought against you every step of the way in life, and I see in this very moment just how deep your love continues to run. You have been the only person to be planted by my side unwavering. There aren't enough words to express how thankful I am to have you as my father.
Hot food was on the table every night, we never knew a life without water or electricity. You told us stories at the dinner table, there were plenty of jokes, but your stories are what hit home for me. I've never felt closer to you than in those moments because I felt understood. Experience is the best and most brutal teacher, but you've always been there to soothe my wounds. Thank you so much, I love you dad.
I've known successful men, poor men, honest men, even cheating men, but no man compares to you Dad. You are the cream of the crop, the sweetest of the bunch. You keep the honey in the comb, and the bees alive. You have been an essential puzzle piece in my life, I would completely fall apart without you. 
As a child you were my cell warden, everything you did was a way to prevent me from having fun. Who you were my secret best friend the whole time? When I went out to make a life of my own, I witnessed every life lesson you had taught, and every warning you gave me. I realized you were my only, true best friend. Dad I can't thank you enough.
I came to you with enough ideas to cover the Himalayan Mountains. There was no such thing as "too much", or "too difficult", because you were too busy watering every seed I planted in your idea box. The support you've given is enough to lift the whole world and maybe a few other stars. You've given my life light. I love you Dad.
Things To Thank Your Dad For
Having you as my father has been a true adventure. Each year I was a little older you gave me a little bit more of yourself. You shared with me experiences that you left behind in your past long ago. The fact that I could be your confidante, made me cherish each story so I could remember it and pass it down to my future children, along with stories of my own. I thought you once a stranger when I was young, but I know I see you wanted me to be the best me I could be. You really are the best father.
Dad, you let me spread my wings at any age in life. You were either there to hold my hand, or be the one to give me a nudge. I used to believe parents only protected their children, now I see that they, instead, prepare them for what they had gone through and even more. Life is full of disappoint and it hurts, but those moments of love and friendship, motivate us to continue to climb the mountain of life. Thank you for always allowing me to explore my independence.
No matter how hard life beat you down, when you saw the end and you stopped believing in beginnings, you found out about me. I watched you bleed, sweat and suffer through, so that you could be there for me. I would never experience loneliness and I could never be cornered as long as you were around. I was cloaked in chain mail armor the day I was born because I had you as my father, and the love of your protection.