Independence Day- July 4th, the day our forefathers threw off the mantle of imperialism and made the bold choice to self govern. Each year we get to celebrate this monumental decision that formed the basis for our wonderful country. 
As Americans, we find many ways to celebrate the day,  usually with bar-b-ques and fireworks with family and friends. But we should also take a moment to consider the sacrifices that made all of this possible, to reflect on the 200+ years of history that have made us who we are today. 
The following  Happy Independence Day quotes and sayings are the perfect way to pass the message of freedom and peace along to others, by card, speech, or Social Media.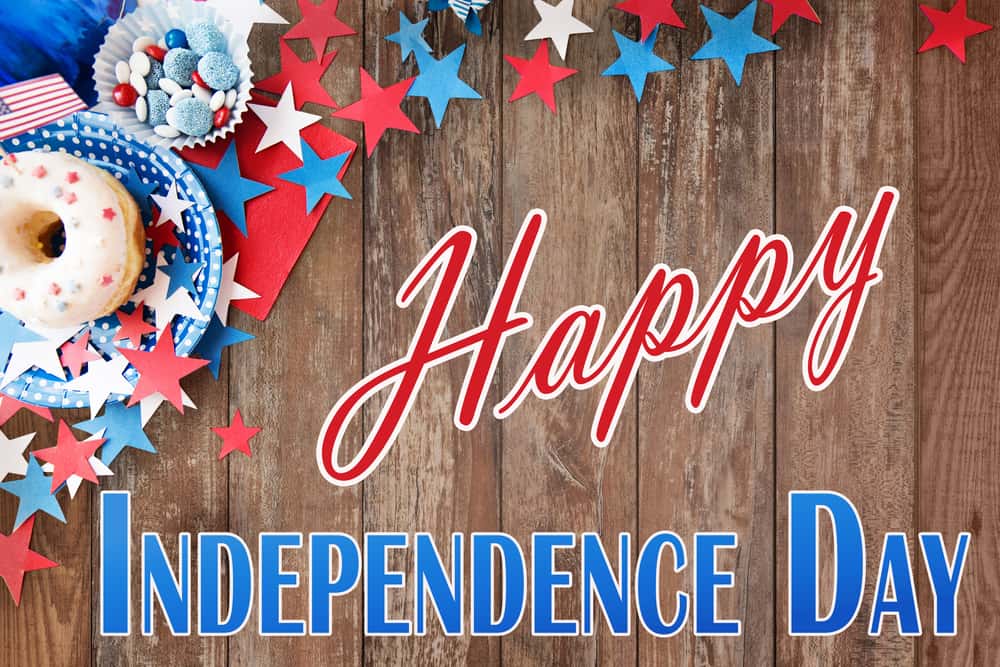 What Do You Say On Independence Day?
Today is the day to pay respect to our heroes. They had done so much to fight for our beautiful nation, as well as in building our culture and heritage. Happy Independence Day! 
Happy Independence Day, everyone! Let's celebrate the freedom our forefathers have fought hard for. Never let go of it and always carry it on your hearts. 
We should never take freedom for granted. On this special day, let's celebrate its grandeur! 
Happy Independence Day, people! Let's remember to always unite and fight against people who think that they can stomp on other people's freedom. 
Let's raise our glasses to this Independence Day! Freedom doesn't see differences in sex, race, religion, or shapes. This world has seen enough hate and violence, so now we must build a future of love and understanding.
On this beautiful Independence Day, let us remember that there is unity in diversity. 
On this Independence Day, we thank and honor our veterans who fought hard for our freedom. What they did could never be repaid. 
Happy Independence Day, brothers and sisters! It has been more than two centuries since our grandparents won our first and greatest battle, and due to their efforts, we can still taste the glory of freedom.
A strong nation needs empathetic and trustworthy leaders who prioritize the public's well being. This is my message on this year's Independence Day. Have an amazing celebration! 
Every citizen should have a sense of belonging wherever they are. May our politicians rise to this great task and unite us, all while ensuring further peace and stability in our country. Happy Independence Day!
In an interconnected world where our actions and inactions affect other people's wellbeing, your contributions to this country mean the world. Here's to a fun-filled Independence Day! 
As we celebrate our nation's independence, we wish you and your family the best this nation has to offer! 
As we mark another year of our independence, may our flag soar graciously in the sky.
On this fine day, let's think of what we can do to help our fellow citizens and drive this country into the future. 
Independence Day Quotes and Sayings
Happy Independence Day! Let's not put the hard work of our past leaders to waste. Let's strive to uphold the freedom and unity they fought for. 
We will never forget the sacrifices our national heroes made during the war. Without them, our country wouldn't be what it is now. We shall carry on their work in filling our country with love, happiness, and prosperity. 
To you, our beloved country, we pledge our undying loyalty. Happy Independence Day! 
Here's to an unforgettable 4th of July! If I could choose to be reborn, I wouldn't have it any other way than to live my life over and over again in this amazing country.
Today, we celebrate those who shed their blood for our freedom. Happy Independence Day, compatriots! 
May this spectacular day be your inspiration for bettering our country tomorrow!
Today, let's honor our courageous forefathers for making this country a free and prosperous nation. Happy Independence Day! 
May the glory of this Independence Day instill nationalism in you and inspire you to find success wherever you go!
Let's rejoice this freedom of speech, freedom of thoughts, and freedom of choice today and forever! 
Happy Independence Day! To our national heroes, we owe you our eternal respect.
True patriotism should be carried in you heart and be reflected in all your actions. Have a great Independence Day! 
Cheers to an amazing Independence Day! We wish you all the prosperity and happiness.
Thank you to our freedom fighters who made this country the greatest nation in the world.
Today, we would like to express our gratitude to our forefathers who fought for this country's freedom, for we know that our lives would be worthless without it. 
Happy Independence Day to you. Keep your spirit of freedom high and spread positivity to those who have a hard time seeing it!
What Are The Best Inspirational Quotes?
Who we are does not matter, but what we do for our country certainly does. Happy Independence Day! 
Happy Independence Day! Today, we thank our forefathers and those we have sacrificed their lives for our freedom. We pledge to continue their legacy and willfully work for the betterment of our nation.
On this momentous occasion, we cherish the efforts of those who made our independence possible. We realize that we are fortunate to have it! 
We shall always learn from our past to build our common future. May our forefathers' relentless fight for freedom continue inspiring us for years to come! 
Happy Independence Day! As we appreciate our heroes' fight for our country's independence, let's also realize that real freedom is inside our hearts and could not be taken from us. 
Our freedom is invaluable, so we must protect it at all costs. Happy Independence Day!
We are so fortunate to be standing here today, able to speak and to have our voices heard. Let's cheers to a brighter future for us and our country!
Without freedom, we don't have a name, a vision, an identity, and a nation that we live in today. In this time of peace, let's continue building it!
Grand is my love for my nation and my people. I promise that I will continue doing the best for our great nation. Have a special Independence Day! 
Happy 4th of July! Remember that we can only build a greater nation if we stand and work together. 
Happy Independence Day! Let us commemorate our past leaders and soldiers who lost their lives in the battle for our freedom. We would not be enjoying today without them.
We are all indebted to our national heroes who shaped this country. Let's also remember that our diversity is not a weakness but our greatest strength. It is only by working together to build a resilient and thriving country that we can repay our heroes' sacrifices. 
Have a safe and happy Independence Day, people! Remember that together, we can make our nation a better place, a land of prosperity, peace, and joy. 
On this glorious day, we shall renew our pledge to always uphold our national unity so we can live together in peace and harmony.
Today is the perfect day to show other countries that we are proud of our great nation, not to mention willing to make it better. Have a wonderful Independence Day!
Ways To Say Happy 4th of July
Happy Independence Day! I am honored to be a citizen of our dear country, the land of of the free. 
As we mark another year of our country's independence, let's be mindful to others and avoid corruption. In doing so, we can build and sustain the kind of nation our national heroes envisioned. 
On this special day, let's pledge to always say no to violence, terrorism, and continue to build our strong nation. I wish you a very pleasant Independence Day!
Independence Day celebrations remind me of those who sacrificed their lives for our country. If they were alive, I know that they would be proud of what they achieved.
Happy Independence Day! I wish our country a great progress ahead.
True freedom lies where the mind is without fear, so don't be afraid to stand up for what you believe in. Happy Independence Day! 
Happy Independence Day to the most inspiring person I've ever met! This country needs more loyal, hardworking and honest people like you. 
Freedom comes at a great cost. So, on this Independence Day, let us honor all our brave heroes who fought for it years ago. 
Happy Independence Day! May this spirit of freedom lead us to success and contentment. 
This country is lucky to have you, our veterans, who stood up for its people. Have a great Independence Day! 
Let's never forget the bloodshed and brutality this nation has endured  to become this great and resilient. Freedom never came easy. Enjoy your wonderful celebrations! 
This year's Independence Day marks the beginning of a new, era! May God Almighty grant us all the strength to make this country more prosperous.
This country is beyond fortunate to have an intellectual citizen like you, who is brave enough to chase his dream and vastly contribute to building it. 
Let's rejoice for being free men in a free country. God bless our country! 
There's no denying that our country's independence history is a tale of courage, willfulness, and high nationalism. Today, we shall honor that. Happy 4th of July! 
Happy Independence Day! The willpower and courage of our national heroes could never be underestimated. 
It is because of our heroes' sacrifices that we are here today not having to fear for our freedom. They deserve all the honor in the world. 
Have a fun Independence Day and remember to keep moving forward!