Sample Prayer For Boyfriend
A prayer for boyfriend can be a powerful way to connect with him and show your support. Praying for your significant other can help you focus on the positive things you want for them, and bring you closer together.
Whether you are religious or not, taking a few minutes each day to send blessings and good thoughts their way can make a big difference in your relationship.
When your man is facing difficulties or hoping for a favorable outcome, it may be time to ask help from a higher power. 
Sending a prayer for boyfriend will not only garner assistance from above, it will let your loved one know that you are thinking of them, and doing everything you can to help. 
Below you will find over 80 sample prayer for boyfriend  as well as a morning prayer to help you out when there are challenges in your boyfriends life. God leads the way.
How Can I Pray for the Man I love?
Place peace in your boyfriend's heart, so he knows you care.  Pray for his good health in your morning prayer and pray that he leads a selfless life.  Say a prayer for your boyfriend to help ease his struggle.
My king, I pray for God's protection in your life. I pray that the rest of your life will be the best of your life, my lover.
Dear lord, a prayer for my boyfriend success, I hope that God will bless him and give him all the happiness he deserves.
My only wishes for you are happiness and prosperity. I pray that God will grant you all your heart desires. May everything good you ever dreamt of come to you without stress by God's grace. I love you.
Dear lord, please help my boyfriend.  Guide him and keep him safe.  Help him to be happy and healthy.  Please give him strength in difficult times, and please let us be together forever.  Amen.
I pray for my boyfriend safety.  Give him the grace and safety to foster godly relationships.
When you give happiness, you receive nothing but everlasting happiness from the Almighty. I pray to God that your later years shall be greater than the former, my knight in shining armor.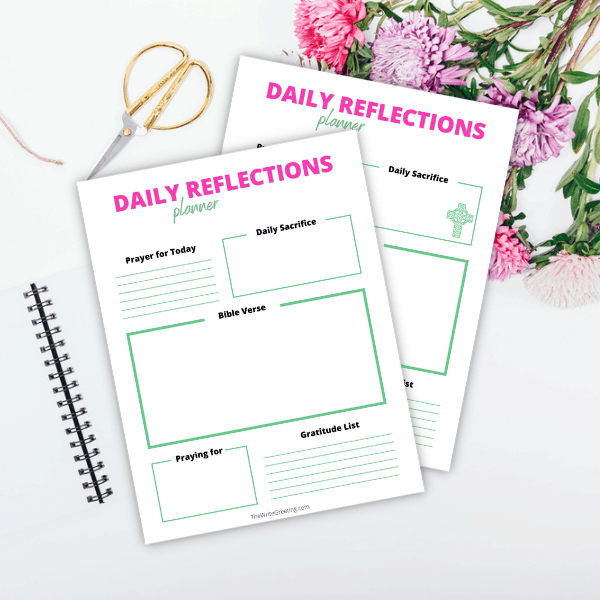 FREE Daily Reflections Printable Worksheets
-Start your day with positive energy and a plan to succeed
-Remember your blessings every day and fill your heart with positivity to take into the world.
-Easy to print PDF download. 
Father god, I pray there is a never-ending supply of love and everlasting greatness.
May God bless you bountiful and May your hands be blessed. God's miracle will never leave your life, My Love. I pray we experience the beauty of life together.
God leads and his love will be with you forever.  You will have joy and everlasting greatness when you believe in your faith.
The world will bow at your feet and wherever you go, you will see and experience the work of the mighty God in your life, sweetheart. Whatever is giving you joy will never be the cause of sadness in your life.
May God protect you all through the night, I commit your sleeping and waking into the hands of the mightiest God. May you wake up in the morning with a fresh breath. I love you
As time passes by, I pray that you'll get more constantly showered with God's love and blessings… so much, that your life overflows with it. You are my world, I miss you. 
As you set out to conquer the world today, may God be with you and lay a miracle on you! With your hard work and tenacity over the past few months, I'm sure you'll do just fine anyhow.
Everything you have dreamt for is now so close to you! I pray you will never grumble before you smile ever again, my king. You're the sweetest gentleman I've ever known, and you deserve the best. 
Whatever you're going through, I hope that it won't bring you permanent sadness. I know I can't be with you at all times, but may God be with you always, I love you so much, my Prince. 
To the sweetest man I've ever known, the one who I truly love, I pray that God's grace will never depart from you. May you experience all the great things in life! 
My King, You rule in the affairs of my beloved boyfriend and know everything that concerns him. He is under a lot of stress in preparation of his final exams right now- please help him get through these obstacles and let him come out the other side a winner.  I believe that he has every potential to finish his studies in flying colors. In Your glorious name, now and forever, Amen.
Thank you for being so understanding, merciful and compassionate despite all of my man's shortcomings.  With You, he is unstoppable- all the skeptics won't have anything on him. Once again, thank you so much. Amen. 
A Prayer For My Boyfriend
Before I go to bed, I always pray for your physical, mental, and intellectual health.  May no evil come your way and may you experience goodness in every aspect of your life.
As you step out today and carry on with your hard work, may God be by your side.  I know that your business will yield bountifully and you will enjoy immense success in no time.  Amen
My Father and Holy Spirit.  You are my guidepost.  I believe in you with all of me.  Today, I ask you for your help in guiding my man to his rightful place.  Be the unseen promoter of his business, the unfailing companion of loneliness.  Amen.
My baby, my jewel… may all the bad omens present in your life be swept away without a trace. Furthermore, may God open up new doors of new opportunities for you. You deserve the world. 

 

 
I hope that you will never shed any more tears in your life, and if you do, it will be out of pure happiness. May your ears hear no bitter words and may your lips never speak evil. 
Boyfriends are amazing.  They make you feel loved, supported, and special.  But sometimes, even the best boyfriends need a little help from above.
So, if you're looking for a way to show your man some extra love, say a prayer for boyfriend.  Choose from our many relationship prayers below.
May everything coming you way today be pleasing, and from that, may you start forming a path to success. God bless you, my darling! 
Honey, you are assured of a glorious and purposeful future with every breath you take because God has plans for your life.
May the Lord pave the way for you to reach your dreams. Then, may you walk it with bravery and conviction. If you need any help at all along the way, I will be there to lend a helping hand. 
I wish you the best of luck, hun. May you reach unbelievable heights and not be hindered in any way. Most importantly, may God's words guide your way. 

 

 
My love, I have a really strong feeling that you will succeed in more ways than you can even think of. May success, happiness and prosperity follow you everywhere you go. 
Our relationship is one in a million. I am committed to you- I pray that we'll be together forever, and that you star will shine on the whole world. Remember this: I love you more than anything,  sweetie
When your boyfriend is going through a tough time, it's often hard to know what to do to help.  
You may feel powerless and unsure of how to make him feel better.  But there is one thing you can do that will always make a difference.  Say a short good night prayer for him. 
I hope everything is going fine over there in the military! I miss you so much, but as you start your day, I know that God will be watching over you. Again, I miss you babe. See you real soon!  
I place you in the hands of our God, and may whatever you lay your hands on from today turn to success stories. You should believe in yourself, only then your light will shine through. Love you.
May the power of Jesus Christ give you the necessary wisdom and mindset to be able to conquer what's ahead of you. In other words, may whatever you set your heart to bear success, my king. 
May God watch over you at all times and I pray that you will soon find your calling. Then, may the old and young call you great. I love you more than you know, my darling. 
Thank you for all the blessings You have bestowed upon my boyfriend, God! Seeing him fulfil his dreams and advancing his career makes me the happiest woman on Earth. You are truly magnificent in all your ways. I vow to devote myself to you until the end of time.
You are pure in all your ways, Father, and that is why I worship you. Please may he realize his true potential and achieve great success in the future. In Your name, I pray. Amen.
A Prayer For My Boyfriend For Healing
My Redeemer, I could never thank you enough for pulling me out of the darkness of hopelessness and giving me a beautiful relationship with my boyfriend. Please revive the spark our relationship again, Lord. Bring us back to the time when we had selfless love for each other, and guide us back to the right path we strayed from. Amen.
Lord,  I would like to ask you to help the love of my life kick-start his career. May You sustain him in his workplace, never allowing any arrow of hatred and bitterness against him to prevail. Teach him to trust You in happy and challenging times, and may the lines keep falling in pleasant places for him. In all Your glory, I pray. Amen. 
Holy Father, thank you for Your undying love for me and my boyfriend. You brought us together for a purpose. Given his relocation to a different city, may You remain everything to him. May he remain faithful, and may the distance between us make our hearts grow fonder of each other. I also hope that he'll meet people that will inspire him and make him grow as a person. In Your name, Amen. 
Father, please lead us away from the wicked. I pray for your peace to rest upon our lives. Also, help us to deal lovingly with each other and not to dwell on each other's weaknesses. In Jesus' Name, Amen. 
Lord, make my boyfriend a living proof of your mercy. May you be his defence in his times of war. Make him the person to tell stories of how You don't abandon Your children. Amen.
God, tonight I would like to pray for my boyfriend. Please guide him in his path and shield him from evil. I fully trust in You and Your almighty power. Amen.
A Prayer for My Boyfriend for Strength
My Father, since I can't be there, please raise helpers for my boyfriend. May all the men and women he encounter help in every way. With all our hearts, Amen. 
Oh Jesus Christ, please bless my boyfriend so he will be the head and not the tail. Put him in a position he is meant to be in. May he be highly favored and never disgraced by his co-workers! 
Dear Jesus, I come to You humbly with the request that you grant my boyfriend a promotion at his work. After all his years of dedication for that company, he deserves it. In Your Holy name, I pray. Amen. 
.Lord, as my boyfriend goes to his new workplace, I wish for Your angels watch over him. I hope that he will not be a victim of circumstances. Rather, I hope that the warrior in him rises and reigns. Amen.
Jehovah, with all of my heart, thank you for giving my boyfriend his health back. Thank you for taking away what's not part of his body. From today onwards, I want to rejoice in You.
Prayer for a Man You Love
Father, I rest in Your power. I pray that my boyfriend's business encounter a divine breakthrough. After all his hard work and dedication towards it, please open him doors of uncountable blessings. Furthermore, may he possess the strength to overcome his challenges. In Your might name, I pray. Amen. 
Lord I pray, thank you for giving my boyfriend and I the best life we could possibly ask for.  I will forever rejoice in your name.  As he prepares to travel today, I pray that you protect him and take control of the entire journey.  For it is only in your hands I know that he will be safe.  In the name of God, the Father and the Holy Spirit, Amen.
You are the only one who promises and never fails to deliver, Lord. Thank you for giving my boyfriend unprecedented success and rewarding him for all his labor. More importantly, thank you for answering both of our prayers. In Your glory, Amen. 
Dear God, You are the only who can truly advance my boyfriend's career. Instead of delays, I pray that unprecedented progress will come his way in the near future.
Prayer for Relationship With Boyfriend
Father I pray, You declared in Your word that You'll renew our strength like the lion's. It is in that word that I am able to live day-by-day, and I know that the same goes for my boyfriend. May darkness and hopelessness stay far away from us. In Your name, we pray. Amen.
Heavenly Father, now and more than ever, my boyfriend is ready to conquer the world an be the champion among his competitors. Give him the strength to do exploits in your Holy name, and if you intend that I be that source of strength, I am more than happy to do it. Amen. 
Dear Jesus, surround my boyfriend with Your glory as he starts his new business. There's truly nothing I want more than to see my boyfriend's success. May he be far from failures, and if he experiences one, may he bounce back up easily. Amen. 
Oh Lord, in your power, arise and please put an end to my boyfriend's tough times at school.  Whether they come as sadistic lectures of bullies, may you diminish them.  It's hard to see him struggle and I just can't anymore.  In your name, I pray, Amen.
Oh God, thank you for my answered prayers and making my boyfriend's dreams come true.  Right now, my boyfriend is boarding his first business flight.  Please grant him safety, as well to those he will be traveling with.  Amen.
Dear God, You are my boyfriend's source of strength in times of weakness. The nature of his job is physically and emotionally draining, so I ask that You refill him with great strength before he runs out of it and commit my boyfriend to his chosen path. May he be able to adapt to his new job and Your will be executed. Amen.
The big day for my boyfriend's business is finally here. Holy Father, please send your angels to guard and aid him. With your help, I know he can accomplish all things he wishes to and overcome all the obstacles ahead of him.
Dear father, I thank You for Your never-ending love relationship for me and for my boyfriend. We have enjoyed our fair share of Your joyful times in the past. Today, I would like to ask you to keep my boyfriend safe. Honor him with your unfailing protection as steps out to take over the world. Amen.
Dear father, every morning as I wake up, my faith in you is renewed. I saw my morning prayer to ask  you to keep my boyfriend out of harm's way. I don't want to see him get hurt. Amen.
God of all glory and peace, I pray that your word equips and encourages my boyfriend in all he does. I believe that he is destined for greatness. God, I pray that all your words manifest in his life and that success will always be in store for him. In Jesus' name, Amen. 
Saying a prayer for your loved on is a powerful way to show your support and love.  We hope you will take a moment to say a prayer for your boyfriend today, and that he may feel God's love surrounding him and protecting him.
Whether you're religious or not, taking a moment to focus your thoughts on him and send some positive energy his way can strengthen your relationship.
Just use these simple prayers for your boyfriend as a starting point, and personalize them however you see fit.
Have faith that your thoughts and prayers will be heard, and will help guide your boyfriend down the path of success and happiness.
How To Send A Prayer For Boyfriend