Encouraging Words to Say to Your Boyfriend
If you're looking for encouraging words to say to your boyfriend, you've come to the right place.  Here some  motivational words that will help him feel loved and supported.
Use these encouraging words for your boyfriend to let  him know how much you care about him, and how happy you are to be with him.
These words of encouragement will brighten his day and help him feel confident in himself.  Keep reading!
When trying to come up with ideas to lift his spirits, think of the following:
Tell him how much you appreciate him and all he does for you
Let him know that you believe in him and support his endeavors..
Compliment his strength and virtues.
Remind him your feelings for him, and why you're so lucky to be with him.
Encouraging Message for Boyfriend
Giving your boyfriend some encouraging words is a great way to boose his confidence, and let him know that you support him.  
These encouragements will let him know that you think he has the ability to achieve his goals, and that you're willing to help him out along the way.
Here are just a few examples:
Thank him for always being there for you.
Encourage him to keep going even when things are tough.
Give him a hug and tell him how much you love him. 
You're an amazing boyfriend and I'm so grateful for you.
You're my best friend and I can't imagine my life without you.
Life is sweeter when we're together.
I don't know what I would do without my best friend!
I know things are tough right now, but I'm here.
You're going to do great.
You are more than capable.
You are always there when I need you, just know I am here for you.
Sometimes, the only way to achieve your goals is by taking risks.  You can't give up because you will; face obstacles and challenges on the road ahead.  Everyone makes little mistakes, just keep working hard and moving forward.  
I believe in you.  You can do it!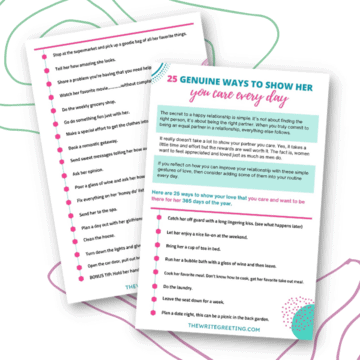 FREE Download! 25 GenuineWays To Show Her You Care Every Day
Encouraging Text Messages to Send to Your Boyfriend
No matter how long you've been together, or how strong your relationship might be.  It's always feels nice to be appreciated by the people we care about.
Your boyfriend is no different! 
Send a motivation text for him today and remind him why you love him, and why he's such an important part of your life! 
Nothing should stop you from reaching your goals.
Your love and devotion has made me a better person. 
Don't allow the tough people to drag you down, you are better than them.
You are the light in my life, and I will do anything for you.  You deserve nothing but happiness.
The most important thing in your life is choosing what you want to prioritize.  Make the right choices, and everything will be perfect!
Positive Words For Your Boyfriend
Every day, we all have moments when we could use a few words of encouragement.  Whether it's to help us get through a tough day of work or to push us to do our best in an upcoming situation, positive affirmations can make all the difference.
These encouraging words for boyfriend can be powerful motivators and sources of strength!  Here are phrases you can say to him that will encourage him throughout the day.  
Your journey is going to be tough, but I will be there every step of the way.
Everyone makes mistakes, the strong ones get back up again!  Don't fret the little things, you've got this!
Together we will build a great future that is full of love and happiness.
We make some team baby!
Let's focus on the positive things, and forget about all the other stuff.
How Do I Motivate My Boyfriend Over Text?
There are certain encouraging words to say to your boyfriend such as "I love you", and "I am always here for you" that will give him a little boost on those bad days. 
Remember to always show that you have faith in him, and that together you are afraid of nothing!
You're strong enough to handle anything that comes your way.
I know you can do it!
You're definitely capable of this – I have faith in you.
Everything is going to work out exactly how it's supposed to.
No matter how difficult things get, we are a great team.
You are my sun, moon and starts.  You make everything better.  I hope you know what an amazing person you are!  I am a better woman because of you!
You brighten up my life by just being around!
You make life feel like a dream.
I have complete faith in you, always.
We make a great team, you and I!
I'm always rooting for you.
I'm always here for you.
You're an amazing person, inside and out!
How Do I Encourage My Boyfriend When He's Down?
Sometimes it can be hard to find encouraging words to help him gain self confidence.  Just know there are always a few encouraging words that can help to change his whole perspective.
Even just a simple "I love you" can brighten up his day and remind him how much he is loved. Let him know what an awesome person he is, and how being with him makes you a better woman!
I know things look less than bright right now, but things happen in life and we won't be in this position forever.  
Good things will always happen to such an awesome person like you!
You inspire me to do better every…single…day.
When I'm with you, it feels like home. I always feel good and at peace in your presence.  I can't imagine my life without you!
I know you will be successful, and I am very proud of the work that has gone into this.  Keep it up! 
When I needed someone to love and be with, you came at just the right time.
Thank you for always having my back!  
Positive Affirmations For Your Boyfriend
Sometimes, all it takes is a few words of encouragement and some sweet words to let him know what a wonderful man he is.  If you're not sure what words to say, feel free to use any of the below examples.
You're not alone in this!
I'm here for you, no matter what.
I appreciate everything you do for me, we are a perfect match.
You are amazing, handsome and talented.  I'm so proud of the person you've become.
Your smile lights up every room.  I love you baby.
Take a deep breath and let's you and I figure out this problem together.  There is nothing we can't do when we work as a great team.
You are my sunshine on a cloudy day, and I will never let you go.
Thank you for being the best boyfriend I could ask for.
You're such a great partner.
I feel so lucky to be with you!
You're one of the best people I know!
 
Motivational Quotes For Your Boyfriend
No-one's life is perfect, and everyone goes through tough times at one point or another.  When your boyfriend is going through tough times, it's important to be there for him and offer words of encouragement.
The right words can make all the different and help him through whatever he's facing. 
Here are a few examples encouraging things you can say to your boyfriend.
Your arms are like a security blanket, so I always feel protected when I'm with you.
You are a wonderful provider for our family.
You brought happiness into my life when all I could see was the dark. 
I promise to always be here for you.
You're not alone in your struggles.  You WILL overcome these challenges and be stronger for it!
You're never alone!  Every challenge in life is temporary, and you will overcome them with me by your side.
I know I can count on you in every way.
All of the hard work you have put in is paying off  You are on your way to greater things.  I believe in you!
It's easy to get discouraged when you're going through tough times, but don't be!  This is just a stepping stone to better things!
Words of Encouragement to Lift Him Up
When you're feeling down, it's nice to know that someone is there for you.  Whether that person is a friend, family member, or significant other, it can make all the difference in the world when you need a pick-me-up.
These next few paragraphs are filled with words of encouragement to get your man through the tough times.  
You complete me, you give meaning to all that is good in my life.   I love you, my handsome man.
You were created with a purpose and you have something special to offer the world.  Now is not just an opportunity, but also your time to shine.
It's important to stay true and do what makes you happy, especially when the world needs your voice.
When you think that it's too difficult, remember the words 'almost there'.
I know you're going through a difficult time, it's important to keep fighting and never give up!
Hey babe.  Keep moving forward, I truly believe that with some more effort on our part, this too shall pass.  These are great words to live by.
Encouraging Words For Him
Do you have a boyfriend who is struggling?  Who is down on himself, feeling like he can't do anything right?  Do you wish you could find the words to encourage him and help him feel better about himself?
Here are some encouraging words for your boyfriend to help him gain self confidence.
You have a choice babe!  You can either keep dwelling in the past, or look towards what's ahead with an open mind and heart.
The world may seem like a daunting place at times, but I know you aare strong and can do anything.  You have to believe in yourself too!
The door to your future is waiting for you on the other side of this difficult moment in time.  Use this as a learning experience, and let's focus on our further together.
We will overcome this together.  No matter what we ace on the way.  I believe in our strength and love for each other so much that nothing can break us apart.
No-one makes me laugh the way you do!
You are my rock, my protector and provider.  I feel so safe and loved when I am with you. 
Encouragement Message For Him
When you can see your boyfriend is troubled, send an encouragement message for him, letting him know you see he is suffering, and you are there for him..
I am grateful for all our good times and even the tough ones because they have made us stronger!
Your thoughtfulness touches my heart every day.
You are my best friend.  I love spending time with you and hearing about your day.  I love our relationship xo.
Life is a learning experience, when one door closes, a new door opens!  We can make it through the hard times together!
Words of encouragement can work wonders in a relationship.  They remind your partner that you care, they are important to you, and that you support them no matter what.
If your boyfriend is feeling down, share a comfort message for him that that will pick him right up.  Say them today and see the change in him!.
Words of Encouragement For Him