Our Caregivers Deserve a Big Thank You
If you have a loved one that is either sick, injured or in the final stages of their life, then chances are there are multiple care givers in their life.
If you want to extend gratitude on behalf of family members or yourself to these key players in the comfort or recovery of the enfeebled person in your life, you should prepare a thoughtful card, note or text. 
Here are a few ways of saying thank you to caregivers- whether it's a relative, home care service or medical facility, you'll be able to express your appreciation for their hard work.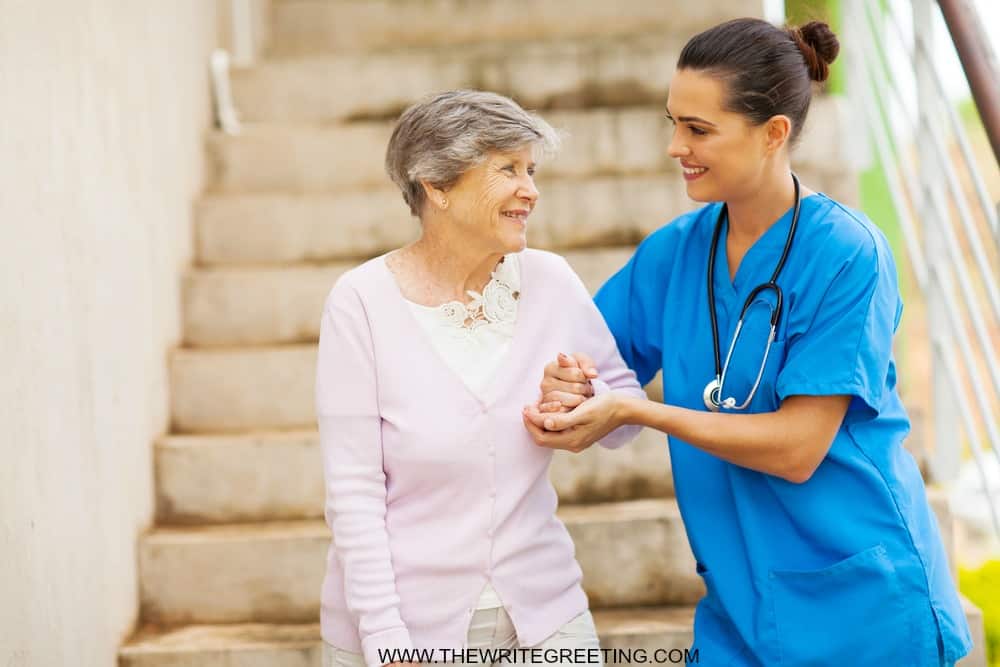 How To Write A Thank You Note To A Caregiver
Thank you to all of the workers at the cancer treatment center, where the smiles make you feel better as soon as you walk in.
If not for your help with home care, it just wouldn't be "home, sweet home." Thank you, from the bottom of my heat.
Words alone aren't enough to show my thanks to the friends and family members that have acted as caregivers during my illness- henceforth, I plan to make the most out of my post recovery life to give back to you all with my good health. I owe it all to you!
Thank you for helping out with my cancer treatment. The road to recovery seemed impossible, but your support has smoothed out some of the potholes along the way.
I'd like to wish a Happy Holidays to everyone at the clinic- you make every season merry and bright for me, even when I feel my worst.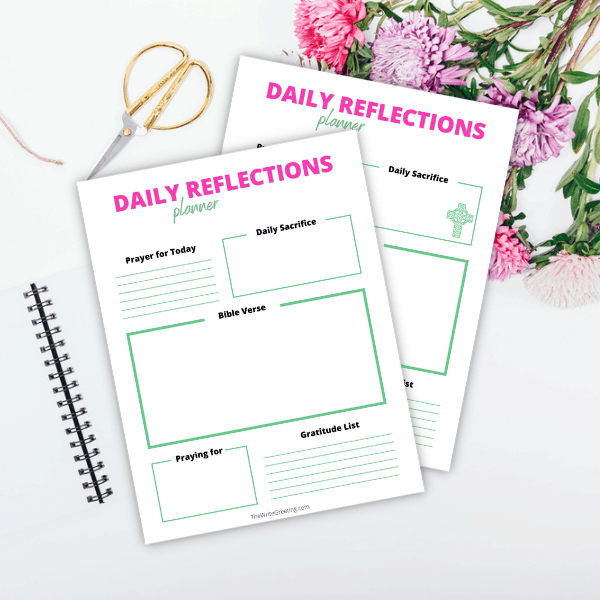 FREE Daily Reflections Printable Worksheets
-Start your day with positive energy and a plan to succeed
-Remember your blessings every day and fill your heart with positivity to take into the world.
-Easy to print PDF download. 
Thank You Words For Carers
I would like to express my gratitude to family members and friends, doctors and nurses, and everyone who helped with my father's care. God bless and thank you all.
Thank you for giving time and money selflessly to make sure my grandpa felt safe, loved and cared for up until his last moments.
A big, strong tiger like you is the perfect person to help someone who's weak as a kitten, like me! Things have been touch and go with my illness, but you've been steady by my side- thank you, my darling.
My husband has been a wonderful caregiver from the moment that I was diagnosed. I remember being so afraid when I was diagnosed, and you've been brave, strong and supportive from the start. Thank you for everything!
As my daughter, I've taught you everything; but as my caregiver, you've taught me so much more. Thank you for using your capable hands to help out while I'm feeling unwell.
I was never a "Hercules" but without your help, I wouldn't have gotten this strong! Thank you for pushing me to exercise and eat when it was the last thing I wanted to do.
Mom, your compassion as a care giver for grandma has been an inspiration to the rest of the family members to show love through action. Thank you for making her final years amazing.

I was worried about my Uncle when I heard he was injured; however, knowing that he's in your capable hands took a load off of my mind! I appreciate you caring for him.
Your home care has been heaven-sent. Thank you for taking care of me in my time of need, and god bless you!

Our love, dedication and romance saved my life once; your care, determination and capability as a care giver have saved my life a second time! I appreciate everything you do.
Thank You Note To Child Caregiver
Mom, you are superwoman. I admire your selflessness, compassion, and positive attitude, especially during my brother's illness. Thank you, to a mom that could justify wearing a cape everywhere!
When your little girl wasn't feeling well, you were her knight in shining armor. You gave her the magic get-well potion, made sure she was comfortable and brought her soup! Now your princess is back to being a rosy-cheeked, rambunctious rascal.
Thank you for all of the support from family members and care givers during my sister's treatment.
My prayers go out to the parents of an amazing survivor- God bless you all during treatment.
Thank you for keeping family members informed about your son's progress. God bless, and call if you need anything.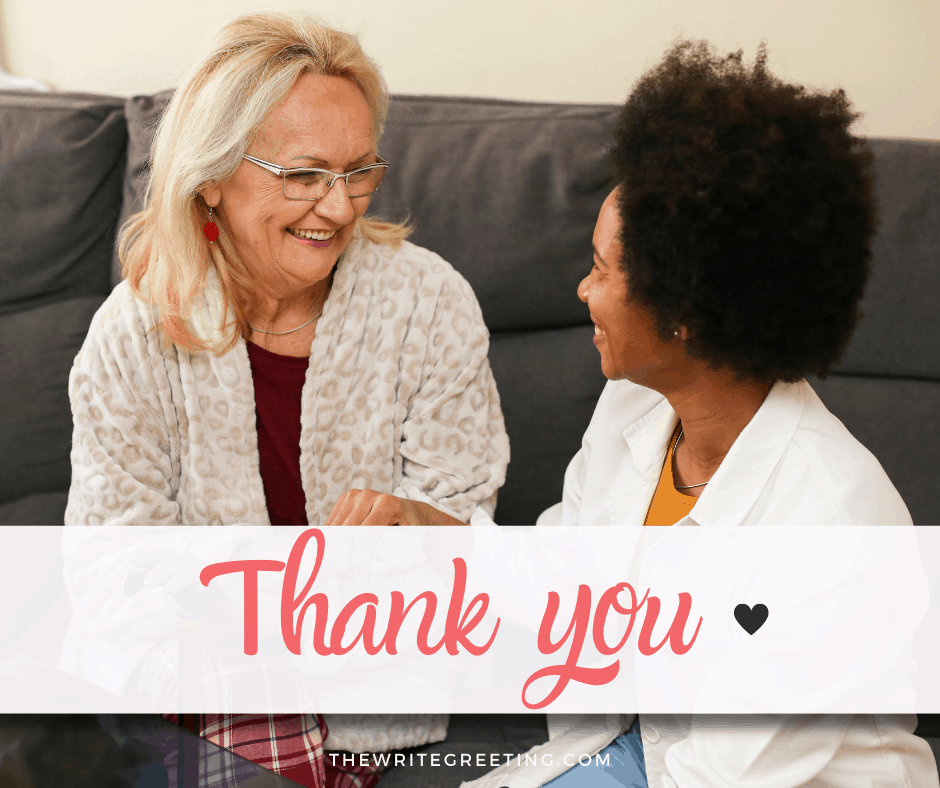 How Do You Thank A Caregiver
Kindness, consideration and commitment make you a great husband and the perfect care giver. Thanks for helping me get around, and for making me feel uninhibited.
Expressing my appreciation to a father that sat with me through every chemo treatment, just like how he helped me up every time I fell when learning to ride a bike.
When I feel out of commission, I know I can count on you for a helping hand. Thanks for getting me back up and running again!
I would like to thank my mother's doctor at the clinic- he always greets you with a smile that'll knock your socks off, and world class treatment that's the bee's knees.
Support, help and care during my treatment from my best friend was like a nonstop slumber party, where only you clean up! Thank you for helping me out, I would definitely do the same for you.
Funeral Thank You Notes To Caregivers
It's not easy to change roles in life, but you acted so well as a care giver I have no doubts that you will be successful in whatever you do. Thank you for your dedication, from all of your family members.
I'd like to honor my sister, a care giver of unmatched commitment. God bless you in this time of mourning, and thank you for your hard work.
As I grieve my loss, I am also glad for your help during the decline of my father's health. Thank you for making sure that my dad was comfortable until the last moments of his life.
You have always loved being a care giver, and it's never been easy for you when one of the patients passes away; however, caring for your mother when she passed was a different kind of pain. Thank you for still being able to help others every day with your amazing, loving care.
Until the end, you made every moment for my grandmother a high-quality, joyful and comfortable experience. Thank you for being a caring, compassionate and relentless caregiver. 
Writing A Thank You Note To A Caregiver
By taking on the role of a caregiver for your mother alongside the rest of your life, you've escalated to super-hero status. Thank you for being incredible, Wonder Woman!
You were the general in my battle for recovery- thanks for helping me win the war!
My wife stood at my side every step of the path to rehabilitation- thank you for being the love of my life and the strength in my body.
Your home care efforts have put my needs far above your own. Thanks for being as selfless as you are kind, as competent as you are capable, and as willing as you are needed.
Some people have a stranger to help as a care giver, but I feel lucky to have my mom; after all, you already had to take care of me when I was growing up. Thank you for helping me when I felt sick, with all of your motherly love.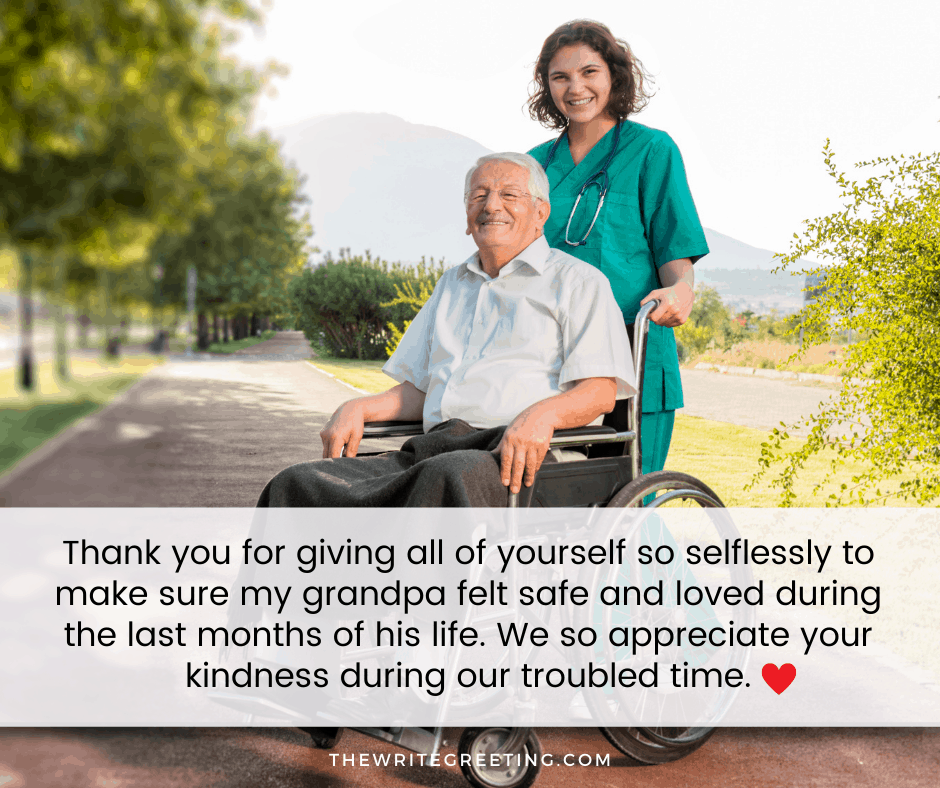 Words To Thank A Caregiver
Have I told you that you rock, lately? Thanks for being there when I wasn't feeling groovy- as soon as I feel hot to trot, we can go cut a rug!
You are my rock; my chauffeur between appointments, my personal chef and housekeeper- most importantly, my husband! Thank you for being there for me during my recovery.
Being a great care giver is your specialty! I feel lucky to have gotten your special treatment. You have my eternal gratitude!
I can't always walk, but having you stand by me constantly makes it all better. Thank you for your excellent home care!
Wife first, caregiver second, and the best ever all around: that's you! Thank you for playing nurse for your husband.
Thank You Note To Caregiver After Death
God bless and thank you for being there for mom during her illness. Although all of your family members were scared when they realized her time was short, you stepped up right away to help.
Thank you for being there for Dad in his final days- without you managing his medications, feeding him and working with nurses he wouldn't have had access to home care.
To honor my mother's memory, I'd like to thank you for working as a care giver on her behalf. Her final moments were comfortable thanks to your hard work and tender touch.
At a funeral, saying thank you to caregivers may seem secondary; however, this day would have come tragically sooner without your help. Thank you for being there through the tough times.
Thank you mom for being there for me since day one of my husband's diagnosis. Although we lost the battle, you were on the front lines with us fighting.
Saying Thank You To Caregivers
I wouldn't have made the progress that I have without you by my side- thanks for being my crutch!
I'd like to thank all of my family members that have made sure I get high quality home care. Your love, compassion and understanding are a testament to our long standing family bond!
For the many years that you've been my care giver, you've been consistently kind, patient and determined. Thank you for not changing.
My sister-in-law has a special place in my heart as my brother's care giver. You have my gratitude and admiration, as well as my love as a sister.
More than a great mom, you're an amazing care giver and an incredible friend. Thank you for being a Super Mom!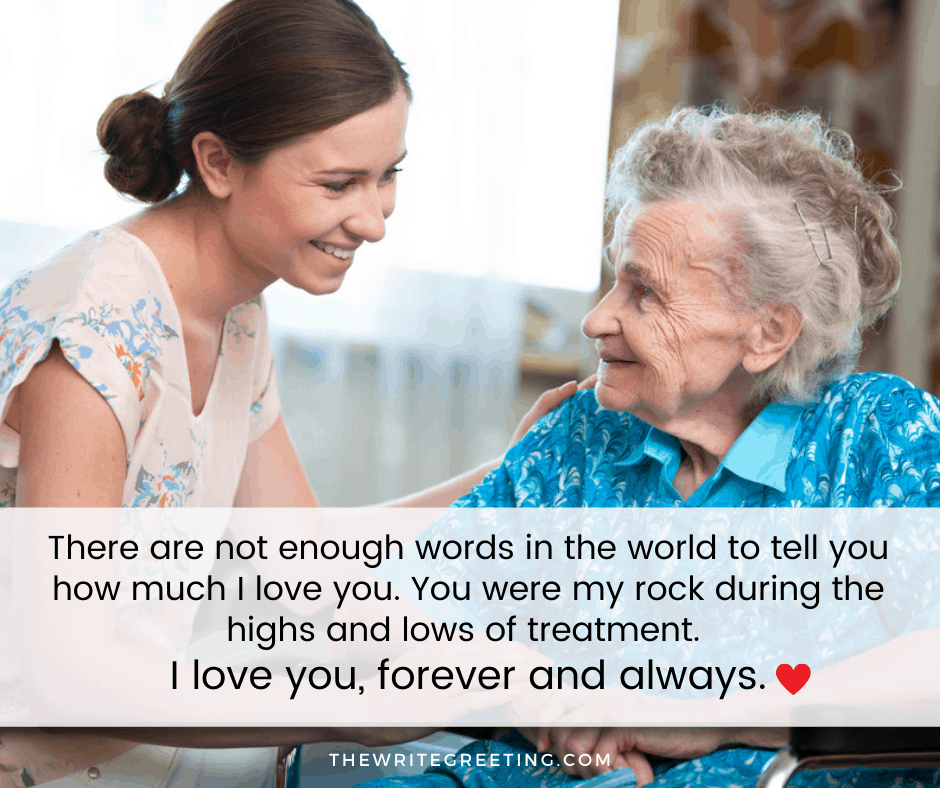 Thank You Note To Caregivers
You are an amazing wife, mom, and friend- as if that isn't enough, you're the best care giver, too!
We were married just a year after I was first diagnosed, and you're still my biggest supporter. Thank you for always being my cheerleader!
Your patience and compassion when helping take care of Dad over the last year has been incredible! Thanks for everything.
Our family members all thank you for your efforts, without which home care wouldn't be possible.
Mom, thank you for being one of the strongest people I know- between being a single mother and a caretaker, you're a Super Woman!
What To Write In A Caregiver Thank You Card
God bless you for being there every step of the way- home care isn't easy, but not being alone makes a world of difference. I appreciate all of your help.
Mom, thank you so much for your continued care of Dad. Your children are inspired and amazed by the love, commitment and effort between you.
Mom looks forward to your daily visits at the hospital- thank you for taking time out of your schedule to make her day!
Working a full time job and being my sole caregiver is a heavy workload, but then you have the job of being my wife on top of that! I'll try to make loving me easier- thanks for marrying into my family, among other things!

Not only have you been an extraordinary sister-in-law, you've been an excellent care giver. Thank you for being heaven-sent!
Thank You Message For Caregiver
Thinking of my husband is to think of a protector, friend, and care taker- a triple threat of awesomeness!
Your support during my daughter's time of illness was essential to her recovery- you have my many thanks.
My mom is a treasure in our family,  a wife, mother, grand mother and great-grand mother! Thank you for treating her like the gem that she is.
My wonderful husband, you were my reason to fight through my illness- thank you for fighting alongside me.
I want to THANK YOU for all you have done for me, you are every bit an angel.
Thank You Sentiments For Caregivers
Dad, thank you and god bless you for your gentle, compassionate and loving nature. Mom could not have a better care giver than you.
Your determination and commitment gives me the motivation to fight this sickness. Thanks for having a no-fail attitude.

In the best of times I loved you more than anything, but that's only intensified as you've stayed by my side through the treatments and recoveries. 
That you can go home and raise a newborn after being a home care nurse all day is surely a super power- let me know when Super Nurse joins the Justice League! 
Every step that I've taken on the road to recovery has been right next to yours- thank you for being there.
Thank You To Caregiver After Death
You're my sister, but you've always been like a mother to your siblings, so we weren't surprised when you took charge in helping Mom when her health declined. Thank you for filling that role without any of us having to speak of it.
You and I have been through everything else together, but thank you for being there for me during my mother's final moments.
A wonderful wife, mother, and caregiver to her husband- you can do it all! 
All of our family members would like to thank you for your home care services during our father's last days. We appreciate the comfort and expert care that was provided on his behalf.
Your help during my father's final days made it much easier to keep him happy, safe and comfortable. Thank you and god bless.
Saying Thank You To Caregivers
Living with cancer wouldn't be worth it without a wife like you in my corner. Thank you for being there for every fight, and being worth fighting for.
You are the cornerstone of our family, the foundation rock; stay strong so I continue to have someone to lean on in my sickness.
It wasn't until I got lymphoma that I truly knew there is a God because He sent an angel to take care of me. God bless you, and thank you for falling from heaven.
Mom, thank you for being there for me through my diagnosis and treatments. It's been scary, but just like when I was a kid going to the doctor it's easier with you there.
Thank you for taking the responsibility of providing home care for Mom. Your tenderness, warmth and familiarity will make her final days peaceful.
Words of Appreciation for Caregivers
Saying Thank You To Caregivers