Turning 19 is a special milestone.  it's the age when you are officially considered an adult, but you still have the freedom to enjoy your youth, and so stupid things.  If you are about to turn 19, and you are looking for some cute 19th birthday captions to use to share on Facebook, Instagam, or Tikok, we've got all your favorites here!
Keep scrolling to check out our favorite happy 19th birthday captions for instagram.
Why is 19th Birthday Special?
19 is a special age for several reasons.  For starters, its the last year of being a teenager.  18 is when you're technically an adult, but 19 is when you're really starting to feel like one.
You're old enough to rent a car, vote and join the military, but you're still young enough to get away with some youthful discretions.
19 is also a lucky number in many cultures, so it's a good year to start making your dreams come true.
And last but not least, 19 is the perfect age to enjoy all the things you love about being young, before you have to start being responsible all the time.
So make sure to make this a happy 19th birthday, and plan some fun exciting events for this year.  Cheers to your best birthday yet!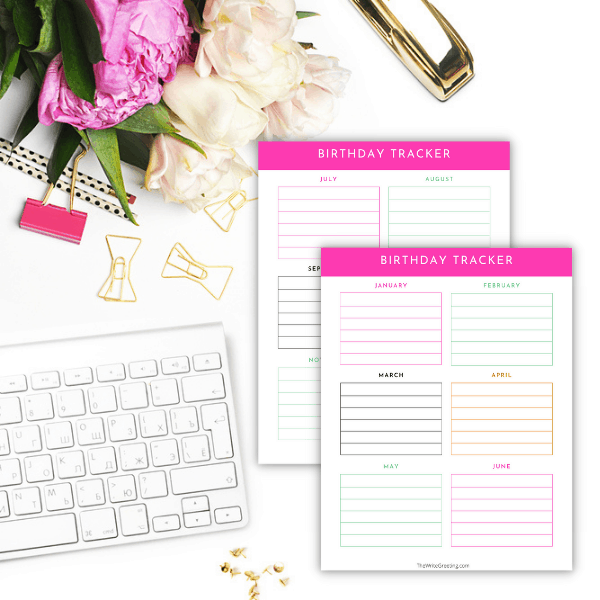 FREE Birthday Tracker Printable
-Don't forget another birthday with our handy tracker.
-Give yourself time to get a card or gift before the big day. 
-Easy to print PDF download. 
How Do You Celebrate Your 19th Birthday?
There are all kinds of ways to celebrate a 19th birthday.  You can head off for the weekend with your best friends, or plan an awesome party, that other birthday parties will pale in comparison to yours.  Maybe you want to have dinner at an upscale restaurant with friends and family.
Maybe you would prefer exploring local attractions like museums or art galleries.  Maybe a spa weekend would work well for you.  If you don't want to go out, you can plan something at home.  Invite your friends over and plan a movie or game night.  
The point is, you are the birthday girl or boy, so you get to do whatever you want!
There are lots of different ways to mark this momentous occasion.  You could have a huge party with all your friends, or go on an amazing trip, or you could try a surprise birthday party.
Or maybe you just wanted to spend time with your family and reflect on all that you've accomplished over the past year.
No matter how you choose to celebrate your birthday, make sure it's special and memorable.
Happy 19th birthday, now let's get this rocking birthday started!
19th Birthday Captions Instagram
As the birthday girl, it's your time to shine!  Whether you're officially an adult now or still feeling like a kid at heart, your 19th birthday is a special milestone..  So make sure to celebrate in style.  Here are some 19th birthday captions for instagram to help get the birthday started.
Finally! It took you 19 years to get this cool…
It's my birthday and I'm gonna have a fun time.  
When life gives you 19 years, make some unforgettable memories.
This is just the beginning.
I'm warning you, my birthday behavior will be over the top this year!
Never let go of your inner child, and enjoy your wonderful young years.
Celebrating another year of life and staying forever young.
One more year down, and so many more to go!
This year to celebrate my 19th birthday, I'm planning an entire birthday week to celebrate this momentous occasion.
Can't believe I'm already 19…time really does fly!
 Happy birthday! Remember to always be young at heart.
Some would say you're at an awkward phase: You're an adult, but still not completely out of your teens. Yet, you'll never be this young again. Have an awesome 19th birthday!
Woke up today older, but definitely not wiser!
So far, I'm liking 19!
Finally legal, at least in certain countries I am!
Another year wiser, nah, not so much!
A year closer to becoming a 'real adult'…..whatever that is.
The big 1-9….not quite 20, but still getting closer.
My bday wish for you is that you go out all, and enjoy your birthday party with your most dear friends.
What Should I Do For My 19th Birthday Alone?
Celebrating alone doesn't have to be depressing, in fact, it can be quite enjoyable.  Take this opportunity as an excuse for some much needed self-care.  
Have a good ol' fashioned Walt Disney movie marathon.
Spend some quality time with your loved ones. Never take them for granted. 
Get yourself a virtual birth chart reading…. might be fun!
Get a virtual tarot reading—or try to do one yourself.
Write about your past year, and what you hope for the year ahead.
Decide all your life's goals and plan our your future.
Funny 19th birthday Captions
If you want to get a few laughs on your 19th birthday, check out these funny 10th birthday captions that will work brilliantly for birthday captions for instagram.
Check out our array of funny captions to use for Instagram, or Tik Tok.
Happy birthday to me, today is going to be EPIC!
It's my birthday, let the celebrations and gift-giving begin.
Happy 19th birthday! It must feel awesome having me as your best friend today,
I don't know what all the hype was about!
The best is yet to come! 
For sure, the candles cost will go up now
Feeling thankful on my 19th birthday!
Another year, another milestone!
One step closer to freedom. 
If you're looking for some cool birthday instagram captions, you could try something like "Age is just a number", or you could go with something like "Grateful for another year of life and love".  Whatever you decide to go with as a happy 19th birthday caption for instagram, make it cute!
Check our our best birthday captions for instagram below
I might be old enough to know better, but I'm still young enough to get away with it. 
Happy 19th birthday my best friend in the whole wide world! Wishing you the best birthday yet! 
My favorite number is now 19!
19 looks good on me!  I'm ready to enjoy my awesome party.
Let the birthday magic begin.
I'm here to eat cake, LOTS OF CAKE.
To my favorite beautiful human being.  I hope your 19th is as delightful as you are.
What an incredible life you have led and you're just about to turn 19!  I can't imagine what you will have done by the age of 30!
This is the last year you'll be a teenager… make the most out of it and let's keep getting up to mischief!
I'll be here all day long accepting positive vibes.
Could you at least try and look a year older?  Happy birthday to my bestie.
Instagram Birthday Captions for 19th Birthday
Turning 19 is a special milestone.  It's the age when you are officially considered an adult, but you still have the freedom to enjoy your youth.  To capture that unique moment in time, we have come up with some cute happy 19th birthday captions for instagram.  We even included some funny 19th birthday captions, enjoy.
I can only imagine how hard it is to find a best friend in today's society… cause I already have the very best one.
Adulting is too hard,  until further notice, I plan to stay a child!  Growing up is not for me!
This is the year of my dreams coming true, wait and see!
You are the only person allowed to sing happy birthday to me, because you can actually sing!
Where's the birthday cake, it's my birthday!  Let's dig in.
Raise a glass my dear friends, I actually made it to my 19th birthday! 
Wishing on candles today, chasing my dreams tomorrow and forever.
I actually made it to 19, I'm shocked!
You look good, stay forever young!
19 is not a filler birthday!  I am going to throw the most awesome birthday party that shows just how cool this birthday is going to be!
Happy birthday to the best person I know! You're my soul mate, my heartbeat, and the best part of my life. 
19 years old, but still the same old me.
19th Birthday Captions for Yourself
When did we stop wishing a happy birthday to ourselves?  Take the time to wish yourself a happy birthday, if you're looking for some cool wishes, check out the ones below.  After all, you are the birthday girl or boy, if you don't make it a rocking birthday, who will!
Congrats on being 19 and still alive!  Remember I know what you've done!
You are the lucky one birthday girl.
How did I get here?
Girl, you have just planned an awesome party for yourself!
This birthday party is going to be the talk of the town!
At what age will I actually get it together?  #askingforafriend
Wishing myself a very happy birthday.
Thank god those teenage years are almost behind me!
I'm proud of me.
.This is your last year of being a teenager, make the most of it!
I want all the warm fuzzies today, tis my birthday.
It's your 19th birthday, try all the cakes and have a blast!
You planned an awesome party for yourself, now go enjoy it.
Here are some suggestions for 19th birthday captions for instagram.  Choose your favorites and start posting!
I love you, my crazy, goofy, and sometimes stupid boyfriend. Wishing you a splendid 19th birthday bash, my sweet boy! 
Happy birthday to my BFF! We're gonna party like it's our sweet sixteen, but no birthday pictures.  We don't need any proof of what we're about to do!
You've been an adult for an entire year now, and you survived! Time to celebrate, let's get lit today.
Happy Birthday, babe! This birthday is a special one… I wish I could be next to you and cuddle you right now.  I can't wait to see you on Friday night, where I will plan a sweet big kiss on you, happy19th birthday baby.
For your special day, I wanted to send you a special gift and tons of heartwarming wishes. Happy 19th birthday, handsome one. May you be surrounded with the best people on this fine day.
I'm another year wiser, or am I?
Make the years count, by living the life you want!, may god bless you.
Enjoy every last minute of your teen years
When you're 19, don't count the years that have passed. Instead, count those that are still ahead of you! .
I'm terrible at accepting gifts, but today I will make an exception!
This is not just a filler birthday, this is the big one, happy birthday friend.
19 Birthday Wishes for a Girl
Happy 19th, gorgeous! This is the last year before you officially exit your teenage years. Make every second count. 
Happy 19th Birthday! It's almost party time, I'm so excited for your birthday party tonight, it's gonna be a blast!

To reach 19 is a phenomenal milestone.  You have been give an incredible life, enjoy it all.
Celebrating your birthday is one thing, but celebrating your entire existence is another, happy birthday to a wonderful child, though technically you are an adult.

Some would say you're at an awkward stage: You're becoming an adult, but still not out of your teens. But you're never too old to have a little fun.
Some people would say that your 19th year is an odd year., you're at that awkward stage where you're not a kid anymore, but you're also not quite an adult! 
Happy birthday! I would say 'best wishes', but you already have me, so I don't know what else you have to wish for.
Years don't mean anything without wonderful memories. This year, let's make buckets and buckets of them!
On your big day, let's paint the town red!
Happy Birthday, beautiful! You deserve all the love you could get today.
19 Birthday Wishes for a Boy
This is the perfect day for people to remind you how much you are loved and respected, and it's a burden I am happy to take on. Happy Birthday to you, honey!

Happy Birthday to the special one who has turned 19. You are the most lovable person I have ever met.  I hope you have a good birthday
Wishing you a lovely 19th birthday filled with joy and laughter. May your heart be overfilled with them. Here's to a wonderful life and hopefully lots of birthday parties to come!
Enjoy your last teenage year, sweet boy.
This is your day, your special day to celebrate your 19th birthday with friends and family by your side. Make this a great day!
Birthdays should come with bountiful joy, adding a year to your lovely age. Yet, I don't think 19 makes you too old to cut a cake, blow some candles and make a wish!
Happy birthday, cutie pie! I wish you a celebration filled with fun, good memories, delicious food, and (most importantly) worthy gifts! 
Candles, balloons, cakes, and fun: may you find all of this on your 19th birthday. You have been working so hard, so party hard and enjoy yourself with all your friends today! You are so special, you deserve a nice celebration every once in a while.
Gone with the wind 18 years, now came in the 19th year. Make this day a special one with people closest to your heart.
Wishing you a birthday filled with lots of joy and excitement. I know you are going to excel in everything you do, but for now, have a good time!
Wake up in the morning and find yourself 19, open up your mobile phone and check out all the wishes. Read everything out loud and proclaim mine is the best!
19 Birthday Wishes for a Love
Happy 19th birthday to the most special person in our lives. May your day be blessed with joy and lots of presents, and may your years ahead be filled  with good health, peace and prosperity.
May you enjoy a lovely day full of precious moments. Remember, you are only 19 once!
You have been the reason for many of my smiles. Thank you for bringing so much joy into our lives, God really did a wonderful job creating you. 
A birthday is someone's special day. You should be proud of what you have achieved so far, you are one of the most deserving person I know. Splurge a little today!
May the Almighty bless you with health, wealth and endless happiness. On this 19th birthday, and make your day an unforgettable one! Life is too short.
Happy 19th birthday, kid! I wish you a lovely day accompanied by the best people in your life. The world has been enjoying itself because of you; today, it's time the world does the same to you! 
19 is a year that will take you out of your teens. Next year, you will be 20, and soon enough you will officially be an adult. So, happy 19th birthday and have the best time!
On this wonderful day, I would like to send a special gift and heartwarming wishes. May you have a wonderful life with lots of exciting events. No matter what, you will always be my little boy.
19th Birthday Wishes From Mom and Dad
Happy Birthday, darling! I've watched you grow into the amazing woman you are today, and with each passing year, it's fascinating to see you blossom even more. I hope your special day brings you all the happiness you deserve in life.
Happy Birthday. You are the best gift I could have possibly received, munchkin. Enjoy your special day!
HAPPY BIRTHDAY! This is your day, and may your day be blessed  with smiles and laughters. Love you!
Happy 19th! Enjoy all the beauty this day brings and don't feel guilty to surround yourself with all your favorite things.
Happy Birthday. For my fun-loving and happy-go-lucky daughter, here's wishing you a day of non-stop celebration as you turn another year older and more beautiful!
Go out and party, it's your birthday. Play songs that make you wanna dance. Gather all the presents and open them up, for all is yours this very day!
For a lovely person like you, wishing mere birthday wishes are not enough. If I could properly show how much I love you… Anyway, I'll see you tonight at your party! Can't wait. 
I'm still at that awkward stage!  When does it go away?
Wishing myself a happy 19th birthday today.  #blessedbeyondbelief
Have a happy and exciting birthday, my dear son! Hope your day is as wonderful as you are.

We may not be perfect parents, but we are lucky to have a perfect son. Enjoy your 19th birthday!
I don't know how you make each year brighter, or how you continuously illuminate our lives… maybe it's because of your charming smile and kind soul. Happy birthday! 
You will always be my sunshine, my little angel. I love you so, so much. Happy 19th birthday!
Your birthday brings happy memories and serves a a reminder of how you continue to bring joy to our lives.  Lots of birthday wishes from me to you!
19th Birthday Wishes From Love
Happy 19th birthday, hun! You are growing up so fast, I am afraid I will miss a day with you. 
The world has been enjoying your presence for the last 19 years, here's to more years and happiness on this earth!
Don't be scared to blow a larger set of candles than last year. No matter how many years you spend in this world, I know you will always stay who you are, and who you are is the bravest person I know. 
Just enjoy your teen years. Trust me, they are the best years of life. May this 19th birthday bring you tons of happiness, joy, and success.
You have reached the phenomenal milestone of adulthood, my friend… you are now a 19-year-old! Wishing you all the best awesome girl. 
You don't know how much I love you. You are a great 19 year old and I admire the man you are becoming. Have fun on your 19th birthday. Remember, I will always be here to share moments.
This is a very special birthday, don't be afraid to go all out! Don't worry, I'll be there to take pictures of all your embarrassing birthday moments, happy 19th birthday.
Happy 19th birthday, pal! May this be your best birthday yet.
For me, you will always be the cutest and most adorable guy in my life.  It doesn't matter if you're 19 or 40. Here's to a fabulous 19th birthday and many more to come.
A good friend is one of God's best blessings. Thanks for being that person for me- your help, support, and love are spectacular to experience. Happy birthday, remain sweet forever!
Since the first time I laid my eyes on you, I knew I would always want to be the first to wish you happy birthdays. Happy 19th buddy, may you age gracefully. 
Quotes About 19th Birthday