Wish Your Godmother A Happy Day
They say it takes a village to raise children. You need the help of friends, family, neighbors and good people in society. Family is the core of this support system and it consist of people who who are not just related by blood, but people who have proven to be there for you, through time. 
Godparents are the individuals who have taken the time and chosen to love you for the sake of love. It is such a beautiful and honorable role and, should be celebrated more by the community.
To show your gratitude to them for always reminding you that regardless of your situation, you have people who always have your back, take the time and read through our lovely list of messages. 
Our well written and curated pieces will help you remember some great times with godparents, especially your godmother and help you really bask in your love for them . 
Your godmother is truly your mom, whether the lite version or 2.0!!
Is There a Godparent Day?
Yes! There absolutely is. 
Godparents Day  is celebrated on the first Sunday in June. It is traditional on this day to share your appreciation with your Godparents with a card. Many churches hold a special service to honor the day.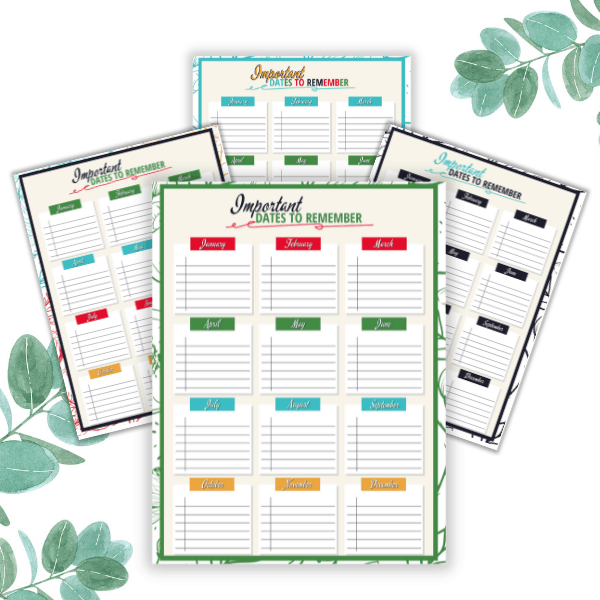 Keep Track Of Your Important Dates With Our FREE Tracker
What Do You Say to Your Godmother on Mother's Day?
😃 As my Godmother, you are one of the best gifts I have ever received in my life. Most importantly, you bring so much joy and gladness to my life. Therefore, I am so blessed to call you my Godmother. Happy Mother's Day!
😃 I am so proud to say that I am lucky everyday because I have you as a Godmother. Above all, happy Mother's Day to a wonderful woman.
😃 Dear Godmother, on this day, I wish you all the beautiful things in life that you've always wanted. Consequently, have a wonderful and bright Mother's Day.
😃 I didn't know what I'll be getting when they you were chosen for me. You are a diamond in the rough. Above all, thank you for coming into my life and making it more awesome. Wishing you a blessed Mother's Day!
😃 Having you in my life has been one of the best things to happen to me. You have made me a better person. I love you. Happy Mother's Day
😃 Firstly, on this Mother's Day, I wish you all the love, blessings, and good things of life. You are the best!
😃 I am using this opportunity to tell you this: You are a rare gem. I could not have wished for a better Godmother. Therefore, thank you for all the love and support you've shown me. Happy Godmother's Day.
😃 May your day be full of smiles, and may your heart blossom with joy. Most importantly, may rivers of living water spring forth from you, and may you enjoy overflowing blessings. Happy Godmother's Day.
😃What did I do right to get such a perfect Godmother like you? A woman with a heart of Gold!. Above all, God bless this day for you and give you everything your heart desires today.
😃 In conclusion, I stayed up all night, waiting for the clock to hit 12:00 am so I could wish you a Happy Godmother's Day! Have a blessed day.
😃Dear Godmother, did you know? You are more beautiful, kinder, and lovelier than any fairytale Godmother story I've ever read. Above all, God bless the day you were born! Happy Godmother's Day!
😃 Happy Godmother's Day to a wonderful woman. Certainly, I relish every moment I have spent with you. I can't wait to see you again today.
😃 Happy Mother's Day to a woman so kind and caring.  Most importantly, you are the true definition of love. Cheers to you!
😃 How could I let this day go without wishing my very own fairy Godmother a Happy Godmother's Day? I am so blessed to have you in my life.
😃 Firstly, Happy Godmother's Day to a true virtuous woman. In addition, you are a woman of honor and character; a woman who is not afraid to air her views and be herself; a woman who is always content with what she has. I have learnt so much from you. You are irreplaceable.
What Should I Write to My Childs Godmother?
😃 We are very grateful to you that you accepted this role in the life of our child. Therefore, it brings us much comfort knowing that we are not alone in this journey of parenthood and that our child would have someone else worthy to look up to. Most importantly, our child is fortunate to have you.
😃 Our family is forever grateful to you for accepting this important role in the life of our child. Consequently, we hope that this will foster a greater bond between our families; a relationship that will forever be treasured.
😃 As a parent, I have to say that I am sometimes jealous at the bond you share with my child because of all the love and care you are so willing to give. Most importantly, I am truly grateful that I chose you to play this role in my child's life.
😃 It has been a delight watching you over the years care for our child as if she was yours. What joy this brings to our heart, as this affirms what we've known about you all along; that you are the best person in the world.
😃 Although it seems we chose you on that day of our child's baptism, the truth is that, you chose us. In addition, you have been more a blessing to our child and us than we ever imagined. Thank you so much for being in our lives.
😃 We thank you for joining us celebrate the baptism of our child this day. Therefore, we are assured that our child will grow in the faith because of your guidance and love. We are grateful for you.
😃 We rest well at night knowing that our child has people like you as her godparents. You have been exceptional examples to us in regards to parenthood. In short, we are forever grateful for your support in parenting our child.
😃 Every parent always worries over the choice of godparents for their child; however, you have made godparenting phenomenal. In conclusion we are so glad we chose you to be in our child's life.
😃 We are honored that you have agreed to become our child's godparent. That is to say we know that you will be a great source of inspiration for her/him. Thank you so much.
😃 It is relieving to know that our child has people to turn to for advice in challenging times. Therefore we know that your love and support will be crucial to helping our child build a fulfilling life.
😃 You are indeed a godsent to us. For example, your devotion to our child has been exceptional. You are true role model to our child and we are so happy that you are a part of our family.
😃 Thank you for being a part of the baptism of our baby. Most importantly,  your presence with us affirms your love towards our family and that we made the right choice in choosing you as a godparent for our little one.
😃 It has been a humbling experience for to see how much you care, not just for our child, but for our entire family. You are true definitions of what godparenting is about. We love you so much.
😃 We all know parenting isn't an easy one, but we find solace in knowing that you'll be there with us through the journey. Consequently, we are so glad that you agreed to become a godparent to our child.
😃 We are so thrilled that both our families are now linked in such a lovely way. We look forward to a lasting and memorable relationship between our families. In conclusion, thanks for your support.
Godmothers Are A Blessing
😃 Whatever you want this day to be like, that is what I wish for you.
😃 I have read so many fairy tales about Godmothers and can say for sure that none can measure up to you. Most importantly, you are a true gem.
😃I have had so many godchildren in my lifetime. To clarify, being a grandmother is the best thing in the world.
😃 Wise words are rarely heeded, but who can throw a kind word away? Thank you for being there.
😃 How did I get so lucky as to have you in my life? You are a true blessing to me. Therefore, I thank God every day for you.
😃 My Godmother once told me: Challenges will come, but the true mark of a champion is not to run away from them. Most importantly, it is to face and overcome them. Words like this are why I am so grateful to have her in my life.
😃 My grandmother lived for 102 years before she passed on. That is to say, she was a real-life fairy godmother to me. I still feel her watching over me.
😃 My prayers for you daily are that God will fill your life with his abundant blessings and always give you a reason to smile because you have been a major source of joy to me.  You deserve the best always.
😃 I am a blessed  person today because I have the greatest gift in person of my Godmother.
😃 They say my Godmother is the Queen of Queens. Well, what can I say?
😃 A good godmother is one that takes care of the morals of a child, ensuring that the child grows up right. I am one of those perfect godmothers.
😃 You have been a great help in my spiritual growth and faith. Above all, I cherish the day God brought you into my life.
😃 Like the wave of a wand, your words are magic, always soothing, calming, and guiding me on the right path. With you, there is always an answer.
😃 I have found that the highest honor in life is being a Godmother; therefore,  my grandchildren call me 'god' for short.
😃 In a world of derailing morals, especially amongst women, I find strength in having true role models like my  Godmother.
😃 I look at my godchild with a bittersweet feeling. Of course, I cherish being his/her Godmother, but I hope they will be satisfied with me.
😃 Kind words are never taken for granted; wise sayings, however, are like ashes that the wind blows away. Therefore, who can catch up to them?
😃 Have I ever told you that I see God whenever I look at you? This is because you are so full of love, and God is love. The name 'godmother' suits you just right.
😃 If fairy Godmothers were real, then every mother should ask for the gift of curiosity for their child.
😃 Everyone has become my fairy godmother. But, you are my favorite.
Happy Godmothers Day Quotes