Add A Catchy Phrase To Your St. Patricks Day Wishes
You don't have to be from Ireland to know that St. Patricks's Day is more than an excuse to drink emerald-colored beer, look for a pot of gold, and pinch your friends that forgot to wear green; in fact, it's also a reason to update your social media and send out celebratory messages! If this makes you wonder, "What do I write in a St. Patrick's Day card?" then prepare yourself for this March 17th by using some of these catchy St. Patrick's Day phrases to spread the luck of the Irish with style, relevance, and a smile.
☘️ "May the Good Lord take a liking to you, but not too soon!"
☘️ Follow this old Irish recipe for longevity:
"Leave the table hungry.
Leave the bed sleepy.
Leave the bar thirsty."
☘️ "Always remember to forget
The things that made you sad.
But never forget to remember
The things that made you glad."- Irish Proverb
☘️ "As you slide down the banister of life, may the splinters never point in the wrong way!"- Irish Blessing
☘️ As the Irish say, "May the road rise up to meet you!"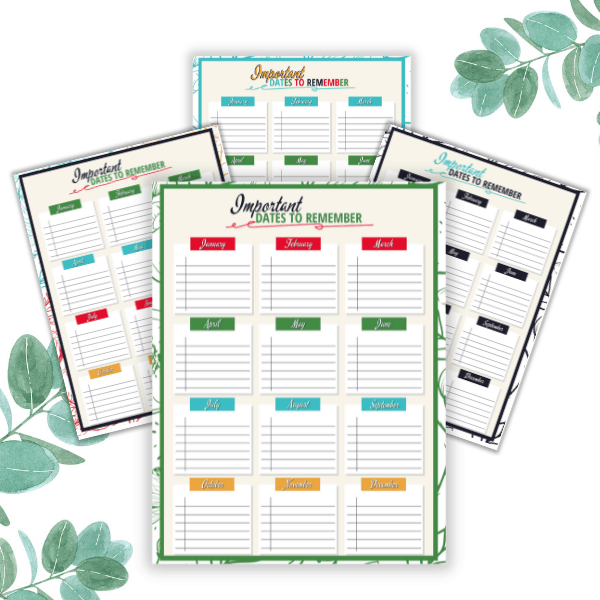 Keep Track Of Your Important Dates With Our FREE Tracker
☘️ "Tis better to buy a small bouquet
And give to your friend this very day,
Than a bushel of roses white and red
To lay on his coffin after he's dead."
… Having said that, enjoy your St. Patrick's Day with those you hold dear!
☘️ As you lay down the night before St. Paddy's Day, may the leprechauns dance over your bed and bring you sweet dreams!
☘️ "If God sends you down a stony path, may He give you strong shoes."
☘️ "I complained that I had no shoes,
Until I met a man who had no feet."
☘️ To impress fellow party goers with your historical expertise, recite the following as a toast:
"St. Patrick was a gentleman
Who through strategy and stealth
Drove all the snakes from Ireland.
Here's toasting to his health.
But not too many toasting's
Lest you lose yourself and then
Forget the good St. Patrick
And see all those snakes again."
☘️ "Here's to the land of the shamrock so green,
Here's to each lad and his darlin' colleen,
Here's to the ones we love dearest and most.
May God bless old Ireland, that's this Irishman's toast!"
… Your drinking buddies will raise a glass to that one, without a doubt! 
☘️ Around the world, it's well known that the Irish love to drink beer- so wherever you are on March 17th, have a pint of cheer!
☘️ "May you always have a clean shirt, a clear conscience, and enough coins in your pocket to buy a pint!"
Examples Of St. Patrick's Day Words & Phrases
☘️ "It is better to spend money like there's no tomorrow
than to spend tonight like there's no money."
– P.J. O'Rourke
☘️ If you're longing for heaven and thirsting for life, then raise your glass and pick up a wife!
☘️ Irish blessings, proverbs, and sayings are usually universally applicable life advice… "May you have the hindsight to know where you've been, the foresight to know where you're going, and the insight to know when you have gone too far."
☘️ For the Irish family in your life, fun St. Patrick's Day sayings shouldn't be about drinking, but prosperity and love.
"Bless you and yours
As well as the cottage you live in.
May the roof overhead be well thatched
And those inside be well matched."
☘️ "Here's to you, as good as you are.
Here's to me as bad as I am.
 But, as good as you are and as bad as I am,
I'm as good as you are, as bad as I am."
☘️ "May the Irish hills caress you.
May her lakes and rivers bless you.
May the luck of the Irish enfold you.
May the blessings of Saint Patrick behold you."
☘️ "May there always be work for your hands to do,
May your purse always hold a coin or two.
May the sun always shine warm on your windowpane,
May a rainbow be certain to follow each rain.
May the hand of a friend always be near you,
And may God fill your heart with gladness to cheer you."
☘️ "May those who love us love us.
And those that don't love us,
May God turn their hearts.
And if He doesn't turn their hearts,
May he turn their ankles,        
So we'll know them by their limping."
☘️ "May you live as long as you want and never want as long as you live."
☘️ Time is a great storyteller; therefore, make the most out of your time on Earth!
☘️ "May your glass be ever full.
May the roof over your head be always strong.
And may you be in heaven half an hour before the devil knows you're dead."
☘️ "Here's to a fellow who smiles
When life runs along like a song.
And here's to the lad who can smile
When everything goes dead wrong."
☘️ An old Irish blessing to give your friends and family more luck than a four leafed clover:
"May your troubles be less and your blessings be more,
And nothing but happiness come through your door."
☘️ St. Patrick's Day catch phrases are all good and well, but other Irish sayings can be used on March 17, as well. "A friend's eye is a good mirror." 
☘️ "There are only two kinds of people in this world: the Irish, and those who wish they were." 
Good Luck Sayings For St. Patrick's Day
☘️ "Luck was a mechanism to be devised, and luck and destiny were merely two sides of the same coin."- Amanda Foody
☘️ "I have noticed that timing and luck sometimes line up in such a way that you can catch a break." – Kimmy Schmidt
☘️ "Don't throw away luck on little stuff. Save it up."- Tim O'Brien
☘️ "May the best day of your past be the worst day of your future."- Irish Blessing
☘️ " St. Patrick's Day is a day to celebrate our green heritage. The ancestry of Ireland. It is a day to celebrate what it means to be Irish and of Irish descent."- Anthony T. Hicks
☘️ "Happiness being a dessert so sweet,
may life give you more than you can eat."
☘️ What do the Irish say before drinking? "Kiss me, I'm Irish!"
☘️ "Whether I drink often or just once in a while; I'm always sure to raise a glass to the dear old Emerald Isle."- Pat Maloney
☘️ "May your blessings outnumber the shamrocks that grow. And may trouble avoid you wherever you go."- Irish Blessing
☘️ "For the whole world is Irish on the seventeenth o' March!"- Thomas Augustine Daly
☘️ "For each petal on the shamrock, this brings a wish your way: Good health, good luck, and happiness for today and every day."
☘️ "A good friend is like a four-leafed clover: hard to find and lucky to have."
☘️ "St. Patrick's Day is an enchanted time- a day to begin transforming winter's dreams into summer's magic."- Adrienne Cook
☘️ "If you're Irish, it doesn't matter where you are- you'll find family."- Victoria Smurfit
☘️ "Luck is a matter of preparation meeting opportunity."- Lucius Annaeus Seneca
☘️ "May the leprechauns be near you,
To spread luck along your way.
And may all the Irish angels,
Smile upon you St. Patrick's Day."
☘️ If you carry a four leaf clover on March 17, the Irishman's luck will color you green!
☘️ While you're enjoying St. Paddy Day celebrations, don't chase down the first leprechaun that you see; regardless of superstition, you'll probably be drunk.
☘️ You don't have to eat corned beef and cabbage to be Irish today, because everyone is on St. Patrick's Day!
☘️ Catchy St. Patrick's Day quotes are nice for getting a party into the spirit, but no one remembers them the next morning!
☘️ What are some good Irish sayings? I need to know how to talk to the leprechaun after I find the end of the rainbow, so I can get his pot of gold!
☘️ Wear all green, and stand very still near a shamrock patch- after a while you might get lucky, and find a leprechaun to catch!
☘️ Carrying cinnamon and mint in your wallet can make your money grow gradually, but on March 17, a leprechaun can give you a pot of gold!
☘️ An Irishman who doesn't believe in leprechauns is like a Scotsman who doesn't believe in the Loch Ness Monster: completely nonexistent!
☘️ "Little green men" are usually assumed to be visitors from another planet; that is, except on St. Patrick's Day!
☘️ What are some leprechaun sayings about greed? Keep that in mind in case you need to bargain with a magical creature on March 17!
☘️ A great friend is as rare as a four leaf clover and as mystical as a leprechaun.
☘️ Raise a glass and say a toast for the wee men wearing green hats and coats!
☘️ At the end of the rainbow, you'll find all the fortune, luck, and magic that St. Paddy Day inspires!
☘️ Working every day leaves you with a handful of money, but catching a leprechaun can lead you to a lifetime of gold!
Witty St. Patrick's Day Slogans
☘️ Irish you were beer- if you were, I would whiskey you away!.
☘️ World's Tallest Leprechaun.
☘️ Kiss Me, I'm Irish!
☘️ When Irishmen need sunblock, they start drinking indoors.
☘️ I'll Shamrock your world on St. Patrick's Day!
☘️ Keep calm and drink green beer.
☘️ Irish-ish is Irish enough to celebrate St. Paddy Day.
☘️ I'm not Irish, I'm just wearing green and drinking on March 17!
☘️ The leprechauns made me do it- but then again, maybe the alcohol did.
☘️ Pick a four leaf clover, raise a glass of beer, and get your Irish on!
☘️ On St. Patrick's Day, Irish pride is for everyone, everywhere!
☘️ Try saying "Irish wristwatch" five times fast after five drinks!
☘️ Unless you like to get pinched when you're seen, make sure you wear green on March 17!
☘️ In heaven there is no beer, so drink it up while you're here!
☘️ An Irish blessing on St. Patrick's Day will keep bad luck and troubles away!
Catchy St. Patricks Day Phrases To Spread The Luck Of The Irish