What Do I Say to my Fiance About my Engagement?
The big day that you propose marriage, you want to do it right. This is one of the most memorable days in your life and even more-so, in the life of your intended. So finding the perfect engagement quotes for your fiancé is a very important step. 
When you ask your intended to marry you, first let her know how much she means to you. Include some words remembering past experiences together and how having her in your life is so important. Then include your thoughts about what your life together will be like, including your own promises to her should she accept. 
Finding this task difficult? We can help. Below you will find over 170 examples of sayings and quotes that will get you started. Put together the right words, and get an enthusiastic YES!
Engagement Quotes for Him
You came into my life like a promised sunrise, brightening my days with your humor and charm. I have never felt this way before… I feel like I belong with you. 

I've never fallen in love with anyone more than I fell in love with you, baby. You're my one true love, and I can't wait to spend the rest of my life with you. 

When I'm with you, I am the best version of myself. And for that, I have so much love for you.

From the moment I laid my eyes on you, I thought to myself, "What a lovely man." I'm happy that I get to call you my fiancé now. 
I don't look for perfection, and I never will… I love you in spite of the fact that you're not, and I'm glad that you feel the same way about me. 
I love you not because of all your belongings, but because of your kind and loving nature. More importantly, I just love how I feel when I'm with you. 
My heart is bursting with love for you right now. 

My future husband-to-be is the nicest, funniest, and smartest person I know. He annoys me sometimes… but I love him to death. 

No matter where I went, you're always the person I run back to. You are my compass star. 
I don't want the heavens or the shooting stars. I don't want diamonds or gold. I have found those things already, and I they are in your soul. Looking forward to our wedding day! 
Love has nothing to do with what you are expecting to get–only with what you are expecting to give–which is adventure. Here's to more adventures with you!  
You wanna know why I am the happiest I've ever been? I feel the most myself when I'm with you.
Romance is the glamour that turns the dust of everyday life into glitters of gold. How about that for the rest of your life?
I would rather spend one lifetime with you, than face all the ages of this universe alone. I feel so lucky to be your fiancé!
Soul mates. It's extremely rare, but it exists. It's sort of like twin souls tuned into each other…. I thank God every day that I found mine. 
Best Engagement Gifts For Her
I WROTE THIS SO LOOK IT OVE    When it comes to buying engagement gifts for your fiancé, you know them better than anyone else.  This is the time where you need to put a lot of thought and effort into finding the perfect gift for her.  This does NOT mean spending a fortune on a gift, after all you're getting married so you need to start watching your money!
Think about what would mean a lot to her, would she love a momento of the day she got engaged, would she prefer a funny mug to drink her morning coffee out of.  Is she more of a practical gal, or is she more of the romantic kind.  Remember to keep it simple and thoughtful, this is your forever girl, find something that will have meaning for her.
Engagement Quotes for Her
Honey, there's no pre-nuptial agreement in this world better than our's… because what we have is endless, unconditional love. 
If I had a flower for every time thought of you… I could walk through an eternal garden.
For a long and happy marriage, a man should always remember to say these three things; "I'm sorry", "It was all my fault", "It will never happen again". Just kidding! But no matter what, you make my life full.
I love you, not only for what you are, but for what I am when I am with you. I love you, not only for what you have made of yourself, but for what you are making of me. I can go on and on…
To love is nothing. To be loved is something. But to love and be loved, that's everything I could ever dream of.
I swear I  feel like couldn't love you more than I do right now, and yet my mind tells me I will tomorrow.

Marriage is not a noun; it's a verb. It isn't something you get. It's the way you promise to love your partner every day, through the good and the bad…and I'm more than ready to commit to you.
You are my best friend, my human diary, and my other half. You are literally my whole world and I LOVE YOU.
The great secret of a long-lasting marriage is to treat all disasters as incidents and none of the incidents as disasters. Instead, we should hold on to our love for each other. I am excited to embark on this journey with you.
And in her smile, I see something more beautiful than a night sky full of stars. I had to make her mine. 
If only I could turn back the clock, I'd find you sooner and love you longer.
Always remember that every relationship needs both contribution and commitment. Take the matter of bacon and eggs. The chicken makes a contribution, the pig makes a commitment. That's what makes it a perfect breakfast.
Love is the swiftest, but it is the slowest of all growths. No man or woman really knows what perfect love is until they meet their soulmate, and I'm convinced that you are mine. 
My darling fiancé, your most striking beauty lays in in your eyes: not only are they the windows to you soul, but  they are also the doorway to you heart, the place where the most magnificent love resides. 
Sometimes the heart sees what is invisible to the eye… and my heart lives for you. 
Best Engagement Quotes for Fiance
You + me = perfect world, perfect life, perfect paradise. It's not just a dream now. 
After the first time we talked, I knew you were the one.  Now, I can't wait for our wedding day. Happy engagement, sweetheart!
That was the best proposal ever! I can't wait to tell the whole world that you will be forever mine and I will be forever yours. 
You are my strength, my joy and my one and only soulmate. I love you with all my heart. I can't wait to display my love for you with all of our family and friends. 
Being with you is so magical, I feel like I'm a princess in a fairytale. Looking forward to more magical years with you, my love!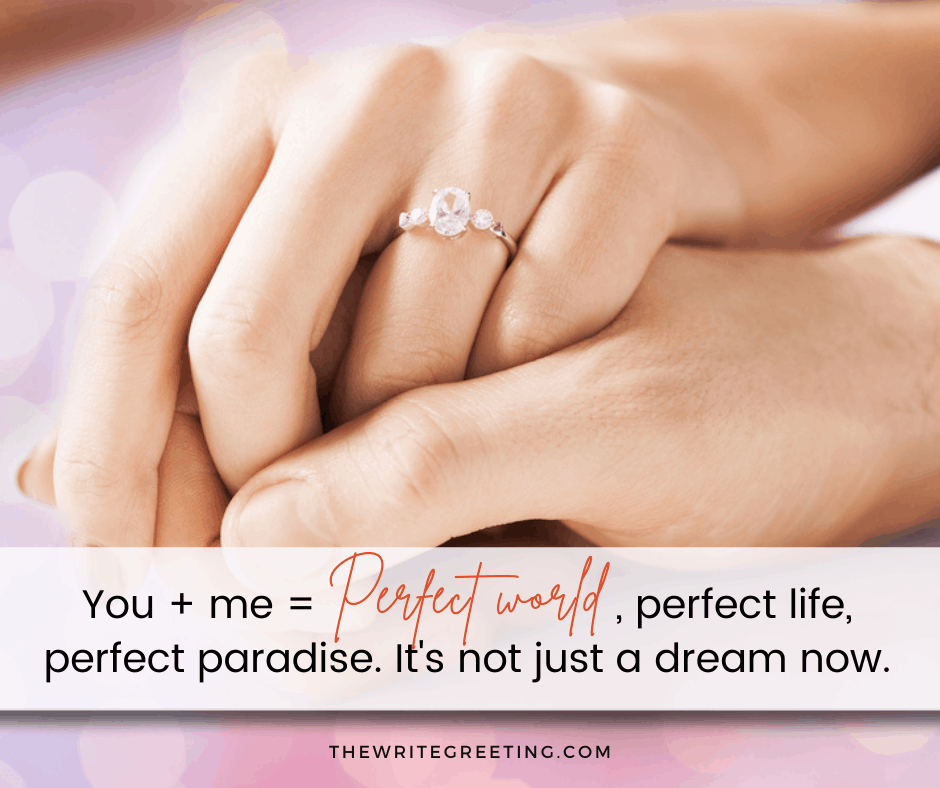 As long as I am by your side, all the troubles in the world seems to fade. With your proposal on top of a lovely day, this is simply the best day of my life.
When I am with you, I feel giddy, I get butterflies in my stomach and I feel like a little kid again. I'm so glad that I met you!
I promise you this: I will spend the rest of my life making you feel like the most important person in the world because you changed my life for the better. 
 Are you ready to do boring things with me and to get annoyed by me for the rest of your days? Just kidding! I wouldn't want to spend the rest of my life with anyone but you, though. I love you!

Happy engagement wishes my perfect partner! 

There are about a million reasons why I fell in love with you, and one of them is because I can't picture growing old without you.
You are best and the most beautiful thing I have seen, I had to wife you up.
Pure and true love is all I wish to give you as long as I live. 
I was looking for engagement quotes for this special moment, but I discovered that words were simply not enough to express to you how much I truly love you. 
I tripped over you and fell so deeply in love. I am so happy we are at this new stage of our relationship!
There's only one huggable, kissable, loveable, embraceable you. No one can replace you, both in my mind or in my heart.
Before I met you, I didn't believe in love. Now I know that love is just a word until someone special gives it meaning. Thank you for being that person! 

May our love story continue until the end of time!
You have my whole heart until I die, sweetheart! 
Life is precious, so I would want to spend it with my most precious lady.
Two souls, one heart, one eternity.
Anyone can catch my eye, but it takes someone special to catch my heart. It has always been you, darling.
Newlyweds become oldyweds, and oldyweds become the reasons that the world goes round. 
A man's without a wife is like a pancake without maple syrup: nice, but could be sweeter.
I promise to take care of you when you are old… but the minute you hit me with your crane, I'll wash your dentures in toilet water.  I'm joking of course… Love you. 
 When my friends started getting engaged, I thought it was all about the flashy rings and over-the-top proposals. I know now that it's not about that at all. It's easy to get swept up in the details… but I promise that the days leading up to our wedding will be full of love. 
 Your whispers always go straight from my ears and into my heart, and that's where they will stay.
My instinct says to keep my engagement ring. After all, I would hate to see it on the finger of another girl… you're mine, and I'm yours.
I won't give my heart to another girl… I'm convinced God created you to be my wife.
Too much control leads to distance, where independence leads to engagement. 
We may have started as individuals, but now we are in this together.     
Love Engagement Quotes for Fiancé
You are my fiancé, my future and my eternity. Let's make our wedding day the most memorable day of our lives!
Now that I have you, I'm sure that the rest of my life will be full of celebrations, blessings, fun, romance, joy, and most importantly, joy.
I'm very much looking forward to waking up every morning to your sweet smile and warm embrace.
I know what my vows will be. It's quite simple: I promise to smooch, snuggle, and spend the rest of my life with you. 
I want you to grow old with me… let's paint our loves together. 
I want you. All of you. I don't care about your flaws or your mistakes. You are the only one for me.

There is a madness in loving you, but it is that  lack of reason that makes it feel so flawless. I don't need a reason to marry you. 
Every inch of my soul is prepared to love you until death do us apart.
It's not your perfectness that I fell in love with. It was your flaws that intrigued me in and convinced me to stay.
You are the most beautiful woman I know. The second I saw you, me heart was drawn to you.
I swear you're the greatest gift I've ever gotten in my life. You make me happier than I ever thought I could be. If you let me, I will spend the rest of my life trying to make you feel the same way.

I could watch you for just a minute and find a billion things that I love about you.
I don't care about anything else going on in the world… as long as I have you right next to me, I feel like I'm in another dimension.
If the time between the first day we met to the day we finally wed is anything to go by, our lives should be over-showered with happiness, love and romance in oversupply. I love you.
Your love for me… It removes fear, it keeps me happy. It makes me feel complete, it shows me our destiny.  It is my everything, it is my life's key. Happy engagement, hun.
Beautiful Engagement Quotes for Fiancé
I love you so much, baby. You came into my life like a thief in the night, but I wouldn't have it any other way. Can't wait to treat you like the queen that you are. 

Relationships are never perfect. They're meant to be a learning experience, and to help you ride through all of life's imperfections with someone who really cares about you. You're undoubtedly that someone for me.

Our love story will never be boring. It is eternal and beautiful, just like a classic fairytale. Love you lots!
The very first time I met you, I knew that we were gonna have something special, and that special something will be timeless.
My dear, let's not get too caught up in all the paperwork and wedding preparations… on that day, we shall celebrate our love, and continue to do it until the day we die, 
Life's greatest satisfaction isn't to be loved endlessly, but to give love to someone endlessly. See you at the altar, darling.

Fate may have brought us together, but it's my heart that wants us to stay that way forever, and thank you for feeling the same. Xoxo

I can't see into the future or predict what life will throw at us, but one thing is for certain: my love for you will stay the same. I know I will still look at you the same way I did on our first date.

Your love makes my life mysteriously misty and foggy, yet so beautiful. 
We dated, we fell in love, and now we finally got engaged – this is what my heart has been longing for since three years ago. I love you.
Now that we're engaged, I look forward to imprison you in my love dungeon. Soon, once we get married, I will bombard you with my needs… and love! After all, who could better be your wife than I can…? 

I still can't believe what just happened. Rather than just saying I LOVE YOU, I also want to say that I LIVE FOR YOU.
Real relationships are when distance means nothing, because love trumps all. Ours is just that, and I feel like the luckiest person in the world.
In the beautiful tango that life is, as we blissfully sway… there's no such thing as a bad day. Xoxo.
Our love is… mature yet innocent, stable yet sensual. Calm yet tantalizing, real yet unbelievable. I love you, and all that comes with you.
Cute Quotes for Your Fiancé
To be honest, I knew early on that I would want to make you my wife. I'm glad that I've finally gathered the courage to ask you! 
Never have I thanked God this much before. I wouldn't know what I would do with my life if you rejected me… you're half of me and I love you so much!
I still don't believe that I actually put a ring on your finger!
To be able to hold you and kiss you for the rest of my life is my ultimate dream. Thank you for making my dreams come true, sweetheart. 
I've always thought that if we are meant for each other, time would not keep us apart. I've always had faith in us… and look where we are now!
On this wonderful day, your eyes told me a story that even words fail to tell. I will remember this day forever… along with our future wedding day. Our vows will be stronger than any chains in the world.
Our love story is one for the ages, just like a fairy tale. 
I've always heard that dreams come true, but never believed it. Now, I believe that they actually do. Because I dream't of having you. I love you, honey, more than you know. 
Almost  8 billion smiles in the world, but only yours can set my heart ablaze
I will forever be grateful for your undying love. That is why I can't wait to officially make you my wife and to build a family with you!
You give me a purpose to live and love, sweetheart. For that, there is nothing I want more than to commit to you. 
I can even imagine how amazing my life would be once you become my wife. I love you so much, cutie pie. Your love is as special as a shooting star.
I want to tell you that wherever I am, no matter what I'm doing,  you are always on the back of my head. So I thought to myself, why not make you my partner for life?
In your smile, I see something more intriguing than the vast blue ocean.
Baby, being with you is my favourite way to pass my time. I will always make time for you, sweet darling.
Being in love with you feels like an endless journey in which I am more than happy to be a part of. I'm your 'forever and always'.

Regardless of whether we are employed or not, or whether we get to have our dream house – or love for each other will make us richer than anyone else in this town.
Some say that marriage is hard work: all about compromise and forgiveness, but I promise that ours will also be filled with romance and happiness. I love you, baby.
Being in your presence feels like being so high above the clouds, all I could see is the Earth's beauty.
The day when we will be recognised as husband and wife by the state is still coming, but my heart and soul have already committed to being yours for the rest of my life. Let this engagement ring be a proof of that. 
As beautiful as a vibrant rainbow, as lovely as a pretty meadow… You keep me truly happy, never in sorrow. I promise to love you until the day I die.
As I eagerly wait for the day when I will finally walk down the aisle, I can't help but constantly break into a blushing smile every time I think of you.
I am now ready to face any storm life wants to throw at me because I have found my lifelong bunker and shelter – the cozy spot on my fiancé's shoulder. Love ya! 
Before I met you, I always felt the overpowering need to be loved. After I met you, I have the obsessive need not to be loved, but to love you – a man so handsome and caring. Thank you for wanting to accompany me until my last breath.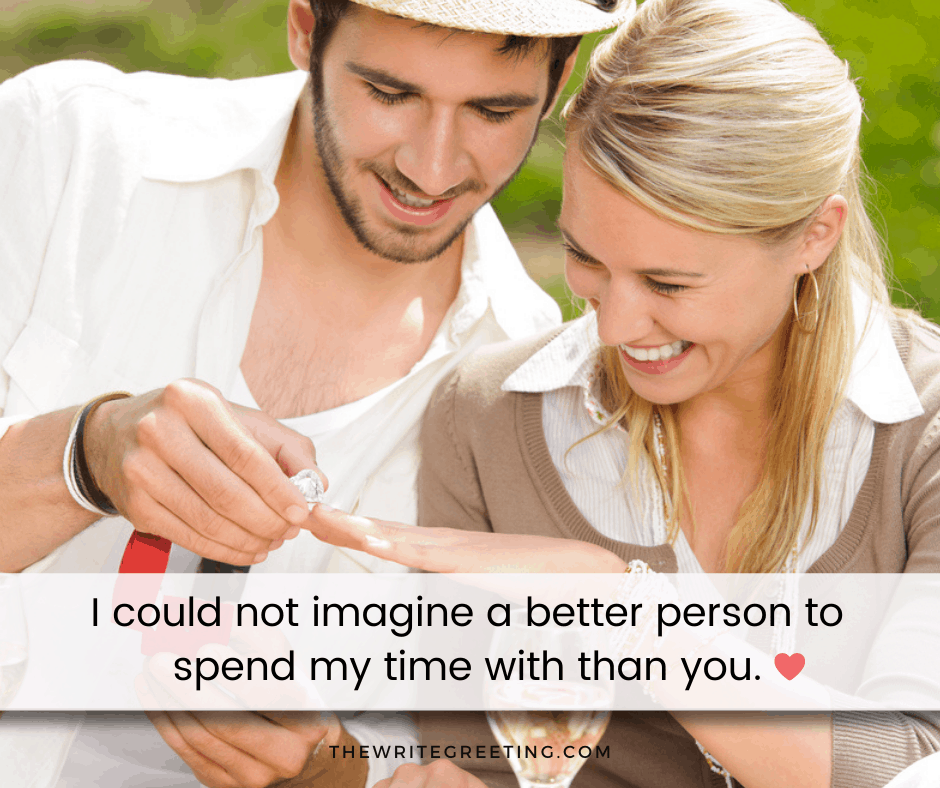 One Month Engagement Anniversary Quotes for Fiancé
For the longest time, I only thought of you as a friend; I had no intention of dating you. However, as the months went by and we got to know each other better, I got to see your beauty and my feelings changed, so I took the risk and asked you out on a date. I'm glad I did because the past year has been fantastic and I look forward to what's to come.

I want to say so much, but also say so little. This is because I could never have imagined that in just a year my life would change so drastically. I don't have all the answers or all the right things to say, but please listen to me anyway. You calm me down when I want to explode, and you help me see the joy in even the toughest moments. I don't know where we will go from here, but now I absolutely love how everything is now. I'm so excited, baby girl! 
The past month has felt like a never-ending dream, and it seems as if every day we spend together, our love grows and grows. I could not imagine a better person to spend my time with than you. You have no idea how much you mean to me, so please allow me a lifetime to prove that to you.
Every moment we spend together fills my heart with such immense joy and excitement. You have made the past month so enjoyable and so memorable that I can't help to think of a future with you! 
I had never imagined that I would ever settle down: I was always too afraid of commitment. But, you took my fear and my anxiety away, and you showed me that I am worthy to be loved. That's why every second we spend together is so precious to me, even though it has only been a couple of months.
I still can't believe it has been one month since our engagement. Happy engagement-versary! You could probably tell, but my hands were shaking so much that I was sure I was going to drop the ring before I could put it on your hand. I've never felt so strongly or deeply about anything or anyone; you give me the courage to face any challenge ahead. I can't wait to see where life takes us.
Every day since you proposed to me has felt like one long dream. The love I feel for you now is stronger than ever, and it grows day after day. All I ever wanted was to be with someone who truly loved me, someone who wanted to be with me forever, and you've given me that.
When I first met you, I would have never imagined proposing to you, but here we are now a month into our engagement. Every day that I get to spend with you is a gift and a blessing, and I am so lucky to have you in my life. My mom loved you after she first talked to you, and you know what they say: "Mamma knows best!"
There are a lot of things in life that we do have control over. Our relationship is one of them. Let's keep making good decisions and don't worry if others can't understand it. We have the luxury to create out own fantasy!
You coming into my life was the best thing that has ever happened to me. The love and care that you've showered on me since day one makes me feel like I'm the only girl in the word. Happy Engagement anniversary, dear!
Our engagement day was a truly an unforgettable one, thank you for putting so much into it! I wake up everyday with a wide smile now knowing that we're close to tying the knot. I love you so much, babe. Anyways, see you later for the cake tasting! 

Let's celebrate our engagement anniversary with lots of good food, good company and good laughter. I hope our love gets stronger and deeper as the years pass by, and that we get to celebrate our wedding anniversaries in style. Happy engagement anniversary, dearest fiance.
Its time to celebrate our engagement anniversary, my love. I am so grateful for all the love you gave me. I just want to say that I am incomplete with you, and I wouldn't be here if it wasn't for you. Happy engagement anniversary! 

Happy Engagement anniversary! You know, 

I've dated quite a few guys back in the day… but I am so glad that it is you will be my husband. I could't wish for a better man. 
I know it's not a big thing and it's only a month that we've been engaged, but it's still a 1 month anniversary nevertheless and I want to make it special for us. Let's celebrate!
One Year Engagement Anniversary Quotes for Fiancé
You and I together make a perfect couple, perfect dream, and hopefully a perfect world.
Being with you is a dream come true. I can't say that I'm perfect, but I'm looking forward to fill your life with love and memorable moments!
As long as I have you with me, I know that everything will be fine. May our wedding be all that we wish it to be.
I promise to constantly give you pure and true love. Happy engagement to us!
All my life, my heart has chosen my every decision and path. The best thing it has done is leading me to you. Best and loving wishes on completion of our first engagement anniversary, honey.
This time last year, I asked you to be my fiancee not just because I love you, but also because I want to build a life with you.
I am so fortunate that I get to spend the rest of my life with the kindest person I know. 
We will not just exchange rings with each other, we are also exchanging hopes, dreams, and assurances. Here's to a wedding no one will ever forget! 
May our relationship be happy, long-lasting and lovely. Happy 6 months of our engagement anniversary!
Our exchanging of rings signifies the end of our singlehood and the first step towards a committed life- I can't picture doing that with anyone but you! 
Congratulations for being my fiancé, lovely lady! It must feel so awesome.
Happy Engagement anniversary, dear. I'm counting down the days to live our dreams together.
I can't wait to marry you and go to our dream honeymoon destination. We've been planning this trip for so long! 
How lucky I am to be engaged to someone like you… Here's to a long-lasting marriage!  
170+ Engagement Quotes For Fiancé (She'll Say YES!)