Send Messages Of Congratulations To The Newly Engaged
An engagement is a beautiful thing. It is an opportunity for one to enjoy the love they share and make a committed dedication to loving and trusting the love of their lives. It is a most special time to be celebrated and shared with loved ones.
Be it that you need it for a gift, a text or you need to give a couple of cheers at a party, these quotes will always come in handy. Take the time to read through our engagement messages and find the inspiration to create your own.

Enjoy!
Do You Say Congrats When Someone Gets Engaged?
Yes, absolutely! This is one of the most exciting time in someone's life, made so even more by the enthusiastic responses from family and friends. Send a nice card to the happy couple letting them know how happy you are for them. They will remember the gesture.  
How Do You Convey an Engagement Wish?
Congratulations messages are a great way to congratulate newly engaged couples on their engagement. However, it can be hard to write an  engagement message that is unique and heartfelt.
What if you could use the same formula every time you wanted to congratulate someone for something? You'd save yourself from having to think of new ways of saying how happy you were for them or what they meant to you, right?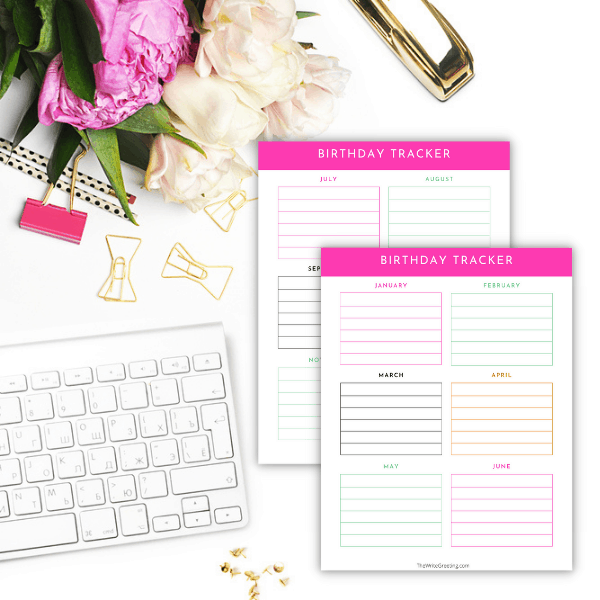 FREE Birthday Tracker Printable
-Don't forget another birthday with our handy tracker.
-Give yourself time to get a card or gift before the big day. 
-Easy to print PDF download. 
With The Write Greeting's collection of engagement messages, there's no need for writing your own special message ever again!
Our professionally written congratulations messages will help ensure that your congratulatory wishes come across as sincere and thoughtful while still being personal enough that it feels like a customized message just for them.
We have all sorts of different types of congratulations messages available including ones specifically written for engagements, weddings and other major life events such as job promotions or birth announcements!
Example Engagement Card Messages
Congratulations to the future happy couple! I'm excited you found someone to spend the rest of your life with. 
I am happy to hear you're on this new chapter together.
Congratulations on trusting each other to find love and happiness. Best of luck in your married life.
Finding each other is nothing but great news. After all, your engagement is wonderful.
Sincere engagement congratulations to you both! I'm excited for your future together! Our sincere well wishes to you both!
In every nook and cranny of the world, no one loves you like I do. 
On this sweet moment in life- your engagement! I wish you the very best.
To the perfect couple! Congratulations to you for your beautiful love. NOW, lets have an engagement party!
May your joining allow you to reach greater heights. Congratulations on this new chapter of your lives. 
Your love for each other will remain strong. Therefore, congratulations!!!
Congratulations Message For Newly Engaged
I pray your love remains brighter day by day. This is such happy news! 
We are so excited to hear the wonderful news. May you both be blessed with lifelong happiness.
I pray  you have a lifetime of joy, love, and growth.  Congratulations and best wishes.
Wishing you a lifetime of love as the two of you will soon become one.
You both are the happily ever after you often sing about. You are a wonderful couple!
Through the thick and thin, may your love stand for it all. We pray your engagement may be the foundation for lifelong happiness. 
Congratulations on your engagement. You two are going to make a great team with all the love you have to share with one another.
You found each other in this big world, congratulations! Looking forward to the engagement party!
Congratulations on being ready to take on this next step in life together! Love is an amazing feeling, congratulations!
I'm excited to hear you're engaged. Congratulations on finding your person!
Congratulations on making this commitment to each other. It's an exciting time, congratulations!
What Do You Say to an Engaged Couple?
It gladdens my heart to hear about the news of your engagement – you, two, make a perfect couple. Therefore, I wish you all the best in your wedding and a future together. 
Congratulations to you both! May you find happiness in each other as much as I've seen in you. 
You are loved (names!). This duo is a beautiful match. Thus, I am sending you all my love as you prepare for this next phase together. 
Congratulations! It's a pleasure to hear your good news. Firstly, I wish you a marvelous engagement and then a lifetime of happiness together. 
Felicitations to the couples-to-be! It's always a good thing to see two people find their perfect partner. We wish you all the best with your wedding plans and indeed look forward to celebrating your special day with you. 
Sending you my heartfelt congratulations on your engagement – I hope you relish each minute of this exciting time. Go and build a beautiful life together. 
Congratulations to the fantastic I'm glad to hear you and (partner's name) are taking this next step together. It's going to be an incredible journey!
My best wishes are with you, (name) and (name). May God bless your union. 
I hope you always find love in each other, always and forever. 
Congratulations, (name) & (name). How much you love each other is a source of inspiration. 
Congratulations On Your Engagement
(name) and (name), you deserve all good things.
Congrats on your love, I want to scream about how happy I am. Can't wait until your wedding day. 
You're engaged. Therefore, the love you have come to share is one for the books. Congratulations on finding that love!
Celebrating the team you  have come to build is a joy of mine.
Congratulations sounds wonderful now doesn't it.
Yay! – Congratulations, you are my favorite team.
You two look so happy together congratulations! I can't wait to see what life has for you two next congratulations!
Best wishes for an amazing future together congratulations!
Congratulations on your engagement. I hope you two live happily ever after together.
I wish you joy, peace and love in your new life together. Congratulations!
I'm so excited for you two! Best wishes on your new journey together.
Engagement Wishes to Friend
Indeed, I am very happy for you, my friend. Your childhood wishes of marrying a prince are materializing. May you live joyfully ever after.
My commendations to your future lady of the hour/groom. He/she just settled on a genuinelymind-blowing decision. May your years together be all you long for, dear friend.
Congratulations on this good news you shared with me, my fantastic friend,  May there be many more applauses as you build your love life together.
Indeed, it's time for me to share you with another, but I will do so gladly knowing how he/she makes you feel. Congratulations on your engagement, dear friend.
 My dear friend, I know your wedding will be as amazing as you are, and I also hope it will be an adventure that lasts a lifetime
May the delicate kindnesses of his/her caring heart fill every day of marriage directly from the beginning. Congrats on getting ready for marriage, dear companion.
The love both of you share is something I've watched blossom from time, and I am very excited it's leading into a marriage. My friend, May your love remain valid for the rest of your life.
Oh, sweet friend, you're one of a kind. Therefore, I wish you the very best as you prepare to wed the person of your dreams.
My precious friend, firstly, knowing you had been a blessing to me. As a result of that, I can only pray God continues to bless you and watch over your marriage.
What To Write In An Engagement Card
Warmest congratulations to these two amazing people: my best friend and the one my best friend loves.
Dear friend, I pray God feels you with happiness and joy as you prepare for a life with your soulmate.
I got excited when I heard you were getting engaged, dear friend. To sum it up, I'd take pleasure in watching you grow into a beautiful couple.
 I hope your marriage and every day after your special day be all you always wish for my wonderful friend. Nothing but positive thoughts for you both. 
You two are just so cute together! Congratulations on your new adventure together. I'm so happy you found each other!
Wishing you two the best on your new life together.  Congratulations!
Congratulations on finding happiness and love with each other. You guys are going to be amazing.
Congratulations on finding someone who loves you just the way you are. You two are going to make a great team. Congratulations!
Best of luck on your new life together, congratulations!
After all, anyone can catch your eyes, but it takes a special someone to capture your heart.
My world is your world.
You two were probably destined for each other. Therefore, it came as no surprise that you're engaged together.
We may have started as individuals, but now we are one.
Nothing can put our love asunder.
Me and you, together, forever.
I love you with every fiber of my being.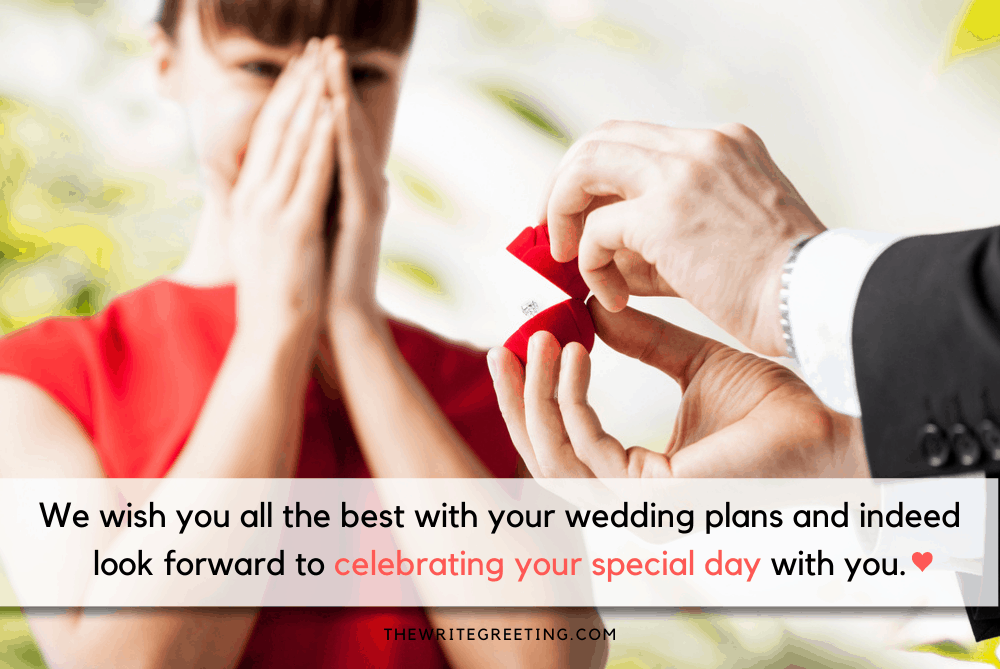 May you always find love in who your heart desires forever.
All of me is what I have for you forever.
The invaluable aspect of existence is Life and Love.
Heartfelt Engagement Wishes
You are in this together. May you now start our lives together with our warm wishes for much happiness. 
Forever in your heart.
You occupy my thoughts.
When two individuals find love, all is well with the world.
Your engagement was what we we were waiting for. You both deserve each other.
Wow congratulations on your engagement! I'm so excited to see what you two are going to do next.
Sending engagement congratulations to the happy couple! I know you found the one in each other! 
Happiness is an amazing thing congratulations! I look forward to watching you grow as a family! 
Congratulations to the newly engaged couple on finding love that will last. 
Best wishes for an amazing future congratulations!
Engagement Wishes From Parents
I'm looking forward to your big day and seeing the beautiful woman you're becoming.
Congratulations on your engagement, my dear daughter. We are happy to see you settling down. You guys are made for each other. Therefore, we are delighted to see you two become a family!
I wish you all the happiness in your lovely abode, enjoying your happy life!
Grandchildren are the treasures of our hearts, and now we have one more to spoil. Welcome to the family,(name)! We're so happy you and Chloe are engaged!
Congratulations for deciding to walk together on life's tough road. We are excited to be adding this new family member. 
You will prosper as a couple since the seeds of love you have sowed.
To the future bride and groom. Firstly, we are so delighted to know you're taking this excellent relationship to the next level. Indeed, this is a perfect time to tie the knot, and your announcement couldn't have come at a better time. We pray God to continue to bless you and make your dreams come true. Once again, accept our congratulations.
Best wishes to you on your engagement. This didn't surprise me, but I am happy you found someone who makes you feel alive again. I've noticed the way you smile and the way your face beam with light whenever her name is mentioned. I wish you and your fiancé the very best as we countdown to your big day.
I am sending lots of love to the newest couple in town. I heard the news of your engagement some minutes ago, and I thought I should be the first to send you my congratulations. You both make such a happy couple and compliment each other so well that I'm convinced you will make a perfect couple. I can't wait for the big day!
It's great both of you decided to get married now instead of still messing around.
Both of you are a pair made from heaven, and now you can annoy each other as much as you like.
Congratulations on not being choosy again and finally settling for someone.
I am so happy you have chosen to commit yourself to one person forever. NOW the wedding planning! 
You've become one of your partner's choices now, so I advise you not to laugh at them again.
I'm happy you've decided you don't want to be a crazy spinster for life.
I am sending best wishes to you and your new ring – I mean, fiancé.
Congratulations on your engagement. Therefore, enjoy the little free time you have now and between your marriage.
I am so happy about the news of your engagement. I knew the first time I saw you two together that you were meant to be.  Congratulations on your upcoming marriage.
Another word for engagement is being in a meeting. Therefore, you can send people disturbing you away by saying you're engaged.
Congratulations on your life-imprisonment sentence. I mean engagement.
Two awesome nerds found each other – hooray! I can't wait for your wedding!
Did she say yes? Nice! Now be quiet and try not to mess this up, okay?
Now that you are engaged, you have new responsibilities, new commitments. Congratulations on getting the new job of a fiancé!
No! this is not a dream. Your engagement with your lover is more real than it seems. Congratulations!
Congrats Message for Engagement
I'm delighted to know that you've decided to tie the knot with (name). I wish you all the very best as you plan your couple's life together. Congratulations once again.
The love you have for each other has been declared before time, and May the love continue to grow stronger as you plan your life together. Congratulations.
I should be a matchmaker because I remember introducing you to each other, and now you're a perfect couple. Congratulations on your engagement.
The love you share has been ordained by the highest, and May he continue to bless your union. Congrats.
Today marks another phase of your life, and I'm curious to know how you would spend it with that particular person.
The very best of any relationship starts from a friendship, congratulations on your engagement.
Your happiness makes me so happy! Congratulations
With heartfelt congratulations on your engagement!! Next stop…wedding day!
Congratulations! Wishing you happy times ahead as you plan your wedding.
I'm smiling just thinking about your smile in the engagement photo. I love seeing you this happy.
Congratulations on your engagement. You two are a lovely couple. You will be the perfect soulmate of each other—best wishes and blessings.
You deserve all the beautiful things that life has to offer. May you both find your dreams together and fulfill your desires together!
You are going to excel in this relationship and I know it will flourish.
There is no one that understands you more than your partner. Enjoy the blooming relationship you have with them.
Congratulations Messages For Newly Engaged