Send A Christian Couple A Lovely Anniversary Message
When a couple gets married, it is a union before God. So when the Anniversary day comes around, sending blessings in the form of Anniversary quotes for Christian couples is just the thing. 
A religious wedding anniversary message for a Christian couple should include some personal words about their relationship, along with blessings or biblical wedding anniversary wishes that will let them know you are thinking of them and praying for their continued happiness. 
If you are having a difficult time getting started with anniversary wishes for friends or family, you will find some wonderful examples below, along with quotes and biblical references to help you along. 
What is a good Bible verse for a wedding anniversary?
How Do You Thank God for An Anniversary?
Dear Heavenly Father, we praise and thank You for the privilege and gift of marriage you've given us, as well as for the joy that comes from sharing our life together. Thank you for giving us the wonderful past year, where we learned how to truly love a person. We love each other more than ever now.
God, thank you for bringing us together all those years ago. We pray that Your love will increasingly shine through our marriage so that as we draw ever closer in our vertical relationship to You. May it be reflected in our fellowship with each other and illuminate beyond the walls of our home.
You have done so many great things for us, and for that we would like to sincerely thank you. We offer You our undying faith and services, oh Lord… may we be used by You as witnesses to Your wonderful and magnificent work. We know that there are a lot of people out there that need your guidance. 
Thank you for your abundant blessings in our marriage, Lord. May we grow ever closer to You and to each other in the years that lie ahead. In Jesus' name, we pray. Amen. 
Heavenly Father, thank You for bringing us together as husband and wife. We are so grateful that we get to celebrate our 1 year wedding anniversary today, for which we praise and magnify Your Holy name.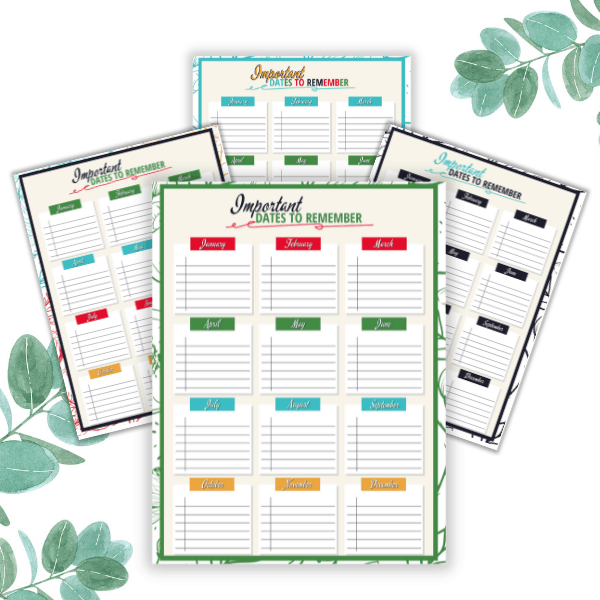 Keep Track Of Your Important Dates With Our FREE Tracker
How Do You Bless a Wedding Anniversary?
It might be easy to fall in love, but it's much harder to stay in love with the same person for the rest of one's life. However, in God's name, I know that everything is possible and worth it.
Happy anniversary, my love! Big congrats to us for another year well done. I thank God every night for putting you in my life.
Even though another year has passed, like God's love, my love for you is still both fulfilling and everlasting. Sending you all my best wishes, honey! May He bless you with endless happiness.
Throughout history, countless people have searched long and hard for their true love… yet, not everyone has found theirs. I'm so lucky to have found mine in you, baby. Happy anniversary!
Happy anniversary, sweetheart! Sending you all my love and warm wishes as we celebrate another year full of lovely and unforgettable moments. In His name, may our love withstand the grueling test of time! 
The bond of a marriage can take various forms, depending on whether life is imitating breezes or storms. Sometimes in can be a beautiful knot, sometimes it can be a fragile cord. Regardless of the circumstances, though, our bond is here to stay. Happy anniversary!

Happy anniversary, cutie! May each new day we share be ever more beautiful than the last. 
Some people don't believe in Christian marriages – to them, they are myths, fairytales, and some would even call it false hope. Luckily for me, my marriage with you is a dream come true.
I don't need to wait for our 10th, 20th or 25th anniversary to celebrate our heavenly relationship. Every anniversary of ours is a milestone. I love you, darling.
As an old man, your legs may have become wobbly and beautiful wrinkles may have adorned your face. Things indeed change with time, but let me remind you of one of the vows I made on our wedding day: my love for you will stay youthful forever.
Christian Anniversary Quotes For Husband
It's the day! Happy anniversary, dear. Being married to you is like going on a fascinating, once-in-a-lifetime adventure that never ends.
I don't know how you do it, but you always know exactly what to do to cheer me up—thank you! May God grant us the serenity to enjoy the coming years of marriage as much as we have enjoyed those behind us!
My life has changed for the better ever since we got married. May we continue to grow in God's glorious name. 

Who would've thought that we'd make it this far, huh? May God continue to be present in our union.

Our wedding day was the happiest day of my life, and I'm glad that we get to relive it again and again as the years pass by. So, once again, Happy anniversary, sweetheart
I miss you so much. Being far away from you on our anniversary is surely not ideal… but I know that the next time I see your beautiful face, I will be overflowed with joy. 

You may think you are lucky to have me, but I think It's me who lucked out by ending up with the most nurturing and understanding person on Earth. Wish we could be together on our anniversary. Have a good night, my darling. 

Here's wishing you all the best on our anniversary. Please come back soon and let me shower you with plenty of hugs and kisses!
The only thing I want for a happy marriage anniversary is your presence. You don't know how much I miss you!
You know what I love most about our marriage? Despite the distance between us, we always manage to find ways to love and comfort one another. Happy anniversary from [place]!
Christian Anniversary Quotes For Wife
My life was a living hell, then God sent you to transform it to a small piece of His heaven. You are my guardian angel, my forever love. Happy anniversary and may God bless you always!
Happy anniversary to the most beautiful woman I know! Marrying a wonderful person like you has so far been the best achievement of my life. I can't wait for us to build a family.
God knows what a good Christian deserves; that is why he sends you into my life… just kidding! I'm the one who should feel lucky and grateful here. You are an angel, sweetheart.
Even after all these years together, you still make me swoon over you everyday. God really blessed you with charm, didn't he… Happy anniversary!
Here's what I would like to say on this very special day: Firstly, I feel lucky to be born to a Christian family. Secondly, I feel lucky to be married to the most good-looking Christian gentleman on this planet. Thirdly, I feel lucky that God destined us to be together.
God must be shining His light through you. Happy wedding anniversary, my love! 
You are a devoted Christian, wife, and mother… what more could I ask for? I could only pray that I get to make you happier and happier each day. Once again, Happy anniversary! 
Here is a beautiful peony to the most beautiful woman I have ever known. Thank you for giving me a beautiful life, honey. Happy wedding anniversary!
This year, this is all I have to say: I had searched all the dictionaries I could've gotten my hands on for the meaning of life… who could've known, I would find it while I'm staring into your beautiful green eyes.
Happy anniversary, my love. All the words in the world could not even begin to describe how deeply in love I am with you. From the moment I first met you 'till this very day, you captivate me. 
I feel incredibly lucky to have a wonder woman in my life. You make my days complete, joyful, and so much brighter. I love you so much, and may God finally give you the promotion you deserve! 
This special day reminds me of how magnificent God's love is, because all those years ago, He decided to let our paths cross. My heart is whole because of you. Happy anniversary!
Happy anniversary to you, my lady! Being your husband is one of the greatest honors a man could ever receive. Despite our old age, may we continue to grow in the way of the Lord.
Thank you for putting up with all my imperfections and celebrating all my good qualities. Here's to another wonderful year! 
Today, I make this promise to you and God: I will love you even when we're ancient and wrinkly.
Christian Anniversary Quotes For Wife
Every night as I close my eyes, your gorgeous face is what I see. You are by far the best blessing I've ever had- you flipped and changed my life for the better. Thank you for everything. Happy marriage anniversary to us! 

Life was way less interesting and inspiring before you. I am beyond grateful that I get to have you in my journey, always supporting me and cheering me on. There's not a single day where I don't thank God for your presence in my life.
My day starts and ends with you. I am happy for our successful marriage, and I surely hope that this can continue until the end of time. Happy anniversary to the best wife in the universe! 
I could never get enough of the love, care and affection that you have showered me throughout the years. I could never get enough of you… Happy anniversary, my sweet love! 
Lucky are those who has an understanding, caring and loving partner. I thank God for putting my name on that list. You have been His sweetest blessing to me. Happy anniversary!
Happy anniversary! Hugging you every night before gives me the most comforting feeling. May God continue to watch over us.
You are the kindest, most generous and most sincere person I know. I hope that God blesses me with the strength to complete my goal: making you the happiest woman on Earth.
For me, heaven is being with you and hell is being without you. Only God knows how intensely my love grows for you every year… Happy anniversary, my dear.
Happy wedding anniversary. You are my first lady, and I love you more than you could ever imagine. 
I'm not scared of anything as long as God keeps you in my life. Even my mom and dad could sleep well knowing that you'd be there for me. 
Wedding Anniversary Wishes For Friend
When I see you two together, my skepticism towards marriage disappears into thin air. Happy wedding anniversary, my two lovebirds! 
Happy anniversary, buddy! I said this on your wedding day, but I won't hesitate to say it again: you two make the best Christian couple that has ever existed. 
Love is a language I had never truly understood, but every time I see you with him/her, I think I know what it's supposed to look like. Happy anniversary! 
Your life-long commitment to your Christian marriage is both admirable and adorable. I'm just happy that my best friend in the whole wide world has found his true happiness. Cheers!
Watching the two of you grow throughout the years is just delighting and inspiring. Just so you know, I believe that God made the perfect pairing. Happy anniversary, my friends! 
You two crazy monsters together really make the most awesome couple ever. Happy anniversary and may God's love continue pouring onto you!

Marriage is no less than a battlefield… you have to always be ready for war, but you two are managing it pretty well! Happy wedding anniversary, my favorite lovie-dovie Couple! 
Your wedding anniversary is the perfect time to celebrate the joys of today, the memories of yesterday, and the hopes of tomorrow. Don't waste this special opportunity with your special one! 

Happy wedding anniversary, loves! 

I wish you all the very best as you begin another year of your life together. May it be full of excitement! 
Your endless love, support, care and trust on each other make your marriage so much stronger with each passing day. Happy wedding anniversary, lovelies! 
Wedding Anniversary Card Wishes To Sister
Dear sister and brother in law, happy [number] anniversary! On this very special anniversary, I wish you nothing but all the good stuff this world has to offer. Live happy and much success to both of you! 
You and your husband are literally couples. Someday, I hope to find the same type of love that you two have. For now, please let me live vicariously through you! Happy anniversary!
Through thick and thin, high-ups and low-lows, both of you persevered through it all… together. In the years to come, I know that God will reward you for your strength and loyalty to each other. Here's to a super happy anniversary! 
A very  happy anniversary to the both of you! May you and your children always be a happy family, sharing even more beautiful memories together. No matter what life throws at you, you'll be fine as long as you face it together and with smiles on your faces.  
Happy anniversary! Just thought I should let you know that I think you glow the brightest when you're standing next to him. I really hope that you love will continue to bloom and prosper over time. God bless! 
Wedding Anniversary Wishes To Brother
Happy anniversary, bro! I wish you and your missus a life full of joy and wonder. No lie, you two are my favorite people in the world, and I want you to have the best life possible!

Happiest marriage anniversary to the most perfect couple in the world. Continue being an inspiration to us, buds!

Happy anniversary! Never have I seen a match made in heaven… May the bond you share with your queen grow stronger each and every day.
Happy anniversary, dear brother! Keep holding on to each other 'till death do you apart… which I'm sure you'll do!
Never would I have thought that my little brother would end up with such a beautiful lady… but now I know that she's everything you deserve, and vice versa. Have a great anniversary!
Happy anniversary to you! May your wedding life be forever bound with happiness, warmth and comfort. May you live every day with love and grace. 
Congratulations for being married for almost [x] years now! May God bless you and your wife, can't wait to meet the kids! 
This time last year, you tied the knot to the woman you love most, so yes, it's you r special day and you should celebrate it! I love you, and tell your sister in law I love her too, won't you? 
Congratulations on your wedding anniversary! Surviving the highs and lows and marriage is a milestone, worthy of the grandest celebrations. Our Lord Jesus would be so proud of what you two have become. 
Wishing you a very happy wedding anniversary, brother! Years are just numbers when you're spending it with the right person, am I right? Sending you and your missus lots of love!
Wedding Anniversary Blessings And Prayers
I'm now convinced that God paired the both of you to show us how wonderful love should be. Happy anniversary to the coolest parents in the world! We love you.

Congratulations for [x] years of togetherness, mom and dad! We're so honored to call ourselves your children, and I hope that we don't cause you too much trouble… Wishing you both bliss and serenity! 

I have been blessed beyond all measures to have been raised by such wonderful people. Honestly, I think God gave me the two best role models a kid could ever ask for. Wishing you a lovely anniversary! 
Happy anniversary, my dear parents! Your strength and togetherness is truly what shaped me over the years, so thank you! May God continue to bless your marriage with love, joy, and companionship. 
Happy anniversary to my forever guardian angels! I am so grateful for you. May you be filled with JOY of heart, PEACE of mind and soul and LOVE. 
Cheers to a wonderful and joyous wedding anniversary! May our Almighty Savior continue to bless you and every member of your family. Like I always say, if you need anything, I'm always here.
Happy wedding anniversary to you, family man! May God's love continue to be the foundation of your home, and may His words guide you in your actions, today and always. 
God has rewarded your faith with an everlasting happy marriage. I pray that you'll always be happy for the rest of your life!
Happy anniversary! I have so many wishes for you, where do I start… Firstly, may God be the co-author of your marriage story. Secondly, may He be the director of all you set to do. Thirdly, and perhaps most importantly, may He be the firm foundation on whom you build it all. God is love, and seeing Him present in your life makes my heart so full. I wish you all the best… in Jesus' name, Amen..
Bible Verses For Celebrating Wedding Anniversary
They are no longer two, but one flesh. Therefore, what God has joined together, let no one separate. Happiest of anniversary to you two!

Be completely humble and gentle; be patient, and bear with each others quirks and weaknesses. Make every effort to keep the unity of the Spirit through the bond of peace.
And now these three remain: faith, hope, and the greatest gift of all, love.
Congratulations on your successful marriage so far! As you go forward, remember this: love is patient, love is kind. It does not envy, it does not boast, it is not proud. It does not dishonor others, it is not self-seeking, it is not easily angered, it keeps no record of wrongs.
There are several things that fascinate me, four that I do not understand: the way of an eagle in the sky, the way of a snake on a rock, the way of a ship on the high seas, and the way you never fail to make me fall in love all over again.
May love and faithfulness never leave you; bind them around your neck, write them on the tablet of your heart. Then, you will win favor and a good name in the sight of God and men.

Seeing both of you constantly encourage and build each other up by guidance of the Bible is the most breathtaking thing ever.
Be kind, compassionate and forgiving to one another, just like Jesus Christ has forgiven you.
While love and faithfulness work together, righteousness and peace inspire each other. 
Thank You Message To God For Our Wedding Anniversary
Dear Father, You are worthy of our praise. Thank You for the privilege and gift of marriage you have so graciously bestowed upon us, as well as for the joy that comes from sharing our life together. We thank You Father, for bringing us to this anniversary day, where we remember the vows that we made before you, and the amount of love we have for each other.
Lord, we pray that Your light would increasingly shine through our marriage. We wish to grow closer to you. 

In these tough times especially, everyone needs Your light.

 Therefore, may Your light may be reflected in our fellowship with each other and our community. 
God, thank you so much for Your sacrifices and Your love for us throughout these years. Our marriage would not have been like it is now if it wasn't for Your grace and power. That is why we have worked to glorify Your name. On this religious anniversary, we hope that we have satisfied You through our work, and we surely hope to be able to keep on going.
We would kindly ask you to continue being a huge part of our lives, for You have been our anchor and light post in difficult times. In Your Holy name, we pray. Amen.
Lord Jesus, thank you for uniting us together as husband and wife many moons ago. Thank you for giving us love on a daily basis. We are thankful that we get to celebrate a memorable anniversary this year, and we know what we owe you. 
Christian Wedding Anniversary Quotes
Anniversary Quotes For Christian Couples