Send Fond Wishes To Your Pastor On His Birthday
Your pastor is such an important figure in your life. His/ her guidance and spiritual leadership helps so much when the world is not cooperating. On his special day, let him/ her know how much he/she is appreciated by sending a card or text that includes lovely birthday wishes for pastor. 
A pastors birthday card should include your thanks for his/ her spiritual leadership, as well as blessings for the coming year. 
If this is difficult, we are here to help. Below you will find over 65 birthday messages, sayings and quotes, to help you get started. Give a little back to the one who gives you guidance all year long. 
What Do You Write In A Spiritual Birthday Card?
Happy birthday, Sir! I have not met a more exemplary, visionary church leader who has dedicated his entire life to spreading the word of God and building churches all over the globe! Our congregation is lucky to have a wonderful pastor like you. Also, thank you for always being so lively during your sermons. A person like you deserves all of His grace and more. May God bless you always.  
As you reach this age, I pray that God continues to increase your knowledge and wisdom. Furthermore, may He grant you good health and strength to keep on delivering His words. Lastly and most importantly, I hope that you're enjoying a lovely birthday. 
Your sermons at church are so touching and have inspired many of us to always live in God's name. Thank you for sharing His light and teachings to us, Sir! For that, we would like to wish you a very happy birthday. May you be blessed with good health, tons of happiness, and a long life!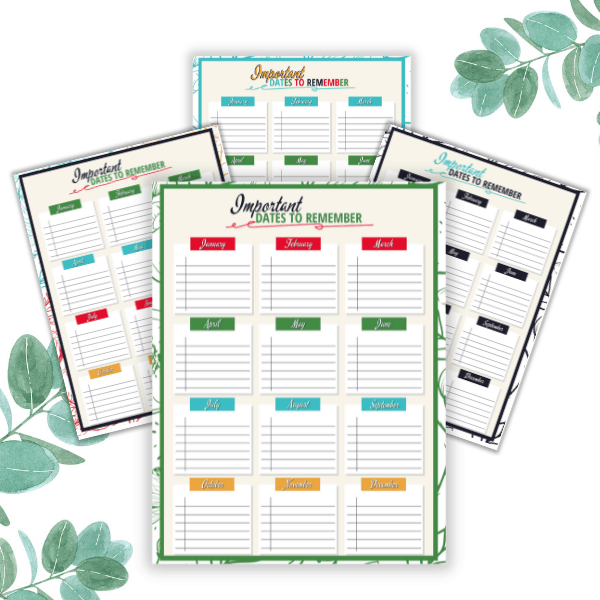 Keep Track Of Your Important Dates With Our FREE Tracker
Dearest pastor, happy birthday to you! We pray that our good Lord continues to let you reign over your enemies. They shall never succeed in their plot to lire you away from the path of life you have chosen. Rest assured, the whole congregation will continue to follow the light you have shown to us and made us believe in. You are like an angel sent from Heaven by God Himself. 
Hope you're birthday is filled with joy and laughter! May our Savior's blessings continue to be with you and your family, and may His words continue to provide you strength, especially in turbulent times.
Your messages have touched millions of lives and penetrated every nook and cranny of this city. We pray that God continues to be your guide. May He give you the power to win more souls to His kingdom. For now, enjoy your birthday!
Happy birthday to you… my pastor, my spiritual guru, my friend. As you clock [insert age] at midnight, may God's blessings, glory and grace be upon you and your wife. 
Thank you for reminding us that it is never too late to believe in God and that there always time to do right on this planet. We are old men and women, and some of us thought that we could never be among righteous men anymore. However, because of your words, we are now on the right path. Your faith, leadership and wisdom shows that you are meant to be a pastor. Today, we all would like to wish you a splendid birthday filled with happiness!  .
On this extremely special occasion, may you reap what you sow for the past year. Moreover, may God's love and light be right beside you, in good times and the bad. 
I know I've said this many times, but thank you so much for enabling the will of God to come into my heart. Since I first met you. I have committed myself to the way of the Lord. Thank you for being my inspiration and source of motivation to do good by His name. Wishing you the happiest birthday! 
You are more than just a pastor I see every Sunday at church… you are my friend, my second father, and my mentor. Thank you for your tireless efforts in instilling the words of God in my life. Have a blessed birthday!
Thank you, my priest, for bringing out the best in me with your messages of love, prosperity, and righteousness. As you celebrate your  birthday, may your life continue to be filled with grace, blessings, and opportunities until it overflows with them!
Happy birthday to the best pastor in the whole wide world! There's no doubt in my mind that God will continue to work through you. God has always been with you, and whoever is with Him shall never fail, but continue to succeed in whatever he sets his mind to. 
Happy birthday! I think that you are a blessing to every single person in your sermons, and I believe that I speak for everyone when I say that you are a top-notch pastor. May God realize all your dreams as you continue to grow in mind and spirit.
Dear father, God's presence in your life has been such a wonder to see.  Thank you for sharing God's grace with us and also helping us see the light. One day, I would like to serve God like you do. Happy birthday and have a great day! 
Birthday Wishes For Pastor Friend
May God give you the power, courage, and knowledge to execute his holy work and vision for mankind. We wish you a lovely and memorable birthday!
Happy birthday, Pastor! You are a fascinating human being and role model in my life. May God  continue to strengthen your faith, establish your steps, purify you and hold you firm on the path of the righteous.
Happy birthday to my pastor and never-failing mentor! There is no one more committed to the words of the Bible than you, which is why we are so privileged to have you in our church and in our lives. Thank you for inviting me to your birthday celebration. May you live long and be happier as each day passes!
You have impacted so many lives positively through your words of wisdom. May God's grace and mercy continue to be with you today and forever! Happy birthday to my friend and favorite pastor!
Happy birthday, Father! Your, speech, conduct and faith have inspired us in so many ways. Also, the way you conduct your sermons is so unique! I personally feel beyond grateful to have you in our church. Your existence is worthy of admiration. Happy birthday and I hope you'll have a nice celebration with your family! 
On this very special day, I would like to wish a very special father a very gleeful and blessed birthday! I pray that God showers you with his never-ending love, mercy and blessings.

Happiest of birthdays to you, Sir! Thank you for inviting me to your party; even though I couldn't be there today, you are in my mind and spirit. Sending you tons of warm hugs! 

Here's to celebrating many more of your birthdays, blessed friend!
Happy birthday! May God grant you many more years of good health and success.
I would like you to know that I usually fall asleep in sermons… except for yours. Happy birthday! 
 Happy birthday! I wish you a long life filled to the brim with happiness and good health. God bless you! 
Happy birthday, my spiritual father! May you have happiness and prosperity for the rest of your life. 
Hope that God makes all of your wishes come true this year! 
May God always be your light post and source of strength! 
As you celebrate this special day, may the Lord shower you with countless joy and blessings. 
Best Birthday Wishes For My Pastor
Dear Pastor, we as your congregation would like to wish you the very best of birthdays! May God always be with you. 
Have a blessed birthday, Sir! I wish you only unexpected blessings and glorious miracles.

To the man of God, happy birthday! I wish you many more happy years with your family.

Happy birthday to our dearest Pastor! May God give you all your heart's desires. 

May your courage and faith in the Christ be renewed today. 
As you celebrate another amazing year today, may the good Lord strengthen your wisdom and faith! 
Happy birthday to the wisest man I know! Wishing you many happy and unforgettable moments in life. 
You are the best church leader I've ever met. Happy birthday! 
Happy birthday, dear Sir! I wish you all the best the Lord could possibly give you. 
I wish you all the best of birthdays, blessed friend. Have a wonderful day!
Today, we would like to thank our Savior for granting you the wisdom and knowledge of the Bible, so you could teach us more and more about it every Sunday. You have inspired numerous lives through your sermons. Everyone, please raise your glasses and join me in wishing our dearest pastor a wonderful birthday! 
Man of God, as you turn a year older, may you continue being the visionary leader that you are, solely committing your life to the work of the ministry. I know in my heart that your work to the community will have an impact for many more years to come. Have a memorable birthday!
You are simply extraordinary, Sir. Your concern for our spiritual lives and the dedication to nurturing young Christians are some of the most commendable and outstanding things about you. Happy birthday sir!

Happy birthday, minister of the Gospel! We pray that God gives you victory over every situation. May this light you have shone on people shine brighter as the days go by. A man like you deserves the very best this world has to offer. Once again, happy birthday! 

On this beautiful day many years a go, a fascinating man was born into this world. I hope that you continue sharing the magnificence of your life with us. Furthermore, I pray that you continue abide by the statutes and laws that have been governing us. 
How Do You Say Happy Birthday Spiritually?
Happy birthday, Sir! Today, we pray that the good Lord continues to make you reign over your adversaries. You have achieved so much, come so far, and transformed so many lives. Thank you for showing us the the light… we are eternally grateful for that.

Happiest of birthdays to the best pastor in town! This congregation and the ones to come are lucky to have the insights of such a wise man of God. My birthday wish for you is 

that all your heart's desires will be fulfilled and that more pleasant things are awaiting you in the future. 
Pastor, as you celebrate another year of God's divine blessings, it is my sincerest wish that you experience the best year of your, as you grow both mentally and spiritually. Best wishes to you and your children!

Wishing a very happy, majestic and blissful birthday to my favorite pastor of all time! Your constant efforts of pulling us back to the right path and closer to Jesus Christ will always be appreciated. Cheers to you, man of the hour! 

If I could think of one person who has lived an honest, virtuous life, you would be the only person in mind, Sir. Words are not enough to describe how grateful I am for your valuable teachings. May you live a longer and happier than your greatest expectations. Happy birthday!
Dear father, the presence of God has been so visible and magnificent in your life. For all your commitment to the ministry, you deserve all His blessings and so much more. Happy birthday and may your heart be more fulfilled in the coming years. 

Happy birthday! You are one of the best men I've had the pleasure to meet. God truly sent you to direct many others to the right path and lead them while they're on it, and it is my privilege to be amongst those people. As you turn one year older, may God continue to be in your heart, mind, and soul. 

Regardless of the hour, time and day, you have always made the extra effort and ran the extra mile to ensure that I'm okay. I could never ask God for a better pastor and friend. Happy birthday and all the best in your future endeavors! 
Happy birthday to the most compassionate, loving and understanding pastor. You have walked with me, picked me up when I fell to the ground, and helped me see past my mistakes, I have no doubt that great things are in store for you. 
Happy birthday, dear pastor! I could never thank you enough for your ministry. It has been a key tool in the transformation of countless lives, including mine. Please know that your service is not in vain. Celebrate this new dawn with thanksgiving and pride in what you have achieved by the grace of God. 
Every time your name pops up, I envision your warm smile and words of wisdom. You have been a fantastic counselor, a great teacher, and most importantly, a faithful servant of God. You are irreplaceable in our community. Hope you're having a great birthday! 

Today, we pray that you receive the most wonderful blessings and inner peace! Your support, guidance, and everlasting love will always have a special place in our hearts, for it is because of them that we succeed. Have yourself a blissful birthday! 

Happy birthday to the most instrumental spiritual father I've ever known! Your deeds over the years have taught us how to be responsible and virtuous. For that, we love and respect you dearly. 
Throughout these years, you have raised our value and standards beyond the most expensive gems'. I am so honored to have you in my life, father. Only God can properly reward you. Happy birthday, sir!
The fact that so many people look up to you, including other pastors, says a lot about how fascinating you are. Thank you for nurturing a spirit of faith and success in us, and for being the wisest go-to person. We truly don't deserve so much greatness in our lives. Enjoy this very special days of yours!
How Do You Write A Birthday Blessing?
In hindsight, you look just like any other person on the street… but having known you for some time, you fascinate me with your flowing rivers of patience, knowledge and wisdom. I can't picture my life without you in it. Happy birthday, Sir!

I was wondering what nice things I could say to you on your birthday, but I just can't find the words to express and esteem your incredible qualities. Keep being the great pastor and gentleman that you are. Wishing you a happy birthday! 

Happy birthday to the most dedicated and selfless pastor! You are one of the most influential people in my life. Thank you for always getting our of your way to make sure that we are spiritually nourished. I'm still looking for the perfect gift for you… but like you always say, there is no greater gift than the love of God, which you clearly have in abundance. 

Savour this very birthday, Sir. I'm so blessed to have a pastor who knows how to make jokes and liven up his sermons. You are one of a kind. Take this time to reflect on another year lived and on the great things ahead of you.
Over the years, you have made the devil extremely angry by pastoring and mentoring so many people… and succeeding for getting them to the right path! Lucky for you, God is on your side. Have a spectacular birthday.
Pastor, as we celebrate your birthday, we can't help but think about how inspirational and incredible you are. You are the cream in our coffee, the salt in our food, and the whip cream on our pie. Have a great time!
Dearest Pastor, happy birthday! I'm glad that God has blessed you with another one. If there is anyone I could think of that would change the world with his kindness, it would be you. Thanks for being so spectacular, and here's a toast to you! 

Happy birthday, Sir! We're beginning to struggle to find the perfect gift for you, because we celebrate your very existence almost every day. Don't forget to count your blessings, and Lord bless!

Happy birthday to the only old pastor who feels like he's 20! I hope your life is filled with youthful love, hope, and provision. You are the best thing that happened in countless of our lives.
Happy birthday dear Pastor! May you experience joy and peace like never before. For now, all you have to do is wear your birthday suit and make sure it is ironed properly because it might get wrinkled from all your dancing. Just kidding! Have a good one.
I tried getting you a birthday card that matches your age, but I couldn't find any stone tablets. I'm just joking! Enjoy this special day knowing you have a special place in our hearts for the amazing work you have done over the years. From the bottom of my heart, I wish you a very happy birthday! 
Happy birthday! Today, like most days really, you qualify to be called "youth" mainly because the word "you" is contained in "youth." I hope this little message brightens up your day. Thank you for being our place of comfort and source of wisdom.
Dear Pastor, you've been an absolute blessing in my life. Thank you for actively supporting different ministries. With this, all the members of the church would like to wish you a lovely birthday. May God continue to prosper you and shower you with everything you deserve.
Don't worry about getting old… Grey hair is a sign of maturity and great wisdom, which I can say is especially true in your case! After all you've been through, you have become both a strong and inspirational person for us all. Thank you for being the perfect role model. I sincerely hope the best for you and your family. Happiest of birthday!

Like David, you've been a wonderful shepherd to us. This church is lucky to have you guide us closer to serving God. Thank you so much, pastor. We wish you a memorable birthday! 
Birthday Message To My Spiritual Father
Happy birthday to you! 

Your selfless self is a model to us all. Your faithfulness to our Lord and His word is exemplary. However, you take care of everyone's needs that sometimes you forget your own. This Sunday, it is all about you! As a token of our gratitude, we hope that you enjoy this little buffet we prepared for you.

Pastor, your birthday is worthy of a spectacular celebration. This is our form of thanksgiving to how you've led this church closer to God, as well as to be of service both to the believers and nonbelievers. Enjoy your birthday celebration!

Happy birthday, Pastor! This is the perfect time to show our appreciation to you as our pastor and co-worker in the ministry. You are loved by many because of your extremely caring nature and dedication to serve. From today onwards, may you be blessed with love and happiness!

Whenever you feel down or feel like you haven't done enough for this church, don't dwell in that idea. This congregation is a family, and this church the home of God because of you. This birthday party is one of the many ways we can show you haw thankful we are that you are our leader. Happy birthday, Pastor!

Happy birthday to you! On this special day, we offer you our not only physical presents, but lots of prayers so you feel loved and special, as you are! May Lord Jesus bless you abundantly and immensely. We love you! 
Pastor, thank you for always being helpful and understanding towards us. You demonstrate what Jesus had done on earth. I know we could never properly thank you for all the things you've done for us, but once again… thank you. Happiest birthday!
They say that your birthday means a year less to live on earth. However, I personally see it as a blessing because it would mean that God still has a plan for you. Happy birthday and I wish you a long, healthy life, for I know that you are capable of great things. 
Sir, thank you for having been our rock in church and in life. You've lead the congregation very well, but you serve them with humility too. Happiest birthday to you!
Birthday Wishes For Pastor