Finding a funny and uplifting message to wish someone a happy 18th birthday is hard.
The 18th birthday is a milestone that should be celebrated with friends and family, but sometimes it can be hard to come up with something funny and uplifting to say. 
When someone celebrates this big milestone of a birthday, we want them to feel as special as they really are so we've compiled some funny ways for you to wish your loved one a happy 18th Birthday!
Here's our list of great things to say to someone who is turning eighteen years old! 
Happy 18th Birthday Funny Wishes
Just because you can be tried as an adult, it doesn't mean that you'll be taken seriously as one. Nonetheless, happy 18th birthday!
The best 18th birthday advice is to take the eyes of childlike wonder with you, all the way to old age. I keep a pair right here in my pocket!
I hope that your last year as a teenager flies by as fast as mine did. (Just kidding – don't do THAT!)
Other related articles you might like:
Happy turning 18 to one of the most amazing people I know! Well, top 100 anyway!
I bet you're turning 18 and wondering, why is life so unfair? Well, it is, so suck it up!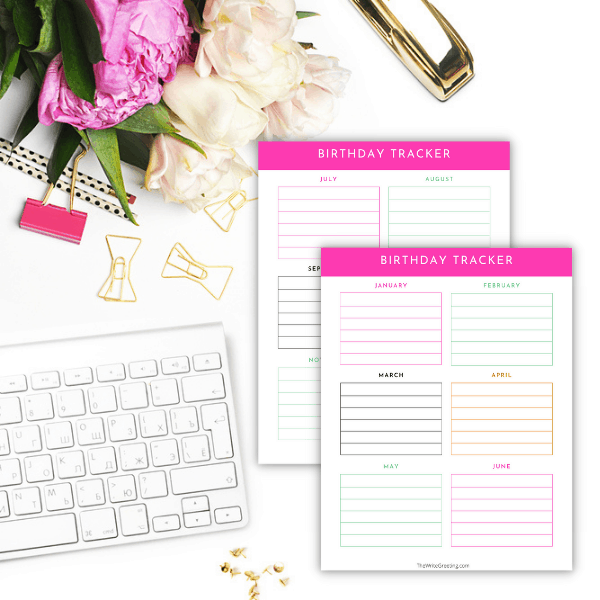 FREE Birthday Tracker Printable
-Don't forget another birthday with our handy tracker.
-Give yourself time to get a card or gift before the big day. 
-Easy to print PDF download. 
What Do You Say To Someone Turning 18?
You can now vote in elections…Enjoy your new found power…Don't let it go to your head!
When turning 18 a lot of us look forward to being able to go out with friends and try alcohol legally, I wouldn't recommend it though. The age here is 21.
Wishing you the best turning 18 on this planet!
One year closer to dead! Happy 18!
Now that your turning 18 I'll stop telling you what to do! Haha just kidding. No, really, that will NEVER happen. Mom
Now that you're about to turn 18, you don't get to look forward to adulthood anymore because you're already there!
Although you're still a kid to me, happy 18th birthday to a new man, love you.
Because you only turn 18 once, make the most out of your birthday. Soon you'll start to dread these occasions instead of looking forward to them.
Time is something that you wish would speed up until you turn 18; at which point, you realize that you wish you could turn time backward.
Even though you're turning 18, funny quotes about old age are coming your way.
Just because you can be tried as an adult, it doesn't mean that you'll be taken seriously as one. Nonetheless, happy 18th birthday!
The best 18th birthday advice is to take your sense of childlike wonder with you, all the way to old age; that way you'll appreciate life to the fullest.
Kids think that when you turn 18, you can do whatever you want. However, you're not an adult until you start to worry about the consequences that come from doing whatever you want.
Turning 18 Quotes For Myself Funny
Happy 18th birthday to the coolest person that any of us know: me.
Since I'm turning 18 today funny quotes, sentimental messages, and birthday memes are all welcome. However, I'd really like cash or jewelry.
No regrets and no fears here's cheers to reaching 18 years.
Please save me a seat at the adult's table from now on; after all I'm legal now!
When you're eating cake later today, you can thank me like an adult- that is, with an 18th birthday card, quotes about being 18, and at least 18 dollars.
I'm only going to get older from here on out, so congratulate me on leaving my youth behind before it shows!
Inspirational Quotes For 18 Year Olds
More than anything, turning eighteen means that my mind, credit line, and possibilities are all equally open.
Wish me a happy 18th birthday in any way you want, and I'll wish for cash app donations!
Today is the beginning of my career as an adult, so feel free to congratulate me on my first day on the job.
Everyone is invited to celebrate as I turn 18, but I want a corner slice of the cake.
Kid stuff can be for adults if they stay childish; in theory, there's nothing wrong with that.
For a happy 18th birthday, don't think of all the difficulties that may arise- just be prepared for the worst while you hope for the best.
Life doesn't start at eighteen, but it opens up wide and invites you to explore all the possibilities.
You appreciate youth more as it's passing you by; therefore, think of turning 18 as a chance to stop and enjoy the springtime of life.
To the newest adult in my life, happy 18th birthday! May you have the same confidence, spirit, and energy throughout the rest of your years that you've had every day as a kid.
Of all the 18th birthday sayings about civil responsibilities, just focus on the ones that keep you out of jail!
Asking for adulthood is like wishing away the best part of your life; however, you don't have a choice anymore! Happy 18th birthday, and welcome to adulthood.
Doing whatever you want is why people look forward to turning eighteen, but being held accountable as an adult is the other side of the same coin!
18th Birthday Quotes For Son
Friends, family, and a good credit score are the best assets to start with as you turn 18.
Turning 18 years old is like flipping a switch,  suddenly, you're old enough to do anything and get away with nothing.
Son, you're about to turn 18 and strike out on your own; however, you're always welcome to come back home…..for a visit.
When you were little, you'd wear your dad's shoes. Now that you're turning 18, he asks to borrow yours.
Although you're having your eighteenth birthday today, you're still my special little guy! 
The nine months that it took to grow you in my tummy felt like they took forever, but the time between your birth and today flew past in a flash. Happy 18th birthday, from your loving mom.

You'll always be my pride and joy, though today you turn 18, you're still my little boy!
Today you'll read lots of 18th birthday quotes for boys becoming men, but don't let it go to your head; after all, you still live with your parents.
Happy 18th. Now go kick the world in the ass!
Remember son, having fun will extend your life, improve your mood, and surround you with friends; however, too much fun will have the opposite effect! Happy eighteenth birthday.
18th Birthday Quotes For Daughter
Wishing a very happy 18th birthday to my lovely daughter! May your adult life be as wonderful and exciting as your childhood.
I hate to tell you but your childhood has expired, love Mom and Dad!
Whether you're about to turn 18, 81, or 8 you're my princess.
Thinking about our sweet little chick leaving the nest breaks my heart, but turning 18 means you'll soon be building a nest of your own. Happy birthday, and prepare to spread your wings.
Although it feels like just yesterday we were having tea parties, today is your eighteenth birthday party; however, we can still have tea!
Funny 18th Birthday Wishes
Although you were always a pain in the neck, stay stubborn, opinionated, and outspoken- not only as an eighteen year old, but through all your years!
Even though you turn 18 today, you're still a munchkin to me.
Just because you're turning 18 doesn't mean that your dad can't be your hero anymore; as it stands, I can still beat up your boyfriends.
Forget about the spoiled little brat that annoyed everyone in the house!  Now that you're turning eighteen, you can get your own house and annoy yourself.
Baby sis, now you're a grown-up, just like me! I still don't respect you, but happy 18th birthday. 
Happy 18th birthday to the little spitfire in my life. may you grow up to be a magnificent fireball!
Turning 18 means you are now responsible to clean up your own crap! Share the load!
Grown ups get blamed for all of kids' problems; having said that, get ready to be part of the problem instead of complaining about it!
Funny 18th Birthday Wishes For Sister
Unicorns, teddy bears, and baby dolls are still all over your bed, so don't think that turning 18 makes you an adult. 
Little sisters make great sidekicks, and you were the best. Happy 18th birthday, to my number 2.
Regardless of all the headaches, you gave me, having you as a big sister was great. Now that you're going to turn 18 and move out, it's getting even better.
We're related, but it's not like we're twins; after all, you'll always be the OLD one. Happy eighteenth birthday, to my much older sister.
Congratulations on surviving an entire childhood as my baby sister- now you're ready for anything and everything!
As your older sibling, I've already read all the turning 18 funny quotes, messages, and memes. Just eat your cake, and I'll go through all the cards for you.
Turning eighteen means that you're mature enough to realize that you don't need material objects to be happy. Therefore, you can let me have your gifts.
I'm glad that you're about to turn 18- so are mom and dad, but they're just ready for you to move out. I, on the other hand, am looking forward to the party.
Funny 18th Birthday Wishes For Brother
Big brother, you've always been a grown-up, in my eyes. Happy 18th birthday! Oh, I placed your naked baby pics on Facebook!
Let's hope that we get smarter as we grow older- in your case, you can't get any dumber. May your eighteenth year hold a growth spurt for your brain!
I'm the favorite in the family, but all eyes are on you as you turn 18. Enjoy your day in the spotlight before I steal it back!
I know I wasn't the easiest to grow up with, but at least you grew all the way up. Happy eighteenth birthday, to my resilient little bro.
Brothers are irreplaceable- at least, you are because mom and dad are done having kids. Therefore, there's no one else I'd wish a happy 18th birthday with brotherly love.
Growing up together was more like putting up with each other; however, I wouldn't want it any other way. Happy 18th birthday, big brother.
Eighteen is a special age, where you can vote, join the military, and serve as a juror but not drink alcohol.
If you ask me, you still look 14. However, mom and dad say you're going to turn 18, so I have to believe it. Enjoy your special day, little bro.
Like underwear, sometimes life will wear too tightly; therefore, remember to loosen up sometimes. Happy 18th birthday to my serious brother.
In a way, my presence is a present, so I decided not to buy you anything for your eighteenth birthday. I hope you enjoy your gift!
Today is like a wonderful dream
Reading funny birthday quotes for turning 18
In cards sent from family and friends
I wish I could turn 18 all over again!
Birthday wishes come and go
But you only turn 18 one time
So as you prepare for your celebration
I'm hoping everything goes fine
Happy 18th birthday to my dearest friend;
May the adventures of your youth never end.
Time is measured on a clock
Or the length of a girl's frock
First short, then long, then short again
Happy 18th birthday, let the fun begin!
Three cheers to eighteen years!
You can have fun without beers-
Being an adult is about more than cutting loose
That's advice that you can use!
Young at heart and mind as well-
If you're about to turn 18, I can't tell!
Blow out the candles and eat your cake
Enjoy your last day as a kid, you'll be adult when you wake.
Are you excited to turn 18?
It's the oldest you've ever been
But not the oldest you'll ever be;
Look at your parents to see what I mean!
We wish you a happy 18th birthday
And we hope your dreams come true-
With childhood out of your way
You can do anything that you want to
On your eighteenth birthday, I hope you have an excellent time
Because you won't get better with age from here, like an expensive wine.
Enjoy your youth, cake, and gifts while all those things last
You may feel like it took a long time to turn 18, but 30 sneaks up fast!
Funny Quotes About Turning 18