How To Create Affordable Thanksgiving Tablescapes That Look Professional
Thanksgiving is just around the corner and that means it's time to start thinking about your tablescape. 
But don't worry, you don't have to spend a lot of money to create a beautiful Thanksgiving table.
Thanksgiving is a time for gathering with family and friends to enjoy each other's company. It is a time for wonderful food to be served on a beautifully decorated table.
But it can also be a stressful time if you are trying to create the perfect table setting on a budget! There are so many examples out there of wonderful  tablescapes, but the cost can be extreme!
There are some tricks that will help you make your Thanksgiving table look expensive without spending an arm and leg. These tips will help save money, but still have everyone talking about how beautiful your thanksgiving table decor looks!
The Write Greeting has compiled these top 10 tips for creating an elegant Thanksgiving tablescape on a budget this holiday season, along with some examples of professionally decorated tables and how you can re-create them suing easily obtained materials!
No matter what style of decorating you prefer, we have something for everyone. We hope that our ideas inspire you to use these simple tricks to make your own holiday table look like it was decorated by Martha Stewart herself!
Thanksgiving Table Decor Tips:
You want your Thanksgiving table to look beautiful, but you don't know where to start. 
It can be super hard to know how to decorate your Thanksgiving table.  Do you go with a traditional theme or something modern?  Should you focus on the food or the decorations?
If you're like me, you might not be an expert at table setting. but never fear I am here to help you to create an inexpensive thanksgiving tablescape that is sure to wow your guests.
No matter what decor you decide to use, there are some general tips that should help you to ease your burden while creating your masterpiece.
Save yourself a ton of stress by setting up your table a day or 2 early. This way you will have less to do on the BIG day, AND you will have time to make any simple changes or additions you feel are necessary.
First, choose a color scheme.  You can go with the traditional Thanksgiving colors like orange, red, and yellow, or mix it up with different shades of green or purple.
Always start with a clean surface.  Clear off any unnecessary items from the table so there is plenty of room to work.
Next, decode on your centerpiece.  This can be anything from a simple bowl of fruit to an elaborate turkey sculpture.  Really it can be anything your heart desires, just have fun with it.
Now, figure out how many people will be sitting at the table and what kind of arrangement you would like.  Will it be a head-to-head set up, or will everyone have their own space?
Are you planning to do a buffet or will you be serving the food at the table.  Again, this all tells you how much space you have to decorate the table.
Choose a design before you shop. Don't feel that you have to stick with a traditional theme. As you will see in our examples, sometimes an elegant rustic chic can make a simple and beautiful theme. If you like it traditional, feel free to stick to that. The classics are classic for a reason.
Once you have decided on a theme for your table, stick to a few basic items and use a lot! For instance if you ARE doing a traditional "pumpkins and gourds" look, use the same items repeatedly around the table.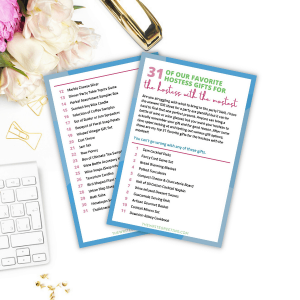 Tired Of Bringing The Same Wine Every Time?
-Get AWESOME & UNIQUE ideas for the perfect hostess gift!
-FREE Easy to print PDF download. 
-From simple gifts that won't break the bank, to more lavish gifts that will leave an impression!
Look for ways to personalize the place settings. Simple place cards with the persons name lets them know you were thinking about them beforehand, and makes them feel welcome.
If possible, set up a side table. One thing that can cause grief at the thanksgiving table, is an overcrowded condition. Having a side table to hold food will allow your guests to relax and enjoy the decor without feeling like they will make a mess.
If you cannot do a side table, look at letting the food itself be the focus, and use less decor items. Use garnishes to add the colors of the season.
If you have kids coming to your Thanksgiving dinner, set up a kids table with just the basics.  Make sure there's plenty of food within their reach, and put out crayons and thanksgiving themed coloring books so they can be entertained.
With these things in mind, lets dive right into some thanksgiving table decor. Below are 3 very different and very expensive looking tablescapes.
We have found very similar decor ideas that you can gather to re-create the looks at a fraction of the cost. You can easily re-create them at home, or use them to come up with your own tablescape ideas for your holiday table.
Table 1: Simple Rustic Chic
This design utilizes our tip about letting the food be the main focus. While you could add some decor elements, this tablescape chooses simplicity in its design, and the food items and garnishes and table runner/ napkins to bring in the flash of color that makes the holiday season so endearing.
The exposed wood table forms the base for this rustic design.
Thanksgiving is one of my favorite holidays.  There's nothing quite like gathering around the dinner table with friends and family to give thanks for all the good in your life.
Thanksgiving can also be an expensive time of year between food and decorations.  So this year I wanted to create a festive tablescape but on a budget.
This tablescape is beautiful and vey colorful, and I'm guessing vey expensive!
However I found similar items on Amazon for half the cost.  You can also check your local thrift stores, or Dollar stores.  Personally I love to shop on Amazon because I can do it in my pajamas! 
Rustic, Chic Table Setting
If you're like me, you're still trying to figure out what your thanksgiving table setting is going to look like.  I want it to be cute and rustic, but also classy.
I don't know about you, but that can be a daunting task!  
I am not a decorator, so it helps me tremendously to re-create a thanksgiving table decor that I love. The table above is beautiful and colorful, and if you like it too, all you have to do is go shopping and have fun!
For a simple, rustic holiday tablescape, this thanksgiving table decor will impress the family and friends, while staying kind to your wallet. No need to tell anyone you didn't spend a fortune! 
Table 2: Very Elegant Farmhouse
This design is a little more classy than the one above.
This design beautifully meshes a traditional "horn of plenty" idea with some finer dishes and antique glasses giving the overall design an upscale feel. Then, the jute silverware, rustic candle, and loose nuts bring home this elegant farmhouse feel.
You can find a whole section of personalized place cards on amazon, some with stands, some not. These are a perfect way to welcome the guest to the table.
Cornucopia baskets are becoming surprisingly difficult to find. Best bet is to head down to your locak Hobby Lobby or Michaels and find them n person. 
Elegant Vintage Meets Rustic Farmhouse
As you can see in this tablescape, you can balance very different feels to create something extraordinary. Meshing the country hues and textures of burlap, nuts and colorful leaves with the upscale elegance of sculpted dinnerware and crystal glasses you will come out with a tablescape that will blow your family and guests away!  
They will have no idea what an inexpensive thanksgiving you will have just put together.  Also let's be honest, diy thanksgiving is the most fun!
Table 3: Big City Loft Thanksgiving
Our last table takes a look at a very modern, non-traditional tablescape. A white tablecloth sets up an elegant scene. Once again, the design allows the food to be the star.
The green table runner, dishes, and garnishes add a very earthy feel, while few simple gourds bring in a bit of tradition and homey warmth to a modern big city tablescape.
Altogether this is the simplest of our tablescapes to put together. 
Uptown Elegance With A Down Home Feel
Even when going for an upscale modern and non-traditional feel, you can still find earthy elements to keep your tablescape warm and welcoming. Using a green color palette, this table remains festive while staying away from traditional Thanksgiving motifs. 
So if you are looking to save some money this year, but still want to have a beautiful Thanksgiving table, we've got you covered.
These three cheap tablescape designs are easy to recreate and won't break the bank.
So get creative and have fun with it!  Who knows, you may even end up enjoying putting together your Thanksgiving decorations more than usual this year.
What's not to love about that?
In the meantime, we hope these budget friendly ideas have given you some inspiration and we can't wait to see what amazing things you come up with.  Happy decorating!
Which of these Thanksgiving tablescapes will you be recreating for your Thanksgiving feast?
Thanksgiving Tablescape Decor on a Budget!