What to Write in a Thank You Note to Babysitter
There are many people in our lives who deserve our thanks. These are the people whos work makes our lives easier. One person on this list to remember is the babysitter. 
A babysitter plays a very important role in our life. They are the person who is entrusted with the care of our most precious little ones while we are away from home. Their hard work and dedication to our children makes all the difference in our ability to relax, recharge, and enjoy our time out. 
Our babysitter can be a very important person in the lives of the kiddos as well. A good sitter can teach, inspire and befriend our children in ways that we cannot. So a nice note of appreciation will never go wrong.  
How To Write A Thank You Note To A Babysitter
First and foremost, thank you for having such a positive impact on my children.  I'll be honest, we weren't sure about hiring you as our child's babysitter because you are such a young age, but you are such a bright person, I'm so glad we went with you.  You have such admirable qualities, I know that you always have my child's well being at heart. Thank you so much!
Our daughter has never  developed a bond this strong with any other babysitter we've hired.  This is a very rare thing, so I wanted to send a heartfelt thank you, we are deeply thankful to have you in our life!  
We hope that you're having a wonderful day! I just want to say that since we've had you, our kid has started making new friends and become more active in school. Not only that, she started doing her homework on time… we couldn't even get her to do that! Nothing can adequately express how grateful we are for your help around here.  You two have formed quite a strong bond, we hear stories about you two at bedtime, she really has so much fun with you 🙂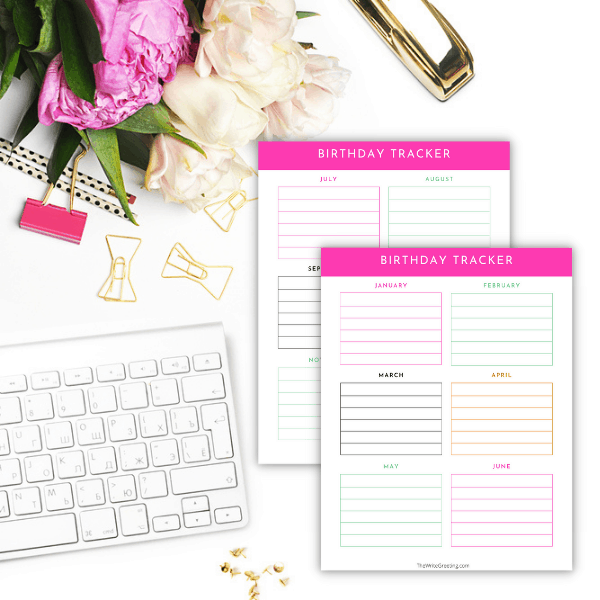 FREE Birthday Tracker Printable
-Don't forget another birthday with our handy tracker.
-Give yourself time to get a card or gift before the big day. 
-Easy to print PDF download. 
Thank you for introducing all these awesome games to our child. He is extremely fond of them. For someone so young, you are a very responsible person, and for that we are so appreciative.   
Your techniques work with our child like ours never did. He is more attentive now and stays more focused on things that he is doing. His focus has been quite a struggle, so your help with this has been awesome.   Many thanks for your flexibility and for taking care of our child so well, we couldn't think of anyone more trustworthy. 
Thank you so much for taking care of our little ones, so we could enjoy a date day out.  You have such amazing love for all our kids, it allows me to be stress free when I leave them with you.  Thank you so much for that!
The effort you put into giving the best care for our baby is so much more than what we expected and in the best way possible! The babysitters we had before you didn't invest so much into all his little activities like you do. Because of you, he's happier and healthier than ever. Thank you so much! 
Your qualities as a baby sitter are second to none! I have never seen someone so attentive and good with other children.  Many thanks for being so caring and sensitive to our beloved son. You are a precious asset to have, we could not have found a better person for him!
With this heartfelt note, we would like to say that we are so glad that we found such a wonderful babysitter.  We know how much our child loves you, it's so helpful for a parent knowing they have left their child with someone who genuinely cares about them!
Thank you so, so much for taking care of our child so well. You have been such a positive influence on our son, you have helped our child focus so much better.  You are an exceptional person, and we are super lucky to have you!    
Thank you for making our child become more responsible of himself and helping him focus on his schoolwork. He has made so much progress since he first met you.  We are introverts, so it's been great for him to be around such an outgoing person.  I just wanted to let you know that we appreciate you. 
With you and you alone, we know that our son is in very good and capable hands.  I know that he is a mischievous monkey sometimes, but he behaves super well when he is with you.  We are grateful for that responsible nature of yours!
Thank you so much for taking such good care of the kids last night.  They can be quite a handful, but you managed to keep them entertained and safe all night long, I really appreciate it.  I have seen such a great amount of change in my son since he has been with you. 
Thank You Letter to Nanny
You have such a positive, bright aura that kids are automatically drawn to you, and most importantly they like you!  You are by far the best babysitter we've had.  
Knowing that our baby girl is being taken care of by someone so caring and responsible gives us so much relief. You are a gem and we cannot thank you enough for taking your time to look after her!  Children require positive role models in their life, and you are certainly leaving a lasting impression on ours.  Please accept this heartfelt thank you note as a token of our appreciation. 
When my wife decided to go back to work, we were nervous about using a babysitter.  Thank you for being such a boundless aid while we were figuring out the work life balance.  We also appreciate helping our child with their school work.
Thank you so much for being such a great babysitter.  Our child enjoys hanging out with you, and particularly enjoys the bedtime story you read to him last night.  We feel lucky to have you in our lives.  Again, thanks for being such a great babysitter.
Heartfelt Thank You Note to Babysitter
I am very happy that my wife and I chose you to be our babysitter. You have made our lives so much easier and our kids experience with a babysitter such a positive one.  Thank you for letting the kids jump around and have fun, you are a brighter ray of sunshine in our lives.
We know that babysitting can be arduous work, but we hope you know that you're also helping them to learn and grow.  They're learning how to interact with other people, and they're picking up valuable life skills from you.  So thank you for being an important part of our lives.  We're truly grateful.
Seeing you taking good care of my son gives me so much joy.  I wish I could stay home with my baby, but for personal reasons, I am unable to do that.  Thankfully I have you!
I was both doubtful and scared about leaving my little baby in the hands of some stranger, but now I know that I have chosen the right person for this job. Thank you, you're the best,  
Thank You Message for Nanny
My husband drops the baby off in the morning, and picks her up so I never get to see you.  I wanted to tell you how grateful I am to have such an affectionate person baby sitting my child.  You make my baby feel loved and comfortable with you, this alone makes you a most precious asset.   

Thank you for never failing to give the best time for our child! He's always telling us about the spectacular stories you tell him before bed. Know that your company and help is much appreciated.  
Thank you for not only taking care of our baby boy, but also teaching him valuable life lessons, skills and manners! 
Thank you for being the babysitter of our dreams! You have no idea how your friendship with my kid has made him progress in his school and personal life.
I don't know about you, but I find it really hard to say thank you to my babysitter.  I want to say something that is meaningful, but sometimes it feels like such a cliché thing to say!
My babysitter allows me to go to work while my kids are well looked after and safe!  It feels wrong to just say "thanks"!
Here are some inspiring words to include in thank you notes for your babysitter:
If I knew that you were a first-class babysitter, I definitely would have hired you earlier. My daughter isn't complaining when doing her personal activities anymore! I don't know how you did it, but thank you from the bottom of my heart!
I am beyond thankful for all the work you put into taking care of my only child.  He absolutely adores the chocolate-chip pancakes you make for him after he finishes his work. Thank you for making the arduous work of a babysitter fun!
Our child has undoubtedly improved since we hired you. He also said that you are so thoughtful and kind. Thank you so much for treating him well. 
The assistance you have given us has been nothing short of spectacular and we really appreciate everything you do for us. You provide great peace of mind. 
What To Write In A Thank You Card To Babysitter
The passion you have for children is just marvelous.  We are lucky to have you, and your wonderful work ethic.. 

Thank you for taking so much burden off our shoulders! We didn't know that raising a kid would be this hard, but you've been a great help. She is always so excited to see you.  
My son is beginning to get high grades in his quizzes because of the work that you do with him.  Thank you for sharing those free resources with me, they have been super helpful.
Having you as my daughter's babysitter has been such a blessing.

 
How Do You Thank Someone for Looking After a Child?
You are literally all my son talks about, so I am really stoked to spend some time with you.  What you do for him means the world for me, for real… thank you for all the time and energy you put into our family!
I'm not gonna lie, the thought of leaving my kids to a random person scared me at first. Now, seeing you and what you've done, I know I made the right decision choosing you. Thank you for being someone I can trust.  
We could bever forget all the positive impact you've had on our kid this past year.  Thank you for all your effort and dedication!
Both of my kids are super content with you as their babysitter, so I will never stop being grateful to you.
What Should I Write to my Babysitter?
We've never seen someone outside our family take care of our child with such kindness. Thank you very much! 
Thank you for teaching my child the importance of hard work and showing what it really means to be a human being.  Looking forward to seeing you again!
I hope you know that my son sees you as his superhero. I appreciate the help you have given us for the past few years. 
Thank you for contributing to my son's physical and emotional well-being, I can see that he's growing into a fine young man, partly due to you! 
Thank You Note To My Babysitter
You have been enormously helpful over the past few weeks. Your hard work has really shown through as my daughter has become more bubbly, affectionate, and effervescent!
I would like to express my heartfelt gratitude for helping to babysit my child and treating him with such love and care. Now I know that he'll grow to become a gentleman like his father. 
You have so much love and tenderness in you, I don't know what I did to deserve you as my children's babysitter. Thank you, and I'll repeat myself again, my husband and I are so honored to have you.
Thank you for providing our children with the perfect, harmonious atmosphere to learn and grow. Your parents must be so proud to have a daughter as smart and compassionate as you are. Once again, thank you!  
It's so comforting to see that someone like you is around to keep an eye on my son's safety, as well as ensuring that he is happy and entertained while I'm away. Thanks for going above and beyond.
How Do You say Thank You to Your Nanny Family?
Sometimes I worry about my children when I am at work, but then I remember that you are with them, and I'm instantly relieved. I have never met anyone as friendly, funny, and responsible as you are. Keep up the good work! 

You are my secret weapon for my child's healthy eating habits. The way you have completely changed her preferences is nothing short of impressive, I'm hope it sticks. 
Before I put my kid into your daycare, I had no idea how to make fun activities for him or make learning fun. Thanks to you, he can experience all that now. I really appreciate the services you're providing my kids; because of your efforts, my mind is peaceful and I can focus on my work. 
I was so excited when I first found out that my child was enrolled in the best daycare centers in the district. Thank you for making early childhood education and children's safety your primary focus, and doing your job so well! 
Allow me to use this thank you card as a small token of gratitude for being the generous and caring person you are. My daughter is lucky to have you.
Thank you for making my child's safety and well-being your top priority. And of course, for encouraging other parents to vaccinate their kids on time. You have been so magnificent.
I would like to express my appreciation for your excellent work in caring for my kid. You've had a significant, positive impact in both of our lives. Thank you for everything you have done for Shane in the last three years, it's much appreciated!
I view myself as extremely lucky to have stumbled upon your daycare center. You have the best childcare facility, making learning interesting for children. Thank you so much for making sure my children receives the best care and attention possible. 
How could I possibly repay someone who has sacrificed much of their time and energy into caring for my children? Both of them couldn't have a better babysitter. Thank you for giving them the best care and education any parent would want.
How Do You Appreciate Your Nanny?
One way to show your appreciation for your nanny or babysitter is to simply express your thanks.  A sincere "thank you" can go a long way in making your nanny or babysitter feel appreciated.  
You can also try giving them a small gift, such as a gift card to their favorite coffee shop or restaurant.  Or, if you know they have been working extra hard, you could offer to pay for them to take a day or, or to go to a spa.
Lastly, one of the best ways to show your appreciation is simply by being respectful of their time and schedule.  Any of these suggestions will make them feel valued!
Babysitter Appreciation Quotes
Thank You Note For Babysitter