Thank You Messages to Foster Parents
Through commercials on TV, news articles and social media posts, you have probably seen that there are countless children that are in need of foster care all over the world. So the need for good foster parents is ever-present, and becoming involved with social workers, health care providers and educational programs are just the beginning of the difficulties that arise when taking on such a responsibility. 
Those individuals and families that dedicate their lives to helping children who need it the most deserve the highest praise, deepest gratitude and strongest prayers. 
Thank you messages to foster parents are the best way to show appreciation for the time and energy that they put into having a foster home full of love. 
Thank You Messages To Foster Parents
👪 Dear foster parents, thank you for putting up with all my shortcomings.  Thank you for being a better mother than my biological mother.  You gave me unlimited happiness, and I so so thankful to have you in my life.
👪 Hope, faith and positive energy can make all the difference in the life of a child or youth; that's why I am so blessed to have for as my role model.  
👪 It can be difficult for a young person from a different walk of life to fall in place when joining a foster family; but you always make it easy for them with such love and patience.
👪 Some children have boo-boos on their hearts from their past, you're the kind of parent that can kiss the pain away and help any child in your care.  
👪 You put everything on the line to help a child you've never met, because you have unconditional love for all kids. Thank you for always being ready to extend your arms to embrace someone who needs it.  We are thankful for amazing people like you.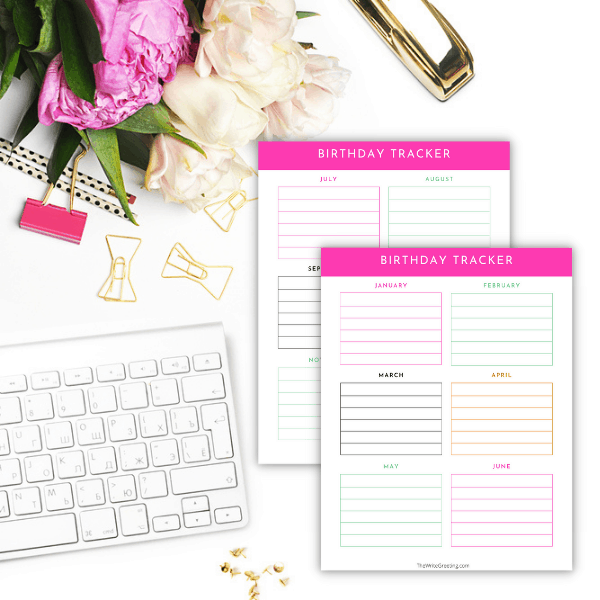 FREE Birthday Tracker Printable
-Don't forget another birthday with our handy tracker.
-Give yourself time to get a card or gift before the big day. 
-Easy to print PDF download. 
Foster Parents Thank You Cards
As a foster parent, there's nothing more appreciated than a heartfelt thank you from the child or children in your care.  But sometimes it can be tough to know what to say in those moments to show your foster parent appreciation, but it's important to encourage foster parents so they keep doing what you they do best!
.  Here are some ideas to get you started!
👪 There are no words that truly convey how much we appreciate all that you have done for us.  You took us in when we had no other family, you gave us all the love we needed and are raising us as your own.  We are immensely thankful for the support and love you have shown us.
👪 There ae many ways to define family.  for some people, it is defined by a blood family.  For others, it is the people who have been there a long time, through the sleepless nights raising someone else's family.  I am so grateful for the support and courage you have shown.  You are making a difference in people's lives!
👪 Thank you for opening your home and hearts to me.  When I first came here, I was scared and didn't know what to expect.  But you made me feel welcome from the beginning!  You stayed with me during my sleepless nights, you helped me to become a better person, and for that I am truly grateful.   
👪 You never hesitate to stick your neck out for your kids, no matter how high you have to climb a ladder to get advocacy for them. Thanks for always speaking up and never backing down!
👪 Raising someone else's kids is not a responsibility everyone can take on.  You have limited resources, probation offices coming in and out of your home.  It takes a lot of course and determination to do what you do!  I am forever grateful.
👪 When editing your resume, make sure to include that you're a "professional transporter"- the way you're running the kids to the doctors, sports games and school functions is definitely an occupation! Great job being a foster mom, taxi driver and life coach all at once.
👪 Altering your home and lifestyle to welcome another young person into your family shows that you're an out-of-this-world foster parent! Thank you for reaching beyond the stars for these stellar kids.
👪 Thank you isn't enough to express the gratitude I feel towards you.  You welcomed me into your home and treated me like family when I needed it the most, even though you are not a blood relation!  You provided a safe and loving environment for me to heal and grow.  I am forever grateful for the impact you have had in my life.  Thank you for teaching me that love exists!
👪 There are no words that can truly express the gratitude I feel for everything you have done for me.  You took me in when I had nowhere else to go and treated me like part of the family.  You made an effort even when I didn't!  It took all your courage to keep going, I'm so glad you did!
Foster Parent Thank You Quotes
👪 Thank you for always being there for me, thank you for being patient with me when I'm feeling frustrated or angry.  Thank you for never giving up on me, especially when I make mistakes.  Thank you for always believing in me and helping me to believe in myself.  Most of all thank you for treating me as your own child, and accepting me into your family.
👪 There's a lot more than love that comes with a foster child: participating in team meetings, IEP's, case debriefings, attending court, allowing parole officers into your home, are just part of the bundle. Thanks for shouldering all of that, along with the piggy back rides!
👪 I didn't know it then, but I know it now.  How blessed was I when you decided to adopt me.  I am immensely thankful to you for showering me with love and allowing me to grow as a person.
Thank You Letter to Foster Parents
👪 Dear mother,  (I get to call you that now!).  Thank you for opening your home and heart to me.  Thank you for providing a safe environment in which I could heal and grow.  Thank you for being my champion and cheering me on, even when I didn't believe in myself.  Thank you for never giving up on me, even when I gave up on myself.  Thank you for being my family when I had none!  I will never be able to fully express in words how blessed I am to have you in my life.  I am working to become the person you saw in me, even when I couldn't see it myself.
👪 Sorry that your home has become "Grand Central Station"- between the foster kids and the social workers, the traffic has been busy! Thanks for being so welcoming and such great people to work with.
👪 With you as a team player, your family always wins! Thank you for hitting it out of the park as a foster parent.
Thank You Messages to Foster Parents
👪  It's easy to love someone who's cute and sweet, but you have the skill to love even the most destructive, hyperactive and rowdy foster kids. Moreover, you bring peace into their lives. Thank you for your patience and grace! 
👪 Staying connected with your foster children long after they have left your home shows that everyone who enters your house is a family member for life. Thank you for opening your homes, wallets and lives.
👪 Thank you for opening your home to children in need.  Your selflessness and compassion are an inspiration to us all.  The care and support you provide makes a tremendous difference in the lives of the children you foster.  Thank you for making a commitment to improving the lives of others and accepting new children into your home.  We are thankful for foster parents like you every day.
👪 You didn't have to be a mom and dad, that's why it's so special that you chose to be! Thank you for providing foster care.
👪 Whenever your foster kids call you "Mommy" and "Daddy", the warm and loving looks in your eyes show that it's all the reward you want for your efforts. Thank you for being an awesome foster family!
How Do You Thank An Adoptive Parent?
👪 You both always make me feel adored and cherished, like a prince from an esteemed royal family- even though I never acted like one! Thanks for adopting me, and being there when I needed love and understanding the most.
👪 Before you found me I felt lost and alone, then you adopted me, and brought me home! 
👪 Most parents say that they didn't choose their kids, but as adoptive parents you did; and I'm so glad that you chose me. Thank you for being my Mom and Dad, on purpose. 
👪 Maybe some people wouldn't think to thank their mom and dad for encouraging, disciplining and inspiring them to be successful adults. However, being adopted, I know that I'm fortunate to have parents like you.
👪 You never asked me to call you "Mom and Dad", I just felt in my heart that you were.   My gratitude toward you both is as endless as your love for me!
Thank You For Adopting Me Quotes
👪 Blood isn't what makes people a family,  as awesome adoptive parents, you taught me that and so much more. Thank you for choosing to be my family.
👪 Even though I'm adopted, your DNA made me who I am: Dedicated, Nurturing, Affection. I appreciate having you as my Mom and Dad more than anything else!
👪 Treating me as your own child with love, tenderness and warmth helped me grow to be the person I am today. Thanks for giving me everything I need to give back to the community! 
👪 We may not look alike on the outside, but I have the same love inside me as the other members of my foster family.  Thank you all for accepting me as one of your own.
👪 Having you two as parents was like hitting the jackpot, I feel lucky every time I say "mom" or "dad." Thanks for making me the most fortunate kid out of the foster care system.
👪 My childhood before I met you left me ready to be disappointed by any kind of family. However, your warm, loving and consistent  care has not only never let me down but also caused me to raise my expectations of all future relationships. Thank you for showing me the kind of affection that I couldn't have dreamed of.
Thank You To My Foster Parents
👪 Genetic relation is often regarded as a definition of family, but you showed me that love, care and togetherness is what family really means. Thank you for making me a part of your home and being awesome foster parents.
👪 Even when you're grounding me from video games, movies and social media, I appreciate everything that you do for me. Thanks for letting me be a part of your foster family.
👪 When I felt unneeded, unwanted and unloved, you accepted me into your home. Since then, all the "uns" have fell off! Thanks for being my foster parents.
👪 I wanted to express my gratitude for you providing me a shelter to stay, clothes to wear, and food to eat. Moreover, thank you for devoting your lives to the foster care system, so that you can help other kids like me. 
Thank You Letter To Adoptive Parents
👪 It's hard for me to open up, but you've always been patient with me and shown me compassion, empathy and unconditional love. I want to let you know that not only do you have my eternal gratitude, but also my love as your adopted daughter.
👪 To be a part of a family with loving parents and wonderful siblings was like a fairy tale to me when I was little- now that you've adopted me and brought the magic of stories alive, I feel like nothing is unattainable.  
👪 Having you as foster parents has been a wonderful, enriching opportunity for me. However, that you're in the process of adopting me is a dream come true! Thank you, Mom and Dad.  
👪 My life was sad and gray before you adopted me, but the love, care and happiness in your home helped change that.  Thank you for brightening my life and view of the world!
👪 Every day is like Christmas for me, because having a Mom and Dad that love me and provide everything I need is all a child needs.  Thank you, for being the blessing that I needed.
Appreciation For Foster Parents
👪 Thankfulness comes easy to me because love comes easy to you! Thanks for being the kind of foster parents that make life simply great.
👪 I can tell that the love, attention and dedication that you've invested in me is more than some people ever get. Thank you for going above and beyond as foster parents.
👪 Being a part of your foster family may not be permanent for me, but you're the kind of people that have impacted my life forever.  You made a huge difference to this foster child!
👪 "Giving thanks" is a phrase that makes me think only of my foster parents, because everything that I am happy to have comes from you!
👪 Deciding to be foster parents makes you a hero, and being fostered by you makes me feel like a champion every day. 
Thank You Note To Foster Parents
👪 Being a kid is tough no matter how their home life is, and being foster parents isn't easy either. Thank you for going that extra mile with me.  I will never forget the kindness, patience, and love that you showed me during my time in your care.  I am so grateful to have the  most wonderful memories of your home with me now.  You are such sweet foster parents.
👪 Dear foster parent, your child has become a shining star in the classroom, thanks to your involvement in their educational, emotional and personal well being. You have my gratitude as an educator, parent and member of the community!
👪 Foster parents like you are one in a million.  The way that you nurture your children and motivate them to be their best and love one another is an inspiration to parents everywhere! Thank you for making your kids the luckiest in the foster care system.
👪 Thank you so much for all that you do for children in need.  I cannot imagine how difficult it is to open your home to children who are going through a difficult time, like me!.  Thank you for the amazing food you always had on the table, I have fond memories of our family dinners around the table.  You made such a huge difference in my life and I can never repay you.  I love you so much
Thank You Quotes for Foster Parents
60+ Ways To Send Thank You Messages To Foster Parents