Send Your Nursery Teacher A Message Of Thanks
When a parent puts a young child into a nursery, it is a very difficult. Entrusting the care of our special little one to someone else is never easy. It takes a special person to care for these precious gifts.
So it is nice to send a thank you message to a nursery teacher to let them know how much you appreciate their efforts. 
It is customary to send a message of thanks and appreciation at the end of each semester along with a small gift, to let your nursery teacher know that they are special to you. 
Below is our list of over 80 sayings, messages and quotes to help you get started. We have even included some gift suggestions to make it super easy for you!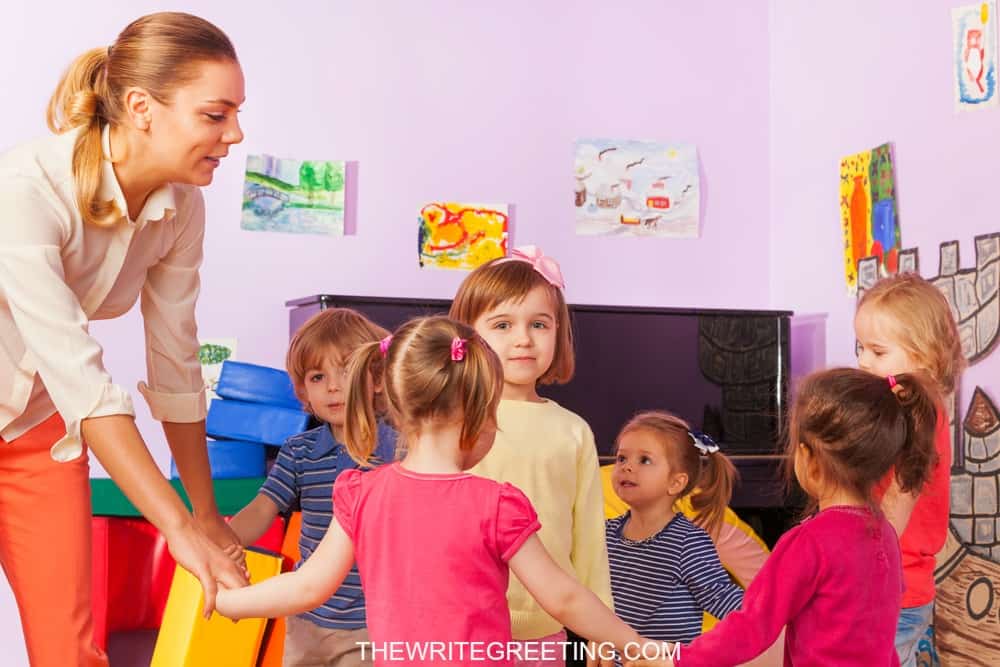 How Do You Say Thank You To A Nursery?
A million thank you notes would never be enough for the difference you make in my child's behaviour since day one! We are so happy that you are his teacher this year.
I would like to express my immense gratitude to you and all the other staff. I don't regret signing my child up in your school.  I can see that teaching is your passion, and that young children are your reason for living!
Dear teacher, your kindness, patience and thoughtfulness go a long way into the loving care of my children. From the bottom of my heart, thank you!
You have made my daughter feel so loved and cared outside of our home, and for that, I would make you teacher of the year if I could!
Every day, I hear great stories about you from my children. Better yet, I actually see progress in their hard work and social skills. Please let me know how I can thank you for all your time, energy, and dedication!
I really admire your for your patience, enthusiasm, and passion towards my kids. I really appreciate all of it.
On this teachers day, I would like to express my sincere gratitude to all the good teachers who have put so much time and effort towards my son's curiosity for learning. Your work is invaluable! 
We highly appreciate all your care and commitment to our children's growth… you're our superhero! 
Sometimes, I wonder how on earth you could make my son go from being super lazy all the time to being super excited about learning. Thank you so much!
With this little note, we would like to express our appreciation for the affection, care, and support you have shown to our precious baby. Any parent would be lucky to have you as their child's nursery teacher!
What Do You Write To A Daycare Teacher?
If anyone deserves praises for my child's staggering growth and development, it's you. You are easily the best thing that has happened to her. We can't help but feel super grateful and blessed this school year, so thank you! 
Many thanks for making my twin babies feel special, loved, and safe outside of our home. I feel incredibly lucky to have you as their teacher… like the kids always say, you're so awesome. 
You're a blessing not only to kids, but also to many working parents. Thank you for all of your hard work and dedication, keep it up! 
You can't imagine how much comfort and relief I feel when I know that my children are with you. I can say this a million times: thank you for helping me out! 
Having you as my child's teacher makes me so happy. [She/He] now dresses on [her/his] own and talks excitedly about how much [she/he] enjoys being in your class. I wish all teachers in the world are as good as you! 
Thanks for teaching my precious baby [girl/boy] how to write with a pencil, wash hands after using the restroom, and most importantly, how to respect others. You are extraordinary.
You know why I think you're fascinating? You broaden my children's minds and encourage them to eat vegetables! 
Thank you so much for teaching and entertaining my sons when I'm not there! I know I could never thank me enough for this, but please accept this little gift as a token of gratitude. 
My son can now identify many letters and numbers, and we can see him growing into a mature and independent gentleman, both academically and socially. Thanks for making sure that he is a step closer to his own bright future every day! 
Thank you for always keeping my daughter under your watchful eyes, and therefore out of trouble! You're also such an awesome friend to her, and whoever is a friend to her, is a friend to me. 
How Do You Thank A Teacher In A Message?
You've been nothing but helpful and inspirational to my child. My [son/daughter] is now teaching [his/her] younger sibling the ABSs flawlessly. It's wonderful to see! 
Thank you for introducing my daughter to the world of arts and crafts. She does that a lot in her spare time now.
I'd like to give you the credit you deserve for guiding my child, as well as for making your class a comfortable place for him and the other students. I can see that you take their education seriously, and that is admirable. 
Thank you for being my daughter's role model and for always being such a great person to be with. Really… thank you for all that you do.
I was extremely excited to see my child practicing how to count. He has learned so much from you, so I would like to thank you for your endless hard work and care for him.
Thank you for making my days stress-free by teaching and caring for my child while I'm at work. You have no idea how much that means to me. When I hear 'great teacher', I immediately think of you!
Many thanks for keeping tabs on my little boy and overseeing his progress every single day. You are truly the best teacher my son's ever had… he loves you! 
Today, I would like to express my gratitude to your for volunteering to be my child's teacher at school. [His/her] academic and social skills have greatly improved because of you. It's what every parent wishes to see from their child. Again, I'm super grateful!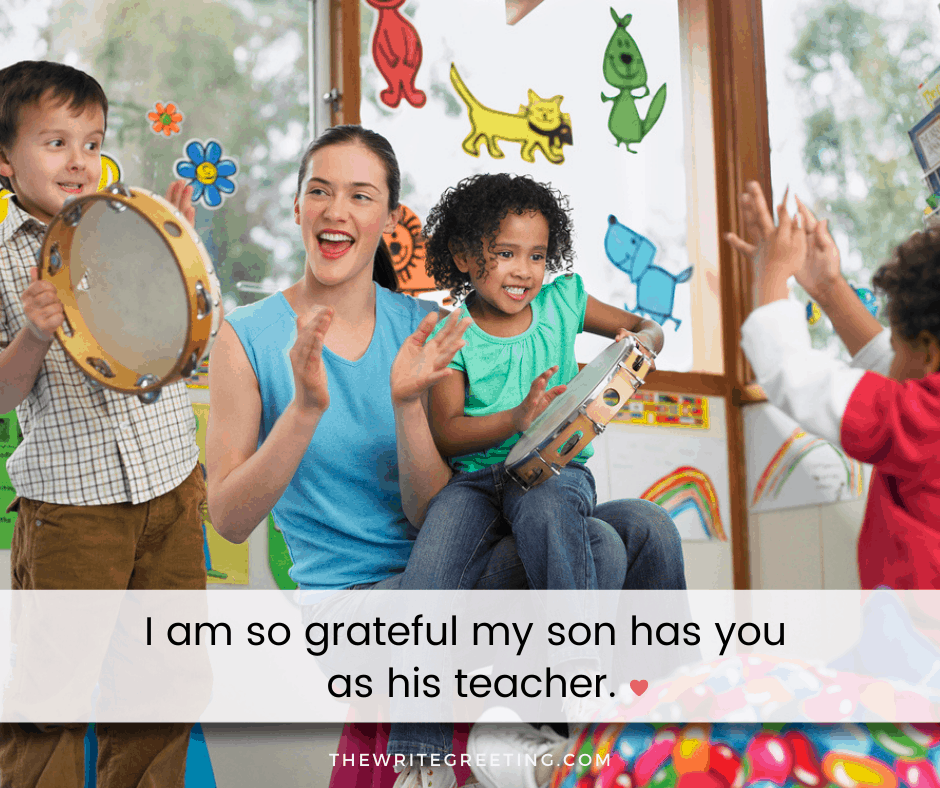 You have made our daughter's first year of preschool so memorable by creating a nurturing environment for young minds to grow. So, thank you for being such a passionate and caring teacher! We are beyond thrilled to hear that she's having a great time with you. 
I knew from the second I first stepped into your classroom that you were a dedicated and energetic preschool teacher. Six months in, my child has grown and learned so much in your classroom. For that, I'd like to thank you for being a true gift in all of our lives!
How Do I Tell My Teacher Thank You?
This school year has been a bit rough on everybody, but I would like to let you know that we feel so lucky that our daughters were put in your classroom. You have created a caring and engaging environment that has set the tone for his/her entire educational career. You have molded our child into someone who is excited about school, and genuinely curious. Thank you for your marvelous work.
We know that it's very hard and tiring work, so we'd like to take a moment and thank you for your patience, kindness, and enthusiasm towards our children. You are such a wonderful teacher and human being.
It's rare to find a person as dedicated to their profession as you are. Thank you for being an unmatched preschool teacher to our children. Words can't describe how grateful we are to have you. Our child loves being in school with you. 
Thank you for your time and patience in dealing with my incessant questions about my child's development. I know had so many questions, but you made me feel perfectly comfortable. Your commitment to my child is the reason he/she is ready for the next step- kindergarten. It is such an amazing feeling to know that he/she will be able to enter next year as an able and confident student. And this is all because of you! 
You have taught our child to imagine, to be inquisitive, to explore, and try to solve problems laid out in front of him/her. Therefore, we can never thank you enough for infusing positive feelings about school in him/her during this foundational and formative year. Furthermore, we are so grateful that our child has had the opportunity to get off on the right foot for what we hope will be a lifetime love of learning.
Thanks to you, my child has grown by leaps and bounds this year! I was pleasantly surprised to see that he/she has learned to share, follow instructions, and has even tried to help me out with chores. He/she has matured so much in such a short time. It has been heartwarming to watch, and I appreciate the activities you have used to foster this growth. I really want you to know that I genuinely recognize and value your hard work and enthusiasm. You are easily one of the most selfless and tireless person I know.
Thank you so much for your positive influence on my little girl. Having you as her preschool teacher was the best experience, and we'll certainly miss you next year.
It always warmed my heart to see the artwork my boys brought home from school…. but you know what warms my heart even more? It's the fact that I know my child is in great and capable hands with you. Thank you for the thoughtfulness, patience, and kindness you have shown them. You are literally a blessing straight from Heaven..
My child is always so completely fascinated by everything you show her in your classroom. You deserve full credit for having created such a creative and interactive learning space. I'm sending my sincerest gratitude!
Preschool is the time when our children's minds start to be molded, and I feel safe trusting you with that important task. Thank you for being a nurturing and considerate teacher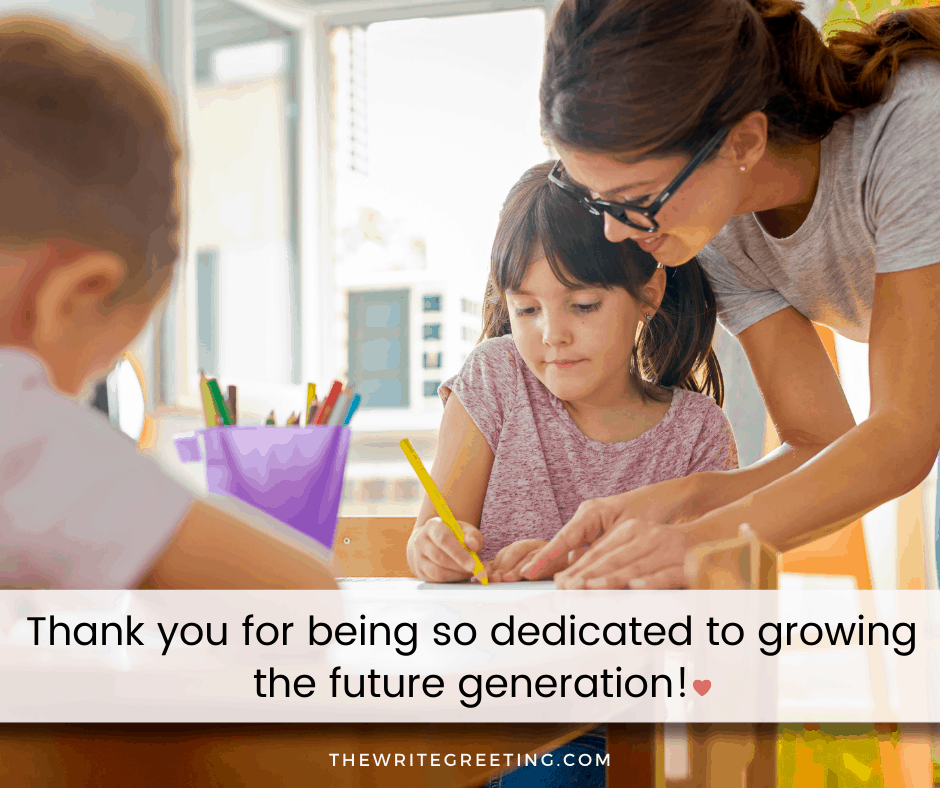 Thank You Message For Teacher Appreciation
Just to let you know, our child has consistently been excited about going to school every day now, and it's all because of you! We don't know how you do it, but we would like to say thanks for fostering a healthy and interesting environment where our child has begun to develop into a thoughtful and hardworking little student. You are a true gem in this school! 
Thank you for your utmost commitment to my child's education! You always extra time to make sure he understands everything in class, and that doesn't go unnoticed. You're the best preschool teacher I've ever encountered.
On behalf of all the parents, I would like to say thank you so much for being an exemplary teacher, especially for this important year of our children's preschool experience! Know that we all greatly appreciate your constant kindness and thoughtfulness. Please keep up the incredible work for future children!
My child and I would like to immensely thank you for all of the care and dedication you have provided him this year. I am thrilled that my child was able to kick off his education with such a positive and enriching experience beforehand, all due 100% to you! I can never say this enough… but thank you, again! 
Thank you for teaching out child so many practical skills, as well as for helping him/her grow intellectually and emotionally. The school should give you some sort of award for your work! great
I need you to know that I really appreciate you for being one of my child's very first mentors. Your kind heart and brave soul is an inspiration to my child. I am sure it will continue to be so in the future. We can never and will never forget the impact you have made.
Like any parent, I initially felt uneasy about leaving my child in a stranger's care. However, I see how talented and nurturing you are, and how my child can't stop talking about how cool you are! Thank you for putting me at ease and for being a great teacher.
Thank you for making your classroom the perfect place to work and grow. My child completely loves you and enjoys your all your classes. You have no idea how much I appreciate your work. 
My child takes on new challenges every day and succeeds, all thanks to your guidance. It's amazing what can be achieved with the right teacher. Now I can see why every kid adores you! 
You have taught my son the value of hard work and how to be an avid learner. You have also put him in a position to have great academic success in the years ahead of him, so for those and many other reasons, I would like to sincerely thank you. I did not know what to expect from preschool, but I could not have imagined that it would have transformed my child like this. You are the Wonder Woman we never knew we needed!
I am thrilled you have successfully taught my child how to be a learner this past year. You have put him/her in a position to have academic success for many years ahead, and we appreciate this so much. I was not sure what to expect from preschool, but I could not have imagined it would have transformed my child like this. We owe it all to you.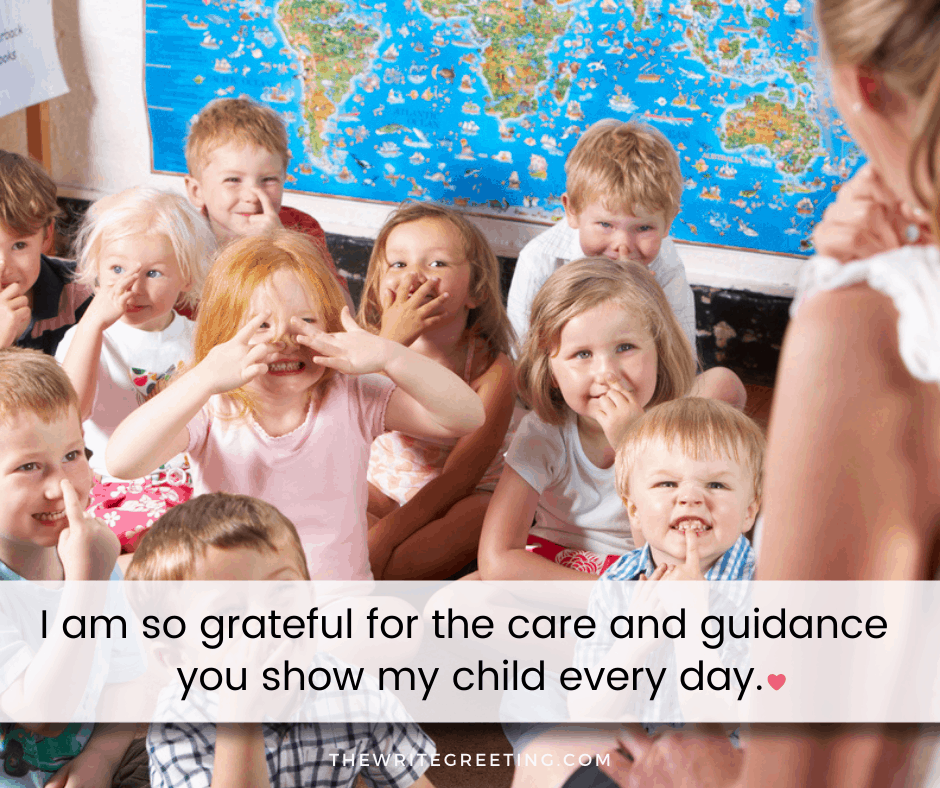 Words Of Gratitude For Teachers
Not only can you educate a child, but you can also keep an eye on him/her while we parents juggle so many things. Thank you for the utmost care and attention. You're a true gift to our children and us!
Thank you for all the support and help you give to us parents! There is literally no other person on this earth that we trust with our children more than you. Here's to the best nursery teacher!
My son enjoys your classes so much, so I thought a thank-you was simply necessary. You contribute so much to his development and growth, I am beyond grateful for it.
As young parents, finding such an experienced preschool teacher is the ultimate blessing… and you, undoubtedly, are it. Thank you for always coming up with creative ways to teach our children! 
Thank you so much for appreciating our child's personality and tailoring an individual approach to get the most out of him/her. Your nursery class is better than we could have ever hoped for. Thank you for being an awesome teacher.
I had never seen my daughter so enthusiastic about learning and exploring the world before we registered her your preschool class. Thank you for igniting that spark! I knew she had it in her. 
Thank you to the most amazing preschool teacher. I am eternally grateful for the knowledge and guidance that you have passed onto my child.  Hopefully, it will prepare him/her well for a fruitful academic career in the future! 
NO ONE has shown true passion for teaching over the years more than you, and therefore I could never thank you enough for molding my son into an inspired and curious learner. Your talent is just magnificent.

Your work as a nursery school teacher has truly been unmatched. Over the past fe months, I see

 fast growth and development in my child, so I wish to thank you for helping that change along. Your work as a teacher has truly been unmatched.
Heart Touching Message For Teachers
Finding success in life is like carving a statue out of a marble piece. Thank you for giving my child all the tools needed to do that. You are one of a kind teacher.
I am so happy to see my child fully prepared and enthusiastic to go to primary school. Your amazing work is beyond compare. Hence, please let me express my immense gratitude for your work.
I couldn't be happier to have you as my child's teacher and friend. You have been a wonderful educator and a phenomenal partner during these strange times. Thank you for being so dedicated to growing the future generation!
You have a God-given gift to all the kids and parents in this nursery school. Good work deserves to be rewarded, so as a token of appreciation, please accept this gift all the parents chipped in on… thank you so much!
My kids never comes home without having some exciting new knowledge to share, and I'm grateful that you've create such a nurturing environment for our child. Thank you for sharing your gift of teaching with them.
I have full trust in you as a teacher, because I know that you care for my child just as much as I do. Thank you for the incredible work you do every day. Keep it up! 
The progress my son has been making since you were his teacher has been unbelievable. This proves that your work is just as wonderful as you are. Much thanks!
Just wanted to let you know how much my husband and I appreciate the work you do every day. I know we don't say it enough, but you're the best nursery teacher my kid could possibly have.
On behalf of [name] and our whole family, I would just like to say: You're awesome! Thank you for your commitment towards all of the children in your classroom.
Thank you for everything you've taught Emily this year. It's remarkable how much she's learned, especially to other kids I know. I love that she reads a lot now.
Thank You To My Nursery Teacher
You make learning an adventure for my son. I'm so grateful that we found you, and I hope that all you've taught him will remain in his mind as he grows older. Thank you very much! 
A million thanks to you! I noticed that my child has improved significantly when it comes to his learning. He/she can now recite the alphabet and construct short words. No one can deny that his/her progress are because of your dedication. Thank you so much for taking care of him/her! 
Dear teacher, thank you for dedicating your time and energy to my child's development. I know he/she can be a lot to handle sometimes, but you have managed to deal with it anyway and overcome his/her overactive nature. As a parent of your pupil (name), I simply admire you, so I would like to say thank you mam/sir!
You have no clue how much I appreciate you. I know that being a teacher is not easy, especially a nursery school teacher, but you've done amazingly at such a young age. Thought you might also want to know that you are my daughter's favorite teacher. Therefore, thank you for setting a very good example for her, and sheltering her from the bad ones too! 
Thank you, teacher! It feels so good to know that my little kid is being taught by a teacher like you. I have witnessed your dedication and love in teaching your nursery pupils and I'm so blessed that my child is in your class. Thank you and may God bless you in everything you do! 
Nursery Teacher Thank You Quotes
Thank You Message To A Nursery Teacher