Well Wishes On A New Shop Opening
When someone you know is opening a new business, it is a great idea to send them a card of congratulations and new shop opening wishes. The process has been long and hard, so it is only right to celebrate their achievement with congratulations messages. 
Finding the right thing to say can be difficult since this is not something that happens every day. So we have gotten you started with over 75 sayings, greetings and quotes to let them know you are proud of their success, and wishing them well. 

How Do You Wish Someone Good Luck In A New Business?
Building a new business requires vision, passion, ideas… and boy, do you have all of them! That's how I knew you are going to succeed. Good luck with your new shop and may customers flock in all day, every day! 

As you begin a new journey to make your fondest dream come to life, I wish you luck and prosperity! 

Nothing could describe how proud I am of you, darling. This is a brave and beautiful way to establish your own identity. 
Brick by brick you have built a charming little shop. I pray that year after year, you'll get more and more out of this venture. 
Your new shop is the perfect reflection of your mom's exquisite taste. I have no doubt that it will bring you lots of success. 
Who would have known that a brilliant business mind ticked behind that sweet face? I am beyond happy for you. If you still need help, remember that I am always here. 

You have proved once again that hard work pays off so artistically. Congratulations! I will definitely spread the word about your cozy and wonderful shop. Wishing you much blessings and happiness! 

Congrats and good luck with your new store! May every challenge you face turn into a marvellous opportunity. 

In life's balance sheet, self-conviction is a major asset… and you have proved that it can take you to places you've never dreamed of. Congratulations on your new boutique! 
Your shop is all about your dream, your passion, and everything you have believed in… everyone can see that. So, congratulations and I wish you all the best in this new adventure!
Congratulations for all your admirable accomplishments with this venue! May luck always be by your side as you start your first days there and in the days to come. 

Congratulations! You deserve a little celebration for all your hard work.

Your new startup is just marvellous… I wish you all the success in the world!

Not everyone has the guts to quit their jobs, start their own businesses, and reach for their dreams. Honey, you're doing great! 

As you snipped away the ribbon, all I could see was the joy and pride illuminating from your face. You are a queen, all good things will come your way. Continue the good run! 
How Do You Congratulate A Business Opening?
No more boring 9 to 5 job. You are now the master of your own time. Best of luck for your new boutique!

A home business is just fitting for you… a perfect new beginning for a young lady with diligence, a vision, and an entrepreneurial mindset. Best wishes!

You did it, my friend. Couldn't be happier for you!  This day is the special event that you have worked so hard for. 

Props to you for chasing after your dreams, and actually making it!

What a better way to put yourself out there than your very own flower shop! More importantly… you have grown so much this past year, baby girl. I wish you nothing but the best!
Opening your own shop proves that you have the courage to dream big and the strength to face all obstacles that may arise in the process. Congratulations, my little warrior! 

As you step into your new and fully decorated shop today, just remember the wise words my father said to me and now I say to you – customers are kings. If you make them happy, they will always come back. Good luck! 

New shop, new beginnings, new memories. I'm so proud of you, and I wish you a truly wonderful ride! 

A little company to call your own… how amazing is that! Seeing you behind the counters, managing everything, inspires me in so many ways. Congratulations and much success! 

There is indeed a season for profit and a season for loss. However, I know that a smart businessman like you could handle and overcome anything thrown your way. The shop is in good hands! 
You left a high-paying and secure job to open your own shop… in these tough times, I can only admire your courage and ambition. Wishing you good business and great days ahead!   
Every employee dreams of being a boss, but very few go after it. Not only did you chase it, but you have also made your dreams come true with your new store in the heart of this city. Celebrations are in order! 
Congratulations on the grand opening of your new restaurant! You really did it… stepping out of your comfort zone and going on a path most people are scared of. May this venture bring you plenty of happiness and years of prosperity! 
Congrats on your new business franchise! You dared to make your dreams come to life. May you find success and fulfillment. Best of luck! 
Congrats on the opening of your new boutique! You have always resisted those nay-sayers and thought big, which paid off. You have shown be that life is indeed too small to not believe in yourself. Now, you can finally reap the results of your hard work!
How Do You Wish Someone Well Professionally?
I heard through a little bird that you opened a new shop in the city. You could not have picked a better place… As a gift, I would gladly design business cards for you and your shop. For now, congrats on all your hard work! 
Your new interior design shop in the business district is just amazing! I know that with your knowledge and bright ideas, you'll take the design business by storm. May God bless you and aid you in realising your full potential! 
Congratulations on opening your new tailoring shop! Your immense enthusiasm, passion, and determination will undoubtedly result in a bigger and better business. Don't be discouraged if you experience a few mishaps, I know that you can pull through. Good luck, love! 
With this new shop, your lifetime dream has finally come true! I am really, really happy for you. I hope this message will give you joy and enough support, especially for the challenging first days. Regardless, I will always believe in you and your abilities. Much love to you and your loved ones!
This magnificent shop is the result of your complete dedication and hard work, savor it for a bit! I know that your grandparents would be so proud. 
I wish nothing but unlimited success and joy as you begin your life as a businessman. Wishing you all the best! 

With careful planning and long-time preparation, your dream shop can finally open! May you have a very happy grand opening.

We are all so proud of your tremendous achievement, congrats! No matter what happens, we will always have your back.
Opening and managing a shop is not exactly easy nowadays, but you have proved to us that we can conquer anything with hard work and dedication. Your beauty salon is fabulous! 

I wish you all the success as you officially open your new store. For now, let's make this the best grand opening ever! 
I am more than happy to attend your grand opening. Congrats on escaping this dreadful 9 to 5 work life!

It's our privilege to get a glimpse of your shop before it opens, It truly is a gem, and seeing that smile on your face, I know that you feel the same way. Congrats! 

Best of luck to you in starting your new business. With you on the helm, this restaurant is going to make it big! Congratulations and good luck!
I was so excited just to see the initial design of your toy shop. Now that you're going to actually open it, my happiness is jumping all over the place! 

Seeing you reap the fruit of your labor makes me so proud of the wonderful woman that you've become. May God bless you with a lot of customers and a healthy, happy life! 
Best Wishes For A New Shop Opening
Opening up a new shop is not easy feat. It requires sheer dedication and hard work, both of which are your strongest qualities. I'm not surprised that you're standing where you are. You are a role model for every one of us. 
Heartiest congratulations on this fascinating new establishment of yours! In this journey, may you become a better person, in business and in life.

You have put your blood, swear and tears into this shop. Seeing it come to life does not just give me great joy, but also motivation to make something of myself. Best of luck to you and your new business!

Only the most determined and focused people can achieve what you have! Your venture is your new baby now, take care of it. If you continue on this path, you'll see more success to come. Wishing you all the luck and happiness! 
Congratulations on your new ultra-chic boutique! Opening and running a business is not an easy task, but honey, you are so graceful doing it. I have never met a more sincere and hardworking person as you… Keep up the good work and you'll go big in no time at all!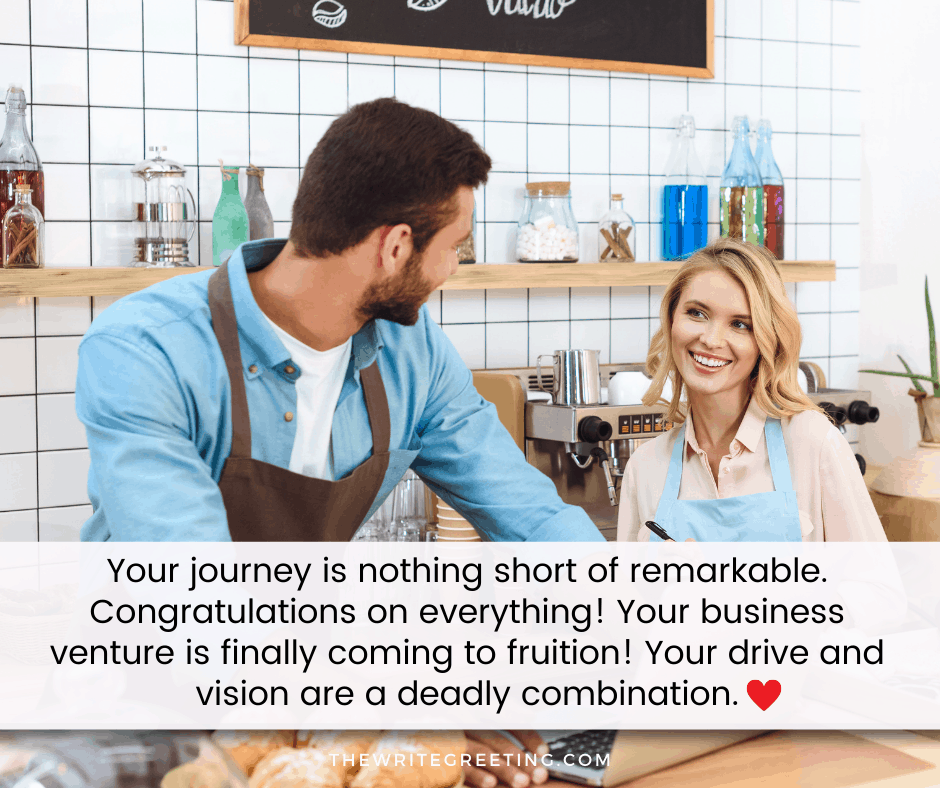 Everyone knows that there is no shortcut to success, and that is just another reason why I admire you. Your commitment to this was so powerful. 
Congratulations on proving to the world that there is no shortcut to success. Whatever you have achieved, it is the result of your hard work and the effort that you have put in. May God bless you and may you have more success coming your way.
Congratulations for finally making your dream come true! You are unquestionably the brightest and most hardworking person I know. Work even harder and your accomplishments will bring you places! 

I can see you all over this shop, and that's a really good thing! Without any of your hard work and dedication, it wouldn't have been possible for you to establish your new venture. You have not only proven yourself to the world, but to yourself. A big and warm congratulations to you, dear! 

Congrats on this new venture of yours! Work 10x harder and you shall reach the stars. Good luck and if you need anything, I'm just a phone call away. 

Today is the day for us to dance and sing along to your success. After a lot of sleepless nights, you have finally been able to achieve what you have dreamt of since you were a little child. Wishing you the best of luck for the days to come! 
Not everyone gets to fulfil their ambitions. But if I have to place my bets on anyone who could, it would be you! You have all the necessary qualities for a successful business owner. Congratulations on this achievement!

Hard work never fails to pay off, and you have proved to the entire world how true that statement is. Good luck with your new venture! I know you can achieve even more. 

After all those months of hard work and sacrifices, it is time for you to relax… or celebrate a little! Go on, sing and dance! For us, it is a moment of pride. May your shop be flooded with customers everyday, and more importantly, may they be as impressed as we are. Here's to a bright and promising future! 

Congratulations on your achievement! Not everyone is able to build something for themselves at such a young age. Let's cheers to that! 

Congratulations on finally opening your store! 

You have finally proven that all your hard work was worth it. 

May you rise even higher and achieve all the success that you very much deserve. 
Sending Wishes For A New Venture
Congratulations on the grand opening of your much-awaited shop!! May your business prosper and your coffers overflow. 

May your business bloom in the months to come! You have proven that you can be both a dreamer and a doer! May you find good luck and prosperity in the coming years. 

So sorry that we couldn't be there on your big day, but we're sending you our warmest and heartiest congratulations, darling!

Your journey is nothing short of remarkable. Congratulations on everything! Your business venture is finally coming to fruition! Your drive and vision are a deadly combination. 
Real entrepreneurs don't wait for chances, they create them… and that's exactly what you did. Congratulations on your success! 
I hope that you and your business continue to prosper for many years to come. Once again, congratulations and best wishes! 
Congratulations on this shop. I have a strong feeling that your business will blossom like no other venture you did… Have a wonderful time at your grand opening! 

Cheers to the grand opening of (name)'s store! May you and your store be blessed with nothing but the best. 

You deserve all the success and happiness you have for all your hard work and strife. On your official opening, I hope that you'll take a step back and realise what good thing you've created. 
This shop of yours may be small now, but I know that it is destined for greatness. You have all the ingredients of being a successful entrepreneur.
A toast to your new business! With your perseverance and wits, there is nothing that you cannot overcome. This shop is in perfectly good hands. Congrats, my friend! 
You have proved once again that hard work pays off! Keep on going and I promise, you will always have my endless support! 
I know you are just starting, but the top is not beyond reach to people like you. May your new business get you lots of fortune, name and fame!
Every dreamer is not a doer and every doer is not a dreamer. You, my dear, are a rare yet incredible combination of both. Best of luck on this new adventure!