Have a Great Weekend Wishes
Are you looking to make somebody's weekend just a little brighter?  Take the time to send someone some have a great weekend wishes is a simple but really thoughtful thing to do.
Whether it's your friends or family, or coworkers or even strangers around you, sending some happy weekend messages could impact them more than you realize!
Whether you prefer sending texts, emails or even a hand written card, it doesn't matter how you send your happy weekend wishes, it just matters that you actually send some!
How Do You Wish Someone a Nice Weekend?
There are many different ways to wish someone to have a great weekend.  You can shout it to your next door neighbor as you are getting the mail, or wave to your colleague who is leaving for the day and shout some happy weekend wishes to them.
What matters most is that you take the time to wish someone have a great weekend wishes.  If you're not sure what to say, you can use some of our great weekend wishes below.
I hope you have a lovely weekend with your parents in town.  This past week has been crazy busy, you deserve a fun filled weekend.
Wishing you an awesome weekend, I'm so jealous, I would love to be going to _______ too, happy weekend to you and yours.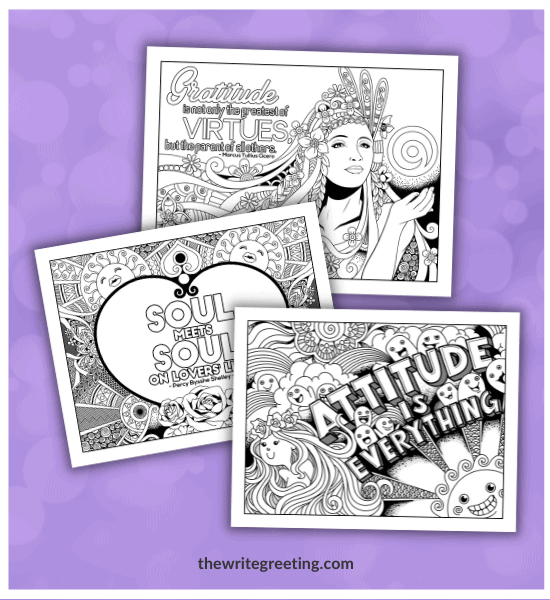 Download these FREE beautiful positive affirmation Coloring Pages
Wishing you a wonderful weekend, I hope you have a blessed weekend hanging with your girls.
I know how much you were looking forward to this weekend, enjoy a restful weekend, this upcoming week is going to be crazy for our team.
I hope you have a nice peaceful weekend.  Make sure you take that bath tonight and get some much needed rest.
Enjoy your wonderful weekend filled with lots of girl time, happy weekend.
Wishing you a very happy weekend.  I know these past few weeks have been crazy busy at work, so take this weekend to rest up before your long week ahead.
Have a pleasant weekend, you deserve it x.
Enjoy the relaxing weekend that you planned for yourself, you absolutely deserve it.
Yes the weekend is almost here.  Two days of doing nothing, hello beautiful weekend, I'm coming for you.
Enjoy that well deserved cozy weekend with your boyfriend, I know how much you have missed him as you haven't seen him for an entire week.
I know you are heading out on the town this long weekend, I hope all your dreams come true and you meet Mr. Wonderful, happy weekend.
You have worked super hard this week, it's important to rest at the weekend and get back to it Monday morning.  Have a great weekend ahead my dear.
I know you have some amazing weekend plans made.  You have worked so hard this week in school, you deserve to have fun in your free time.  Enjoy.
May this weekend bring you all your heart desires.  It's important to take advantage of these upcoming 2 stress free days to rebuild your mind and body to get ready for the upcoming working week.
Yes indeed, weekends exist for _____.
Have a Great Weekend Messages
Everyone looks forward to the weekend where you get to chill, and do exactly what you want (for the most part).  Why not send out some happy weekend messages to your friends to get them all fired up and ready to celebrate this weekend.  Make some weekend plans with your best friend.
I am ready for a good weekend, last weekend sucked, but this weekend I have a friend coming in from out of town.  I am super stressed about next week, so I am ready to play hard to get all that tension out of my head, happy weekend to all!
I hope you have a really splendid weekend.  This was a tough weekend for everyone, it's time to go have some fun!
I know this week's worries have been weighing on your mind, Remember you have a new week coming up and it will  be so much better.  forget all the challenges of this week, and enjoy a wonderful day.
This weekend I am doing absolutely nothing!
Weekend were created to sit back and relax, so I am going to lay on the couch doing nothing all day long but catching up on movies and eating fast food!
It's Thursday, just one more day until my fabulous weekend is here, I can make it, JUST ONE MORE DAY!
This was a victorious weekend for the Irish, all your prayers were answered when we won the __________.
This has been a long tough week, use your weekend wisely, and don't go crazy.  Instead take a short break, and take advantage of all the rest.
If you know someone who needs a happy weekend message, take the time to send one to them.  It may be a best friend who has been working hard all week long, or a best friend who has been known to party hard and overdo things a bit.  Whatever the reason, send some blessed weekend messages to someone and make their weekend!
While you are busy chasing boys around this weekend and drowning all your sorrows in beer, I will continue to stay sober and rid myself of all the stress of the week by taking a hot bath, enjoy your weekend.
The best memories are made with friends.  My best girl friends arrive in town this weekend for the whole week, I am so excited.
The weekend is a gift to ourselves after working such a hard week.  So go forth, have enjoy the hell out of this weekend.
Allright friends, we have 2 days to get into as much trouble as we can.  Let's get out there and start wreaking havoc on this place!
 We have some challenges ahead of us, but together we can get through anything.  This week means everything to us, we need to fight through the tiredness and get this presentation completed!
Here's hoping your weekend turns into everything you are hoping for.  
You have a big smile on your face, you must be up to something cool this weekend!
Waking up on a Monday morning must seem like a rude shock after the weekend you've had!
I hope you have a wonderful weekend friend, doing all the things you love to do.
The weather is supposed to be super hot this weekend so it looks like we have a beautiful weekend ahead of us.  See you next week.
I cannot wait for the upcoming long weekend, I don't want to see a computer for 3 days minimum, or talk to another human being for that matter!
Weekend Greetings to Friends
Hello lovely weekend, I am ready to see you now, happy weekend friends.
Wishing a very happy weekend to all my friends.  May next week not get here too fast!
This week has been such a long week, I never want to see it again!  I'm going to my happy place, happy weekend everyone.
This too shall pass, next week is a new week, and hopefully it will go better than this last week.
Hey best friend, do I have plans for us this weekend.  We need to get together and go make some mischief, happy weekend.
Hello week days, I think we need to break up!  We need longer weekends and much shorter week days!  I think we can all agree on that, happy weekend.
I am going home and changing out of these clothes into my fun clothes, then I am going out of the town to rid myself of this entire week.  It's time to go party, let's do this!
Wishing a happy weekend to anyone out there who needs one!  
I think we can all agree this has been a long week, enjoy your weekend to the utmost!
I am so looking forward to this long weekend.  It has been such a long week, all I want to do is take a long hot bath, get into my jammies, and watch a movie.  My phone is on "out of office" for the whole weekend, I do NOT want to be disturbed. This is going to be a relaxing weekend for me.
Happy Long Weekend Greetings