Grand-kids are the best. They have a relationship with their grandparents like none other. Grandparents have so much love and wisdom to pass down, and they can share that wisdom with the grand-kids is a warm and loving fashion. 
When it comes to writing the perfect  Happy Thanksgiving to my grandkids, we wanted to help.  Below we have compiled 60+ thanksgiving wishes for the grandchildren that can only be  delivered by their favorite grandmother and grandfather. 
Whether you will be together for the holiday, or many miles apart, these heartfelt and all original greetings are just the write thing.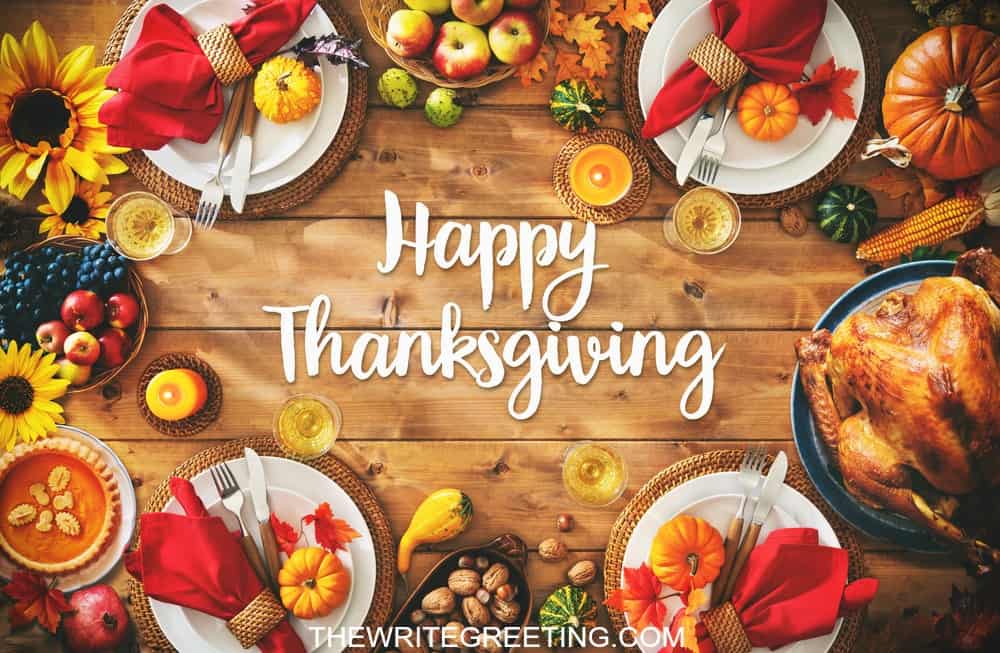 How Do I Wish Happy Thanksgiving To My Grandkids?
Happy Thanksgiving. I have so many things to be thankful for, but I am the most thankful for you. I hope your holiday brings  happiness and warmth of the season to you. 
I am blessed every day of the year that I have you, but today especially. Happy Thanksgiving
Happy Thanksgiving.   Please know as you celebrate today, that I am most thankful that you are my grandson!
As we pause to give thanks today for our many blessings, I will be most grateful  that I have you as one of them.  Happy Thanksgiving
I am very thankful today for the joy and peace that you bring into my life, granddaughter. 
 
May this festive season see you surrounded by your loved ones.  Happy Thanksgiving to you and yours.
I thank God today that I have this wonderful family that includes you. I could not be more blessed. 
While we celebrate today, I will be thinking of you and your family so far away, and sending love from our house to yours.
Warm heart to heart wishes for love and happiness from my house to your today. May today be a wonderful reminder of all your blessings in life. Happy Thanksgiving. 
Each year in November we pause to remember those people  who enrich our life. Of the many things I am thankful for, I am most thankful for you. 
Sending A Warm Thanksgiving Message
Wishing you  a blessed and bountiful Thanksgiving!
 Wishing you the gifts of hope and faith and continued blessings this Thanksgiving Day!
We gather this Thanksgiving Day to  give thanks for our loving families, cherished friends, and hope for a prosperous future. Happy Thanksgiving!
May each passing year bring you blessings  that multiply and grow. Happy Thanksgiving. 
May this Thanksgiving season bring you a harvest of blessings, good health, and happy times! 
A toast to spending time with friends and family! Have the best Thanksgiving ever!
On Thanksgiving  I wish you fun, family and a fine feast!  May you be blessed in the coming year!
Wishing you  a peaceful and fun filled celebration with your family.   I hope to see my favorite grandson over the holidays. 
May you enjoy every moment of this holiday and give thanks to God for all of your blessings.  A very happy Thanksgiving to my granddaughter and her family!
May you be overwhelmed by  the enjoyment of your feast. May you be thankful for a wonderful family and full bellies! Happy Thanksgiving. 
 
May you enjoy an abundance of all of the good things in life. I wish this for you not only on Thanksgiving, but for the whole year. 
I am thankful for the yearly reminder to think about my awesome family. I am so blessed to have you in my life.   You have my ever lasting gratitude. 
While we may not be together on this holiday, my heart will always close to yours. Sending fond wishes and blessings to you today. 
May your Thanksgiving be filled with love, gratefulness, and wonderful tastes.  Enjoy your holidays!
May god shower you with bountiful blessings of peace, joy, and love. Please enjoy this holiday season and the year beyond, my loving grandchild. 
Sending Thanksgiving Messages Of Gratitude
You are our pride and joy, and we thank you for the opportunity to show you off throughout the year. You are our enduring gift from God. and we give thanks for you this Thanksgiving Day!
With a grateful heart you should embrace the joy of Thanksgiving. You have been blessed in so many ways, as am I to have you in my life. Happy Thanksgiving!
Happy are the grandparents to whom you have been bestowed. With full hearts we give thanks for the merriment that you bring to us. Happiest Thanksgiving to you and yours. 
On this Thanksgiving Day, give thanks for your complete life and contented heart.  Express your gratitude and joy to be living the life you have. 
With family and friends, roast a turkey and bake some pies. Today is a day of family, community, and thanks  giving for all of our blessings.  Grandchildren like you ar at the top of  our list. 
Thanksgiving is a blessing in its self.  A special day reminding us to reflect on all of the blessings that we enjoy each day of the year.  Make this  day special with your family.  Happy Thanksgiving. 
One by one, recognize your blessings and give Thanks! Celebrate good tidings and joy for the holidays ahead, and the year gone by. 
On this day of thanks, let me be sure to thank you for your never ending support and love. You are there for me every day of the year, a wonderful grandchild for whom I am truly thankful.  Have a memorable and thankful day. 
Of all virtues, thankfulness is the highest. May you be thankful for your blessings and aware that you grandmother is giving thanks to God for you! Happy Thanksgiving!
Sometimes we find ourselves out of tune with the music of life. But with the strong melody of a loving family, we can find our rhythm and the music will play on. Happy Thanksgiving to my grandchild. 
Beginning Of The Holiday Season
 We may never have time to properly give thanks  for all of our blessings, but on this Thanksgiving Day, I will give thanks for my wonderful grandchildren, who bring me so much joy!
Bask in the warmth and love that this season brings. Recharge and give thanks for your blessings  you have been given. Happy Thanksgiving. 
With each year I reflect on my blessings and with each year it takes longer, for I am blessed beyond riches with more each year.  You are among my richest blessings and I give thanks today for you. Happy Thanksgiving!
Gather together with family and friends, and give thanks for blessings past and future. Enjoy the holiday season that begins today! Happy Thanksgiving, my grandchild. 
Please always know that you are in my thoughts. Today I give thanks for you and pray for your health and happiness, my grand daughter. 
Grandma says to enjoy yourself this holiday season, but don't forget to stop and give thanks for the many blessings that you have had. Remember those that bring joy to your life.  Happy Turkey Day!
May you enjoy a Thanksgiving that provides new memories and happiness in this new holiday season. Enjoy turkey and loved ones! 
Let us be grateful for the food on the table, the family around it, and the joy and togetherness it brings to our family.  Wishing you all a blessed and blissful Thanksgiving!
May the seasons blessings bring you warmth, love, and the protection of Gods hands.   May the seasons blessings bring you happiness and joy. Happy Thanksgiving. 
May the warmth of this Thanksgiving season surround your life with favor like a shield. May you find happiness in everything and everything that makes you happy.
 May this Thanksgiving season bring you joy in abundance.  May you have a bountiful harvest and blessings throughout the year. Happy Thanksgiving from Grandpa!
I hope that this Thanksgiving will bring you fond memories made with your loved ones.  May you be greeted each day with a bright sunrise and end each day with a colorful sunset. Enjoy this holiday season grandchild. 
This is the season to remember all of our blessings, both small and large. I give thanks for having you as my grandchild, and as a constant in my life. Happy Thanksgiving
May each of your many blessings be multiplied many times over this holiday season. May you continue to find happiness and love in your life, my dearest granddaughter. 
I pray the Lord bring you joy, peace and happiness this holiday. Your grandma holds some sway with the Big Man! Happy Thanksgiving!
Grandparents Give Thanks For Grandkids
On this Thanksgiving Day let us be thankful for the bountiful harvest shared with good friends and family. Let us be for Gods protection, and let us be thoughtful towards you Grandma! Love, Grandma. 
Your blessings have been many, both divine and plenty. God has shone his light on you and fulfilled your needs.  You are a wonderful grandson! Now Call Your Grandmother!
During this Thanksgiving celebration, our thoughts turn to our wonderful grandchildren and the many blessings they bring, and we are humbled. Thanks for being there for us! Happy Thanksgiving!
Wishing for you the love of family, the joy of friendship, and the  blessings of your grandparents. We love you and send you blessings for this holiday season!
With this card I send wishes for  a holiday filled with abundant love and Gods blessings. May you find happiness and peace in this holiday season. Happy Thanksgiving
 
A noble soul is born of gratitude. May this Thanksgiving  find you filled with gratitude for your many blessings. Enjoy this special holiday. 
May the Lord bestow great blessings upon you and your family.  May he give you the strength and resolve to overcome any hurdle. May he lead you on a path of Grace.  Happy Thanksgiving my granddaughter. 
Wishing you a blessed and joyous Thanksgiving, grandchild. May God bless you just as you have blessed me. 
Please know that on this Thanksgiving day I will be giving thanks t you for all of the many times you have been there to help me.  I want you to know how special you are to me and how much better my life is having you in it. Thank you for being such a wonderful grandchild, and have a  Happy Thanksgiving!
Thanksgiving is a time to remember: to reflect and  to be thankful. Among the things I am most thankful for are my wonderful grandchildren. You make this Grandpa proud. Enjoy a memorable Thanksgiving. 
Though there are miles between us, I will be thinking of you and your family on this Thanksgiving  Day. May your family give you the same happiness that you have given to your Grandmother. 
We best recognize the existence of God through you ability to show gratitude. Today I am thankful for my family and you, my loving granddaughter. May you have a happy and joyful Thanksgiving Day!
Today is the time to give thanks for our bountiful blessings, recognize the gifts we are given, and think of others who are not so blessed. It is the beginning of a season of bounty and  a perfect time to share all that we have.  Giving to others is giving to God. 
May Thanksgiving find you filled with thanks, filled with love, and filled with good food.  May your hearts and tummies be full.  Happy Thanksgiving. 
Of all virtues, Thankfulness is at the top.  Having such wonderful grandchildren fills my hears with joy, and makes me ever-thankful. Happy Thanksgiving. 
Loving Messages Of Thanks
I wish for you that this Thanksgiving Day finds you blessed with hope and love for the holidays. Love grandma. 
From my home to yours, and from my heart to yours, may you have a wonderful and peaceful Thanksgiving. Remember those that are less fortunate and give thanks for all that you have!
A holiday to give thanks for our blessings is a blessing in itself.  Giving thanks with friends and family is the best way to begin the holiday season. Happy Thanksgiving from G'ma!
A holiday to dress up, cook a wonderful feast, and spend time being thankful with the ones we love- what could be better? Let's enjoy this most blessed of holidays- Happy Thanksgiving!
I am thankful for my family and especially my smart and charming grandson, who is always there when I need a hand. I wish love and blessings for you in the upcoming year.  
Grandchildren are the best blessing of all. You get all of the love and fun, without the mess. That's why I am so thankful for YOU!
The absolute fullness of life can only be attained through gratitude. We must recognize all that we are given. 
Today we gather to express our thanks for our families, friends and countless blessings. May your Thanksgiving Day bring you love and peace, and gratitude for the bounty received. Happy Thanksgiving. 
 You are my most special blessing, grandchild. May this Thanksgiving find you happy, healthy and grateful for your many blessings. I am grateful for you!