Super Cute Birthday Wishes for Dog Lovers
Dogs are the best.  They're always happy to see you, and always there to lend a furry shoulder to cry on.  If you're a dog lover, then you know that your pup is the most important member of your family.
Do you have a dog lover in your life who's celebrating a birthday soon?
That's why we put together this collection of heartfelt happy birthday wishes for dog lovers like you!
Whether you're looking for a message to post on social media or something special to write in a card, we've got you covered.
So happy birthday and thanks for being part of our pack!
Funny Birthday Wishes For Dog Lovers
Wishing you many happy birthday wishes, spent with your megalith of a canine friend- I almost ran away the first time I saw him, but you cuddle him like a baby!
Happy birthday to my cuddle buddy.  May your day be filled with all the joy, love, and happiness that you bring to our lives every day.
Birthday fun should be easy when you have the kind of dog that walks you instead of you walking them.  Have a wonderful birthday and congratulations to your pup who's smart as a fox and strong as an ox.
Getting slobbered on is a part of your daily routine.  Have a please and amazing birthday with your fur babies.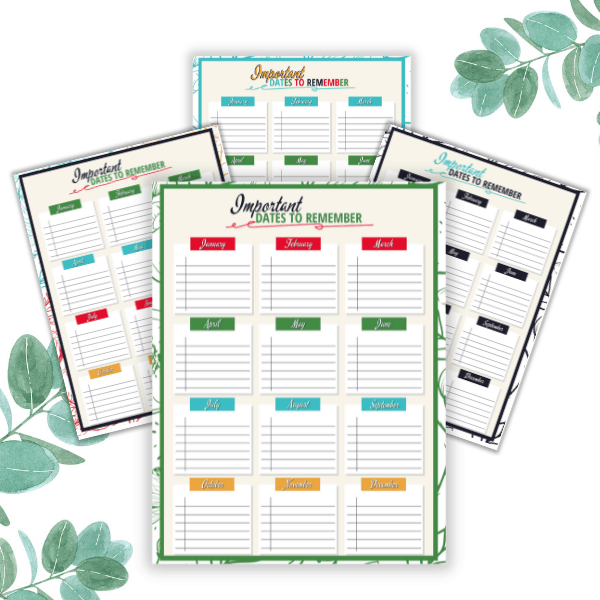 Keep Track Of Your Important Dates With Our FREE Tracker
Sending you birthday hugs and kisses, even though you probably prefer the ones you get from your faithful, lovable dogs!  Happy Birthday dog lover.
If your dogs could talk, they would wish you a terrific happy birthday. 
Whether she's alerting you to the presence of a possible intruder, snatching food off of your plate, or ripping up your couch, your doggo is being the best friend she can be.
Your furry friends dream of a long walks in the park, chasing squirrels and catching balls thrown by their favorite person in the world. Enjoy your fun filled birthday.
Happy birthday, to you and your best buddy- I know he's already given you tail wags, slobbery kisses and excited barks to show how happy he is for your special day.  Enjoy your awesome birthday celebration.
Happy birthday wishes from dog to owner sound like, "Woof!" which means, "Happy birthday, can I have a treat?" Enjoy your birthday with your furry friend!
When I think of things that come in pairs I think of salt and pepper, peanut butter and jelly, and you and your dog! Happy birthday buddy.
Cute Birthday Wishes For Dog Lovers
I know only two creatures who love unconditionally- your dog and you! You're both lucky to have each other Your friends and family all feel fortunate to have the both of you in our lives. Happy birthday buddy.
We hope you have a paw-some birthday, dog lover.  We hope your birthday is as awesome as you are.
Happy birthday, dear dog lover.  We hope your day is as wonderful as our furry friends are.  Whether you are celebrating another year of life or just another year of being surrounded by those wagging tails, we know you're loved by many.
On behalf of all dog lovers, we hope you have an awesome birthday celebration.  

May your birthday be a fun-filled adventure with your faithful companion.
Approach your birthday party like your dog would a bone.  Enjoy it with gusto, like no one's watching!

Wishing you a happy birthday is easy for your puppy; after a few licks on your face, you'll get the picture!
May your birthday be filled with lots of happiness, laughter, and furry friends.
Here's to another year of wagging tails, wet noses, and cuddles.  Thanks for making our lives so special.
Happy birthday to my friend who is a die-hard dog lover! May you enjoy your day with your ride-or-die furry friend.
Inspirational Birthday Wishes For Dog Lovers
Happy birthday, fellow dog lover.  May your days be filled with all the joys that furry friends bring.  I hope you're surrounded by love on your special day.  
We hope your day is as special as you are to all of us who love dogs.
Even though they're plump and well-fed, I don't really mean it when I say I'm going to make cocktail wieners out of your puppies. Happy birthday, have a great time with the little piggies- I mean, puppies!
Sending birthday wishes to an energetic foster dad of spunky, inquisitive, and lovable dogs. Have a blast!
Wishing a happy birthday to my best friend, and her new puppy. I'm a little jealous at being replaced, but considering how much cuter than me he is, I totally understand your decision. Happy birthday friend.
Happy Birthday Wishes Dog Lovers
The healthiness, happiness and confidence in your pets is proof of your love for dogs. Happy birthday, to a rescuer of dogs (who in turn rescued your heart).
Dogs make the world a better place, and so do you by rescuing dogs! Happy birthday, to a dog lover that spreads the love.
Being at your own birthday party is probably bittersweet for you, because you know your dogs are sadly waiting by the door, moping until they hear the tell-tale jingle of your house keys as you approach. Happy birthday, buddy.
Wishing you a happy birthday from the people who love you, while you spend it with the critters who love you! Enjoy your special day with your special dogs.
Wishing a special birthday to a one-of-a-kind dog owner. May you spend your day running, playing or just relaxing together in your own unique way.
Nothing cheers you up more than snuggling with your puppy, so I got a nice, warm blanket for your birthday! Enjoy the snuggles from your furry friend.
My wish for your birthday is cute puppies and smiles- one always comes after the other! Happy birthday to a dog lover who's always smiling!
Here's wishing you a fun-filled birthday with your cute puppy who wants you all for himself; I certainly can't say that I blame him!
The only gift that you would appreciate is the kind with a wet nose, floppy ears and a wagging tail; that is to say, enjoy your new dog! Happy birthday to the best dog lover I know.
Dedication, patience and loyalty are what make you an excellent friend and the perfect dog owner! Best wishes on your birthday with your sweet dog.
Have a wonderful time celebrating your birthday.  You and your new puppy are an unbelievably cute duo.
Happy Birthday Wishes From Dog To Owner
You're so lucky to have a smart, adorable, intelligent, and sweet dog- like me! Happy birthday.
A perfect birthday for a dog lover like you is easy to plan: a day in the park, an afternoon walking through the neighborhood, and an evening on the couch with your furry friend. Plus we can snif some butts!
You definitely have the knowledge, patience and expertise to raise a dog right- you've had me since I was a puppy, and look how well I turned out! Wishing you a very happy birthday, and thanks for being my human!
Not everyone likes it when I bark in their face, tear up their shoes or pee on their rug.  However, you always pick me up and pet me no matter what I do! Happy birthday to my patient, kind owner.
As a dog, I like to chase my tail, dig up the yard and bark at the mailman for fun, but it's all even more exciting with you there! Have a fun birthday, from your good boy.
Happy Birthday Quotes For Dog Lovers
Cuddling a box full of puppies would be the best gift for your birthday, but one huge foster dog will have to do! Happy birthday to a rescuer of dogs: big and small, young and old.
Happy birthday dear friend.  I hope you have a wonderful day surrounded by the ones you love the most.  I'm so glad we share a passion for dogs and can celebrate this special day together.  
I can't help but notice how joyful, active, and cheerful you have become ever since your young puppy came into your life.  Here's to enjoying your amazing birthday with your beloved pet today.  
Wishing you lots of fluffy birthday wishes.  II love that you love dogs as much as I do.  From the moment we met I felt a connection between us.  Now it's my turn to make you feel special today by sending warm wishes your way.
May everyone in your life be as loyal, smart, talented, and awesome as your puppy- I hope I grow up to be just like him! Happy birthday, to the best dog owner I know.
Very Happy Birthday to a Fellow Dog Lover
You can tell a lot about someone by how they treat their pets. The way your dogs are spoiled shows you to be the best person in the world! Happy birthday, to a dog lover who deserves it.
Your dogs hate it when you hug or kiss anyone but them.  Either they don't want you to be happy, or they want you all for themselves! Happy birthday, Dog Whisperer.
Happy birthday buddy.  I'm so glad we share this passion for our furry friends.  May your birthday be filled with lots of love, joy, and BarkBoxes.
Here's to a terrific birthday.  I hope this day is as special to you as you are to me.  Have a fabulous woofing birthday.
Do you ever wish you could scratch your ear with your foot like your dog can? For your birthday, I can do it for you! Happy birthday, fleabag!
Happy Birthday Wishes to Dog Lovers
I hope that today all of your dreams come true.  Now let's go get some dog wine, human ice cream and be with the people and animals who love you the most. 
Happy birthday wishes from dog to owner sometimes come as a surprise in your shoe, a mess in the hallway or a broken lamp.  Just think of it as an opportunity to update your home or wardrobe and thank your puppy!
Happy birthday to someone who is as good natured as a pup.  May you live every day of this year in happiness and joy!
At your age, people wonder how you stay so youthful and active; however, I know that your lifestyle is all thanks to your spunky canine! Happy birthday to a dog lover who time passes over!
Thanks for seeing some of your human friends for a little while on your birthday. Enjoy your cake and gifts until you get to do what you really want to do.  Go home and cuddle with your dogs!
How Do You Wish A Dog Happy Birthday?
Loyal, caring, smart, cheerful… that's right, you know who I'm talking about: your dog! Happy birthday to your awesome canine.
I would sing "Happy Birthday" to you, but it would make your dogs howl, and maybe you will, too! Have a great day with your furry friends.
I'm sure your dog dreams of walking with you at the beach, eating hot dogs and playing catch until he's tired- sounds like a perfect plan for a birthday with your best friend! Enjoy your dog's birthday like best buddies.
Happiest birthday to the friendliest dog, he's the goodest of boys that eats like a hog. I bought him a bone, a slice of cheese and a steak.  To a dog, that's better than any birthday cake!
I can't think of anyone I'd rather spend my time with than you.  Especially when we're cuddling with our dogs.  Have an awesome birthday celebration.  
Great Gift For A Dog Lover
What do you get the dog lover who already has everything?  Their birthday is coming up and you want to get them something to show how much you care, but what could possibly make their day even more special.  
Never fear, we have compiled a list of the best gifts for dog lovers that will have them wagging their tail with joy!
Making people smile is what your dog does best; secondly, he's great at eating leather shoes. Most importantly, your dog makes you a more loving, kind, and happy person. Happy birthday to you and your beloved dog.
Happy birthday amazing friend.  I'm so glad we share our love of dogs.  Thanks for being such a great friend and companion.
Some would say that your dogs are lucky to have been rescued by you, but I think you were the one who was really rescued. Happy birthday to a dog lover whose dogs love him!
Hey birthday boy.  Enjoy your special day in your favorite way: with your doggies, of course! I see how often that dog puts smiles on your face.  Have fun with your beloved pet.
Birthday Wishes for Dog Lovers
To wish your dog a happy birthday, I wanted to buy him a month's supply of food; however, your dog is so large and eats so much that I'd have to get a second mortgage on my home to afford it! Accept my best wishes and a bone. Please accept these cute birthday wishes.
People come and go, but your dog is forever your loyal companion.  So on his birthday, make sure he's spoiled rotten!
Sending you the happiest of birthday wishes.  I'm so glad we share this special day together.  I hope you have a paw-sitively wonderful day. I'm so jealous you have the cutest dog!
For you, spending time with your furry friends is the picture of contentment. Happy birthday, and may your day go exactly that way.
Nothing brightens my day like seeing you and your trusty canine having the time of your lives together. Happy birthday to you and your faithful friend!
What Do You Write On A Dog's Birthday Card?
Kindness doesn't just come from words, but also a look in the eyes, a head on your shoulder, or a lick on your hand; in this way, your dog is the kindest person I know. Happy birthday to your wonderful dog!
Spoiling your dog is your favorite thing to do.  After all he is your most loyal friend….. after me that is.
Your pup has taught you so much in the short time that you've been together so far, even though you still haven't taught him to potty outside yet. Happy first birthday to your cute, loving, excitable puppy!  She really is a sweet dog.
Rescuing abandoned dogs is what you do with all of your free time, and that makes you a hero to your furry friends. Happy birthday to your lucky pup!
Even all of your birthday money will end up being spent on your beloved pets, so I'll just say happy birthday to your dog! Enjoy your day with your best friend, doing everything that makes you and your dog happy.
The time you spend with your dog makes you look more like him: your droopy eyes, scruffy chin, shaggy hair. Enjoy your special day and stay blessed.  Cheers to you and your dear pup.
Cute, loyal, and cuddly- I bet your girlfriend wishes that you were more like your dog! Happy birthday to your dog, the real reason you have a girlfriend at all.
Having a perfect day to you means taking your dog to the park, scaring away all the geese, and chasing the mailman together on your way home. Happy birthday, and may you have a long life together!
Your dog will have a good time around you just because you're happy; therefore, you should spend your dog's birthday having a blast! Happy birthday to your prized pooch.

Without your dog, you aren't the jolly, active and friendly person that your friends and family all love. Having said that, I hope you enjoy your special day at home with your favorite furry friend- happy birthday!
Commitment, dedication and patience are the tools of your trade, and the name of your game is rescuing dogs. Have a happy birthday with your furry friends!
What's cuter than your fluffy, wiggly, cuddly puppy? The way you look at her with love and adoration in your eyes. Happy first birthday to your furry best friend.
Perfect companions come in all shapes and sizes for different people; for you, it just so happens to be a mammoth of a dog! Happy birthday to you and your fabulous dog.
Birthday parties at your house are like play dates for all the dogs in the neighborhood- happy birthday, and may you have many more doggie parties to come!
You and your dog are a match made in heaven, so wishing your pup a happy birthday is as natural as creation! Happy birthday to your sweet, adorable and loving angel of a canine.
Canine Quotes For Your Lovable Canine
Pawsome Happy Birthday WIshes For Dog Lovers