Send Messages Of Deep Love To Your Man
Men need love and encouragement. It's true. Your man may be all independent, strong, silent and all that. But deep down inside he wants to hear how much you care. So sending along the occasional deep love messages for him will let him know just how much you care. 
Below we have created a massive list of phrases, quotes and sayings to help you express your appreciation, desire and devotion to the man in your life. Tell him what you are thinking, and watch his desire for you grow and grow. 
What Can I Say To My Man To Make Him Feel Special?
I need you, baby.
I couldn't be more thankful for you. I love you honey!
My life has dramatically changed for the better because of you. 
Thanks for giving me the kind of love people say is so rare.
I can't imaging what I would do without you. My love for you grows each and every day. 
You are the greatest thing that's ever happened to me. 
Deep Long Love Messages For Him
You make my heart beat. You make me smile. Most importantly, you make my whole life seem worthwhile.
I simply can't describe you in one word… you're so full of love and everything nice. 
I wish I could find the words to tell you how loved you make me feel.
You're my man and I'm your lady, always and forever.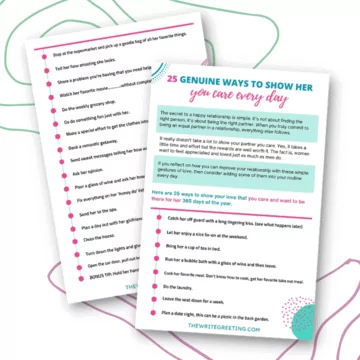 FREE Download! 25 Genuine Ways To Show Her You Care Every Day
Hot Love Messages For Him
You have no idea how much I wanna kiss you right now! I want to do other stuff too! I love you babe. 
When you wrap your arms around me, I feel true love and happiness. 
I've never loved you any more than I do at this moment… Falling in love with you was the best thing I've ever done. 
The two times I want to be with you: now and forever, I love you, honey!
I still get butterflies in my stomach when I think of you. See you tomorrow!
Other related articles you may like:
What Is The Best Love Message?
Thank you for making me feel so special. Nothing could possibly ever sway my love for you… I can't stop loving you, sweetheart! 
If there's one thing in this world I'm afraid to lose, it's you. I am so in love with you, it hurts! 
You turned my life into a journey of love and happiness. Every second I spend with you, the more I fall in love with you!
No matter what has happened, no matter what you've done, no matter what you'll do… this deep love I have for you will never vanish. 
Thank you for making feel like the most beautiful woman in the world, as well as for making my life even more meaningful. Love you! 
I wish to be everything that brings a smile on your face and joy to your heart. I want to keep on loving you for the rest of my life. 
Every time you look into my eyes, you melt my heart and make me fall in love all over again. This could make for an amazing love story…
I wrote your name in the sky, but the wind blew it away. I wrote your name in the sand, but the waves washed it away. So I wrote your name in my heart, and there is where it will stay until I die. 
For you, I may be just one person… but for me, you are my entire world.
My life is full of daydreams now that you're not here. I tried to stop thinking of you, but I fail each time. I miss you so much… come home.  
What To Say To Your Boyfriend To Make Him Cry?
The pages of my life were colorless and uneventful. Since I met you, it became full of love and bliss. 
Sometimes, it feels so unreal. It feels like I'm in a fairytale or a dream. I still can't believe that God led us to be together. Thanks for embarking on this journey with me. 
I look at your photos and messages every single day you're not here to feel your presence and warmth. 

My love for you is almost like an addiction; y

et, it's the best addiction one could have. 

Good morning, gorgeous. I wish you were here to hug me, I feel the safest when I'm in your arms. 

Every day presents us another page for our wonderful story. We have the pen in our hands, let's create something beautiful.
Short Deep Love Messages For Him
My love for you will never stop growing.
You're my man and I'm your lady, I'll always have your back

You are the prince charming of my dreams.

I could spend an eternity in your arms. I love you deeply!

Tell me how I can prove how deep my love for you is.
Whenever my skin touches yours, my heart skips a beat. I long to feel your body on mine, darling
I am so deeply in love with you for so many reasons. Your love is my happy place, a timeless place of pure joy, and my main source of inspiration. You are my angel. 

You are undoubtedly God's greatest blessing to me. I love you, my darling. 

Your love is the rhythm for my heart, and it beats, only to the tune of your name and existence.
Your love is the most beautiful and wonderful thing I've experienced in my life. 
Romantic Deep Love Messages For Him
Regardless of how stressful my day is, I know that at the end of it, I have you, the ultimate stress reliever that I can rely on during my darkest times. You are the best part of my life. 
I see myself in your eyes and feel your presence deep in my heart. I know in my gut that you are the one for me. No matter where life brings me, I will never stop loving you, and I pray every night that we will never be apart. I love you so much, babe. 

As time passes by, the more I learn new things to love about you, You are the only man for me… you have my heart for forever and always.

You are my rock, my inspiration, and my life coach. My biggest life achievements were possible because of your love and support. Thank you for giving me that special kind of love and for always encouraging me to be my best self.
Trust me when I say that your love is more than a simple word to me. It is so real that it is part of my soul. I can't get enough of its intensity…
How Do You Melt A Guy's Heart With Words?
You are the man for me
Nothing can compare to the joy this will bring to your boyfriend or partner. He will never forget this.
No one else can take your place in my heart
Showing how special your man is to you will always be one of the loveliest things you can do. Somebody else may be wishing for his love and attention, but remember that you're the lucky one! 
I need you to know how much I love you
Sharing this confession of your love for him will make him melt like ice cream on a hot day.
You are my hero
You deserve a hero in your soulmate. Watch how he will react when you tell him he's your Superman.
No one can make me as happy as you can
Trust me, seeing how happy he can make you makes him the happiest guy in the world.
Love Messages To Your Boyfriend
You and I were two strangers, just trying to find our places in the world. Little did we know that we would find our home in each other's hearts.

Baby, you came into my life when I needed someone the most. You make me feel like the most special girl, and for that, I will never let you go!
My love, you are my anchor, always keeping my feet to the ground. You are my star, always watching over me and making sure I'm alright. I can't live without you.
I was so used to seeing a sky full of grey clouds that I forgot how a blue sky would look like. Thank you for shining your light into my previously dull life!
I was a nobody going nowhere. Then, you came into my life and made me feel like I'm a princess. Your love is what I need and what I want for the rest of my life.
A sweet love message with poetic words cannot accurately describe how your love has acquired such a firm foundation in my heart. You're that special to me.
I've always wanted to be with you, sweetheart. Your kiss, your hug and your wonderful smile are what I'd die for!
In a world of chaos, pain and suffering, you are my saving grace. You are the tiny voice in my head telling me not to give up when I'm down, convincing me that there is light at the end of the tunnel. I'll see you soon, my love.
Independence is great… but being able to depend on you is one of my life's greatest gifts. 
It's funny how you can go through life thinking you were complete until you meet that one person. For me, that one person is you. I love you so much.
How Do You Make Him Crazy About You?
Don't be scared to show off your natural beauty
Don't underestimate how much men love the natural look. If he truly loves you, he'll embrace your imperfections. Surprise him by switching between going full glam to flaunting your natural look.
Make him work for it
Don't overdo it by playing hard to get, but at the same time, don't make it too easy for him. Show him you'll only be with someone who treats you the way you deserve to be treated. Remember, you're a woman who deserves the best!
Be yourself
Don't try to act like the woman you think he wants. That could send the message that you're desperate. Show him that you're comfortable in you own skin.
Don't always be the first to call
There's nothing wrong with making the first move, but it's bad sign if you always initiate things. Make him miss you! It might be difficult to resist calling or texting him again, but if he's not putting in any effort, he's not worth your time.
Be kind to his friends
If you can win over his close buddies, you're already halfway to winning his heart.
Cute Meaningful Messages For Him
You may have the face of a young boy, but in reality, you are the man of my dreams!
The best feeling in the world is seeing your smile and knowing that I caused it Love you, babe.
I want to kiss you three times: once because you are my love, once because I love you, and once because I am the happiest when I'm with you.
Every time you hold my hand, I'm convinced that I can tackle any challenge thrown at me.
I don't need expensive presents or fancy stuff, I just need you. Your heart is more than enough for me.
Ever since the moment we met, I can't stop dreaming of a world with you. I don't know how I made it this far in life without you by my side… you are my white knight.
Good morning my prince, wake up, today is a beautiful day and we have a radiant sun and even more: we have our love that illuminates our lives.
Good morning, love. Today is a new day, with plenty of sunshine pro
Although sometimes I don't understand you and you don't understand me, you are the most perfect person I know.
I feel like I am the luckiest woman on Earth because I have such a cute, sexy and funny boyfriend like you. I hope we can be together forever, I love you!
Our love is stronger than words: only by looking at you I know that you love me too.
How Do I Make My Man Feel Special?
Make sure to thank him for the little things he do. 
Tell him you're his one and only soulmate. 
Spice things up in the bedroom.
Let him have some quality time with the boys.
When you get something for yourself, get a matching pair for him too.
Good Morning Deep Love Messages For Him
Morning, sunshine! Just wanted to let you know that you are the biggest inspiration of my life.
The most beautiful part of waking up is knowing that I got you, baby…
The glory and beauty of the sunrise could not possibly compare to my love for you.
You're the reason my heart dances every morning. It's getting ready to go on another day of our love story.
What a sunny morning… the heavens must be shining their light on you. 
Rise and shine, handsome! May your day be as joyous as my heart, knowing that I've found my true love in you. 
My sweet prince, you can always find a kingdom in my heart. It will never stop loving you. 
Like the sunrise, the charm of your smile makes my morning oh so bright.
Waking up beside you gives me the best type of energy for the day. Wish I could spend this morning with you! 
Good morning! Let me say this: if there is a heaven, the place between your arms must be a piece of it. 
How Do You Make A Guy Fall Deeply In Love With You Through Text?
Don't text him 24/7/
Come up with an 'inside joke.
Be a bit mysterious.
Show an interest in his work.
Avoid boring topics… find one that is stimulating for the both of you!
Thank you for always being there to help me laugh when my eyes are full of tears. Thank you for always showing me the bright side and lifting me higher. Most importantly, hank you for loving me and letting me love you. 

You're irreplaceable, one of a kind, and priceless to me. Please never change.
I hate labels. You're my best friend, true love, adventure partner, sweetheart, and partner-in-crime all in one. And I'm supposed to call you just one? It's impossible.
Since we met, I cry a little less and smile a lot more. Know that when I'm with you, I feel a million times happier. Thank you for that. You'll never know how much I treasure you.
Thank you for encouraging me to always believe myself. I love you, babe!
I love you more than I love chocolate… and you know how much chocolate means to me! 
Every conversation, every date, every drive, every smile, every laugh, and every moment in between– I just keep on discovering stuff about you that I love more than the last thing.
I used to not want to do much for love, but for you, I'd do everything.
I am so completely and totally in love with you. All those butterflies, love songs, and the weightlessness of love– it's all real with you. Thank you for making my little-girl dreams come true
You've been on my mind every moment since I've woken up this morning, and I hope you're still there in my dreams tonight.
You're more than I ever hoped for, more than I deserve, and more than I'll ever need. And for that, I promise to love you more each day. 
I can't remember what life was like without you, and I hope I never have to again. You made all aspects of my life better
I may not have been your first crush, first kiss, or first love– but I sure hope to be your last everything.
You're always on my mind. Because of you, I woke up this morning with a huge smile. 
Whether they're good or bad, I look forward to each and every day knowing it's another one spent with you.
Love Messages For Him From The Heart
I choose you. I would be a fool to let go of true love, so I will forever choose you. 
I used to think that the concept of soulmates were silly. Then, I met you..
Every moment I spent with you is like the dreamiest dream come true.
You don't cross my mind. You live in it rent free.
I can conquer the world with one hand, as long as you're holding the other.
The power of true love is often underestimated. Together, I believe that we can conquer the world.
Love Messages For Him From The Heart
My heart will always love you until the day I die. 
I don't know how and when you got inside my heart, but I know that I want you to remain there forever. Today, tomorrow or forever, that feeling will never change.
For me, there's no place more heavenly than in your arms. I love you so much, boo.
Thank you for always dropping anything you're doing to make sure I'm okay. You make me feel so loved.
One thing I want to work on: loving you madly! 
Best Loving You Message For Him
You are the biggest, most important and most special pillar of my life. 
Every moment with you feels like a fairytale. I can't wait to see you soon! 
Some people say time wears off everything, but I'm confused as to why my love for you just seems to grow much stronger with it?
You are as precious as diamonds and as necessary as sunlight: you are the love of my life. 
I swear, no matter how awful my day is going, I can always find a reason to smile in the thought of you. 
I've never found anyone who completes me the way you do. If I can't have you in my life, I don't want anyone else.
You are perfect just the way you are!
Each time I look at you, I just smile to myself and think, I certainly could not have done better. You are the manifestation of my dreams. I love you, honey.
You're my definition of sublime.
You are my glue. Without you, I'd be nothing but broken pieces. Thanks for helping me on my journey of self-discovery.
Love You Messages For Him
I can't get you out of why head. You are my addiction, my best and only one. 
When you put your arms around me and kiss me, I'm home. 
Looking forward to shower you with hugs and kisses tomorrow. Actually, I can't wait!
In a world full of chaos, you are my peace. You are my celestite, darling!
It would take an entire lifetime if I start looking for all the words to express my feelings for you. All I can say is I love you!
Romantic Messages For Him
I just wanted to let you know I'm thinking of you! Hope you're having a lovely day!
I wish you were here. Sending my love!
Every day without you is torture. Miss you lots!
Remember that no matter what the outcome of today is, I will always love you. Good luck! 
I'm so lucky to have you in my life, and I'm counting the days/hours until I can feel your touch again!
The only times I smile stupidly at my phone is when I get text messages from you.
You make me feel so special, babe. Everytime we touch, even after all these years, I feel so giddy inside.
It is not being in love that makes me happy… but it's being in love with you. Who knew I'd find an angel in you…
Thank you for forgiving me when I've let you down, for believing me when no one else did and for sticking with me through thick and thin. You have my entire heart. 
No words can properly express how much you mean to me… I can only say that you are the center of my universe and I'm committed to making our love story the best it could be. 
Text Messages To Make Him Love You
I hope you know that to me, you are irreplaceable. The way you look at me, the way you always figure out what's on my mind, the way you give me a hug when I need it the most… all of them are priceless. You are have successfully tattooed your name in my heart, and I have no intention of removing that tattoo.
I just had to let you know… choosing to be with you was the best choice I've ever made. 
Most women have a certain degree of fear about growing old, as did I. However, now that I get the opportunity to grow old with you, I know I'll be just fine.
I know that our beautiful bond of togetherness is unlike any other. You've never stopped holding my hands even in the worst period of my life- in turn, I promise to hold yours until the end of time and beyond, in both good and bad times. Forever and always, you'll find a lover in me. 
Even after all these years together, kissing you still excites me. My heart still skips a beat every time you look at me. I am head over heels in love with you, and I am convinced that this is how it will always be… but I wouldn't have it any other way.
Love Message To Make A Man Happy
Good morning, handsome! Thought you might wanna know that all my friends are jealous of me and wants a man like you… well I told them you're not for sale anytime soon. You're mine, and I'm yours.
You better thank the gods for having me, because no one would have put up with your naughty (and sometimes childish) ass. I love you that much.
Hi there, can you just stop being hot? It's burning me already, but I guess I can handle a bit of heat.
Sometimes I wonder if you are actually real, because someone as perfect as you usually don't just show up in people's life. But if you're a fantasy, I'm enjoying every second of it.
You know, I've been thinking of calling in sick today just so I can drive to your city and see you cute face. You're my most effective remedy.
Hey, I just saw someone on TV that kinda looks like you… I might just be seeing things, but if he's real, the difference is that you got a better smile than him. Truly, no one can replace that smile .
Baby, you remember the very first time I met you,? I never thought you'll be so important as you are to me now, you're a blessing and I'm more than happy to have you in my life.

Nothing gives me greater joy than your happiness. Your smile is the medicine to all my worries and pain. I swear, they heal me faster than any drugs.

Ever since the first day I met you, I have not been able to see anyone else apart from you. Your love has occupied every corner of my heart and filled it with so much bliss, I don't need anyone else. 


Sweetie, in the midst of the chaos and crowd, I'll easily recognize you because your smile and aura just shines the brightest in my eyes. You're my most precious gem.
Deep Love Texts To Make Him Swoon.
Feeling the breath of love and passion, I savor every moment with you. They are the best I could ever wish for. I love you beyond words. 
My darling, you have unleashed this force of joy in me. You gave me the strength and trust to love again. Also, this love journey has been really smooth because like an engineer, you've carefully constructed the road to my heart. You're just my one fish in the vast ocean.
My lovely man, I feel so passionate when I'm with you that I want to shower you a rain of love which you can't miss even a single drop. I am willing to make you soak in love so that you would realize how I would cross mountains and oceans just to be with you. You're not the only one willing to put his all to this relationship… I love you!
When you kiss me, you leave me wanting more. The wetness of your lips lighten up my day and your sweet touch is in my daydreams all day. You are everything I need in life, and I wish to be the same for you.
You are my best friend when I need good advice, my companion when I want to commit some shenanigans, and my lover when I long for true love and intimacy. What did I do to deserve you?
Deep Love Messages For Him