Congratulations on Weight Loss Quotes
There is nothing more positive for a friend, relative, co-worker or anyone who is traveling along the journey to weight loss than to receive some words of encouragement. At times, even a message of congratulations is what someone needs to hear to keep them going.
Weight loss can be so challenging, and we all know how it feels great to be supported during challenging times! Encouragement can be the ticket we all need to keep our motivation going.
Whether someone is meeting their goal of shedding those few extra pounds of holiday pounds, or succeeding at diligently transforming themselves into a permanently, healthier new person, everyone deserves a happy little note of recognition!  Check out our collection of the best congratulations on weight loss quotes.
What To Say to Someone Who is Losing Weight?
Since all weight loss journeys are not the same for everyone, and can sometimes be quite personal, it is important to find just the right weight loss card messages. Of course, in today's busy world, sometimes we are tempted to send a text or email too, but at times, a lovely personal card is private and really shows how much you care. Weight loss and how we all perceive our bodies may not be a topic we want others to be peeking over our shoulders at our phones!
Just the same, some of us are pretty laid back, or we may know our family and friends super well. They may have an awesome sense of humor and take their weight loss in stride like everything else in their lives! They will appreciate some diet quotes and sayings, or some inspirational quotes for losing weight. 
Check out some of our favorite motivational weight loss quotes below.
You did it!  You finally reached your weight loss goal, and you should be so proud of yourself!  This is a huge accomplishment for you, I know how much effort you have put into your weight loss project.  I know that your weight loss journey wasn't always easy, but you stuck with it and made it to the end.   Wave goodbye to those excess pounds, and say hello to your new hot body!
You have done such a good job losing those few pounds, I thought I might join you at today's workout, so I can start living a healthier lifestyle.  I'm so proud of the work you have put into your weight loss project.  Well done YOU!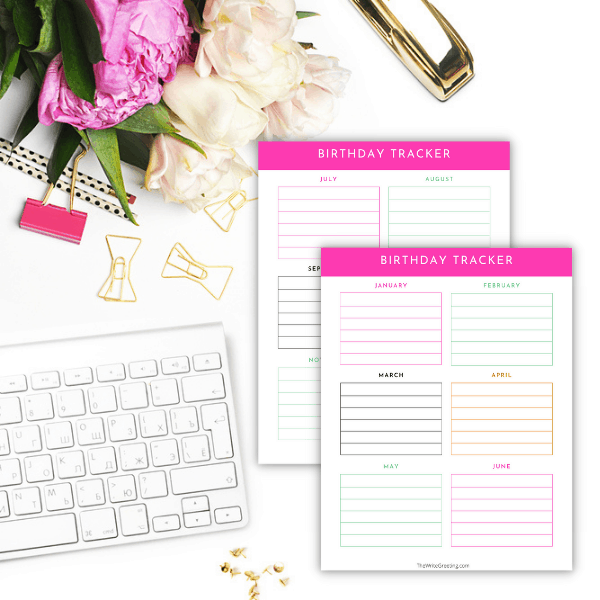 FREE Birthday Tracker Printable
-Don't forget another birthday with our handy tracker.
-Give yourself time to get a card or gift before the big day. 
-Easy to print PDF download. 
Inspirational Quotes for Losing Weight
Losing weight is one of the hardest things to do, so its important to cheer someone who is on their weight loss journey.  If you're not sure what to say, you could try something like  "Well done on making such a positive change", or I'm so proud of you for staying committed to your goals".
Whatever you choose to say, make sure that your weight loss congratulations be sincere and upbeat.  Having a cheer team in your corner makes losing weight easier.
Congratulating someone on their weight loss journey is a great way to show you care about them and want to celebrate their weight loss!
You never lost faith, you have kept this disciplined lifestyle going for approx 6 months now and you have achieved your dream body.  We will continue to cheer you on in your healthier journey forward – from all your personal trainers.
Your health is worth fighting for.
Congratulations on your new hot body, you look absolutely amazing.  We should take that body out for a drink!
I am incredibly proud of the hard work you have put in to get where you are today.  Keep it up!
Motivational Weight Loss Messages
If you've recently lost weight, congratulations!  This is a huge accomplishment that deserves to be celebrated.  But even though you may be feeling great bout your new body, it's normal to have days where you feel down about your progress.  On those days, it helps to have positive losing weight daily motivation quotes to keep you going!
Check out our favorite inspirational quotes to keep you motivated!
Just wanted to let you know how proud I am of your perseverance! Your progress is so inspiring.

Hello, my dear friend, I just want to let you know I am always here to help you stay motivated! You can always count on me!
Keep up the good work at eating healthy! You've even got me going now, I've started to acquire a healthy eating habit because of you! 

Dearest _____, so excited to see your motivation! Your goal is in sight, and you have my support.
Good morning to my Best Friend! I'm here to MOTIVATE you on your awesome road to losing weight. You look terrific inside and out.

Thought I'd drop you a happy reminder that this is a wonderful leap in the right direction! Never lose sight of your amazing and healthy goal. Call me any time to be your exercise buddy!  Your weight loss journey is inspiring me!
Inspirational Quotes for Losing Weight
If you know somebody who is working on losing weight, it would be a really nice thought to send some motivational weight loss quotes their way!  As we all know losing weight is NOT an easy thing to do, so they would really appreciate any congratulations for weight loss you can come up with!
Hi there, ______. Want to grab a smoothie after the gym? You're looking fabulous, and I wanted to let you know how proud I am of how committed you are.  I've gotten a little weight gain myself and I want to pick your brain for tips on losing weight.

• You inspire me daily by continuing to reach your goal of shedding those holiday pounds! I wish I had your will power, _____. Maybe we could meet, and you can share your secrets?
Your weight loss has been inspiring.  You have worked so hard at this weight loss challenge, your incredible weight loss journey is an inspiration to others.  Give yourself a part on the back, you are doing AMAZING!
Well done on your stable weight loss!  I can't believe how much weight you have lost.  Is this all from a balanced diet, or a healthier lifestyle, or are you exercising more often?  I need to lose a few pounds, please share your  constant motivation to keep going?
Losing weight is no easy feat, and anyone who has succeeded in shedding pounds deserves to be congratulated for it.  If you know someone who has recently reached their weight loss goal, they should be celebrated and patted on the back!
Check out the below and use any of these lose weight quotes to put in a weight loss card message!
"Keep up the good work" – This is similar to 'you're doing great", but it also includes a positive message for future success.  It's a way of saying "you're doing great, now let's make sure you keep it up".  
If you're looking for some positive weight loss words, you can say something like "You're doing great".  This encourages the person who lost weight to keep going, and it lets them know they are appreciated and noticed.
Congratulations on taking control of your health!  I am immensely proud of the action you took to lose weight!
I'm so proud of you for sticking to your goals and losing weight.  You look fabulous!  
Sending some weight loss congratulations to my best friend, you have worked so hard to get to where you are.  I'm loving this new healthier version of you, you're going to be around for a loooong time!
Weight Loss Congratulations
When someone is trying really hard to lose weight, it's really important that the people around them are celebrating their effort, and using positive weight loss words to cheer them on.
Losing weight is not easy, but it's definitely worth it in the end.  Whatever motivational weight loss quotes you choose, make sure it comes from the heart.  
I want you helping me losing weight, you look AMAzing girl, I know you don't love your workouts (who does), but at least they are working, I can really see a huge difference in you!
You did it.  You stuck to your fad diet (jk), and reached your weight loss goal!  Now it's time to celebrate your success, let's go buy you a new outfit
Congratulations on your incredible accomplishment to lose weight! You reached your goal, and we are all so proud of you. Love, _______.

Hello, my friend, just wanted to send a quick note of congrats on your new healthy and fit change! You look so bright and cheerful!
I am beyond happy for you that this tremendous goal of yours has been reached. Enjoy the new you!
Congratulations on your weight loss journey! You did it! Now we should book a real journey to celebrate! First, we need to shop for new wardrobes. How exciting!!  
Congratulations! That positive mind-set really made a difference in your life, and I am happy for you.  You kept your eye on the finish line, and you have reached your weight loss objective, I'm so proud of you!
 Hip, Hip, Hurray! Today is your Day! You lost the weight, and now it's time to celebrate!
Motivational Weight Loss Quotes
Do you know how hard it is to lose weight permanently?  I've tried, it's hard!  so if you know someone who has been working their booty off, sticking to a healthy diet, and turning to a new healthy lifestyle, it's time to celebrate their new happier and healthier journey and build up their daily motivation with cheers from you.
Check out my favorite motivational weight loss quotes to give them a pep in their step!
Hello beautiful, your success shows, and I look at your smile and see only happiness. I know how delighted you are to be living this new healthy life.  What did you do, I need some weight loss diet motivation?  You inspire me to achieve my goals as well!

 Imagine a huge bouquet of balloons filling up your entire room, because if I could fit them all in, that's what I would do to congratulate you on your weight loss! Way to go girl!
Small changes add up to big results.
Every journey starts with a single step.
There is no finish line only a journey.
Hey Sexy! Your new hot bod is calling for a night out on the town!
Say adios to all that junk food we used to get! Now you'll be the good looking one, and I'll be the one watching my cholesterol going up.
I am so proud of you and am sure that you will continue to be successful in reaching your health and fitness goals.KKKKKKKKK
So much for fad diets! You put them all to shame, and seriously upped your game! Congratulations on your cool new look.
Hey _________, now that you've reached your dream weight and have this new positive mindset, I need you to start helping me to start living a healthy life!  I want my future self to look like you!
These funny diet quotes may not help you to slow down, but they will hopefully give you a good laugh, and that's worth its weight in gold!
Oh crap, now I'm going to have to lose weight, because you look so good with your new lifestyle change!
Congrats on your awesome weight loss! Now if I could only do the same. Wait! How are we supposed to find a healthy version of a burger and fries? Who wants a veggie burger? I guess we do…
I'm trying to lose weight, but it keeps finding me.  How did you do so well with losing weight?
My New Years resolution is to lose weight…….Again!
Don't you dare gain weight back, you look super sexy, we should go out trolling for me (Yes I know you're married, but I'm not!)
Wow it's amazing what happens when you give up french fries!
I need to lose weight so I can fit into my fat suit!
Congratulations on losing weight! Now can you help me? I hate this calorie counting. I know how to multiply, but not subtract or divide!
Ugh, you look so good, I have to start working out now.  Thank you NOT!  Who's going to be helping me losing weight??
Motivational Weight Loss Messages
Everyone who is trying to lose weight needs daily motivation to keep going.  If you or someone you know is on the weight loss journey, use these diet quotes and sayings to keep you focused on your weight loss goal.  These inspirational quotes will keep you or them moving forward, so put together some cute weight loss messages to inspire someone you know,
Don't give up on yourself – you're worth the effort!
Every step forward is a step in the right direction.
Keep going and don't look back
Don't be discouraged if you have a set-back, just pick yourself up and keep going.
Believe in yourself, and you'll reach your goals
Remember, slow and steady wins the race.
It's not about how fast you go, it's about never giving up
Every day is a new opportunity to make progress
Motivational Weight Loss Quotes