Send Congratulations Messages To A New Father
When a new father hold his child for the first time, he realizes that his life has changed forever. It can be a truly amazing and terrifying time for a man. New responsibilities may seem overwhelming. 
Sending a Congratulations On Becoming A Father message will let a new father know that you understand his excitement and fears, and that you are happy and thinking of him. 
To help you get started, we have compiled this list of over 130 messages, sayings and quotes on fatherhood. Feel free to use them as is, or as ideas to inspire your own thoughts. 
How Do You Congratulate Someone on Becoming a Father?
"Big congratulations! This is such great news."
"Your baby is going to be so lucky to have a dad like you."
"Can't wait to help you with the little one. Congrats!"
"My heartfelt congratulations to you, my friend. May your baby be blessed with good health, love and beauty"
"I couldn't be happier for you. Now, you can finally enjoy your baby's little feet and baby smell."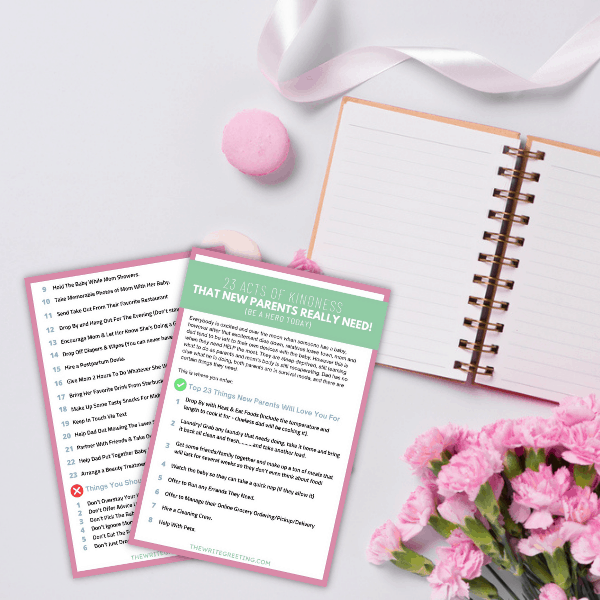 FREE List Of Acts Of Kindness For New Parents
-23 Ideas for things you can DO to help the new parents in your life. 
– Forget the typical gifts and do something that actually matters.
-Easy to print PDF download. 
"Congratulations on becoming a proud, new parent!"
"We are extremely glad that your baby has arrived safe and sound!"
"Your baby is a spitting image of you… you should be proud of yourself"
"Congratulations! You are a daddy now!"
"Hearing that you have welcomed your baby made my heart glow. I wish you all the joy in the world!"
"You are now entering a new chapter in life. All the best to you and your new family!" 
"Heard the news of your baby. I can picture you being a wonderful father to her!"
"I could only imagine being born to such an amazing family like yours… Congratulations on your little bundle of joy!"
"Congratulations to you and your wife. We wish you a lifetime of happiness."
"Parenthood is a rewarding phase. May you cherish each and every moment of it with your baby boy."
"Congratulations on becoming a new parent! I'm so excited for you."
"Get ready to embark on this magical journey of parenthood!"
"Congratulations for having created this beautiful baby! Now, you'll get to wake up to his innocent smile… or cries" 
"Sending you and your baby lots of warm wishes!"
"I would like to congratulate you on becoming a father! If you ever find fatherhood overwhelming at times, we'll be here for babysitting." 
How Do You Congratulate Someone on Becoming a Father
"Congratulations, my friend! May the arrival of your baby bring a new and wonderful glow to you and your family."
"Your little bundle of joy has finally arrived! Don't forget to savor every moment with him and take pictures!" 
"Your home is about to become so much lovelier with your little one. Once again, congrats!"
"I know that being a new parent can be daunting, but please know that I will be here for you!"
"Your baby is just the cutest. Wishing you all the joy!"
"Say 'Hi' to the new member of your family! We couldn't be happier for you."
"Congratulations on your newfound role as a Father! Looking forward to meet your little bundle of joy."
"Best of luck with changing diapers and constantly waking up in the middle of the night. Congratulations!"
"The birth of your child is the best news I've heard in days. Having child is something that changes you indefinitely, but I know that you'll be a great parent!"
"I wish you and your baby healthy and happy adventures through life!"
Congratulations Message For New Father
"There is nothing sweeter than the smell of your baby's breath and feeling her gentle kisses. May God bless you and your family!"
"This beautiful baby completes your family in the best way possible. Congratulations!"
"Sending you and your baby lots of love and well-wishes! Can't wait to see you both soon."
"Congratulations, buddy! May the newest arrival bring you immense joy!"
"We are so excited to hear about your baby's arrival. What amazing news!"
"Congratulations to the proud parents! So incredibly happy for you two"
"We welcome your dear child to the world with love."
"Please, allow us to lovingly welcome your dear child to this world"
"I can't believe you're a father now… Congrats on the birth of your little one, he looks like a mini you!"
"Hope that your lady and the baby are doing well. Warmest congratulations!"
"Congratulations on the newest addition to your family! I wish the three of you all the love and happiness."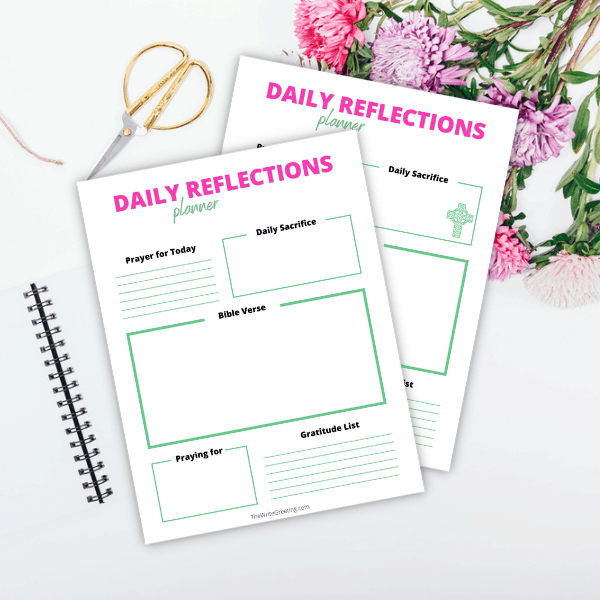 FREE Daily Reflections Printable Worksheets
-Start your day with positive energy and a plan to succeed
-Remember your blessings every day and fill your heart with positivity to take into the world.
-Easy to print PDF download. 
Congratulations To The Father Of A Baby Girl
"Your baby is the definition of 'perfect'. I'm so excited for you and the beginning of your journey of fatherhood!" 
"Your baby is finally here, and you are finally a new father! Sending lots of love your way." 
"You both really created a little miracle. Congratulations on being new parents!"
"Congratulations! Believe me when I say that the tiniest feet make the biggest footprints in your heart."
"Isn't it funny that such a little person can take up so much space in our hearts? So excited for you to feel all the joy of parenthood."
"Knowing you, I know that your baby will be so loved… Even I'm jealous!"
"Sleepless nights are more than worth it when it's for your little one. Again, congratulations and I wish you all the best!" 
"Warning: when I finally get to meet your little baby, I'll shower her with thousands of hugs and kisses!"
"Congratulations on having a brand new miracle to call your own!"
"Your baby has the coolest dad in town, no doubt. Congratulations and extend my greetings to your wife!"
Congratulations To The Father Of A Baby Boy
You are so blessed to be a new father, to have welcomed a new member to your family in these challenging times. May God shine His light on her as she grows up!
I wish you the greatest success on your new phase of life, fatherhood. Fatherhood is a huge responsibility… It requires love, patience, and, above all else, time. Yet, there is no joy that compares to that of raising a child. From father to father, I wish you nothing but the best!
Congratulations on your newborn baby girl! A safe arrival of a healthy baby is enough to make any new father want to kiss the ground… believe me, I know. May the Lord bless your baby with health, strength, happiness, and beauty.
My heartfelt congratulations on becoming a new father! Your life will be forever changed by that little bundle of joy. Your beautiful baby will bring you immeasurable love, joy, and surprises that will make your heart glow like never before.

You will also feel anxious at her every cry, worry about her future with every fiber of your being, and work as hard as you can to give her the best that you can possibly offer. Fatherhood can be hard at times… but I believe with every ounce of me that you are the man for the job.
The role of a father is the most important in your life. As your new baby grows, she will look up to you as an example of what a man should be, or  will sometimes even come to you for guidance and wisdom. You will be the one she depends upon to find her way in this big, often confusing world. I believe that you will be a wonderful father to her, and she will grow up feeling grateful for you
Congratulations on becoming a new parent! Your life will now be filled with a new and greater purpose. True, there will be diapers to change, midnight crying fits, and, soon enough, the terrible twos…but, these trials will only serve to strengthen you and give your life even more meaning.

As your baby grows from an infant to an adult that you have raised, I guarantee that you will feel so rewarded. Kisses!
Welcoming a baby into this world requires a joyous celebration. Best wishes and congratulations on becoming a new father! Fatherhood is an awesome responsibility.

With the hectic schedules of modern life, finding the time to take care of a new baby can be challenging. However, know that I am here to help you in any way that I can. That's the least I could do after all your help these past few years. 
Best wishes to you as a new father. There will be difficult moments ahead, but may you cherish more than anything all the joy fatherhood brings: from holding your new baby in your arms, to seeing his first smile, to hearing his unforgettable first words.
My friend, a big congratulations is in order. Here's to a blessed future for you and your baby daughter! May she grow up to be happy, content, and full of energy. Furthermore, may she always have a positive outlook towards life. Cheers!
Congratulations! You are about to embark on every man's greatest journey in life: fatherhood. As a new father, this journey begins the moment you take that pink, madly crying infant into your arms, and cradle her to sleep.

At that moment, your heart will instantly be filled with sparkles. The journey continues as she grows older and then calls you daddy, looking up to you as the one who loves her and protects her. Even when she finds her own prince one day, she will always need her daddy… and that will give your life great meaning.
How to Congratulate a New Dad
Best wishes for your twin babies, and congratulations on becoming a father! There is nothing in the world more miraculous than a new baby, who will grow before your eyes into a child that astounds you with his first words and first steps. They're going to grow a lot faster than we expect, so enjoy and document every moment with them! 
It is an unbelievable experience to become a father for the first time. I pray that you'll experience fantastic and memorable times with your little one, and may he grow up to be the kind of man that you are!
Being a dad is not easy… but every guy would still be lucky to be one. Congrats and best of luck!
Despite the hectic moments that come with parenthood, I hope that you'll enjoy all the blissful moments that will come your way. Embrace your baby and raise her to be a wonderful young lady. 
Congrats, new papa! May your baby have a happy and healthy life in the future.
There is no better feeling in the world than having your kid in your arms for the very first time. Congratulations and all the best for you! 
No feeling can be compared to the one that you get when you see your baby for the first time… after a little cleaning, of course. I'm so happy for you, bud. 
I believe that a child is one of God's greatest blessings, but with that blessing also comes a ton of responsibility. I know you can do it. 
I wish you great success as a new daddy, but I know in my gut that you'll be a terrific father figure. 
I'm so happy to see that you've been blessed with a beautiful little baby. Sending you and your entire family my best and heartfelt wishes, hun! 
Congratulations Message for New Father
As your close friend, I admire you for deciding to take on this new journey. I hope that it will fulfil your heart in the best way! 
Being the mother of our first child, I would like to congratulate you for putting up with me for the last few months… also, so excited to go on this journey with you. 
As a father, you will be blessed beyond your wildest dreams: sure, your kid could be challenging at times, but you will soon find the beauty in everything. We all love you and are very happy for you. 
Congratulations on the birth of your little baby girl! You might be young as a father, but you are also the bravest, most sincere and responsible man I know… you'll be an amazing father. 
You have always been a good man, so we all hope that the arrival of the new baby will make you become an even better one… for you and for her. Best wishes and congratulations! 
God has gifted you with a gorgeous baby, so congratulations! You should be excited for the wonderful years ahead as a dad! There's no need to worry too much about it… 
Finally, I'm not the only father in the room! Congratulations, buddy. May your home be blessed with nothing but jolliness and laughter!
Taking the role of a father is not easy, let alone living as one… but it is also one of the most fulfilling roles you could possibly have. I hope to hear many cute stories about your baby soon! 
Congratulations on becoming a father to a handsome and healthy baby boy! I hope that you and your family will have more sweet, unforgettable moments courtesy of him. 
I have no doubt in my mind that you'll be an extraordinary father! Can't wait to hear your dad jokes in a few years time…
Message For Soon To Be Dad
Everybody knows that being a father requires lots of patience, love, and dedication… I know that you have all of that in you and you will perform your fatherly duties impeccably.
Being a father is one of man's greatest achievements and I am happy that you have been able to achieve that. Major congratulations to you and your missus! 
Congrats for the birth of your baby girl! She is such a wonderful addition to your family… wishing you all blissful years ahead!
It may not be difficult to become a new father, but taking on the responsibilities that come with the role could be burdensome… but gratifying at the same time. Congratulations! 
May you and your wife enjoy every single moment with your newborn, from today and for as long as you may live! 
Welcome to the 'New Fathers' club! Firstly, may your little one grow into a strong, smart and healthy adult. Secondly, wishing you all the happiness in the world, because you deserve it!
Congratulations on becoming a father! May your little baby grow up to become a happy and energetic individual, as well has a prosperous and generous person. 
The birth of your newborn is undoubtedly going to change your life forever… May God give you strength to raise her and perform your duties as a responsible father. For now, congratulations!
May your voyage as a father be as smooth as it possibly can be, and may you raise him to be a healthy adult in the future! 
I don't really know how to congratulate someone on becoming a dad, but let me just say this: nothing is better than having a mini you, and I'm extremely happy that you've created this little bundle of joy! 
Welcome to Fatherhood Wishes
Congratulations on this incredible milestone, my friend! Remember to savor every breathing moment with your baby girl.
A child is unquestionably a fantastic gift to any man, let alone two! So happy that you're finally building your own family and I wish you all the happiness and glee this world could possibly offer. 
Being a father can be stressful sometimes, but try to have as much fun with your baby before he leaves the nest! Time flies quite fast these days, but may you and your son have a lovely relationship that will last for an eternity! 
Congratulations, buddy! As you step into the exciting, new world of fatherhood, I would like to wish you all the best. 
The best gift of all is the gift of life. Congratulations (to your wife) for bringing a beautiful bundle of joy into this often dull world! May your house be filled with warmth as you welcome the new addition to your family.
Knowing that you are a daddy makes my heart dance! I'm so overjoyed! May your baby cub grow happy and healthy under your care. Wishing you and your little family a lifetime full of togetherness!
Congratulations, new papa! As this new chapter of your life unfolds, you will welcome new challenges; however, these will be overcome with more blessings and gratitude that you will receive. 
The nine-month wait is over. Your arms will no longer be empty and your bed will be invaded by a cute little monster. Enjoy them while they're young. Congratulations!
Life may be full of surprises, but one thing's for sure: you becoming a dad-to-be is no accident. Congratulations and I wish you strength, happiness and endless laughter with your little one once she arrives!
Congratulations Message to Dad
Congratulations! I know it's chaotic right now, but I want you to know that I'll be here to support you.
Congratulations! You have been given a great gift. The Lord has entrusted a precious gift for you to love, hold, raise, and to share your best moments with. I'm truly overjoyed for you. 
Let's raise a glass to [name]! My friend, your life will never be the same again now that you're a father… but it doesn't have to be for the worse! You will unquestionably be the coolest dad in the world.
Congratulations on your new and coveted status as a father! There is nothing more peaceful in the world than to see and feel your baby sleeping in your arms. The sun shines brighter and all of the troubles in this world seem to vanish in that magical moment. 
You've worked so hard this past year, you deserve more smiles, more laughter, more joy… and the little one will bring you the biggest joy of all. Major congratulations to the new dad-to-be!
The long wait is over, and you're now finally a dad! Congratulations! I wish you, your wife, and your babies happiness, good health and success.
I am so happy to hear that you're now a dad. I'm sure your baby will grow as smart and as handsome as you are. Also, I can't wait to see and cuddle your son. For now, here are my words of wisdom: the littlest mishap, you should not be a dad anymore… just kidding!

When the challenges or fatherhood become too overwhelming, do remember that I am just a phone call away. Congrats again!
Hey, bro! I just learned from my sister that you just got promoted to fatherhood. Congratulations! I know that the challenges that come with it has got nothing on my man. We should talk soon!
Congratulations on the baby, man! I hope you got lots of sleep in the previous months. You won't be getting much of that in the next few months… but, if you need any help, don't hesitate to call me, OK? I am so happy for you. This isn't mission impossible… the man I know can conquer anything.
I heard the great news! A new boy in the family is a great blessing to everybody. Congrats and greetings to your family! 
Congratulations on Becoming a Father
Congratulations! Now, you will get called "Dad" around the house… sounds great, huh?

An angel came down from heaven, and you are the latest lucky one to be given a chance at fatherhood. Congratulations to you, new dad!
Having a new baby comes with great responsibility… shower your baby with love, care, and support. Congratulations! More importantly, when and where's the party?
I can only imagine how ecstatic you were when your baby was born. I know with every ounce of my being that you'll be a spectacular father. Once again, congratulations!
Congratulations on being a first time daddy! Welcome to the world of tantrums and nappies… but also bubbly cuddles.
Congrats, congrats, congrats! God has gifted you with a beautiful responsibility first time Dad. Cherish every moment with your new born baby. 
A little hand on top of your palm, it must feel amazing! May you always remember that moment as you go through life with your new born baby. God bless you!
A tiny angel in your arms can make your heart glow and melt. Congratulations for the amazing new addition to the family! 
Your newborn baby looks like a carbon copy of you. May he grow up to be a gentleman like you are. Congratulations again, buddy.
My cute niece had come to the world, she looks like me! Can you agree? I am so proud of you brother, congratulations to you!
I was so happy to see my niece for the first time, you know why? Because she looks like me! You can't deny it. Anyway… congratulations, brother! Enjoy this little gift..
New Father Congratulations
Congratulations on becoming a daddy! The clubbing nights are over now, but welcome to the prestigious fatherhood club.
Hey there, first time father! First of all, congratulations! I can't wait to see the baby real soon… I'm sure it will have enough love 'till then.
Congrats on the new born baby! So happy for you and your partner. May your precious little one bring happiness to the world and extra special joy to you!  
A father so handsome, a mom so gorgeous – no wonder your newborn is such a lovely one. Ahhh! Really can't get over it. Kudos to you guys for creating such a beaut!
There is nothing sweeter in this world than the smell of your newborn baby's breath, the happy cooing sounds, and the smell of baby skin. Congratulations on your new bundle of joy.

There's nothing better in this world than seeing your child look up at you with sparkle in his/her eyes and a huge smile. It just fills you up with delight. Congratulations on becoming a father again! 
Congratulations Quotes On Becoming A Father
We are so happy to hear about your newborn baby. Such fantastic news! Anyone would be so lucky to have you as his/her daddy.
Your dream of having your own daughter/son has finally come true. Congrats! Couldn't be happier for you. Looking forward to receiving an invitation to your next baby bash! 
A unique gift has arrived, your house will be filled with even more laughter and smile. I can see it: picture-perfect memories coming your way. Congratulations!
Congratulations! When your baby grows up, she will know of the legacy being passed down to her, and she will be proud to have you as her father.
Being a father may not be an actual job, but it sure is a lot of work: there will be sleepless nights, changing nappies and taking care of the baby in general. There will be sacrifices, but trust me when I say that its all worth doing! Be ready and happy, my friend. Congratulations and best of luck luck to you!